IndyCar Road Race May 8-10 At IMS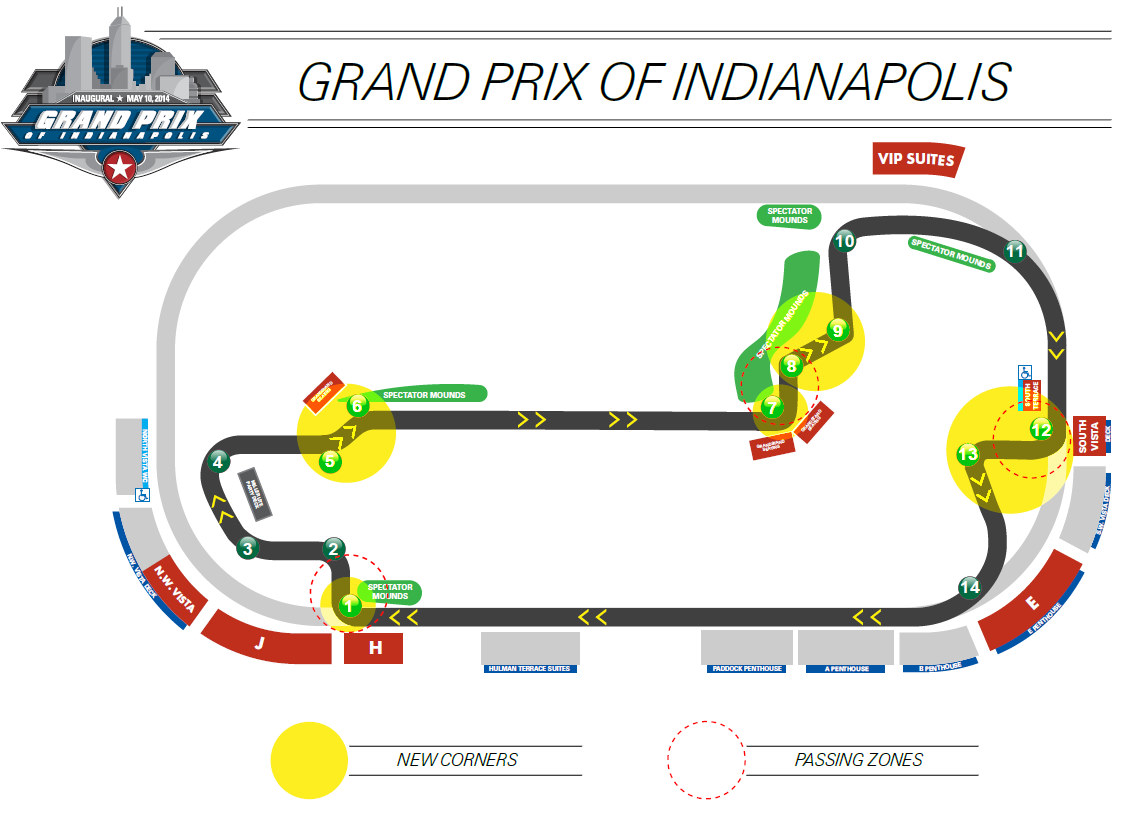 New Road Course layout. New turns 12 and 13 ruin the layout and should be eliminated
The Grand Prix of Indianapolis, the new IndyCar Series event May 8-10, 2014 on the reconfigured Indianapolis Motor Speedway road course, will jump-start Month of May activities at IMS and build toward the 98th Indianapolis 500 later in the month.
Many officials and dignitaries unveiled details about the first IndyCar Series road race at IMS during a media conference Oct. 1 at the Speedway, including Hulman & Company Chief Executive Officer Mark D. Miles, IMS President J. Douglas Boles, Indianapolis Mayor Greg Ballard, legendary IndyCar Series team owner Roger Penske, 2013 Indianapolis 500 winner Tony Kanaan and IndyCar Series race winner Graham Rahal.
"The Grand Prix of Indianapolis is all about elevating the Month of May, the Indianapolis 500 and the IndyCar Series with more thrilling content for our loyal supporters and new fans," Miles said. "This will be a very different event than the '500' and will be one of three major weekends of excitement at IMS in May, all leading into the 98th Indianapolis 500 on Sunday, May 25."
ABC will televise the Grand Prix of Indianapolis live, building toward its 50th consecutive telecast of the Indianapolis 500. The race will feature a standing start and will run clockwise, the opposite of the Indianapolis 500, creating even more diverse competition during the month.
"With ABC televising the Indianapolis 500 for the 50th consecutive year in 2014, it's only fitting that the historic first IndyCar race on the Indianapolis Motor Speedway road course will also air on ABC," said John Skipper, ESPN president and co-chairman of Disney Media Networks. "We're honored to continue our long relationship with the Speedway and look forward to the Month of May in Indianapolis."
The Month of May will begin with IndyCar Series practice for the inaugural Grand Prix of Indianapolis Thursday, May 8 on the new-look, 14-turn, 2.434-mile IMS road course. Practice and qualifying are scheduled for Friday, May 9, with the race Saturday, May 10.
All series in the Mazda Road to Indy will compete during the event, placing a singular spotlight on all levels of North American open-wheel racing throughout May at the Racing Capital of the World.
The first day of practice for the 98th Indianapolis 500 is scheduled for Sunday, May 11 on the 2.5-mile IMS oval.
The seating configuration for the Grand Prix of Indianapolis will be designed to provide the best sightlines of the course and affordable ticket prices for fans. New spectator mounds and new grandstands will be available in the infield section of the course to create exciting vantage points.
"Our approach is to create an affordable, fun, family-friendly opening event to kick off the excitement for the entire Month of May," Miles said. "The most expensive ticket for the Grand Prix of Indianapolis is less than half the price of the costliest seat for the Indianapolis 500. Fans will get the best views possible of the exciting, side-by-side action created during this historic event on our new circuit."
Tickets for the inaugural Grand Prix of Indianapolis will go on sale at 9 a.m. (ET) Monday, Oct. 14. Race Day reserved seat prices will range from $40-75. Existing ticket customers to any 2014 IMS event will receive a $10 discount on reserved seats ($30-65). Race Day general admission tickets are $25 for all customers.
All seating areas will be general admission Thursday, May 8 and Friday, May 9. Admission is free Thursday and $20 on Friday.
Tickets can be purchased at www.ims.com/tickets, by calling 800-822-INDY or 317-492-6700 between 8 a.m.-5 p.m. (ET) Monday through Friday or by visiting the IMS Ticket Office at the IMS Administration Building at the corner of Georgetown Road and 16th Street between 8 a.m.-5 p.m. (ET) Monday through Friday.
A $5-million reconfiguration project is underway on the existing IMS road course that will transform the layout with more speed and more hard braking zones to create more passing and competitive racing.
Among the highlights of the new, 14-turn, 2.434-mile road course:
•A hard braking area and 90-degree right into Turn 1 exiting the historic front straightaway of the oval.
•A fast, new infield chicane that will comprise Turns 5 and 6 and lead to the back straightaway.
•A revision of the Turns 7-8-9 complex that will create more speed and passing.
•A hard braking area creating excellent passing opportunities leading into the new 90-degree right Turn 12, which enters the infield adjacent to Turn 1 of the oval and rejoins the main straightaway at Turn 14.
The reconfiguration plan also includes new spectator mounds in Turn 1 of the road course and new grandstands adjacent to Turns 5 and 6 in the infield. Expanded grandstands in Turn 7 – at the end of the back straightaway – also will be available.
PRESS CONFERENCE
D. Boles, M. Miles, G. Ballard, R. Penske, G. Rahal, T. Kanaan
DOUG BOLES: Thank you very much for being here, everyone. This is an historic afternoon for all of us here at the Indianapolis Motor Speedway. You just saw a video of what the Indianapolis Motor Speedway is about. It's about the Indianapolis 500. It always has been, and it always will be about the Indianapolis 500. What we're going to talk about today is what we believe is going to set 2014, our May, apart from any other May you've seen, elevate the beginning of May, and at the end of the day we're going to elevate the Indianapolis 500.
We have a quick video and then I'll come back and make a few introductions, but thank you all for being here.
(Video shown.)
We are really excited that all of you are here today. This is a great moment for the Indianapolis Motor Speedway, and it's a great moment for the city of Indianapolis and the state of Indiana. We've got several legislators and city councilors here. We thank you so much for your support and taking the time to celebrate with us today.
To my left, Mayor Greg Ballard is here, as is Hulman CEO Mark Miles, and to my right, Graham Rahal, who was very instrumental in some of the track layouts you're going to see. He actually drove it for us. And our winner from this year's Indianapolis 500, Tony Kanaan. We'll be joined later by Roger Penske. We're looking forward to him being here.
I think I'd be remiss if I didn't say in fall of 2011 our two time Indy 500 champion Dan Wheldon had an opportunity to be the first IndyCar to run at the Indianapolis Motor Speedway, and in between one of those runs I had an opportunity to talk to him in pit area, and he kind of grabbed me by the collar, and he said, 'Doug, we've got to run here.' We are doing this not only for fans, but we're doing this – I think it'll be great for Dan Wheldon, and he's excited about this day, as well.
With that, I would like to introduce to you a man who's brought a complete new kind of thinking at the Indianapolis Motor Speedway. Mark Miles will admit his racing experience was a few times here at the Indianapolis 500. He hadn't seen a road race or a street race until he joined our company. He's allowed us to think differently. Moreover, he's encouraged us to think differently, take on challenges, and as a person who's come to the Indianapolis 500 every year since 1977, when we first started talking about racing on the road course here in May, it struck me as a difficult conversation. But as I began to get away from the emotional side, the traditionalist side, and you start looking at the opportunity we have to make the Indianapolis 500 better, this is a great way to do it, and Mark Miles I think is going to explain to you the reasons why it makes sense. Mark Miles, our CEO here at Hulman & Company.
MARK MILES: I guess I should thank Doug for that introduction. This doesn't know anything about motor racing thing is getting a little old, but I'm learning as fast as I possibly can.
Thank you, everybody in this crowd who's a friend, even the journalists. We're all delighted you're here to celebrate this news with us today. It is a really big day for us, and we're eager to have the chance to explain it to you a little bit.
You obviously know if you've seen the car over here that we're celebrating the Grand Prix of Indianapolis, but we wanted to kind of set the table for you a little bit and explain the context a bit.
Obviously to all of us, and I think people all over the world, the Indianapolis 500 Mile Race is a bucket list event. It is iconic. It is known. It's one of those things that sports fans all over are trying to figure out how to get the opportunity to come attend.
In May, if you're from this part of the world, it's a big deal. You can't live in Indianapolis, Indiana, and not know when May comes that it's time to turn your attention to this part of Indianapolis, the Speedway, Indiana.
But when we got here and we started looking candidly, we thought, you know, we can take this to a whole 'nother level. Maybe not so much the 500, because its stature is just incredible. But May, what if we could do more with May, and what if we could do it in a way that further promotes and builds to the culminating event, the Indianapolis 500 Mile Race. What if we could jump start May, ignite May in a way that brings more people out here throughout the course of May, starting with this opening weekend, and exposes this place leading up to the '500' to television viewers to a new extent.
So that was the premise. We did a lot of work on it, and we concluded that we ought to kind of concentrate on the weekends. If you think about opening weekend this year, which we were part of from the inside, I just had this nagging feeling we can do more. We can give more people a more compelling reason to be here. We had a great antique car show. We had practice. The atmosphere was starting, but why can't we kind of turbocharge that? So we decided that we would bring the best of our worlds together.
I feel like we need to expose Indianapolis race fans, fans of the Indianapolis Motor Speedway, to IndyCar racing. I was out publicly yesterday, and I ran into a senior person at the Indianapolis Chamber of Commerce, and he said: 'You know, I never missed a '500.' I'm such a big race fan, and I am so excited about this new road course race you're going to do. What kind of cars do you run? Are they smaller?'
To us the story is we can do more to expose Indianapolis people, Hoosiers, and fans of the Indianapolis Motor Speedway to IndyCar, and that's a really important objective for us. More people will begin to understand that sure, we race the IndyCar Series on ovals but we also race on road courses and street races, and there's so much content and so many stories because of the diversity and the talent of our racers.
And then the other side of it is why can't we expose in a bigger way May nationally, and so I am really happy to announce that ABC will telecast this race live, the opening weekend, as well as the '500.' The '500' this year, next year, the next one, will be the 50th consecutive broadcast of the Indianapolis 500 Mile Race by ABC, and they see the chance to start May and finish it as a great platform to explain what we're about and to build their audience culminating with the '500.'
So the plan at a high level is that the track will open, the Speedway will open on Thursday, May 8th, no charge. Come out, we're open. On Friday, we'll have qualifying and maybe some of the races we definitely are going to race all of the ladder series for IndyCar racing here that weekend. Some will be on Friday, some on Saturday. And then Saturday, May 10th, will be the Grand Prix of Indianapolis. Can't wait to expose this particularly to Hoosiers and people around the Midwest.
Overnight, the people who work here are going to do something miraculous. They're going to turn this place back into an oval, so that on Sunday we'll open the oval for the normal preparations for qualifying in the Indianapolis 500 Mile Race. So '500' fans can come out still on the first weekend and get excited about oval racing.
We couldn't be more excited about it. It's part of a bigger goal. We have set a stake in the ground for ourselves as an organization. We get a pretty big crowd out here over the course of a year. We believe we can have a 50-percent increase in our paid attendance by 2018, and the plans for igniting or elevating May are a big part of that, will give us a big boost.
One of the key ingredients to make this work was the improvement of the road course. It had a lot of history with Formula One racing, but our sense was that it, too, could be a better platform for our racing. And so a lot of work has been done. Doug is not carrying around some giant invitation, he's carrying around a secret plan that will soon be no so secret for the improvements to the track, but you're going to hear him explain how we'll take advantage of the assets that were there and add really interesting components, signature chicane, additional passing zones, and as the drivers will tell you, we think it'll provide great racing.
We're going to make this first weekend in particular very family friendly and very affordable. The best of road racing is festival, family, green, picnic. It isn't the big stands. So we're going to configure the permanent stands of the speedway in a way that uses the seats that are the best seats for watching this kind of racing, and we're going to add seats for getting people in bleachers right out on the track in a way that is really thrilling if you have the opportunity to do it, and it will be affordable.
So the most expensive ticket will be less than half the cost of the most expensive tickets for the '500.' A family of four, two adults, two children 12 and under, will be able to come out for the race for $50. So we're determined to make it something that everybody who's interested has the opportunity to come out and see.
We think this is simply a start along this path of making significant increases in the number of people that come out to this great iconic place for our racing and for other events that we'll add and announce in the future, and we could not be more excited about the potential to jump start this for May.
It is now my great pleasure to introduce somebody who is leading this city so well and who is always there to tell the story and to be supportive, and he's a big fan of this idea, so a double pleasure to introduce Mayor Greg Ballard.
GREG BALLARD: I want to thank everybody for coming out today for this unbelievable announcement for me. A lot of you know I spent 23 years in the Marine Corps. I lived in different places around the country, different places around the world, and I'm able to bring that back home and tell people very candidly there's nothing like the Month of May in Indianapolis. There's nothing like it in the world. It's a very special time.
I still get excited just coming through the gates, even today. To come into this facility, Mark talked about the race being iconic, the facility is iconic by itself, and it means so much to so many people around the world. I hear about it all the time whenever I travel. And to add this particular race to kick off the month of May here in this facility is absolutely amazing.
Motorsports means so much to the people of Indiana, the economy. The economic benefit of motorsports here in the city of Indianapolis and around Indiana is tremendous, and I'm sure people know that. I could go on about that and about how many schools teach motorsports in different areas, all because of the ideas back in the early 1900s that emanated right here.
It's amazing how this has grown up. It's amazing how it evolved. We're lucky to have great people in charge who continue to evolve the events at this facility and continue to make it really a place that all of us in central Indiana can admire and will for years to come. Thank you so much for coming out today. I very much appreciate it.
BOLES: Thank you, Mayor Ballard, for being here. I know you have something to do at 5:00, so you won't offend any of us if you have to step out and leave. We have a special guest who just walked in, and we are very grateful that you have taken the time. I know you had a busy schedule today, and to come in and participate with us, ladies and gentlemen, I'd like to introduce to you the winningest owner in the history of the Indianapolis Motor Speedway, Mr. Roger Penske.
ROGER PENSKE: Well, thank you. I apologize for being a few minutes late. I did get a police escort. I came the fastest I've ever come from the airport to the racetrack, so maybe that'll rub off next year at the race.
This is really an exciting time for me and I think for all the participants in the Indy Racing League. As you know, I go back over 60 years ago, if you can believe it, when my dad brought me here in 1951 and I sat in the fourth turn and I couldn't even see the cars go by. But talking about family fun and what's going to happen certainly with the road race is going to be exciting.
I've seen, starting May 1st, we came here for many years. I've seen the weeks between qualifying, and as we see our sport changing and certainly with the demographics it was all ovals back in those days, but with road racing coming in, there's just no question that this combination and the utilization of this facility is imperative for us to build this sport where we need to be. The assets here are the best in the world, there's no question about it, and to think that we can be here the week before we start, the weekend before we start running and run a road race is terrific.
I've always wanted to have a chance to run on the road race here. With the Formula One, obviously, we couldn't compete, but I know people like Bobby Rahal and folks that have really built their reputations at this racetrack, and Tony obviously behind me and Graham, these folks love to compete. There's no question. In today's world and economy, you need to use an asset like we have here, and to see that the management team at the Hulman Company and certainly the Speedway have made that critical decision.
As people talk about history, they talk about this being an oval, the '500,' and we've got the Brickyard, and I think today being able to bring a road race in and have a Speed Week is almost the greatest thing I've heard. It'll help our schedule and the interest. We'll be able to bring more people out here that haven't been here before maybe to see the cars compete.
One weekend on the road course, the next weekend qualifying, and obviously the '500,' because to me it's The Greatest Spectacle in Racing, and there's no question about it. To me every single driver wants to race at Indianapolis, and I can tell you, we had a chance to win the first Nationwide race, and I hope we have a chance to win the first road race. I'll just give you guys a head's up. I'm looking forward to it.
I appreciate everybody coming out today. Great event, great announcement, and we're going to be here with three cars this year competing, so I can't wait, and thanks for the opportunity to be here today. Thank you.
BOLES: Thank you, Mr. Penske. I think next we're going to talk a little bit about the track. In addition to the folks that I introduced up here, one of the things that's made the Indianapolis Motor Speedway what it is over the last 104 years are the people who have not only invested their passion and their energy into the facility but the people that have really literally risked their lives. In addition to folks we have here, we have three others in the room here I'd like to introduce: Our 1986 Indianapolis 500 winner Bobby Rahal, now a team owner on the IndyCar Series; multi veteran at the Indianapolis Motor Speedway, Derek Daly; and rookie from this year's Indianapolis 500, Conor Daly. Thank you guys for being here, as well.
What you see behind me is the new road course for the IndyCars at the Indianapolis Motor Speedway. This 2.434-mile road course, 14 turns, is a little bit different from where we were with Formula One. What we have here are three fantastic passing zones on our racetrack and an outstanding chicane that we believe will be absolutely wonderful for our fans to watch.
We're not only going to make the track experience better, we're going to make it a lot easier for our fans to enjoy it. So the mounds that you see in the 7-8-9 complex are there now, but they're going to be bigger, taller and wider so we can accommodate more fans. The 5-6 chicane complex is going to get the same makeover with the mounds there. The mounds at Turn 1 will remain the same, but between 2 and 3 we're adding a brand-new mound there for fans to be able to see the racetrack 1, 2 and 3, and looking off the opposite side you'll be able to see 4, 5 and 6 of the road course.
As Mark mentioned, it's a festival atmosphere when you run a road race or a street circuit. We are encouraging our fans to buy a GA ticket for $30, come in, spend the time excuse me, for $25 and spend the time at the Indianapolis Motor Speedway, walk the grounds, check out these new mounds and see these wonderful passing zones.
The drivers in the IndyCar Series spent an awful lot of time with Derrick Walker and I as we thought through these corners. We're excited about what we think we've delivered. One of the questions that we heard earlier today is how is this different from Formula One. Formula One didn't encourage passing. Formula One, when the track was here had one passing zone, and that was the Turn 1 that you see behind me. We've actually made it a little bit better. We think it's going to be stronger.
Turn 7 is going to be much better than where we were with Formula One because the run up as you go through the 5-6 chicane is an awful lot longer, it's about 2,500 feet from the moment you come out on Hulman, until you make that corner at Turn 7, and then the corner at Turn 12 is going to offer another unique opportunity to pass, but what it's going to do for the Indianapolis 500 fan who loves to sit in Turn 1 for the first time ever, they're going to get to experience what it looks like for a car to run on a road course here at the Indianapolis Motor Speedway.
So that gives you an idea where we are with our corners. Our tickets will go on sale on October 14th. As Mark said, we have resized the stadium. We don't anticipate this being 200,000 people. We'd be excited if we have 40,000 or 50,000 people here, and we're hoping that's where we get. What we are trying to do here is really bring a lot more people to the Indianapolis Motor Speedway on opening weekend so we can kick off the Month of May with a race that brings national media attention that right now opening weekend does not, and as Mark mentioned, having our race on ABC to kick the Month of May off we think is going to be fantastic for everyone.
With that I'd like to ask Graham Rahal. Graham was very helpful in terms of the way we set up the track. He actually spent a day out here in his car, his Blu cigarette car. Why don't you comment a little bit, you're one of the unique guys, and a little bit Tony, but you actually got to run the old F1 course and now got an opportunity to run at least part of what is going to be the new course. How do you think these changes are going to be different from what the track looked like in F1 configuration?
GRAHAM RAHAL: I did. Actually, first of all, it's great to be here today, and since the first time that I heard, I think it was in Barber, the rumor came out that we might be racing here next year, it was always exciting for me. I mean, even since I've been in the sport, the month of May hasn't really been a month. So for us I think as drivers, as teams, it's great to be here and to have another event added.
For me, I think that the track when I tested here frankly I really enjoyed it, and I told you that, but it was quite slippery and really as we talked about the passing zones were fairly limited. And so with all the changes that have been made here, I think what you'll see is not only a track that's extremely fast, the top speeds on test day with pretty high downforce were ranging in the mid 180 mile an hour range, and that, frankly, wasn't even fully trimmed out. And I think with long straightaways like this, you're going to get a huge variance, and do you want to run a high downforce package, do you want to run a low, and I think that's really going to add to the excitement of racing.
The changes that I think Doug and everybody here has made, it's going to make this probably one of the most exciting races that we can go to. The track is fairly wide. I think for the fans there's quite a lot to see. Hulman Boulevard is going to be pretty long, and changing up that turn there to be a tighter 90 degree corner there's going to be a lot of passing for those who want to sit in that section of the track.
Having raced here in Indy Lights actually, which was during the Formula One week, and I also raced Formula BMW here, again, we had that same sort of variance at that time on the downforce side of things, but it was very difficult to pass. There was really the one opportunity and if you didn't get it done there you could pretty well hold everybody off through the remainder of it. I think now we're going to have an opportunity to put on a great show.
I felt very fortunate to be here and to be a part of the test, to work with Firestone on what could potentially be a tire and, of course, work with Doug and everybody on what the layout could look like.
As I said I think for everybody here, I hope everybody is really optimistic because it's going to be a great show. It's going to be great for those of us that live in the city to be right here at home.
I think myself probably like most of you were pretty surprised at the price of the ticket package. I think it's going to be pretty phenomenal for all the fans to come out and be a part of this. I'm extremely excited about it. I look forward to it coming up here. It seems like a long time, but I'm sure it's going to be here before we know it. But I think the track layout is going to be really good and we'll be able to put on a great show for you.
BOLES: Thank you, Graham. I've been carrying these around for about six weeks, and Derrick and I, if you'd stopped us anywhere walking through the halls, we were walking in folks' offices, stopping people on the street going through all the different variations. Kevin Forbes is getting tired of hearing from Derrick and I calling throughout the nights as we've made additional changes and ideas, and we're looking forward to how this thing comes together. The track should be completely resurfaced by December 1st. We'll start putting curbing in, and hopefully we'll be able to have some spring testing.
Next I'd like to introduce this year's Indianapolis 500 champion, our most popular driver, really, in the IndyCar Series, Mr. Tony Kanaan.
You and I got to spend some time with Conor (Daly) out in the car on the racetrack, and we were actually thinking about trying to go the inside Turn 1, and you really pushed back because of one corner on this racetrack that you thought was important that we build a track around.
TONY KANAAN: Yeah, actually I had the thrill that you were driving around. I got scared, but that's OK.
Yeah, well, I just had ran the GRAND AM race a few weeks back when we came here to test, do a tire test on the oval, and it didn't make any sense to me going the normal way as we people because that's the way we race on the oval, and the greatest corner was Turn 1. I had a lot of passing in the race into Turn 1, and I said, 'Why are we going to take the corner that gives us the most opportunity to pass?' I asked Doug that question, and why don't we create a couple more. That was just my opinion, but I guess he listened, and I think it's going to be great. Obviously I haven't ran on the track, but I'm excited.
I think Roger touched on a point about tradition. We haven't changed the tradition. Opening Day is still Sunday. It's still going to be the whole month of May of the '500.' The only difference is we have a good race on Saturday, and I'm excited about that. Obviously, needless to say how much support do I get here, so Roger, I'm going to try to give you a run for your money. I don't know where I'm going to be at, but I'll have a car and I'll come back and try to beat you guys.
BOLES: One last question for you: You drove up here in something brand new. You've had a pretty good day. Talk about what folks can see as they walk outside here at the end of the press conference.
KANAAN: People thought it was staged, but I was flying in last night for this thing and I get a call from Chevy saying that my Corvette, the Stingray, the Pace Car, it was ready to go. I almost didn't even come here today. I went to pick the car up, and I asked Doug when I walked in, can I try the road course just for a quick second? But yeah, it got delivered today. I'm extremely excited. The guys had all the stickers to put on the car. I said no way, let me take it and we'll bring it back later. But I'm excited about that.
That's the beauty of now I know the feeling of an Indy 500 winner. It lasts for a long time, forever, and then you get to celebrate pretty much — every month I have something new. I can't wait for the ring to come down and then the little Borg-Warner, and it's just awesome.
Thank you very much for coming. We look forward to seeing you in May. We look forward to you telling your friends and colleagues that this isn't about changing Indianapolis, this is about making the Indianapolis 500 better. Thank you so much.