Gasly tops second wet Hungarian GP practice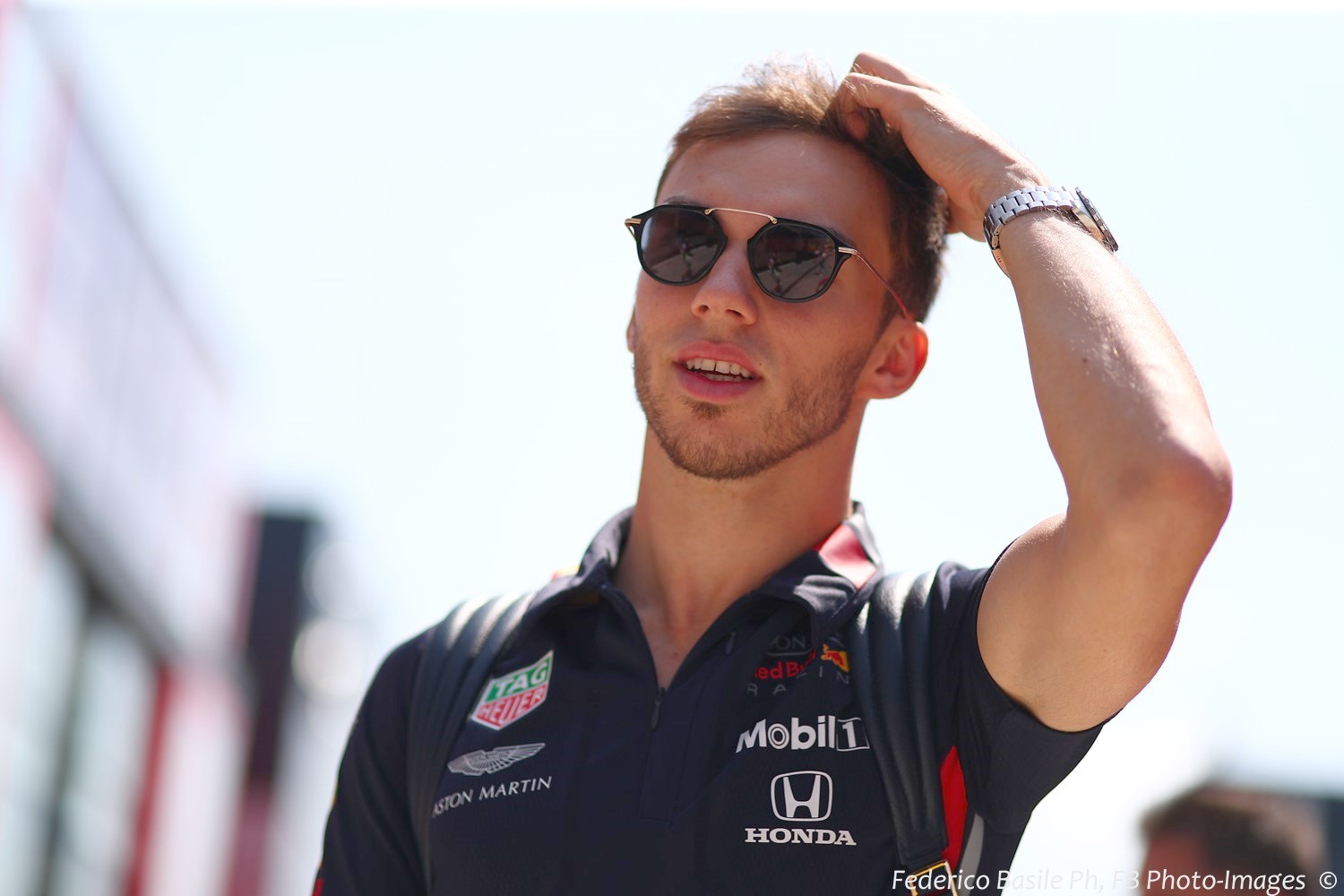 Pierre Gasly, quickest in the wet
It was a Red Bull one-two in second practice, with Pierre Gasly leading the way from his teammate Max Verstappen, and Lewis Hamilton in third.
Damp and drizzly. That was a fair summary of the conditions drivers faced in second practice at the Hungaroring – and it was Red Bull's Pierre Gasly who made the best of it, clocking a time of 1m 17.854s to finish just 0.055s ahead of team mate Max Verstappen, with Mercedes' Lewis Hamilton another 0.086s back.
The leading times were set in the first half hour, after which slick tires weren't realistically an option at the Hungaroring. From there on in – with qualifying and the race expected to be dry – there was little for the teams to learn from the mildly moist track surface, hence most kept running to a minimum.
But with the rain interrupting the session from word go, it is hard to read anything into the lap times.
The big news from FP2 was the crash for Albon in the Toro Rosso. He put a wheel onto the wet grass at an early stage, slamming into the barriers and heading to the medical center as a result.
The good news is he is "okay" but his car certainly wasn't.
The Friday rain adds a huge element of uncertainty to the remainder of the weekend. Expect to see a very frantic final practice on Saturday morning, as the teams desperately play catch-up ahead of qualifying!
WHAT WE LEARNED FROM FP1 AND FP2
Although the Hungarian Grand Prix is normally associated with warm weather, today's conditions were mixed, with intermittent light rain in both sessions that limited on-track running, as well as a brief red flag in FP2.
All the nominated tyres for Hungary were used at various points during the day, with the exception of the Cinturato Blue full wet tyre.
The quickest FP1 time was faster than the equivalent from last year, but the 2018 benchmark in FP2 wasn't beaten due to the weather. The top three times in FP2 were set early in the afternoon session with the three different slick tyres: soft, medium and hard, in that order.
The fastest overall time of the day was set by Mercedes driver Lewis Hamilton in this morning's FP1, using the soft.
Track temperatures were down to under 30 degrees centigrade by the end of FP2, with ambient temperatures in the region of 24 degrees.
On a short circuit such as the Hungaroring, the difference between the compounds is never especially big. There's a very approximate difference of around 0.7 seconds between soft and medium, with an estimated gap of 0.5 seconds between medium and hard. However, the limited running made it hard to get an accurate read.
Quotes
Pierre Gasly
First Practice Session: 1:17.682, Position: 4, Laps: 25
Second Practice Session: 1:17.854, Position: 1, Laps: 16
"We have a strong car and the package seems to be working well in both the dry and the wet, but we can't take many conclusions from today with the mixed conditions. I was happy with the car in both sessions, even if we didn't do many laps, but it's too early to see where we stand. I don't know what's going to happen with the weather tomorrow but it could be really unpredictable like today with more tricky conditions. I think as expected Mercedes are really fast and we probably didn't see Ferrari's true pace so we'll find out tomorrow what we can fight for, but the battle with Ferrari will be pretty tight."
Max Verstappen
First Practice Session: 1:17.398, Position: 2, Laps: 28
Second Practice Session: 1:17.909, Position: 2, Laps: 12
"I think it was a good day for us and although Mercedes seem to be a little bit ahead we're very close which is positive. We learnt a lot this morning during the dry running and the car was competitive straight away. We were then able to make lots of changes, some worked and some didn't, but that is what practice sessions are for and you have to see if you can improve the balance before deciding on one direction. The car seemed to work well in both wet and dry conditions, which is very positive. Tomorrow is a new day but it all looks pretty close so it should be an interesting qualifying."
George Russell
It was a pretty productive day and I feel quite pleased with today's running. We learned a lot even with the limited laps we did, especially in the rain, but also in the dry. We did a full 40 minutes of aero running in FP1 to correlate everything and make sure everything is working as expected. We didn't do many laps in FP2, but it was still a very intriguing session for us. Generally, the pace was relatively strong, and I think we've learned some good things so hopefully we can follow that through into tomorrow.
Robert Kubica
It was a tricky Friday. During FP1, track conditions were ok with light rain and we were able to complete our programme. We were unlucky with the weather in FP2, but that's just how it is, and it's the same for everyone. It is kind of a home race although we are not in Poland so there are many Polish fans. I hope for dry weather this weekend so that the fans can appreciated the full potential of a Formula One car. I wish for a good weekend, for them, and for us.
Practice 2 Results
| | | | | | | |
| --- | --- | --- | --- | --- | --- | --- |
| POS | NO | DRIVER | CAR | TIME | GAP | LAPS |
| 1 | 10 | Pierre Gasly | Red Bull Racing Honda | 1:17.854 | +0.000s | 16 |
| 2 | 33 | Max Verstappen | Red Bull Racing Honda | 1:17.909 | +0.055s | 12 |
| 3 | 44 | Lewis Hamilton | Mercedes | 1:17.995 | +0.141s | 15 |
| 4 | 77 | Valtteri Bottas | Mercedes | 1:18.184 | +0.330s | 18 |
| 5 | 3 | Daniel Ricciardo | Renault | 1:18.597 | +0.743s | 13 |
| 6 | 7 | Kimi Raikkonen | Alfa Romeo Racing Ferrari | 1:18.682 | +0.828s | 25 |
| 7 | 16 | Charles Leclerc | Ferrari | 1:18.852 | +0.998s | 21 |
| 8 | 27 | Nico Hulkenberg | Renault | 1:18.892 | +1.038s | 14 |
| 9 | 99 | Antonio Giovinazzi | Alfa Romeo Racing Ferrari | 1:18.909 | +1.055s | 25 |
| 10 | 26 | Daniil Kvyat | Scuderia Toro Rosso Honda | 1:18.957 | +1.103s | 22 |
| 11 | 8 | Romain Grosjean | Haas Ferrari | 1:19.149 | +1.295s | 19 |
| 12 | 20 | Kevin Magnussen | Haas Ferrari | 1:19.178 | +1.324s | 21 |
| 13 | 5 | Sebastian Vettel | Ferrari | 1:19.254 | +1.400s | 24 |
| 14 | 55 | Carlos Sainz | McLaren Renault | 1:19.398 | +1.544s | 22 |
| 15 | 11 | Sergio Perez | Racing Point Bwt Mercedes | 1:19.721 | +1.867s | 13 |
| 16 | 18 | Lance Stroll | Racing Point Bwt Mercedes | 1:19.774 | +1.920s | 14 |
| 17 | 63 | George Russell | Williams Mercedes | 1:19.889 | +2.035s | 14 |
| 18 | 4 | Lando Norris | McLaren Renault | 1:20.401 | +2.547s | 6 |
| 19 | 88 | Robert Kubica | Williams Mercedes | 1:20.439 | +2.585s | 15 |
| 20 | 23 | Alexander Albon | Scuderia Toro Rosso Honda | | | 2 |