Porsche wins 24 Hours of Spa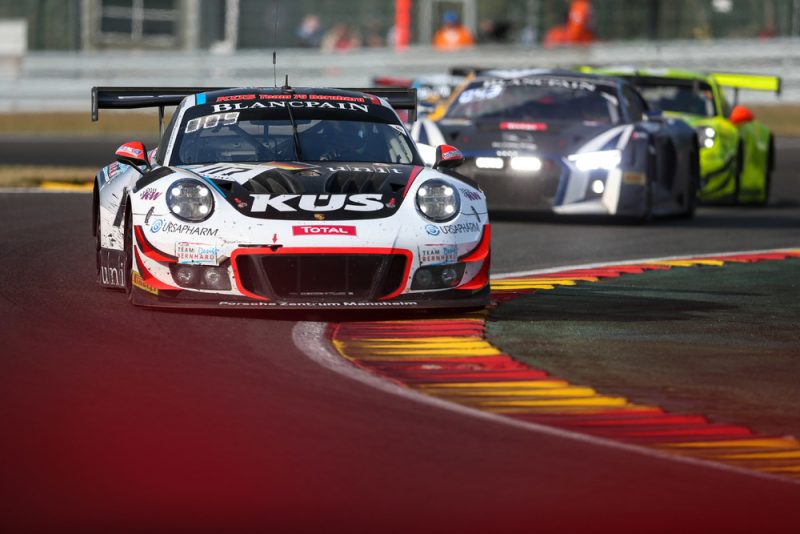 Spa 24 Action
Porsche has taken victory at the 2019 Total 24 Hours of Spa for the first time since 2010.
The German marque beat fierce rivals Mercedes-AMG and Audi to take a 1-2 result with factory GPX Racing squad of Kevin Estre, Richard Lietz and Michael Christensen claiming the win.
It came in a year that has seen Porsche place significant emphasis on conquering the Belgian endurance classic, with six 911 GT3 R machines contesting the Pro class at this season's race. Five of those would finish among the top 10.
Maro Engel led the early stages from pole in the #4 Mercedes-AMG Team Black Falcon entry, which would prove to be one of the GPX Porsche's biggest challengers, ultimately completing the podium in third place.
Audi Sport Team Sainteloc was fourth, a repeat of last year's result for Markus Winkelhock, Christopher Haase and Frederic Vervisch. Another ROWE Porsche was fifth thanks to Romain Dumas, Mathieu Jaminet and Sven Muller, while Honda scored a superb sixth-place finish from 33rdon the grid with its lone Pro class NSX GT3.
A record 72 cars took the start of this year's Total 24 Hours of Spa, but despite hugely challenging conditions at one of the world's most daunting circuits, the race was able to run without major incident.
For the winners of today's race, it is now time to celebrate a successful assault on the Belgian endurance classic. For the rest of the field, the first stage of preparation for the 2020 Total 24 Hours of Spa will already be underway.
Kevin Estre, #20 GPX Racing Porsche: "During the night it was extremely difficult out there, with a lot of aquaplaning. In fact, the whole race was difficult. Due to the changing conditions, we were almost never on the right tires, but we survived and took the win."
Michael Christensen, #20 GPX Racing Porsche: "When we lost time early in the race due to a penalty, we had to change our strategy to be able to make up ground. That's why sometimes we took the choice of staying out and continuing on tires that did not really match the conditions. It was tough, but we had a plan and we stuck to it."
Richard Lietz, #20 GPX Racing Porsche: "We were asked in June to participate in this race, and I think nobody regrets saying 'yes' now! GPX Racing did a fantastic job, and after finishing three times runner-up here I am really happy that I took the win. I really enjoyed this week in Spa."
Nick Tandy, #998 ROWE Racing Porsche: "During the night I was not sure that we were doing a good job, and to be honest I still don't know if we were! It was really tough out there, and it seems that we were unlucky in some of thegambles we took. We came up against a great competitor, but it is good to see a Porsche one-two."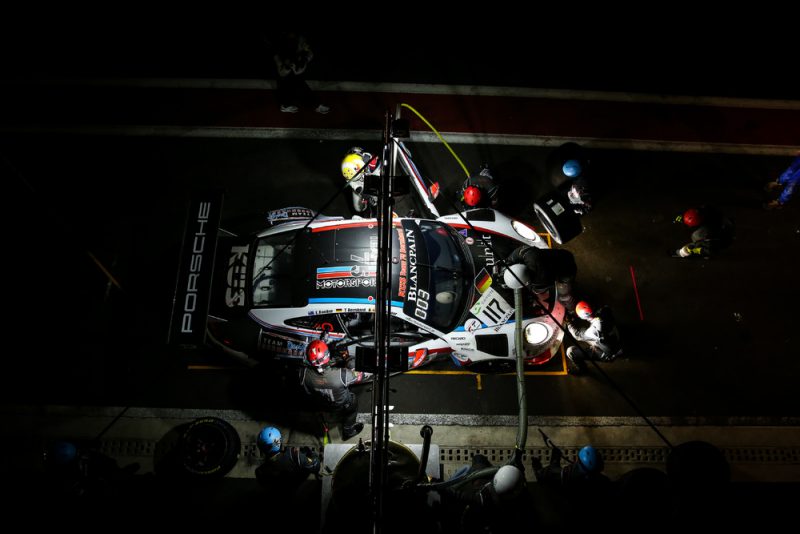 #117 Porsche of Bamber, Bernhard, Vanthoor night pitstop
Maro Engel, #4 Mercedes-AMG Team Black Falcon: "Of course we would love to have stood on the top step, but at the end we did not seem to have the pace of the cars in front of us. Doing an extra lap before one of our final pit stops would have been a risk, and we have to think of our chances in the Blancpain GT Series Endurance Cup as well."
Sandy Mitchell, #78 Barwell Motorsport Lamborghini: "This feels a bit like revenge for last year. We managed to put the Lamborghini on top of the podium thanks to an amazing job by the team in really tricky weather conditions. Spa was our aim from the beginning of the season and we managed to show that we have very good pace."
Ahmad Al Harthy, #97 Oman Racing with TF Sport Aston Martin Vantage: "When I was thinking about endurance racing, I always had Spa in mind. To be able to compete here and listen to the national anthem of my country was an incredible feeling. Thank you to everyone who has supported me over the years, and to my teammates, engineers and mechanics. They did an incredible job."
Alexander Mattschull, #33 Rinaldi Racing Ferrari 488: "I am over the moon to be here again this year. It was a difficult race and it is an incredible feeling. My teammates did an amazing job during the night. Achieving this result is a great honor to me, especially as it is my second class win in a row with Rinaldi Racing."