2020 Chevy Corvette is 'nearly sold out,' says GM design chief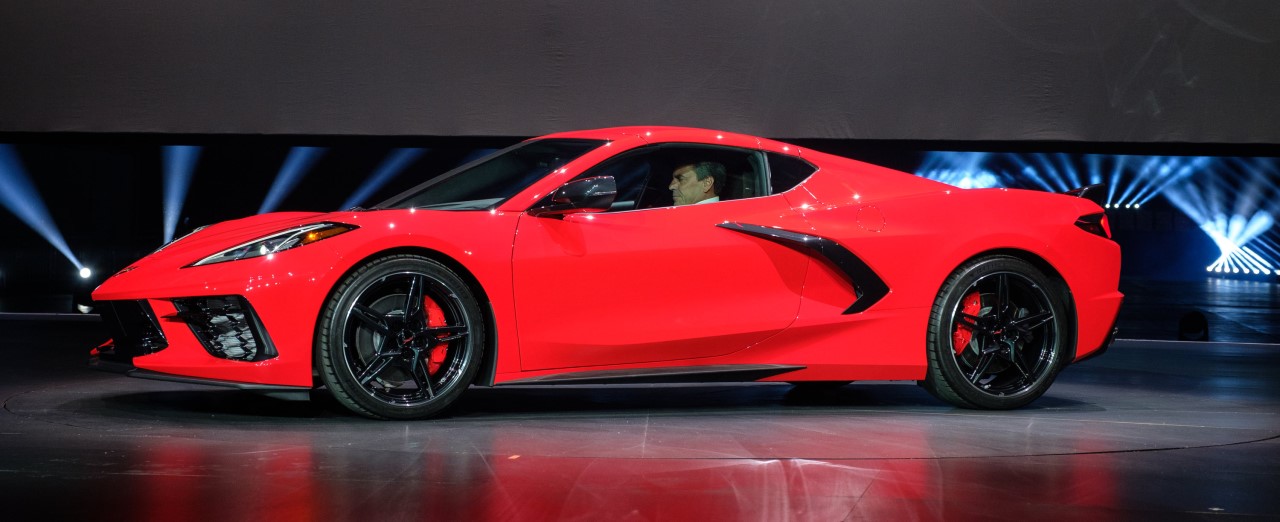 C8 Corvette
The 2020 Chevy Corvette is just about booked up for the first year's production run. Michael Simcoe, GM design chief, said as much at the Concours d'Elegance of America, as a gleaming C8 sat on the lawn.
"I think the orders have already hit the first year of production numbers," Simcoe said when addressing the attentive, large crowd at the golf course. We pulled him aside afterwards, and asked Simcoe to elaborate. Turns out, the C8 is extremely close to being sold out for the 2020 model year, but it hasn't officially hit the mark yet. "It's nearly sold out. It's so close that it's bound to be sold out soon," Simcoe told us.
What Simcoe wouldn't elaborate on were production numbers. Chevy has been allowing folks to reserve a 2020 Corvette via an online registration process, and it was also something folks could do right on the Concours grounds today. We don't know how many Corvettes Chevy plans on selling for the C8's first year of production. Therefore, we also don't know how many reservations have been placed thus far. Corvette sales numbers have bounced around a lot throughout history, but it's surpassed 30,000 sales in many of the better years the model has been around. It's unclear at this point if Chevy is targeting high sales numbers like that in the first year of the mid-engine car.
We do know one thing, though. Time is running short to be one of the first mid-engine Corvette owners. Of course, there will be no shortage of C8s to be had in the future if you can stand waiting a little longer than others. Autoblog
How is the mid-engine Corvette so cheap?
Chevrolet shocked the world last week when it announced that the 2020 Corvette Stingray will start at under $60,000. Just how is that possible?
While speaking with Motor Authority at the new car's reveal, GM president Mark Reuss and Corvette Chief Engineer and Vehicle Line Manager Tadge Juechter pinpointed two key areas that have allowed General Motors to develop an affordable mid-engined supercar.
For starters, the Corvette is underpinned by GM's new Global B electrical platform. This architecture will be used by a plethora of GM vehicles moving forward and is extremely flexible, supporting active safety systems and infotainment systems while also having the potential to underpin all-electric cars.
"Tadge touched on some of these strategies that you'll see introduced across our lineup. Global B is one of them. Global B, don't underestimate what that's going to do capability-wise for all our cars and we're doing it in volume, so that's how you do it," Reuss said. "A lot of what you see here leads to a portfolio of things that happens, just like there's a portfolio of Corvettes today. We'll have a portfolio like that for Corvette as we expand."
In addition, the size of General Motors means it can leverage its economy of scale in a way that smaller car manufacturers cannot.
"How'd you get today's car [C7] to $55,000? It's aluminum, it's composite, it's got carbon fiber in it. It's what we do. We engineer performance value and we leverage General Motors' economy of scale wherever we can to try to give you all the content but not pay for a bunch of extras," Tadge Juechter said. "So, we have an advantage for being part of a very big company."
While Chevrolet says the new Corvette Stingray will start at $60,000, it hasn't released a specific starting price. However, some pundits think it will be $59,995. Carscoops