Leclerc over Verstappen and Vettel in German GP P3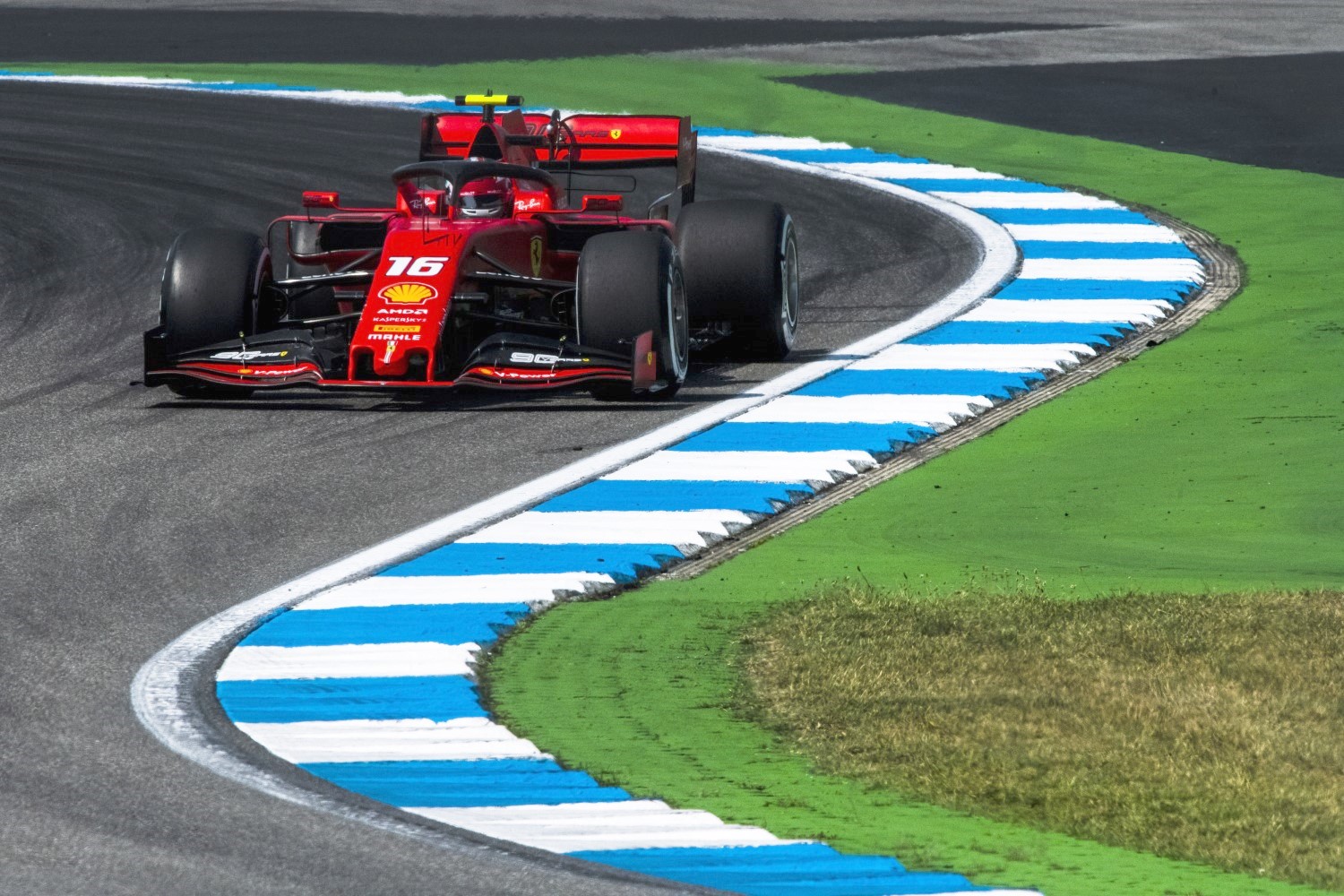 Charles Leclerc
Charles Leclerc kept Ferrari on top in practice 3 for the German GP as the Mercedes team continues to sandbag in the heat until tomorrow's cooler temperatures.
Max Verstappen got his Red Bull up to 2nd after Ferrari ran 1-2 in both Friday sessions, 0.168s behind Leclerc's 1m12.380s.
Sebastian Vettel was third 0.264s back.
Valtteri Bottas (Mercedes) and Kevin Magnussen (Haas) rounded out the top-5.
There's no stopping the youngster Leclerc at the moment. Leclerc looks the favorite for pole later on. But that doesn't tell the full story of an eventful session, with stories up and down the field.
Vettel is looking off the pace of his teammate and will have to find something special later on if he wants to repeat his pole position of last year. The German has struggled to find the optimum set up, and will hope he's found the answers through that final hour.
Mercedes expected to be more competitive later today in the more typical conditions after yesterday's scorcher, but they don't look on the pace of their rivals at the moment. Are they sandbagging though? They seem to have the tendency to turn the wick up min qualifying to a greater extent than their rivals.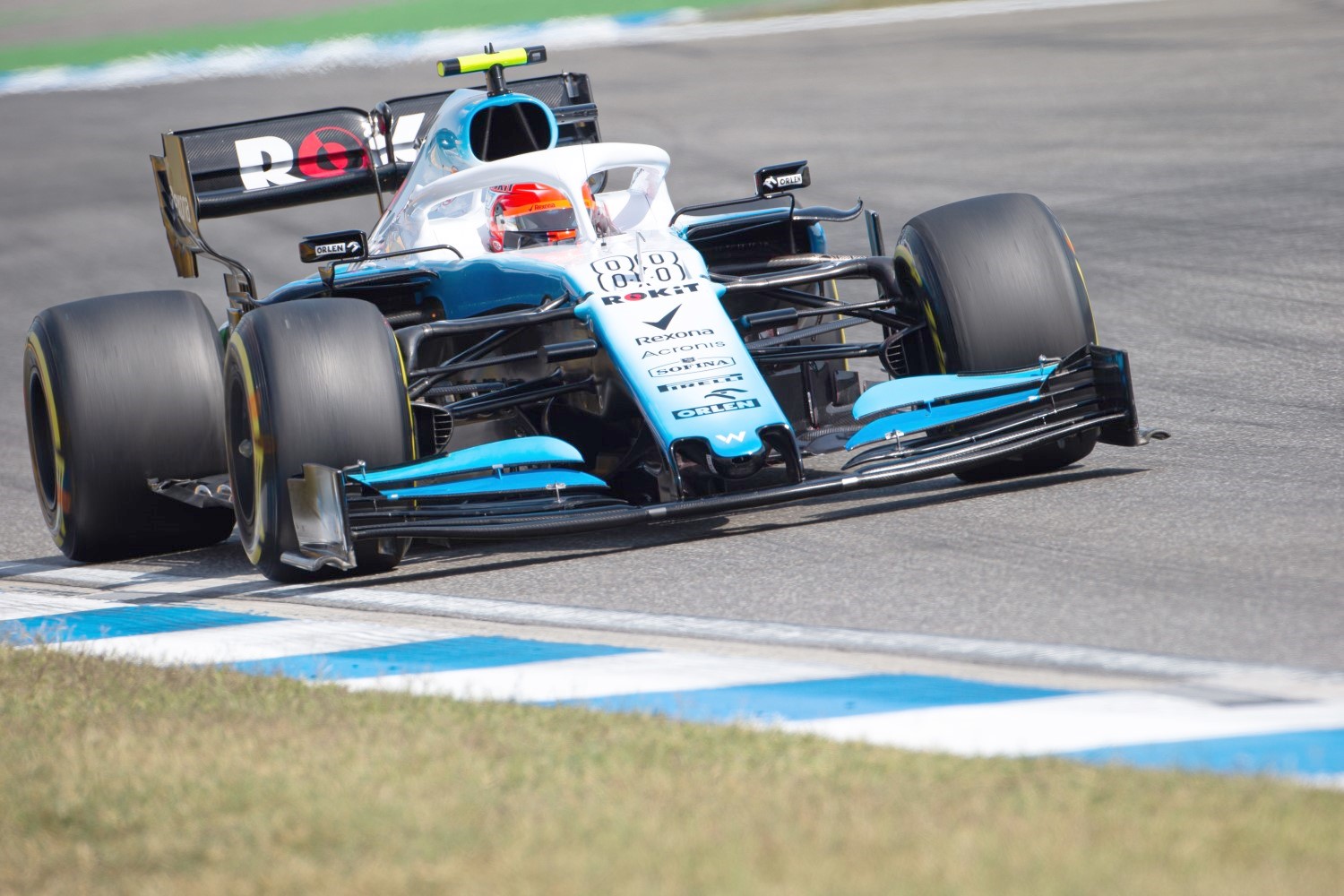 Kubica's Williams chassis cracked
Williams were forced to break curfew at Hockenheim on the Friday evening after finding damage on the car of Robert Kubica that necessitated the chassis being sent back to their UK headquarters, with the Polish driver set to spend the rest of the weekend using a spare one.
Kubica had already admitted to being worried that updated parts brought to the FW42 this weekend were too "fragile". But while elements falling off the car is one thing, Williams were surprised to discover damage to the chassis following his day's running in Free Practice 1 and 2.
"We found some damage while rebuilding Robert's car overnight which was not repairable at the track," a Williams representative said. "We decided to change to the spare chassis for the rest of the weekend."
The other big talking point from the session was the issue of track limits. A few times were deleted today (including Vettel), when drivers had all four wheels off the track. Will everyone adjust their racing line for qualifying, or continue to risk pushing the limits?
Practice 3 Results
| | | | | | | |
| --- | --- | --- | --- | --- | --- | --- |
| POS | NO | DRIVER | CAR | TIME | GAP | LAPS |
| 1 | 16 | Charles Leclerc | Ferrari | 1:12.380 | +0.000s | 18 |
| 2 | 33 | Max Verstappen | Red Bull Racing Honda | 1:12.548 | +0.168s | 12 |
| 3 | 5 | Sebastian Vettel | Ferrari | 1:12.644 | +0.264s | 18 |
| 4 | 77 | Valtteri Bottas | Mercedes | 1:12.890 | +0.510s | 24 |
| 5 | 20 | Kevin Magnussen | Haas Ferrari | 1:12.893 | +0.513s | 13 |
| 6 | 44 | Lewis Hamilton | Mercedes | 1:12.965 | +0.585s | 22 |
| 7 | 55 | Carlos Sainz Jr. | McLaren Renault | 1:13.300 | +0.920s | 18 |
| 8 | 10 | Pierre Gasly | Red Bull Racing Honda | 1:13.324 | +0.944s | 17 |
| 9 | 7 | Kimi Raikkonen | Alfa Romeo Racing Ferrari | 1:13.351 | +0.971s | 18 |
| 10 | 8 | Romain Grosjean | Haas Ferrari | 1:13.378 | +0.998s | 15 |
| 11 | 11 | Sergio Perez | Racing Point Bwt Mercedes | 1:13.476 | +1.096s | 15 |
| 12 | 27 | Nico Hulkenberg | Renault | 1:13.496 | +1.116s | 19 |
| 13 | 23 | Alexander Albon | Scuderia Toro Rosso Honda | 1:13.554 | +1.174s | 24 |
| 14 | 4 | Lando Norris | McLaren Renault | 1:13.556 | +1.176s | 15 |
| 15 | 99 | Antonio Giovinazzi | Alfa Romeo Racing Ferrari | 1:13.671 | +1.291s | 16 |
| 16 | 18 | Lance Stroll | Racing Point Bwt Mercedes | 1:13.672 | +1.292s | 15 |
| 17 | 26 | Daniil Kvyat | Scuderia Toro Rosso Honda | 1:13.767 | +1.387s | 21 |
| 18 | 3 | Daniel Ricciardo | Renault | 1:13.816 | +1.436s | 20 |
| 19 | 88 | Robert Kubica | Williams Mercedes | 1:15.540 | +3.160s | 20 |
| 20 | 63 | George Russell | Williams Mercedes | 1:15.824 | +3.444s | 11 |