SRO America Schedules Released; Indy Round Added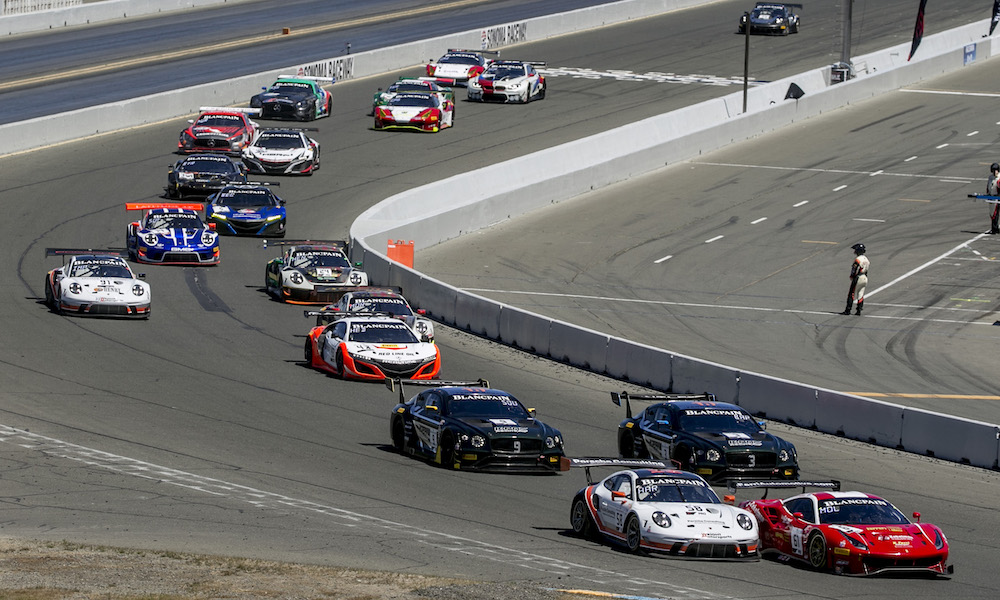 Sonoma Action
The 2020 schedules for SRO Motorsports America's three core championships in GT3, GT4 and TC have been announced.
Six of the seven venues on the 2019 Blancpain GT World Challenge America trail have been retained, while the Indianapolis will be introduced as the season finale.
TC America's calendar was also released on Friday, featuring nine dates shared with the published GT3 and GT4 weekends.
Additionally, SRO confirmed the formation of the GT2 Sports Club America, for GT2-spec cars in a five-round calendar for 2020.
GT World Challenge America Schedule:
Mar/Apr. TBA — Circuit of The Americas
May. 16-17 — Canadian Tire Motorsport Park
Jun. 6-7 — Virginia International Raceway
Aug. 8-9 — Sonoma Raceway
Aug. 29-30 — Road America
Sep. 19-20 — Watkins Glen
Oct. 3-4 — Indianapolis 8 Hour
GT2 Sports Club America Schedule:
June 6-7 – Virginia International Raceway
Aug. 8-9 – Sonoma Raceway
Aug. 29-30 – Road America
Sept. 19-20 – Watkins Glen
Oct. 3-4 – Indianapolis
Pirelli GT4 America Schedule:
Mar/Apr. TBA — Circuit of The Americas (SprintX)
Mar. 14-15 — St. Petersburg (Sprint)
Apr. TBA — TBA location (Sprint)
May. TBA — TBA location (Sprint)
May. 16-17 — Canadian Tire Motorsport Park (SprintX)
Jun. 6-7 — Virginia International Raceway (Sprint, SprintX)
Jun. TBA — Portland International Raceway (Sprint, SprintX)
Aug. 8-9 — Sonoma Raceway (Sprint, SprintX)
Aug. 29-30 — Road America (Sprint, SprintX)
Sep. 19-20 — Watkins Glen (Sprint, SprintX)
Oct. TBA — TBA location (SprintX)
TC America Schedule:
Mar/Apr. — Circuit of The Americas
Mar. 14-15 — St. Petersburg
Jun. 6-7 — Virginia International Raceway
Jun. TBA — TBA location
Jul. TBA — TBA location
Aug. 8-9 — Sonoma Raceway
Aug. 29-30 — Road America
Sep. 19-20 — Watkins Glen
Oct. TBA — TBA location