Mike Rockenfeller wins tire battle at Assen Race 2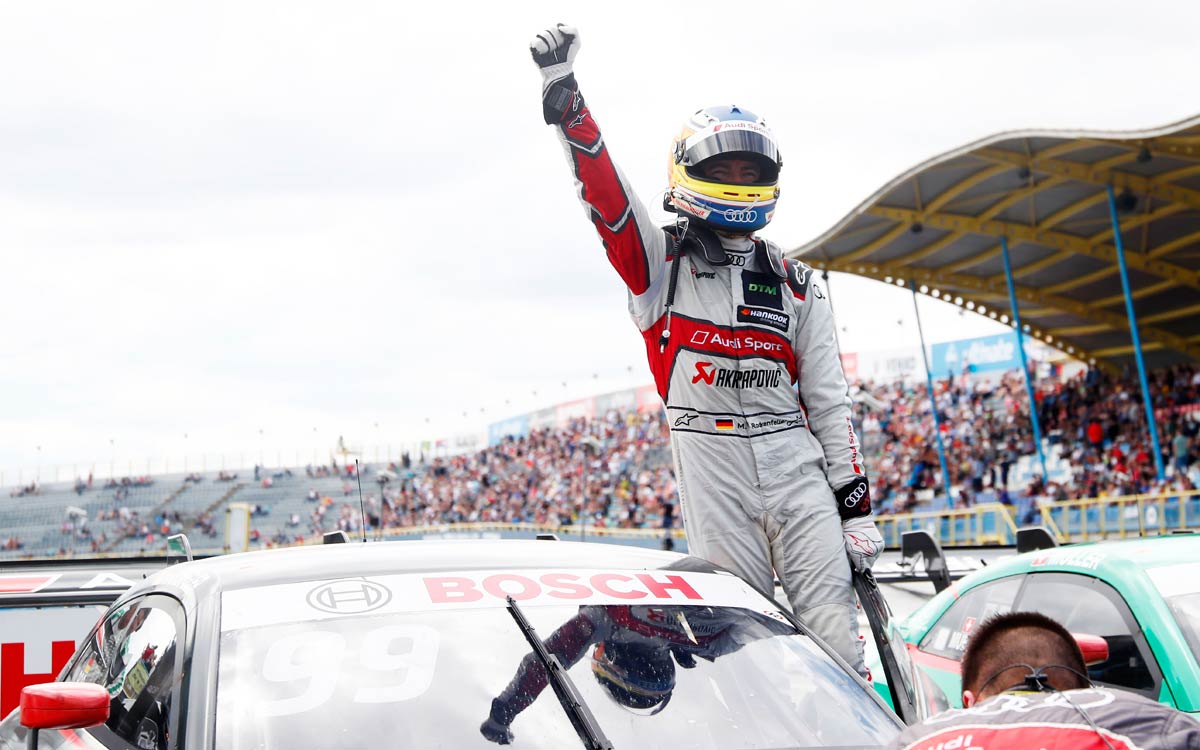 Mike Rockenfeller
Mike Rockenfeller's sensational victory in Sunday's DTM race at Assen earned the German his first victory since Zandvoort 2017.
Central to the Audi driver's success was his careful management of Hankook tires, making a single stop for fresh rubber and eking them out to the end as the whole field struggled with tires that thrillingly toppled over the cliff-edge.
Marco Wittmann (GER, BMW) and Nico Müller (SUI, Audi) aped his strategy, finishing second and third to consolidate their championship chances. Wittmann, yesterday's winner, sensationally charged through the field from last place on the grid after mechanical issues halted him in qualifying this morning.
Today's result enabled Mueller and Wittmann to eat into points leader Rene Rast's advantage. Nevertheless, the German put in a spirited drive in the closing stages after fitting fresh rubber and ensure he dropped as few points to his rivals as possible.
Today's pole-sitter was fifth over the line, despite dropping as far back as 13th after fitting fresh rubber with just eight laps remaining. Fourth place went to impressive rookie driver Jonathan Aberdein (RSA, Audi).
Daniel Juncadella (ESP) crowned a strong performance for R-Motorsport Aston Martin with seventh place. The Spaniard was another to benefit from careful tire management. In the closing stages, he mounted a challenge on local hero Robin Frijns (NED, Audi), but couldn't quite make it stick. Both were also forced to submit to a charging René Rast just a few corners from the checker.
Rast & the rest: German builds 22-point margin ahead of Brands Hatch
After the first DTM event at the TT Circuit in Assen, René Rast remains in the lead of the drivers' standings with 158 points – 22 ahead of fellow Audi driver Nico Müller. Saturday race winner Marco Wittmann has 118 points, Philipp Eng (AUT, BMW) sits on 111. With his victory at Assen on Sunday, Mike Rockenfeller moves up to 94 points.
"It's my first time in Assen and I've been hugely impressed. On Saturday evening, I did a lap of the track, and have to say: I don't understand why Formula 1 isn't racing here. It's one of the best circuits I've ever seen: high-speed corners, high safety standards, a vast paddock, large grandstands, huge parkings with a good infrastructure and a good organization; a state-of-the-art facility. Just perfect. I've been positively surprised by everything. And the promoter has made a huge effort and done a great deal of promotion ahead of the event. That has definitely paid off. We experienced a great debut for DTM at Assen. Gerhard Berger, chairman ITR e. V.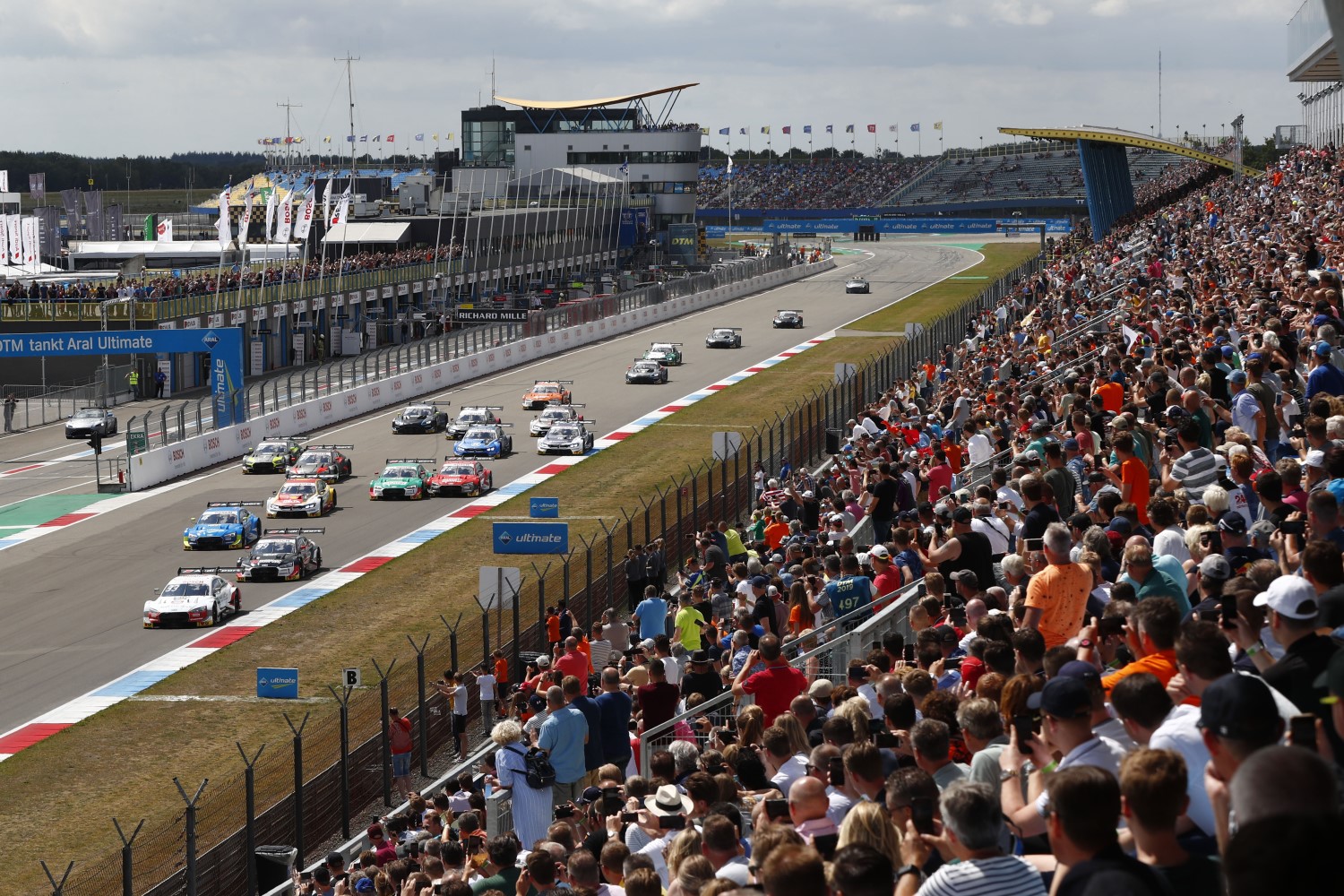 The start of race 2 at Assen
"I'm absolutely over the moon! The DTM is one of the world's most challenging race series – and yesterday, we ended up in the lower midfield with the same set-up; but today, we were at the front. I had a great qualifying session and made a good start to the race. I knew that it would be all about tire management today. I tried to save them as much as I could – and that paid off. When the gap to the drivers behind me increased, I paid attention to every noise in the car. Therefore, I was happy when I saw the checkered flag." Mike Rockenfeller, winner
"Of course, qualifying was a disappointment after the good results on Saturday. From last on the grid, my hopes for a good result weren't particularly high because overtaking is difficult here at Assen. However, after the opening lap, I was up to 10th or 11th place and was able to quickly work my way up to sixth. But then I got stuck behind the Audis – that's why we stopped early and attempted the undercut. It worked out, then after that it was all about tire management." Marco Wittmann, 2nd place
"This DTM season is remarkable. Today, tire management was the key to success. For me, it was on the limit as well, but it worked out. At the end, I would've liked to attack a bit more and fight harder with Marco. However, I was losing pressure in my right rear tire and didn't want to take any risks, so I stayed away from the curbs. I wanted to keep the pressure up, but at the same time not risk too much. At the end of the day, I am really happy with third place." Nico Müller, 3rd place
Race 2 Results
| | | | | | |
| --- | --- | --- | --- | --- | --- |
| POS | DRIVER | TEAM | CAR | LAPS | GAP |
| 1 | Mike Rockenfeller | Phoenix | Audi | 37 | 0.000s |
| 2 | Marco Wittmann | RMG | BMW | 37 | 4.518s |
| 3 | Nico Muller | Abt | Audi | 37 | 6.398s |
| 4 | Jonathan Aberdein | WRT | Audi | 37 | 17.000s |
| 5 | Rene Rast | Rosberg | Audi | 37 | 19.348s |
| 6 | Robin Frijns | Abt | Audi | 37 | 21.626s |
| 7 | Daniel Juncadella | R-Motorsport | Aston Martin | 37 | 21.967s |
| 8 | Paul Di Resta | R-Motorsport | Aston Martin | 37 | 22.554s |
| 9 | Jamie Green | Rosberg | Audi | 37 | 25.946s |
| 10 | Pietro Fittipaldi | WRT | Audi | 37 | 36.096s |
| 11 | Loic Duval | Phoenix | Audi | 37 | 36.492s |
| 12 | Ferdinand Habsburg | R-Motorsport | Aston Martin | 37 | 41.444s |
| 13 | Philipp Eng | RMR | BMW | 37 | 47.996s |
| 14 | Timo Glock | RMR | BMW | 37 | 57.455s |
| 15 | Sheldon van der Linde | RBM | BMW | 37 | 58.520s |
| 16 | Joel Eriksson | RBM | BMW | 29 | 8 Laps |
| – | Bruno Spengler | RMG | BMW | 19 | Retirement |
| – | Jake Dennis | R-Motorsport | Aston Martin | 19 | Retirement |