Chandler Smith Dominates ARCA Race at Iowa Speedway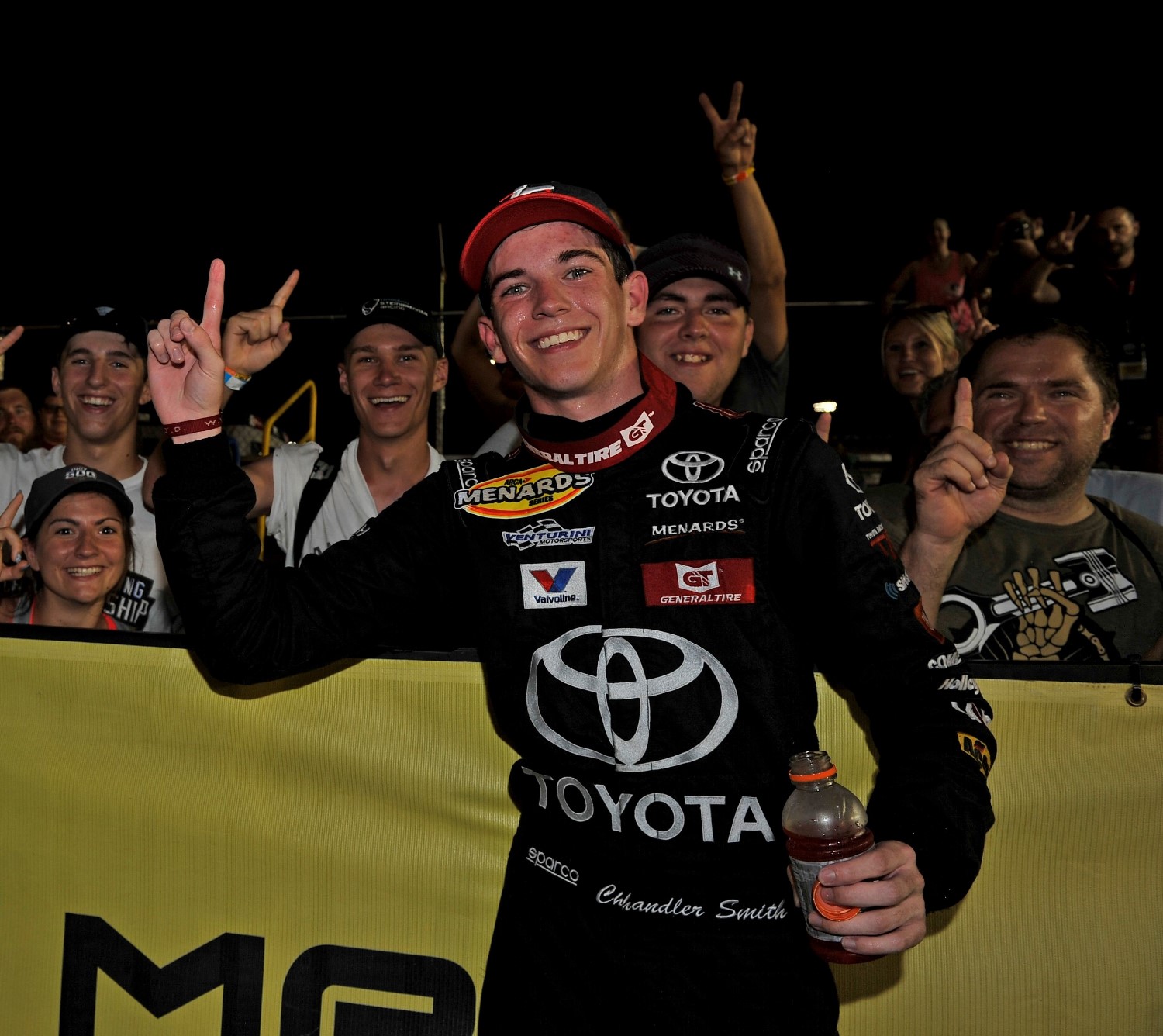 Chandler Smith
Chandler Smith backed up his performance in practice by taking his fourth pole position start of the season for the ARCA Menards Series Fans With Benefits 150 at Iowa Speedway. Smith turned a fast lap of 130.262 mph to edge his Venturini Motorsports teammate Michael Self. In addition to being Smith's fourth pole of the season, it was 13th pole in 14 races for Venturini Motorsports so far.
"To say it's hot is an understatement," Smith said of the ambient and track conditions at Iowa Speedway following qualifying. "It's hot in the car and we're are just slipping and sliding out there on the track. The sun will go down and the track conditions will be totally different for the race, though."
Smith's words proved prophetic but Smith was able to lead the first 106 laps of the race. Driving the No. 20 Craftsman Tools car, Smith had only one mishap with a slow pit stop during the second caution for debris and lost the race off pit road to Ty Gibbs. After dropping to sixth it did not take to long for Smith to regain control of the top position as he passed Gibbs with 35 laps to go.
"I think the experience really paid off there at the end of the race when we had to start from sixth, but I think we got to first in like 5 laps or something like that," said Smith post-race. "That definitely paid off when I raced here in the [NASCAR Gander Outdoors] trucks considering I had to come from the back twice and I raced well."
This was the second time this season Smith has raced at Iowa Speedway. He led the first 55 laps of the NASCAR Gander Outdoors Truck Series M&Ms 200 presented by Casey's General Store earlier in the season in his debut driving for Kyle Busch Motorsports.
The trip to Casey's General Store Victory Lane for Smith marked the 13th different ARCA winners in as many races in Iowa Speedway's 14-year history. Iowa Speedway is one of 11 tracks one mile in length or shorter on the ARCA Menards Series schedule, making it Round 7 of the Sioux Chief Short Track Challenge. Smith leads the standings over 16-year-old Ty Gibbs.
The championship-within-a-championship offers drivers that cannot compete on the superspeedways due to age restrictions a chance at racing for a championship. Smith finished second in the 2018 ARCA Menards Series Fans With Benefits 150 race at Iowa Speedway, crossing the finish line just about a quarter of second behind winner and eventual series champion Sheldon Creed.
"It definitely took a really good handling race car … this is our 5th consecutive win on a short track for this organization in general, so really proud of these guys. And it is our first Venturini win here at Iowa and I am glad my name was written on it."
Next up for the ARCA Menards Series is Pocono Raceway on Friday, July 26 (3:00 p.m. CT on FS1).
Results
| | | | | | | | |
| --- | --- | --- | --- | --- | --- | --- | --- |
| Pos | Car | Mfg | Driver | Sponsor | Laps | Behind | Gap |
| 1 | 20 | Toyota | Chandler Smith | Craftsman Tools | 150 | 0.0 | 0.0 |
| 2 | 15 | Toyota | Christian Eckes | JBL Audio | 150 | -1.515 | -0.256 |
| 3 | 25 | Toyota | Michael Self | Sinclair Lubricants | 150 | -1.838 | -0.003 |
| 4 | 28 | Chevy | Carson Hocevar | GMPartsNow.com-Scotts | 150 | -1.999 | -0.465 |
| 5 | 18 | Toyota | Ty Gibbs | Monster-Terrible Herbst-Orca-Advanced Auto | 150 | -2.42 | 0.033 |
| 6 | 22 | Ford | Corey Heim | Speedway Children's Charities | 150 | -2.961 | -0.256 |
| 7 | 27 | Ford | Travis Braden | MatrixCare-Consonus Healthcare-Liberty Village | 150 | -3.726 | -0.664 |
| 8 | 23 | Chevy | Bret Holmes | Holmes II Excavating | 150 | -5.118 | -0.772 |
| 9 | 77 | Ford | Joe Graf Jr. | Eat Sleep Race | 149 | -1 lap | -1 lap |
| 10 | 32 | Chevy | Colby Howard | The Hope Foundation-Yurpal | 149 | -1 lap | -1 lap |
| 11 | 38 | Ford | Kaden Honeycutt | BBD Fabrication | 148 | -2 laps | -2 laps |
| 12 | 55 | Toyota | Gavin Harlien | Autism Awareness #4Presley | 148 | -2 laps | -2 laps |
| 13 | 7 | Toyota | Eric Caudell | Honoring America's Warriors | 142 | -8 laps | -8 laps |
| 14 | 11 | Toyota | Rick Clifton | Ohio Ag Equipment-Asheville Propane | 141 | -9 laps | -9 laps |
| 15 | 69 | Toyota | Scott Melton | Melton McFadden Insurance Agency | 139 | -11 laps | -11 laps |
| 16 | 06 | Toyota | Tim Richmond | GreatRailing.com | 135 | -15 laps | -15 laps |
| 17 | 48 | Ford | Brad Smith | Copraya.com | 35 | -115 laps | -115 laps |
| 18 | 1 | Ford | Jason Miles | Fast Track High Performance Driving | 20 | -130 laps | -130 laps |
| 19 | 10 | Ford | Tommy Vigh Jr. | Extreme Kleaner – Thomas Coffee | 4 | -146 laps | -146 laps |