Newgarden leads Penske Team 1-2-3 in opening Iowa Practice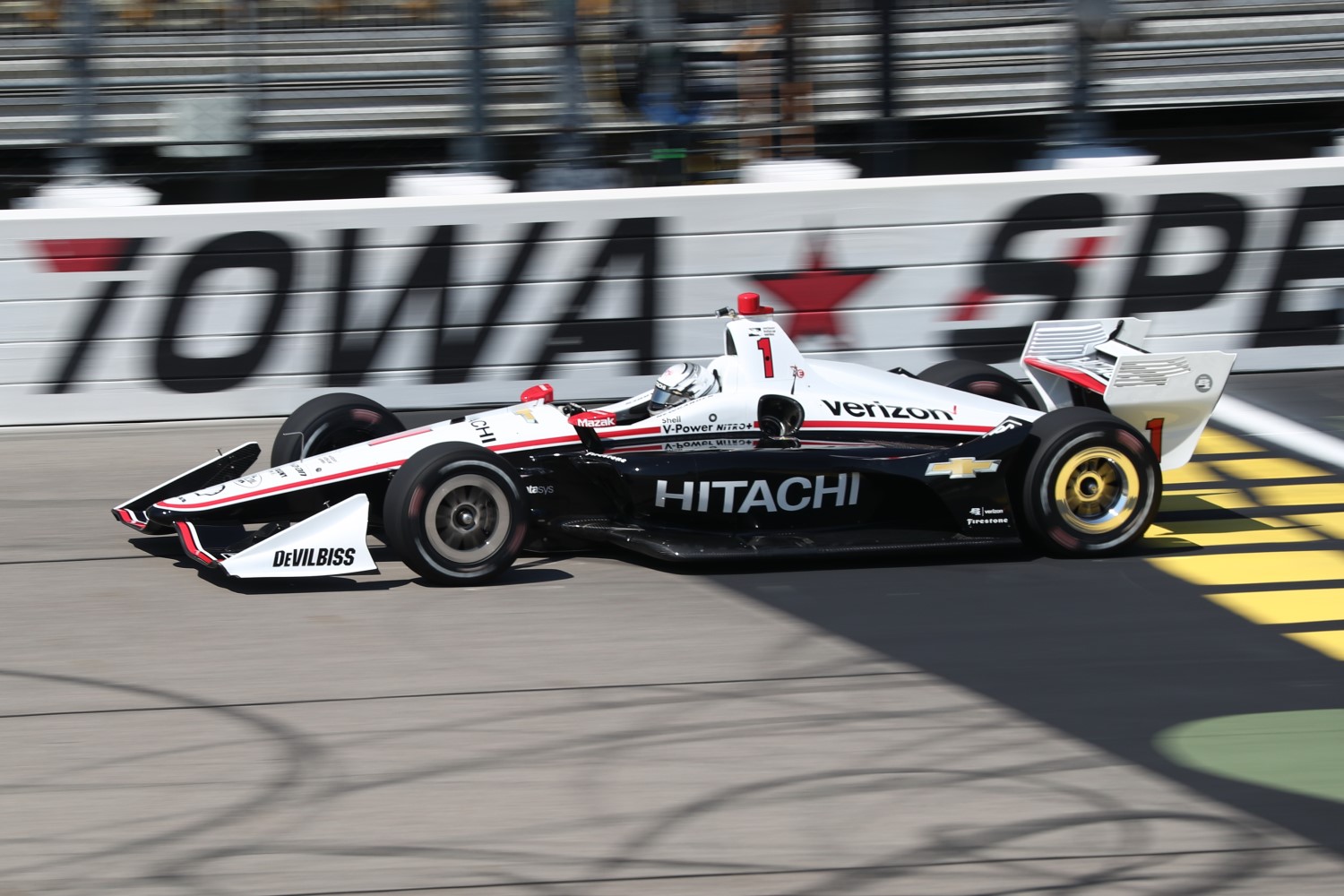 Newgarden in position to dominate the weekend.
Putting their exclusive and superior Penske shocks on the washboard 7/8ths mile Newton Iowa oval, Team Penske ran 1-2-3 in Practice 1 ahead of qualifying on 1-hour.
Points leader Josef Newgarden turned the fastest lap at 179.838 mph to just nip Simon Pagenaud (178.533 mph) and Will Power (178.400 mph) to give the Penske team the upper hand on the track that has become wose with each winter.
The fastest non-Penske car was Alexander Rossi in 4th in his Andretti Honda at 177.595 mph while Scott Dixon rounded at the top-5 in his Ganassi Honda.
Practice 1 Results
| | | | | | | | | | |
| --- | --- | --- | --- | --- | --- | --- | --- | --- | --- |
| Pos | No | Name | Time | Diff | Gap | Laps | Speed | Engine | Team |
| 1 | 2 | Josef Newgarden | 17.896 | –.—- | –.—- | 38 | 179.838 | Chevy | Team Penske |
| 2 | 22 | Simon Pagenaud | 18.027 | 0.1308 | 0.1308 | 49 | 178.533 | Chevy | Team Penske |
| 3 | 12 | Will Power | 18.040 | 0.1443 | 0.0135 | 51 | 178.400 | Chevy | Team Penske |
| 4 | 27 | Alexander Rossi | 18.122 | 0.2260 | 0.0817 | 46 | 177.595 | Honda | Andretti Autosport |
| 5 | 9 | Scott Dixon | 18.137 | 0.2413 | 0.0153 | 39 | 177.445 | Honda | Chip Ganassi Racing Teams |
| 6 | 28 | Ryan Hunter-Reay | 18.154 | 0.2575 | 0.0162 | 33 | 177.287 | Honda | Andretti Autosport |
| 7 | 14 | Tony Kanaan | 18.253 | 0.3565 | 0.0990 | 41 | 176.326 | Chevy | AJ Foyt Enterprises |
| 8 | 5 | James Hinchcliffe | 18.258 | 0.3622 | 0.0057 | 47 | 176.271 | Honda | Arrow Schmidt Peterson Motorsports |
| 9 | 10 | Felix Rosenqvist | 18.294 | 0.3976 | 0.0354 | 59 | 175.929 | Honda | Chip Ganassi Racing Teams |
| 10 | 26 | Zach Veach | 18.325 | 0.4292 | 0.0316 | 43 | 175.626 | Honda | Andretti Autosport |
| 11 | 7 | Marcus Ericsson | 18.350 | 0.4541 | 0.0249 | 57 | 175.388 | Honda | Arrow Schmidt Peterson Motorsports |
| 12 | 19 | Santino Ferrucci | 18.370 | 0.4738 | 0.0197 | 49 | 175.200 | Honda | Dale Coyne Racing |
| 13 | 18 | Sebastien Bourdais | 18.392 | 0.4954 | 0.0216 | 46 | 174.994 | Honda | Dale Coyne Racing w/Vasser-Sullivan |
| 14 | 30 | Takuma Sato | 18.474 | 0.5780 | 0.0826 | 40 | 174.211 | Honda | Rahal Letterman Lanigan Racing |
| 15 | 20 | Ed Carpenter | 18.479 | 0.5827 | 0.0047 | 39 | 174.167 | Chevy | Ed Carpenter Racing |
| 16 | 21 | Spencer Pigot | 18.486 | 0.5901 | 0.0074 | 45 | 174.097 | Chevy | Ed Carpenter Racing |
| 17 | 15 | Graham Rahal | 18.562 | 0.6662 | 0.0761 | 50 | 173.384 | Honda | Rahal Letterman Lanigan Racing |
| 18 | 31 | Sage Karam | 18.622 | 0.7263 | 0.0601 | 56 | 172.824 | Chevy | Carlin |
| 19 | 88 | Colton Herta | 18.630 | 0.7336 | 0.0073 | 59 | 172.756 | Honda | Harding Steinbrenner Racing |
| 20 | 59 | Conor Daly | 18.685 | 0.7887 | 0.0551 | 48 | 172.247 | Chevy | Carlin |
| 21 | 98 | Marco Andretti | 18.757 | 0.8611 | 0.0724 | 49 | 171.582 | Honda | Andretti Herta w/ Marco & Curb |
| 22 | 4 | Matheus Leist | 18.905 | 1.0090 | 0.1479 | 44 | 170.240 | Chevy | AJ Foyt Enterprises |