With win #3 Pagenaud puts himself into IndyCar title hunt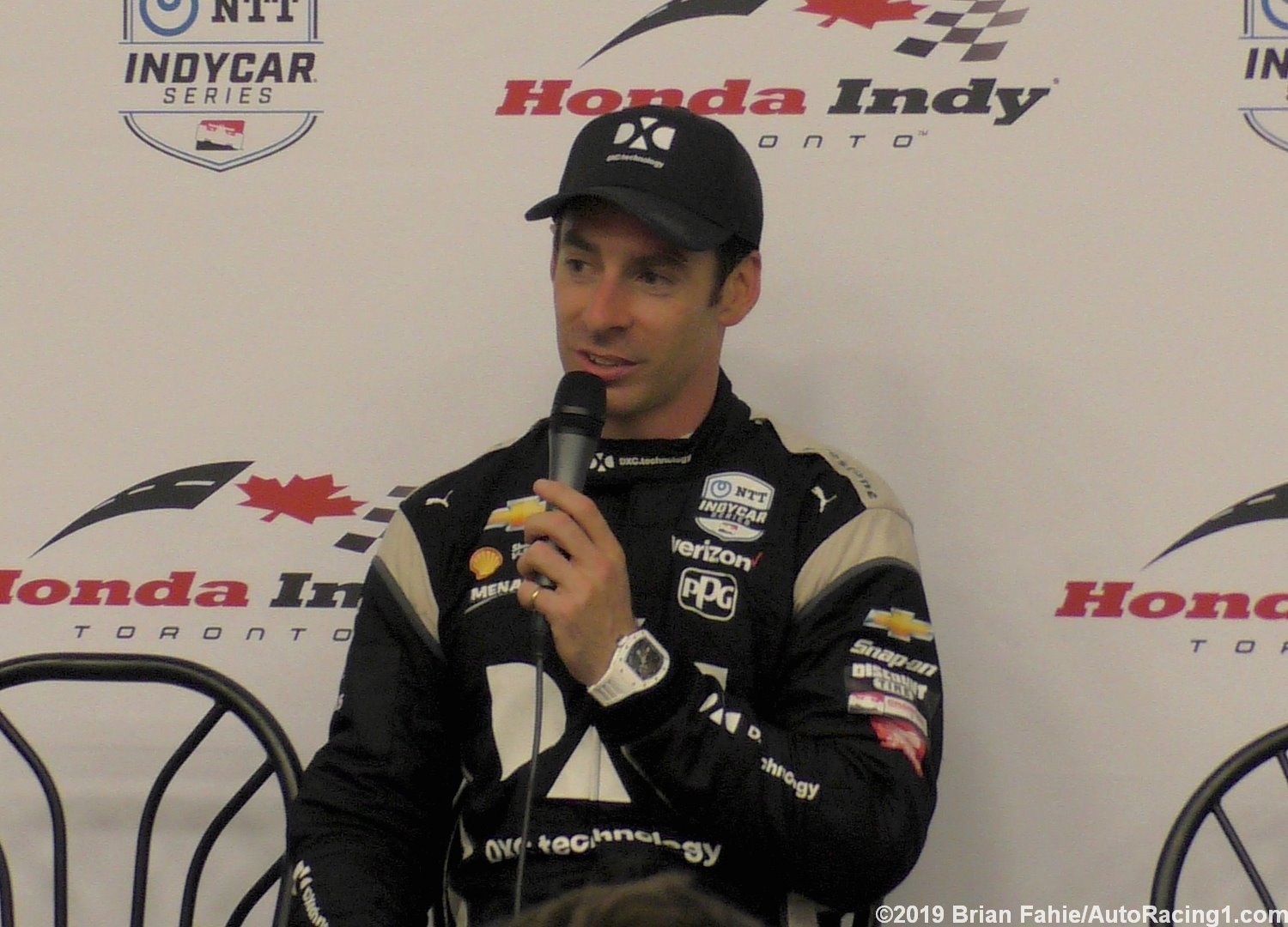 Pagenaud answers media questions
With his third IndyCar win of 2019 Simon Pagenaud has put himself into the IndyCar title hunt by moving up to third in the point standings (39 points back) behind Josef Newgarden and Alexander Rossi.
He had this to say in the post-race press conference on his hunt for an IndyCar title.
As to his hot and cold performances all year, Pagenaud indicated when the car is working he can get the job done.
"Certainly the car was phenomenal this weekend, so it really was a matter of understanding how to extract the maximum out of it and stay on that aggressive level. I kept driving hard all weekend, while still having some margin, except in qualifying.
"We were always a little bit ahead of the competition while not taking too much risk. That really was a comfortable zone, yeah. Definitely a good approach certainly. I'm still working on that to make sure that happens every race.
"There are days that start really well for you. There are days that are really the easiest day in racing. It's just a matter of executing. There are days where it's more difficult. In those days you learn a lot more and you become stronger.
Over the last month, there's been some eagerness to make this a Rossi-Newgarden championship fight, left you out. Did you see any of that? Is that motivation for you?
"No, I think if you look at my Indy car career, I've been fighting for championships almost every year. Never count me out. That's all I can say.
"Maybe here in the end, I'm showing it today, that's my determination that's talking, it's not pretentious, it's just that I have a great team behind me. We won the biggest race in the world. We just won an awesome race. To be at a driver track where you need to have a really good car, chassis and engine, we showed that today.
"We've got all the equipment, all the tools to do so well. Now it's just a matter of knowing when to push it. It's a long championship. You've got to build it. I'm here and I think Newgarden, Rossi and Dixon know it, like I know they're here, too. It's going to be a great fight in the end.
"Those tracks coming up are very good for us. I love Iowa. It's a fun oval. Mid-Ohio, it's a really good track.
"We just going to have to approach it the same way we have and execute. I think the momentum that we have, the way that my mechanics work on the racecar, the smiles that they have mornings and evenings, just shows the potential of our team.
"I'm determined. I told (team owner) Roger (Penske) before the weekend, I said, I'm 100 percent in and I'm going to give you everything I have. That's what you want to hear. That's what you want to do, go out and win championships.
"It's just I had to rest and I had to gather myself after this big storm that happened to me after winning Indy. I reorganized my team around me, not Penske, but my personal team, Team Pagenaud. We're doing a great job with that, which is about optimizing time so I can have time focusing on racing. That's what we're going to have to do, but it seems like it's working.
"I'm definitely switched to championship mode now even though I'm a happy person because of winning the Indy 500."
.