NASCAR switching to 18-inch wheels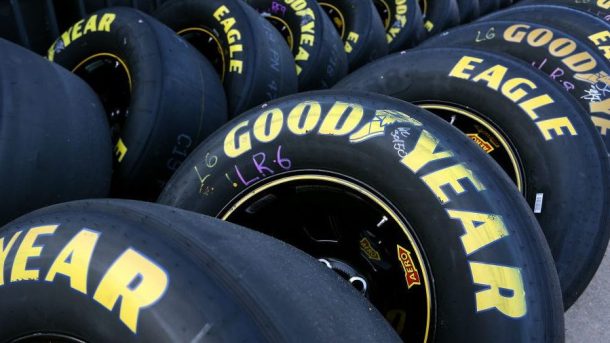 NASCAR Goodyear Tires
After decades of using 15-inch diameter tires, NASCAR and Goodyear definitely will increase tire size diameter – probably to 18-inches – beginning in 2021 when the new Generation 7 Cup Series racecar is put into use, Kickin' the Tires reports.
"It is not just a tire change, it is the overall Gen 7 package that everybody is working on for 2021," said Greg Stucker, Goodyear's Director of Racing. "Part of the whole idea is to try to update the cars somewhat, make it a little bit more relevant to what you see on the street these days. So, I think there will be probably some more differentiation among manufacturers, the car itself will be totally different from a performance perspective.
And one of the things we are looking at is to go with a larger diameter tire, a larger wheel diameter. We have been running 15-inch (tires) here in NASCAR for a lot of years now. If you look at cars on the street, you don't see too many 15-inch wheel diameters anymore. So, we are looking at larger wheel diameters and our target is 18-inch."
Stucker said Goodyear and NASCAR had built and tested tires and wheels with a 17-inch diameter a few years ago but after collaboration with the Ford, Chevrolet and Toyota they landed on the 18-inch diameter as the most logical choice going forward. It's a change that is being centered around the not so easy task of redesigning the entire car used in the Cup Series and will bring the tire more in line with what is seen on production model vehicles.
"It will present a lot of opportunities from a performance standpoint but also present some challenges from a performances standpoint, also. It will be a challenge," Stucker said. "The biggest thing is to try and tune it to the chassis itself. If we go to a larger wheel diameter, then typically we'll go to a shorter profile, so the sidewall of the tire won't be quite as tall. We will probably, also, add some width to the tire, so we will go with a little bit wider wheel, a little bit wider tire. And, again, try to tune it to the characteristics of the chassis."
Stucker explained there is a lot still to determine on exactly how it will affect racing on the track but with a wider tire, there will be an increased contact patch between the tire and the track. Currently, the contact patch is about half the size of a sheet of copy paper. Any increase would give drivers more grip but, according to Stucker, it won't necessarily increase heat build-up in the tire as the tire compound has yet to be finalized and would change from track-to-track like it does now.
A spokesperson for NASCAR stopped short of giving specifics other than to confirm the work being done, "Indeed, there is development work underway on an 18" set-up."
Stucker said it is good that the entire sport is working together to make the racecar the best it possibly can be.
"You can't say a wider tire is going to be better than a narrower tire," Stucker said. "We'll have to tune construction, we'll have to tune compounds for a wider tire. All those different things will come into play. So, the goal will be to make sure we hit the sweet spot on every racetrack that we run. It will just be a process to work through and make sure we get everything tuned accordingly."