Haas seeking 35 million from Rich Energy for contract breach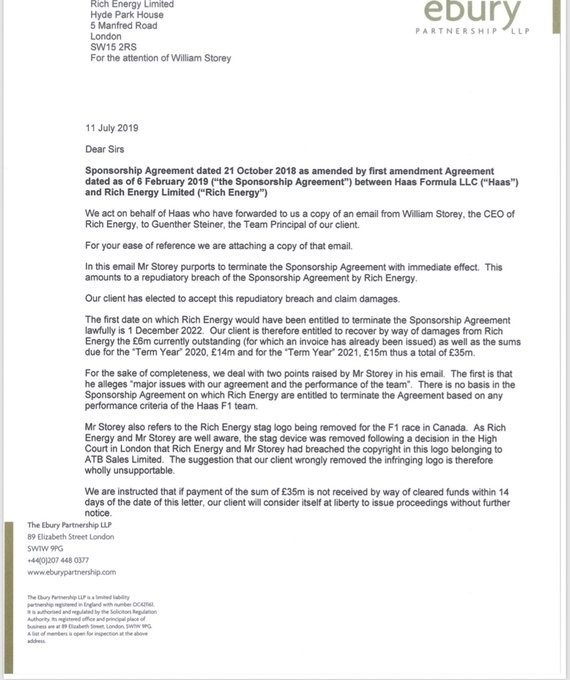 Haas Letter
British Grand Prix – The Rich Energy Twitter account has released a letter, purportedly from Haas' lawyers, that show the team are seeking 35 million pounds in damages.
Rich Energy has released a letter that appears to have been sent from Ebury Partnership, on behalf of Haas, to the company.
This has been done in order to verify the claim from the same Twitter account earlier this week that they had cancelled their sponsorship agreement with Haas.
In the letter, dated 11th of July, the agents say that Haas has agreed to the decision to end Rich Energy's sponsorship of the team with immediate effect.
However, this would result in the team being entitled to damages for breach of contract.
The letter explains that the four year deal between Rich Energy and Haas means that the deal can't be terminated without this money being paid. Haas 'are therefore entitled to recover from Rich Energy the £6 million pounds already outstanding, as well as the sums due for 2020, and 2021.'
Ebury Partnership also explained that the reasons behind Rich Energy's decision to terminate the agreement have no basis in contract law. The 'major issues with the performance of the team' appears to be nullified by a lack of a performance based clause.
The letter also suggests that Rich Energy had issues with the stag logo being removed from the Haas cars for the Canadian Grand Prix. They explain that, due to the decisions of the UK courts finding the logo in breach of copyright law, the complaint from Rich Energy is 'wholly unsupportable'.
Finally, they explain that if they don't receive the full payment of 35 million pounds by the 25th of July, Haas will issue proceedings to recover it.