Vips survives PREMA onslaught for breath-taking lights-to-flag victory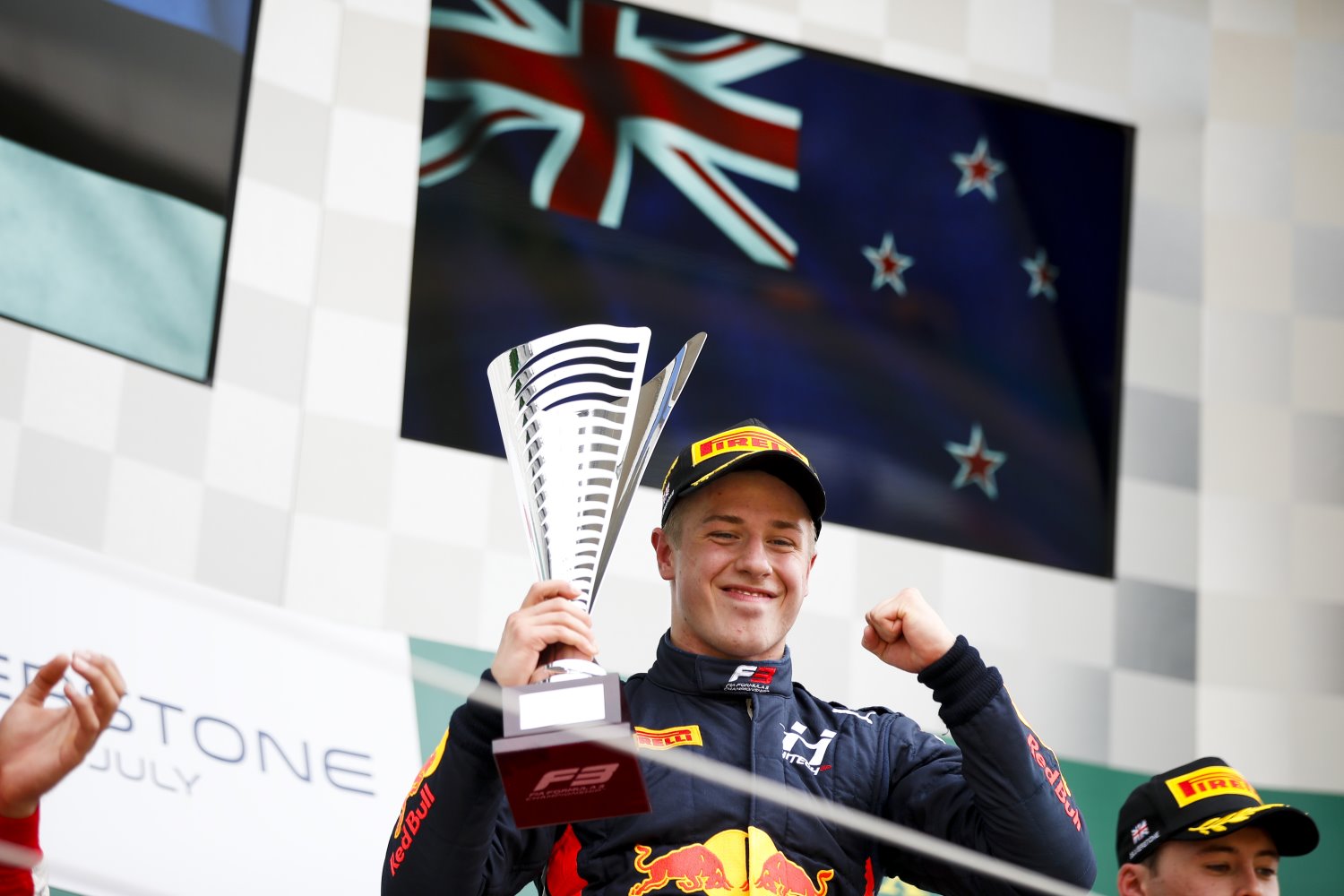 Juri Vips
Jüri Vips produced a defensive masterclass at Silverstone to keep the relentless Jehan Daruvala behind him and drive a lights-to-flag victory in the FIA Formula 3 Race 1. The Hitech Grand Prix man survived several overtake attempts from the pacey PREMA to retain the position come the checkered flag. The duo were followed by the second PREMA of Marcus Armstrong in third.
There was a frantic start when the lights went out, as Vips dashed in front of Armstrong to hold onto pole and race ahead. In his attempts to take first, the Kiwi dropped between both Daruvala and Christian Lundgaard, who took advantage of his focus on Vips.
Armstrong managed to regain the place from Lundgaard at the second corner, who was thrust into a battle with Leonardo Pulcini. The Italian initially cut around the right of the ART man, who dropped back and sprinted around his left to regain fourth.
Meanwhile, the third PREMA of Robert Shwartzman had fallen as far as 13th after a slow start, but wrestled his way back to his starting position of sixth within the first tour of Silverstone.
Armstrong and Lundgaard were still locked in wall-to-wall combat for third around the tight twists of the circuit, before the Kiwi was given some respite when debutant Federico Malvestiti stopped on track and brought out a virtual safety car.
Back out in front, Daruvala attempted a daring lunge on the race leader when action resumed, but Vips defended gallantly going into the corner to hold onto P1. The Indian driver made a second attempt just a few minutes later, but once again fell foul to the defensive abilities of the Hitech racer, who held on, despite nearly kissing tires.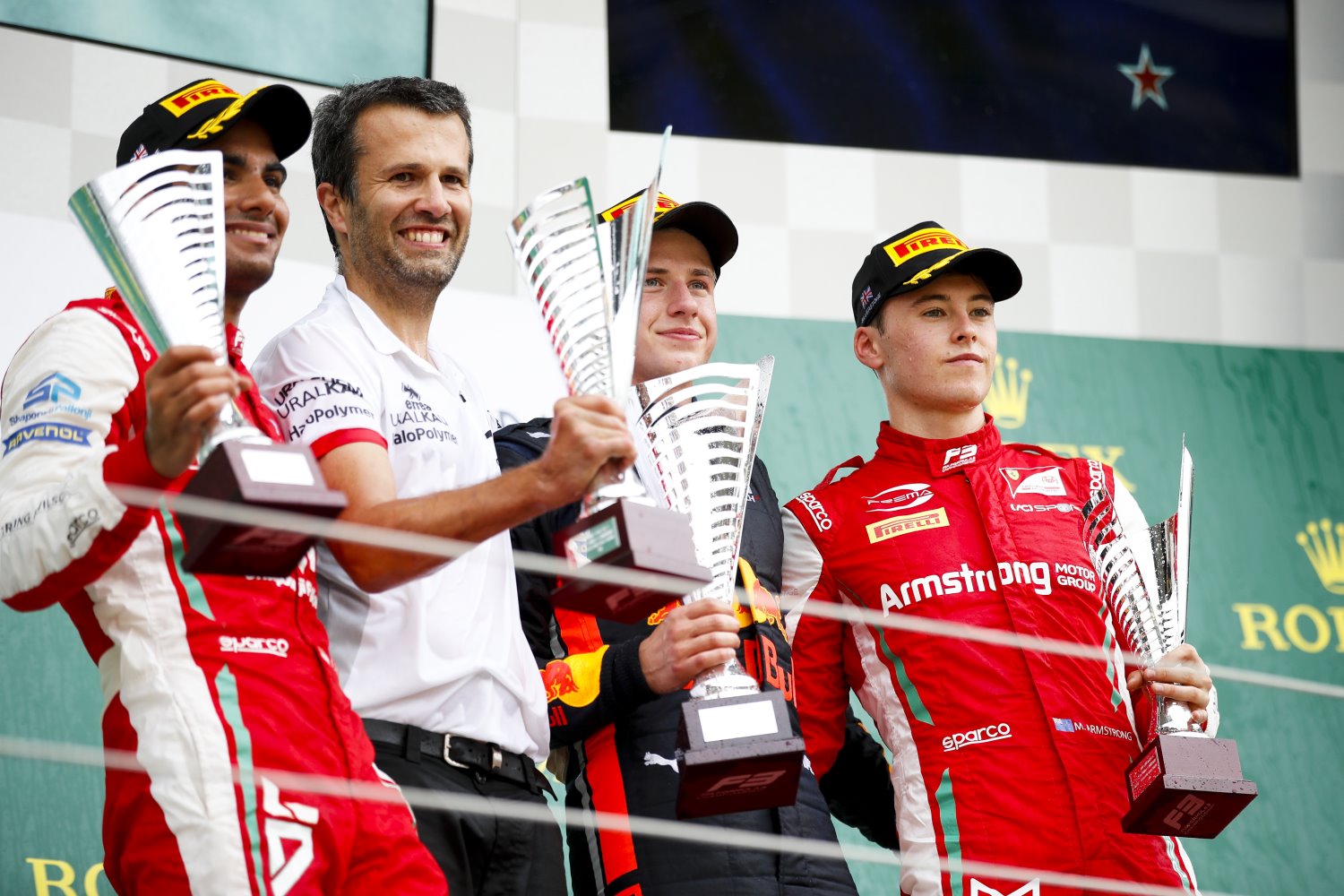 Jehan Daruvala, Juri Vips and Marcus Armstrong
The battle was far from over and the gap remained under a second, but Vips refused to waver. His persistent change of racing line was breaking Daruvala's tow and keeping him in behind. The PREMA man's third attempt was his closest as the duo went wheel-to-wheel, but Vips edged him around the corner and once again, they nearly kissed tires as the PREMA man was forced to ease off.
Having fought so hard for first, the Indian was suddenly plunged into a fight for P2 after he wobbled around a corner and briefly cruised off track. Armstrong dove down the side and the pair went wheel-to-wheel. Still within a second of Vips, Daruvala was aided by DRS and managed to cling on.
Further back, Raoul Hyman was flung off track and bumped the barriers. His attempts to get restarted were in vein and eventually he was forced out of his car, bringing out a safety car.
Five laps remained when the safety car dove back into the pits and Vips made a superb getaway, while Daruvala made a poor one. The Estonian quickly built up a 1s gap and was out of DRS range, with Daruvala now concentrating on the Kiwi teammate in his shadow.
The safety car had bridged the gap between Piquet and Shwartzman, but traffic was crushing his efforts to overtake. Spotting the Trident in his rear view, the PREMA picked up pace and made a move on Lundgaard, slickly sweeping down his left.
Vips had put air between himself and Daruvala, who was now locked in a three-way battle with Armstrong and Pulcini for the final podium places. They would all hold on come the checkered flag, as Vips ran ahead of Daruvala and Armstrong, with Pulcini in fourth, for the first lights-to-flag victory of the campaign.
Shwartzman completed the top five following his move on Lundgaard, while Piquet stole sixth at the death. The ART man was forced to settle for seventh, ahead of Liam Lawson, Jake Hughes and Alex Peroni.
Daruvala's P2 finish was enough to haul him into the Championship lead on 100 points, two ahead of teammate Shwartzman. Vips is third on 92, followed by Armstrong on 69 and Piquet on 43. PREMA lead the team's standings with 226 points, ahead of ART Grand Prix on 76. Hitech Grand Prix are third with 71 points, followed by Trident on 50 and HWA RACELAB on 35.
The grid's youngest driver Liam Lawson will start on reverse pole in Race 2 tomorrow, which takes place at 8.35am local time.
2019 FIA Formula 3 Championship – Round 4 Race 1 classification
POS

DRIVER

TEAM

1

Juri Vips

Hitech Grand Prix

2

Jehan Daruvala

PREMA Racing

3

Marcus Armstrong

PREMA Racing

4

Leonardo Pulcini

Hitech Grand Prix

5

Robert Shwartzman

PREMA Racing

6

Pedro Piquet

Trident

7

Christian Lundgaard

ART Grand Prix

8

Liam Lawson

MP Motorsport

9

Jake Hughes

HWA RACELAB

10

Alex Peroni

Campos Racing

11

David Beckmann

ART Grand Prix

12

Ye Yifei

Hitech Grand Prix

13

Felipe Drugovich

Carlin Buzz Racing

14

Yuki Tsunoda

Jenzer Motorsport

15

Lirim Zendeli

Sauber Junior Team by Charouz

16

Fabio Scherer

Sauber Junior Team by Charouz

17

Richard Verschoor

MP Motorsport

18

Niko Kari

Trident

19

Max Fewtrell

ART Grand Prix

20

Sebastian Fernandez

Campos Racing

21

Keyvan Andres

HWA RACELAB

22

Bent Viscaal

HWA RACELAB

23

Andreas Estner

Jenzer Motorsport

24

Simo Laaksonen

MP Motorsport

25

Teppei Natori

Carlin Buzz Racing

26

Logan Sargeant

Carlin Buzz Racing

27

Devlin DeFrancesco

Trident

NOT CLASSIFIED

Raoul Hyman

Sauber Junior Team by Charouz

Federico Malvestiti

Jenzer Motorsport

Alessio Deledda

Campos Racing

OVERALL FASTEST LAP

Logan Sargeant (Carlin Buzz Racing) – 1:45.692 on Lap 16

FASTEST LAP ELIGIBLE FOR POINTS

Jehan Daruvala (PREMA Racing) – 1:45.698 on Lap 17