Ferrari run 1-2 in final British GP practice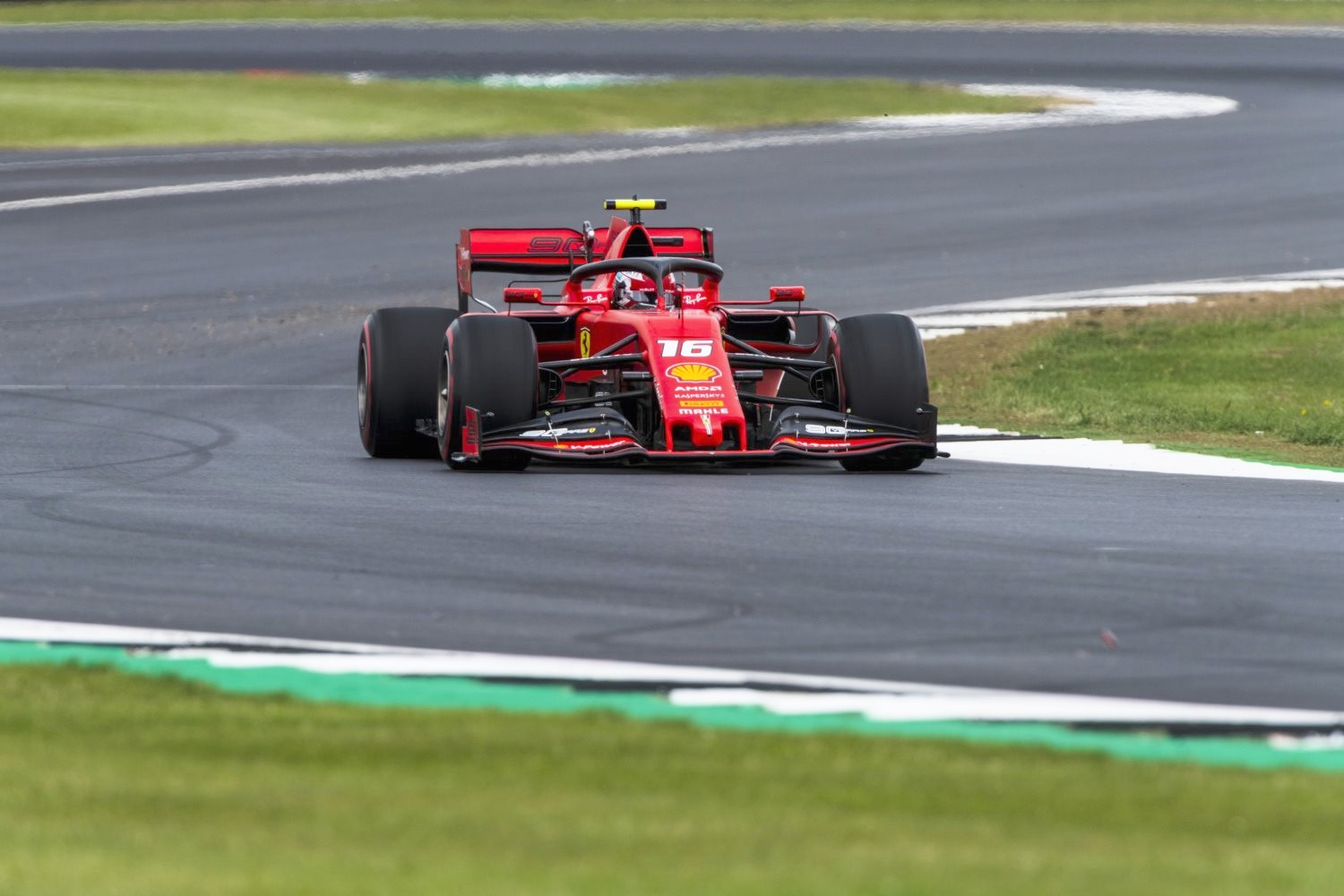 Charles Leclerc
Charles Leclerc and Sebastian Vettel set near identical times (car is 99%) to lead the final practice session for the British GP at Silverstone Saturday morning.
In a session hit by drizzle for a short period, Leclerc turned a lap of 1m25.905s in his #16 Ferrari to nip Vettel's #5 Ferrari by 0.026s. Leclerc's time was less than one tenth off last year's pole time on the 3.6-mile Northamptonshire airport circuit
Crowd favorite Lewis Hamilton was third just 0.049s back in his Mercedes.
Pierre Gasly continues to perform well this weekend to nip his Red Bull teammate Max Verstappen for 4th and 5th.
Last year Hamilton was on pole and Vettel 2nd, but Vettel won the race. Qualifying looks to be a real shootout between the top-three drivers.
Practice 3 Results
| | | | | | | |
| --- | --- | --- | --- | --- | --- | --- |
| POS | NO | DRIVER | CAR | TIME | GAP | LAPS |
| 1 | 16 | Charles Leclerc | Ferrari | 1:25.905 | +0.000s | 16 |
| 2 | 5 | Sebastian Vettel | Ferrari | 1:25.931 | +0.026s | 15 |
| 3 | 44 | Lewis Hamilton | Mercedes | 1:25.954 | +0.049s | 20 |
| 4 | 10 | Pierre Gasly | Red Bull Racing Honda | 1:26.118 | +0.213s | 14 |
| 5 | 33 | Max Verstappen | Red Bull Racing Honda | 1:26.440 | +0.535s | 13 |
| 6 | 77 | Valtteri Bottas | Mercedes | 1:26.456 | +0.551s | 19 |
| 7 | 4 | Lando Norris | McLaren Renault | 1:26.689 | +0.784s | 14 |
| 8 | 27 | Nico Hulkenberg | Renault | 1:26.945 | +1.040s | 16 |
| 9 | 3 | Daniel Ricciardo | Renault | 1:26.965 | +1.060s | 14 |
| 10 | 23 | Alexander Albon | Scuderia Toro Rosso Honda | 1:26.976 | +1.071s | 16 |
| 11 | 99 | Antonio Giovinazzi | Alfa Romeo Racing Ferrari | 1:27.036 | +1.131s | 15 |
| 12 | 55 | Carlos Sainz | McLaren Renault | 1:27.106 | +1.201s | 14 |
| 13 | 26 | Daniil Kvyat | Scuderia Toro Rosso Honda | 1:27.108 | +1.203s | 17 |
| 14 | 8 | Romain Grosjean | Haas Ferrari | 1:27.110 | +1.205s | 15 |
| 15 | 20 | Kevin Magnussen | Haas Ferrari | 1:27.275 | +1.370s | 15 |
| 16 | 7 | Kimi Raikkonen | Alfa Romeo Racing Ferrari | 1:27.424 | +1.519s | 14 |
| 17 | 18 | Lance Stroll | Racing Point BWT Mercedes | 1:27.544 | +1.639s | 13 |
| 18 | 11 | Sergio Perez | Racing Point BWT Mercedes | 1:27.598 | +1.693s | 11 |
| 19 | 63 | George Russell | Williams Mercedes | 1:29.065 | +3.160s | 21 |
| 20 | 88 | Robert Kubica | Williams Mercedes | 1:29.450 | +3.545s | 18 |