Pagenaud tops 2nd IndyCar practice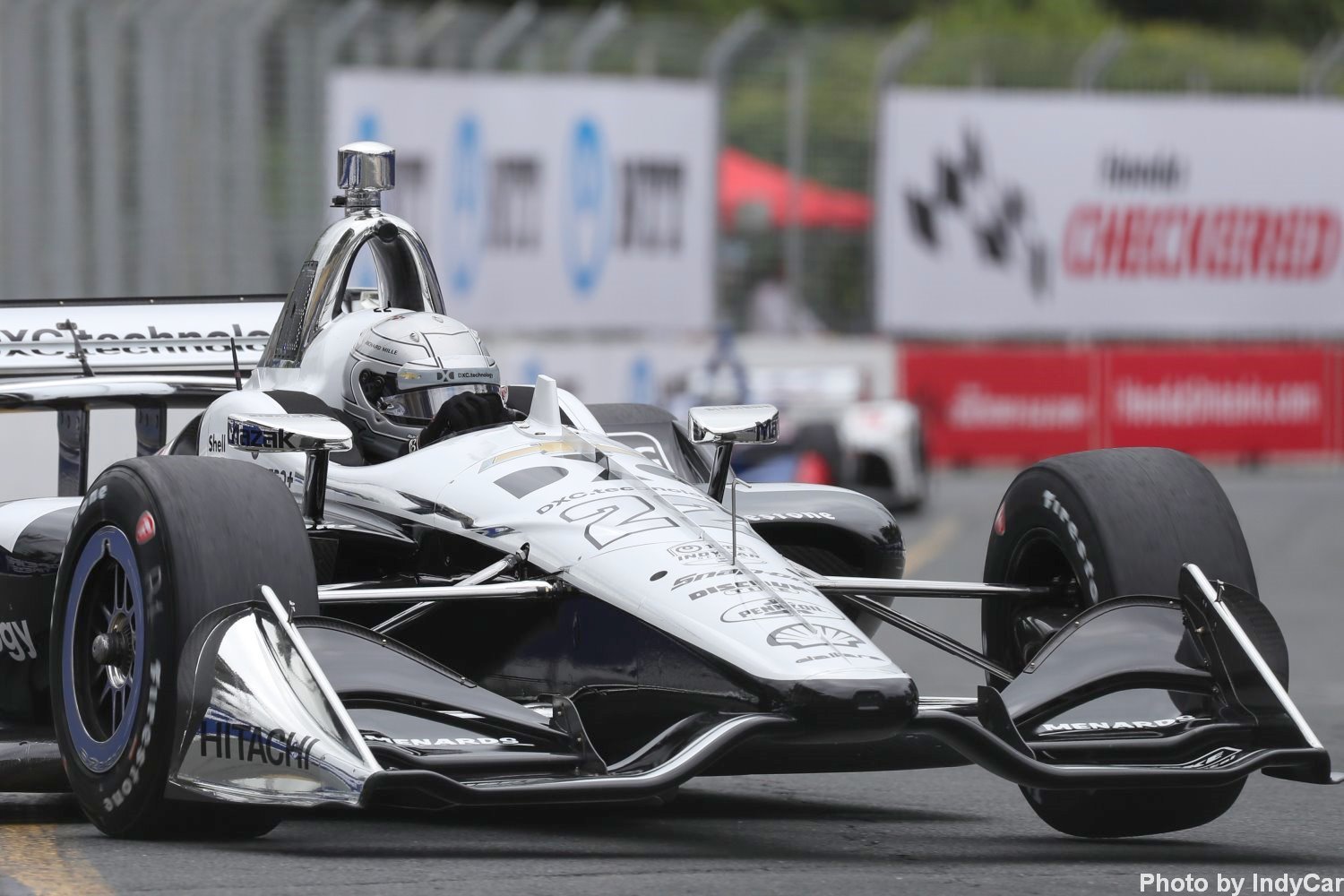 Simon Pagenaud quickest on Friday
Indy 500 winner Simon Pagenaud turned the fastest lap in the 2nd practice for the Honda Indy of Toronto Friday afternoon in his Penske Chevy.
Pagenaud's time of 59.871s nipped Ganassi Honda rookie Felix Rosenqvist by 0.0603s
Sebastien Bourdais was the only other driver under the 1-min. mark at 59.987s in his Dale Coyne Honda.
Behind the 8-ball appears to be Andretti Autosport with all their drivers struggling to find a good setup.
The trickiest corner today was Turn 11, where a small area of surface change contributed to black marks on the concrete barrier and yellow flags to halt the action. Will Power and Takuma Sato spun there, Josef Newgarden, Sato (a second time) and Alexander Rossi hit the wall.
Rossi also bounced off the Turn 9 wall in a separate incident. Fortunately, none of the damage was significant, although the right side of Sato's car required more work than time allowed Friday.
Rossi described Friday's practice as the time when the track's boundaries can be explored.
"You don't want to make these mistakes (in Saturday's qualifying) or Sunday (in the 85-lap race), so you can get a little bit more adventurous with your lines and experimentation to see if something works, and obviously I found a few things that didn't work," he said. "Hopefully we don't find any more."
Pagenaud said he "loves this track," and with good reason. It's tight, twisty and requires full concentration. Pagenaud said drivers enjoy balancing risk versus reward.
"You have to decide if that's a good choice to go in as solid as you think (you can) or if you should give some up," he said. "That's what's so much fun in qualifying here. You really have to put it down on the line and try as hard as you can.
"It's a risky lap, but it's also a lot of fun because you know that if you mess it up it's going to be in the wall."
Quotes
JOSEF NEWGARDEN (No. 2 Hitachi Team Penske Chevrolet): "It was kind of an up-and-down day. I think the Hitachi Chevy has a lot of potential. It seems like it's fast, but we just haven't extracted all of the speed out of it yet. We need to work on that tomorrow. That's why you have practice. From the team standpoint, I thought it was a flawless day. The guys always do a great job of executing, so we just need to get a little better overnight and refine everything and get ready for qualifying."
MATHEUS LEIST (No. 4 ABC Supply AJ Foyt Racing Chevrolet): "Difficult day at the track today. I think we didn't quite find the best set-up for the car, but the important thing is that we're going to work hard tonight and we're going to figure something out for tomorrow. Anyway, it's good to be back here. It's a nice city and a nice track. Let's see what we can do for tomorrow in qualifying."
JAMES HINCHCLIFFE (No. 5 Arrow Schmidt Peterson Motorsports Honda): "I would say it's been a difficult, but still productive day here in Toronto. With such a short lap and 22 cars, it's just tough to get clear track. We had interrupted runs every time we were on track, but I think it's the same for everyone. We're making the Arrow car a little bit better each time. For sure, we didn't get all the speed out of it just because of the circumstances but, hopefully, we can tune on it and make it a little bit stronger on the red (Firestone alternate) tires because qualifying tomorrow is going to be very important."
MARCUS ERICSSON (No. 7 Arrow Schmidt Peterson Motorsports Honda): "Another new track to learn. … it's a very difficult one with all the bumps and patches of concrete in the corners so it takes a bit of time to sort of get your head around it. I thought Practice 2 was feeling a bit better and then, unfortunately, on my red (Firestone alternate tires) qualifying sim (simulation), I just brushed the wall so we had to abort that, which meant we couldn't improve on the reds. We did go out on the reds at the end of the session to see the degradation and gather information for the race on Sunday, which was useful for me to get more laps. Even though the times are looking pretty bad, we still have learned quite a bit in the Arrow car today, and mainly myself I've learned the track every time I'm out there. So, I'm still hopeful for tomorrow that we can have a good day."
SCOTT DIXON (No. 9 PNC Bank Chip Ganassi Racing Honda): "The PNC Bank car felt really good in both sessions. In the second practice, we tried something to help the rear end out, but, honestly, when we went for it on the red (Firestone alternate) tires we didn't get one single, clear lap. The car is fast. The No. 15 car held us up once, then the No. 2 car a few times after that. I think we're right there in the window and hope to be able to show speed tomorrow."
FELIX ROSENQVIST (No. 10 NTT DATA Chip Ganassi Racing Honda): "I think the team brought a great set-up and a great car here to Toronto. We won here in Indy Lights twice in one weekend in 2016 and so I've always loved this layout. It's cool having CESSNA with us this weekend as well. They've had a long history with Chip Ganassi Racing and it's great to have them as co-primary with NTT DATA. We had a really strong start in Practice 1 and the car was even better in Practice 2. It's always great having a teammate like Scott (Dixon) because there is such a wealth of knowledge on the No. 9 team. I hope we can keep things moving in the right direction for tomorrow, as qualifying is crucial here."
WILL POWER (No. 12 Verizon Team Penske Chevrolet): "It's definitely not good enough. It's good to see my teammate Simon (Pagenaud) is up there, so we're going to take a good look at what he's doing and try and replicate that. We're just going to keep working away on our Verizon Chevrolet and see what we can figure out to find speed. We had a couple of issues with the engine too, so we have a few things we're going to take a look at overnight."
TONY KANAAN (No. 14 ABC Supply AJ Foyt Racing Chevrolet): "It was a positive day for us. I think we made some improvements over the past two weeks. We spent a lot of time trying to come here from scratch, so Eric (Cowdin, engineer) and I have a lot of information from the past and we tried to put all of it together to try to make sense here. Lap time-wise, we're much closer than we were anywhere else and if we can improve a couple tenths it will put us in the top 12, which that's the goal for here this weekend. We can't pretend that we're going to come here and try to win the race – we've got to take it one step at a time. I'm pretty pleased with the day, so hopefully we'll be able to regroup tonight and move up tomorrow."
GRAHAM RAHAL (No. 15 United Rentals Honda): "We had a pretty up-and-down day. We weren't very good in the first session and we improved the United Rentals Honda in the second session. We were sixth on the red (Firestone alternate) tires at the finish, but it was a pretty solid lap. It's pretty close between where we are in sixth, back to around 11th. There are four guys on our same tenth-of-a-second – sixth through 11th or so – so we're going to have to put it all together. This place is a major challenge. It's easy to make a mistake that will cost you a lot. You've just got to put it all together here."
SEBASTIEN BOURDAIS (No. 18 MOUSER Honda): "I am really happy with the way the day went for the Mouser Molex team. The team has done an incredible amount of work to prepare for this race. We went to the simulator and have really spent the whole of the last two weeks working to come up with something better than we have had for the street course set-up. Coming to Toronto and having a day one like we did is a bit of a dream come true, to be honest. It's been awhile since I have felt that good on a street course. I am very happy with the way the car brakes, and that is the way you produce good lap times around here. I am really happy for the whole Mouser Molex group. Hopefully, we can back it up tomorrow."
SANTINO FERRUCCI (No. 19 Cly-Del Manufacturing Honda): "The track here in Toronto is really fun. We just have a little bit of work to do on the set-up. Sebastien (Bourdais) and I, for the first time this season, have really close, really similar set-ups, but he has a couple of things that are a little different so we'll take a look at that and see what we have for tomorrow."
ED JONES (No. 20 Ed Carpenter Racing Scuderia Corsa Chevrolet): "The results didn't quite show as strong as we were. We weren't quite able to optimize on the reds (Firestone alternate tires), but I'm still feeling confident about tomorrow. The field is pretty tight, so if we can find even a few tenths, it will make a huge difference."
SPENCER PIGOT (No. 21 Autogeek Chevrolet): "We made good improvements throughout both sessions and the Autogeek Chevy is in a pretty good spot right now. Thanks to all of the guys for their hard work since the last race. We'll see what we can do tomorrow."
SIMON PAGENAUD (No. 22 DXC Technology Team Penske Chevrolet): "It's been a really good day. I think it comes from all the preparation ahead of time. Just very happy with the DXC Technology Chevy. I love this track. It's just a lot of fun. It reminds me of Reims in France and it's just awesome. Just really like the rhythm. You know, it's fun. The car is really, honestly, really good. I just needed to put a good lap together and it seems good on every tire in every condition. I've got to get the job done, and I'll tell you what, man, this is so much fun. It's just awesome. I told the team, 'It's such a pleasure to drive this car, thanks for preparing it.'"
ZACH VEACH (No. 26 Gainbridge Honda): "I think we're pretty happy with where we ended the day. We started the first session and most of the second session with a car that we developed on the simulator that we wanted to try. It didn't really relate the way that we wanted it to and we were behind the ball with it. Making the last-minute jump to something we are a little more familiar with really started to pay off. I thought we were getting closer with it at the end. You have to try those things every now and then – you might find something spectacular. Now we are just playing a little bit of catch up, but I don't feel like we're in a terrible place. We have a little work to do, but we have one more session before qualifying to have a crack at it."
ALEXANDER ROSSI (No. 27 NAPA AUTO PARTS Honda): "It was difficult this afternoon. For sure, a couple mistakes for me, so I think that cost us a bit of time changes-wise and understanding the car. It's pretty crazy around here. It's a lot of fun. You're sideways a lot of the time, so it's what people want to see in Indy car racing." (About the tricky Turn 11): "I think Turn 11 is always hard. I don't think it's any different this year. I just think we saw probably a few guys trying quite hard there, and today is the day to try it. You don't want to make these mistakes tomorrow or Sunday, obviously, so you can get a little bit more adventurous with your lines and experimentation to see if something works. Obviously, I found a few things that didn't work, and hopefully, we don't find any more."
RYAN HUNTER-REAY (No. 28 DHL Honda): "Right now, the No. 28 car is a bit of a work in progress. We'll look at everything tonight and get together with the teammates and go from there. Overall, though, it's great to be back in Toronto – it's such a great track and the fans are great. Hoping to put on a good show for them in qualifying tomorrow and get the DHL car into the Firestone Fast Six."
TAKUMA SATO (No. 30 Mi-Jack / Panasonic Honda): "It's very tricky on track. Partly because it's slick on track. A lot of people had issues in Turn 11 and I had a moment there and brushed the wall, so it ended up that Practice 2 was really short for us. Obviously, we are lacking the data of running the whole session, which is a shame, but at least the car set-up felt positive in the beginning of the session and hopefully we can continue that and have a good session in Practice 3."
SAGE KARAM (No. 31 SmartStop Self Storage Carlin Chevrolet): "It was a pretty good day here in Toronto in the No. 31 SmartStop Self Storage Carlin Chevrolet. We were just constantly working on getting me more acclimated to the car and the track – that was really the biggest thing. The car didn't really throw many surprises at me; it was more the track not having as much grip as I thought it would. I'm learning every lap of every session and we're getting closer to the pointy end of the field. I really wanted to get in as many laps as I possibly could today and just keep learning. We're doing well and we'll just try to take another big chunk out tomorrow in Practice 3, like we did in the two practices today, and be ready for a good qualifying result."
MAX CHILTON (No. 59 Gallagher Carlin Chevrolet): "It felt really good to be back in the No. 59 Gallagher Carlin Chevrolet after a few weeks away, especially here on the streets of Toronto. The first session was a bit all over the place with all the red flags and we had a harder time getting a good read on where we were, but everyone was in that same position. The second session was better for us even though I hit traffic on my fast lap, so we weren't as high on the charts as we think we could have been without the traffic. Overall, I'd say we had a fairly good day today – we just need to find some grip and get the car ready for qualifying tomorrow."
COLTON HERTA (No. 88 Harding Steinbrenner Racing Honda): "We had a pretty average day on the streets of downtown Toronto today. We were able to find more speed in between today's practice sessions, but are still missing quite a bit of time from the top-three guys. It's reassuring that we found more time in between practices, so I know we'll work hard on finding more speed overnight before we're on track for practice and qualifying tomorrow."
MARCO ANDRETTI (No. 98 UniFirst / Curb Honda): "Today wasn't bad. We're just making small changes to the UniFirst car – our roll-off car was decent. We've just been chasing front grip slowly in Practice 2. I had an understeer moment in (Turn) 5 that cost us about two-tenths. So, I think we are realistically in the top five, we just need to keep finding more."
Practice 2 Results
| | | | | | | | | |
| --- | --- | --- | --- | --- | --- | --- | --- | --- |
| Pos | No | Name | Time | Diff | Gap | Speed | Engine | Team |
| 1 | 22 | Simon Pagenaud | 59.871 | –.—- | –.—- | 107.391 | Chevy | Team Penske |
| 2 | 10 | Felix Rosenqvist | 59.931 | 0.0603 | 0.0603 | 107.283 | Honda | Chip Ganassi Racing Teams |
| 3 | 18 | Sebastien Bourdais | 59.987 | 0.1158 | 0.0555 | 107.184 | Honda | Dale Coyne Racing w/Vasser-Sullivan |
| 4 | 21 | Spencer Pigot | 1:00.040 | 0.1693 | 0.0535 | 107.088 | Chevy | Ed Carpenter Racing |
| 5 | 9 | Scott Dixon | 1:00.145 | 0.2737 | 0.1044 | 106.903 | Honda | Chip Ganassi Racing Teams |
| 6 | 15 | Graham Rahal | 1:00.409 | 0.5383 | 0.2646 | 106.434 | Honda | Rahal Letterman Lanigan Racing |
| 7 | 98 | Marco Andretti | 1:00.444 | 0.5727 | 0.0344 | 106.374 | Honda | Andretti Herta w/ Marco & Curb |
| 8 | 2 | Josef Newgarden | 1:00.451 | 0.5801 | 0.0074 | 106.361 | Chevy | Team Penske |
| 9 | 28 | Ryan Hunter-Reay | 1:00.470 | 0.5988 | 0.0187 | 106.328 | Honda | Andretti Autosport |
| 10 | 12 | Will Power | 1:00.498 | 0.6273 | 0.0285 | 106.278 | Chevy | Team Penske |
| 11 | 5 | James Hinchcliffe | 1:00.611 | 0.7398 | 0.1125 | 106.080 | Honda | Arrow Schmidt Peterson Motorsports |
| 12 | 88 | Colton Herta | 1:00.676 | 0.8048 | 0.0650 | 105.967 | Honda | Harding Steinbrenner Racing |
| 13 | 20 | Ed Jones | 1:00.742 | 0.8711 | 0.0663 | 105.851 | Chevy | Ed Carpenter Racing |
| 14 | 27 | Alexander Rossi | 1:00.816 | 0.9453 | 0.0742 | 105.722 | Honda | Andretti Autosport |
| 15 | 59 | Max Chilton | 1:00.857 | 0.9864 | 0.0411 | 105.651 | Chevy | Carlin |
| 16 | 26 | Zach Veach | 1:00.991 | 1.1199 | 0.1335 | 105.419 | Honda | Andretti Autosport |
| 17 | 19 | Santino Ferrucci | 1:01.084 | 1.2137 | 0.0938 | 105.257 | Honda | Dale Coyne Racing |
| 18 | 14 | Tony Kanaan | 1:01.107 | 1.2360 | 0.0223 | 105.219 | Chevy | AJ Foyt Enterprises |
| 19 | 30 | Takuma Sato | 1:01.329 | 1.4582 | 0.2222 | 104.838 | Honda | Rahal Letterman Lanigan Racing |
| 20 | 4 | Matheus Leist | 1:01.432 | 1.5608 | 0.1026 | 104.663 | Chevy | AJ Foyt Enterprises |
| 21 | 31 | Sage Karam | 1:01.607 | 1.7358 | 0.1750 | 104.365 | Chevy | Carlin |
| 22 | 7 | Marcus Ericsson | 1:01.644 | 1.7729 | 0.0371 | 104.303 | Honda | Arrow Schmidt Peterson Motorsports |