Dixon leads opening IndyCar practice in Toronto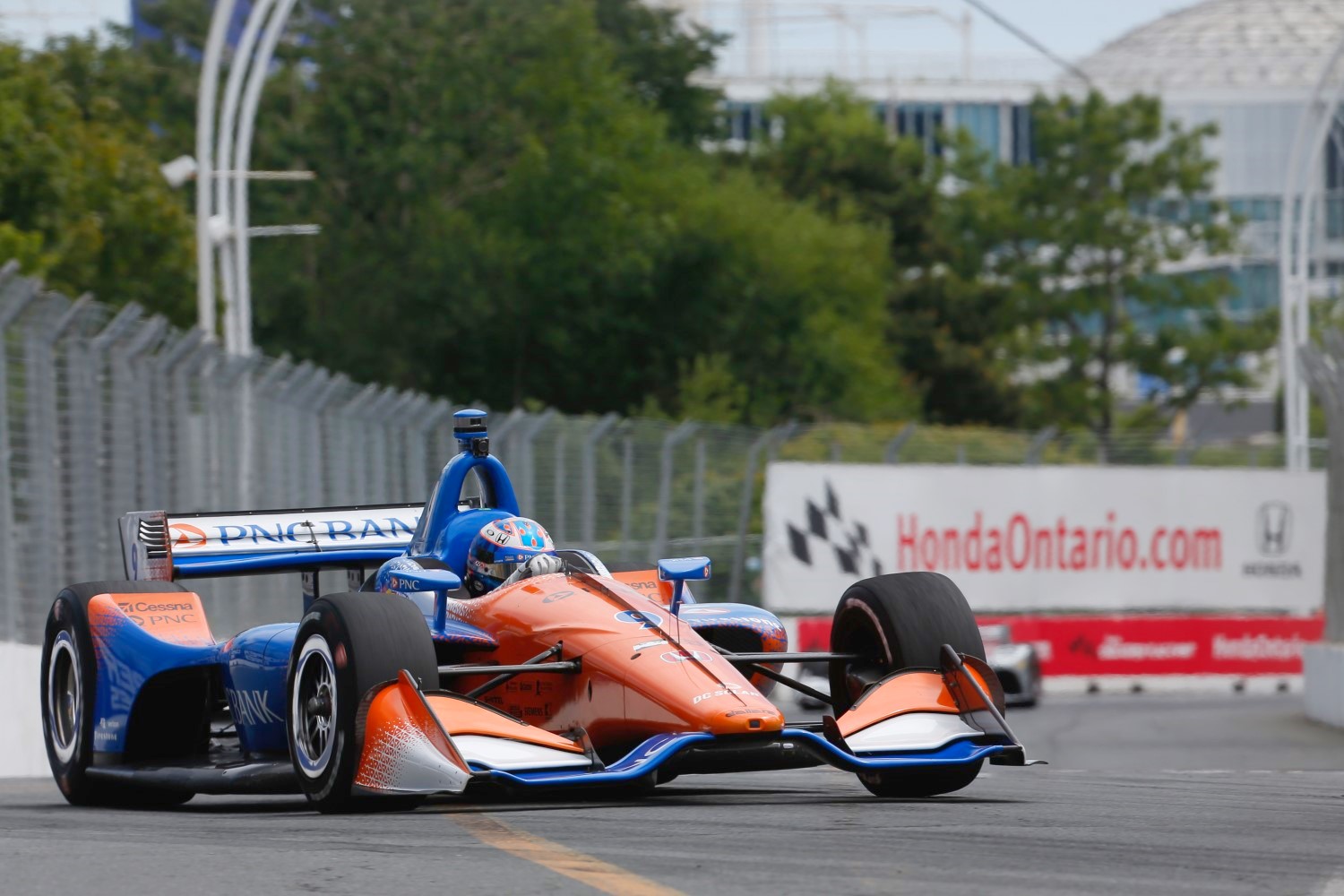 Dixon quick in practice 1
Last year's Honda GP of Toronto winner Scott Dixon, who took advantage of a restart mistake by race leader Josef Newgarden last year to win, topped the opening practice Friday morning for the IndyCars in his Ganassi Honda on the streets of Toronto, Canada.
Ironically Newgarden was 2nd quick in his Penske Chevy just 0.1415 sec behind.
Dixon's teammate Felix Rosenqvist was third quick while Alexander Rossi and Simon Pagenaud rounded out the top-5.
Friday's first practice saw three drivers spin in Turn 11 — the last corner ahead of the front straightaway. Those drivers — Team Penske's Will Power, Newgarden and Rahal Letterman Lanigan Racing driver Takuma Sato — all escaped with minimal, if any, contact and returned to practice following the mandatory and immediate 5-minute hold as a penalty for causing a stoppage during a practice.
Dixon said Turn 11 "has always been tricky."
All three drivers would be assessed five-minute penalties for their spins.
The NTT IndyCar Series will resume practice today at 3:15 p.m. ET, with live coverage available on NBC Sports Gold. Another practice will be held Saturday at 10:20 a.m. ET ahead of NTT P1 Award qualifying at 2 p.m. ET.
Practice 1 Results
| | | | | | | | | |
| --- | --- | --- | --- | --- | --- | --- | --- | --- |
| Pos | No | Name | Time | Diff | Gap | Speed | Engine | Team |
| 1 | 9 | Scott Dixon | 1:01.072 | –.—- | –.—- | 105.278 | Honda | Chip Ganassi Racing Teams |
| 2 | 2 | Josef Newgarden | 1:01.214 | 0.1415 | 0.1415 | 105.035 | Chevy | Team Penske |
| 3 | 10 | Felix Rosenqvist | 1:01.239 | 0.1672 | 0.0257 | 104.991 | Honda | Chip Ganassi Racing Teams |
| 4 | 27 | Alexander Rossi | 1:01.384 | 0.3120 | 0.1448 | 104.743 | Honda | Andretti Autosport |
| 5 | 22 | Simon Pagenaud | 1:01.497 | 0.4246 | 0.1126 | 104.552 | Chevy | Team Penske |
| 6 | 28 | Ryan Hunter-Reay | 1:01.670 | 0.5979 | 0.1733 | 104.258 | Honda | Andretti Autosport |
| 7 | 12 | Will Power | 1:01.684 | 0.6118 | 0.0139 | 104.234 | Chevy | Team Penske |
| 8 | 18 | Sebastien Bourdais | 1:01.718 | 0.6457 | 0.0339 | 104.177 | Honda | Dale Coyne Racing w/Vasser-Sullivan |
| 9 | 30 | Takuma Sato | 1:01.808 | 0.7357 | 0.0900 | 104.025 | Honda | Rahal Letterman Lanigan Racing |
| 10 | 21 | Spencer Pigot | 1:01.829 | 0.7563 | 0.0206 | 103.991 | Chevy | Ed Carpenter Racing |
| 11 | 98 | Marco Andretti | 1:01.875 | 0.8024 | 0.0461 | 103.913 | Honda | Andretti Herta w/ Marco & Curb |
| 12 | 15 | Graham Rahal | 1:01.888 | 0.8160 | 0.0136 | 103.890 | Honda | Rahal Letterman Lanigan Racing |
| 13 | 5 | James Hinchcliffe | 1:01.930 | 0.8579 | 0.0419 | 103.820 | Honda | Arrow Schmidt Peterson Motorsports |
| 14 | 20 | Ed Jones | 1:02.051 | 0.9790 | 0.1211 | 103.617 | Chevy | Ed Carpenter Racing |
| 15 | 88 | Colton Herta | 1:02.098 | 1.0256 | 0.0466 | 103.540 | Honda | Harding Steinbrenner Racing |
| 16 | 59 | Max Chilton | 1:02.237 | 1.1646 | 0.1390 | 103.308 | Chevy | Carlin |
| 17 | 26 | Zach Veach | 1:02.401 | 1.3284 | 0.1638 | 103.037 | Honda | Andretti Autosport |
| 18 | 19 | Santino Ferrucci | 1:02.474 | 1.4012 | 0.0728 | 102.917 | Honda | Dale Coyne Racing |
| 19 | 7 | Marcus Ericsson | 1:02.696 | 1.6232 | 0.2220 | 102.553 | Honda | Arrow Schmidt Peterson Motorsports |
| 20 | 14 | Tony Kanaan | 1:02.916 | 1.8442 | 0.2210 | 102.193 | Chevy | AJ Foyt Enterprises |
| 21 | 4 | Matheus Leist | 1:03.075 | 2.0032 | 0.1590 | 101.935 | Chevy | AJ Foyt Enterprises |
| 22 | 31 | Sage Karam | 1:03.977 | 2.9042 | 0.9010 | 100.499 | Chevy | Carlin |