Bottas-Hamilton 1-2 in 2nd British GP practice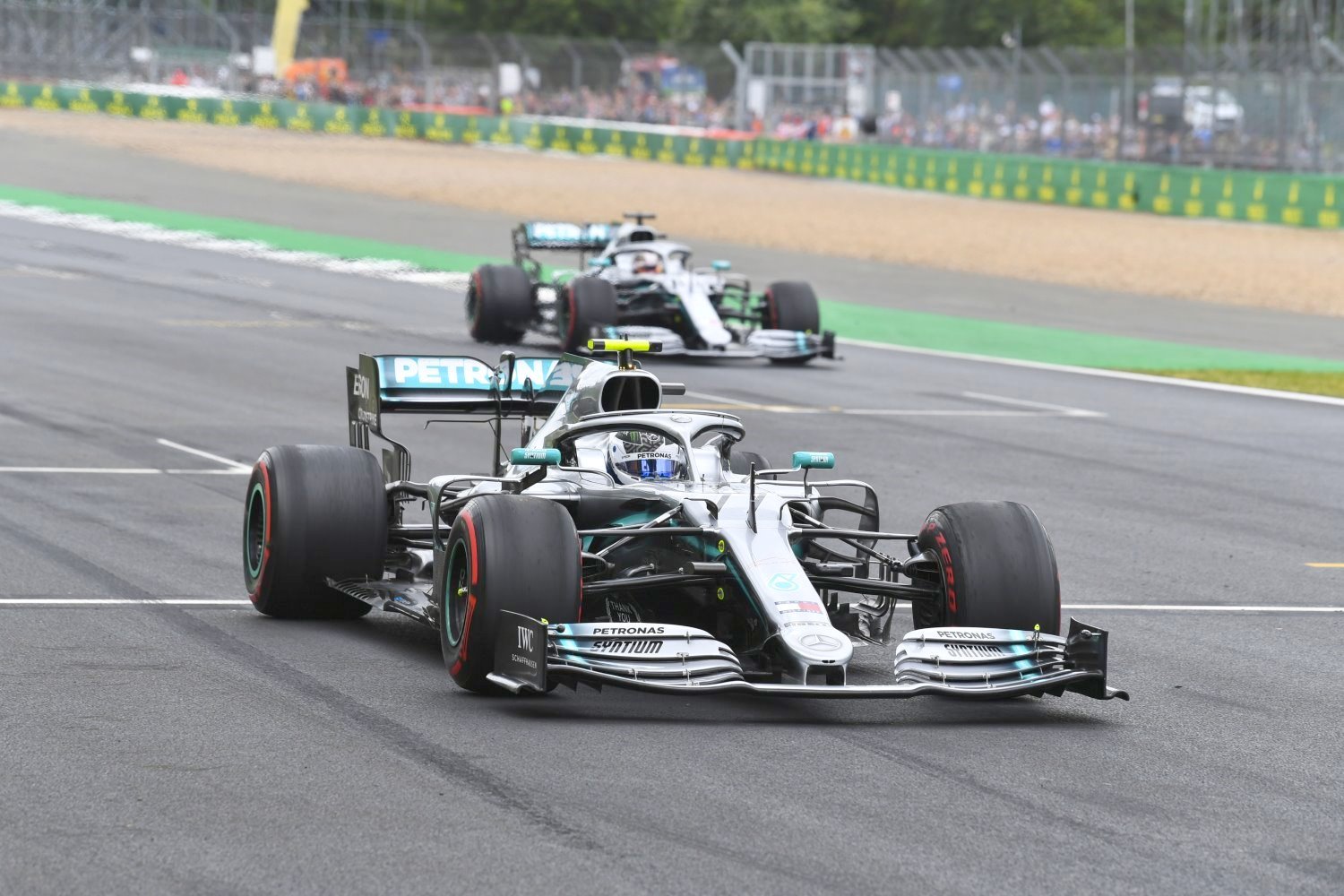 Bottas and Hamilton 1-2
Mercedes dominated the 2nd practice session for the British GP Friday afternoon at Silverstone with Valtteri Bottas fastest at 1m26.732s. His teammate Lewis Hamilton was just 0.069s behind.
3rd and 4th were the two Ferraris of Charles Leclerc and Sebastian Vettel, 0.197 and 0.448s behind respectively.
Pierre Gasly rounded out the top-5 for Red Bull and was faster than his teammate Max Verstappen only because Verstappen set his fast times on the harder medium compound tire.
The team in yellow will have a late evening – Ricciardo's Renault stopping out on track and making it back to the pit lane with the help of a low loader. Just what went wrong with the Aussie's R.S.19? And can it be fixed before FP3 tomorrow?
Mercedes certainly look like the team to beat today, and on long run pace, Hamilton was out in front. Can the others close the gap overnight?
George Russell suffered an apparent gearbox issue.
Quotes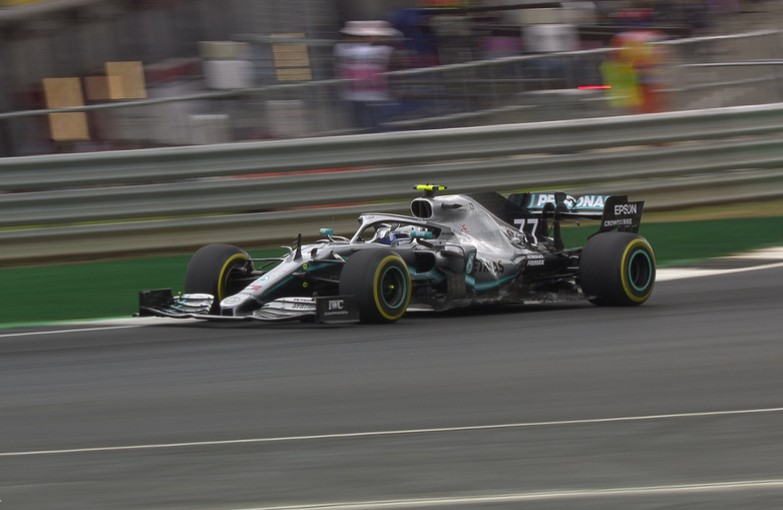 Bottas at speed
Valtteri Bottas
I've had a good day from the get-go, both in terms of my own performance and the set-up of the car. It's always a nice feeling when you start a weekend like that. The track is less bumpy than last year which is nice; they did a good job on the asphalt and it was very enjoyable to drive. The new surface is quite grippy, but sometimes you can lose the grip very suddenly on new tarmac. The car seems quite well-balanced, but I think there's still room for improvement. It felt quick around the corners and there's plenty of corners in Silverstone, so that's a good thing. I still think it's going to be close again tomorrow and it will be all about who finds the most performance tonight and tomorrow before Qualifying, but it's nice to start the weekend on a positive note.
Lewis Hamilton
It's been quite windy, quite gusty out there, so it hasn't been the easiest of days, but we were up there nonetheless, and it looks like we'll be in the fight. It's always difficult to say after the first day though and the Ferraris are usually a little bit slower on a Friday and then pick up the pace on Saturday. The new track surface is better on the straights, especially between Turn 4 and Turn 6 where it was pretty bad before. It's still bumpy on the exit of Turn 7 and towards Copse, but after that it's nice and smooth through Maggotts and Becketts and down the Hanger straight. The asphalt is very smooth which makes it tricky to get the tires to work, they're in and out of the window, and the gusty winds didn't make it easy. I was struggling with the rear end and went off a few times, but Valtteri seemed much more comfortable in the car, so we are going to dig deep tonight trying to figure out what the issue is and how we can solve it for tomorrow.
James Allison
It was a tricky day in some ways because the wind, as ever at Silverstone on this open old airfield, was strong and gusty and made it very difficult to put a single lap together; we saw the whole grid having little excursions onto the grass. Lewis struggled with it a little bit more than Valtteri, but in the end both drivers managed to put in good lap times on the single lap run on a softer tire. They both looked competitive today on the race simulations we did, but it's hard to know whether that form will translate over to Sunday. A small change in temperature and the tires won't behave in this fashion and the asphalt is also brand new, so it will change too as the weekend goes on. But it's a promising start nevertheless.
PIERRE GASLY
"I'm happy because it was a really good day on our side and the best Friday of the season. We made some changes after Austria and we have a good plan on how I can improve things. There are still a few improvements I can make and my lap wasn't perfect in FP2 so I can still extract a bit more, but overall I'm happy. It's only Friday so we won't get excited but we need to keep going in this direction. It will be important not to make any mistakes and perform tomorrow when it's important, but the feeling I have today is a lot better. This is a high-speed track and with the wind today it made the conditions super tricky as the balance changes from one corner to another, but this is the same for everybody."
MAX VERSTAPPEN
"From my side, today was not so good and I didn't find a good balance with the car in FP1 or FP2. I was sliding around a lot in the wind and struggling for rear grip, so we have a bit of work to do. Even though I'm not fully comfortable yet we're not that far away and the times are pretty close which is a positive. There is a lot more grip with the new tarmac which all drivers like. In general, the new surface is quite a good change but there are some pretty bumpy sections out there, especially going into Turn 6 and Turn 9. It's not very easy on tyres here with the high energy corners so it will be interesting to see what choices everyone makes tomorrow and in the race. It's promising that we are still quite close to Mercedes and Ferrari so there is still a lot of potential for the weekend."
Charles Leclerc
"It was a tricky day for us. We struggled with our front tyres during the long-runs quite a bit and have to focus on understanding how we can get them to work better. The qualifying pace, on the other hand, was not bad and we also managed to run a lot of tests throughout the day which is positive.
Our competitors are strong and I think that they will only reveal their full potential in qualifying. We will give everything to be competitive and will see where we stand tomorrow."
Sebastian Vettel
"It's good to be driving at this circuit again and the new surface seems a lot smoother than the old one, with a lot higher grip, which makes it good fun. I would say the lap times don't mean much today, as usual on a Friday, but it's clear that our main rivals seem very strong and are the ones to beat.
It looks quite close between us and Red Bull, but as we were trying some new things on our car, it's a bit hard to judge. We must wait for tomorrow to get a clearer picture of where we are."
Practice 2 Results
| | | | | | | |
| --- | --- | --- | --- | --- | --- | --- |
| POS | NO | DRIVER | CAR | TIME | GAP | LAPS |
| 1 | 77 | Valtteri Bottas | Mercedes | 1:26.732 | +0.000s | 24 |
| 2 | 44 | Lewis Hamilton | Mercedes | 1:26.801 | +0.069s | 34 |
| 3 | 16 | Charles Leclerc | Ferrari | 1:26.929 | +0.197s | 29 |
| 4 | 5 | Sebastian Vettel | Ferrari | 1:27.180 | +0.448s | 29 |
| 5 | 10 | Pierre Gasly | Red Bull Racing Honda | 1:27.249 | +0.517s | 30 |
| 6 | 4 | Lando Norris | McLaren Renault | 1:27.546 | +0.814s | 37 |
| 7 | 33 | Max Verstappen | Red Bull Racing Honda | 1:27.562 | +0.830s | 31 |
| 8 | 55 | Carlos Sainz Jr. | McLaren Renault | 1:27.987 | +1.255s | 38 |
| 9 | 23 | Alexander Albon | Scuderia Toro Rosso Honda | 1:27.997 | +1.265s | 37 |
| 10 | 11 | Sergio Perez | Racing Point BWT Mercedes | 1:28.002 | +1.270s | 31 |
| 11 | 26 | Daniil Kvyat | Scuderia Toro Rosso Honda | 1:28.008 | +1.276s | 35 |
| 12 | 20 | Kevin Magnussen | Haas Ferrari | 1:28.059 | +1.327s | 29 |
| 13 | 7 | Kimi Raikkonen | Alfa Romeo Racing Ferrari | 1:28.126 | +1.394s | 32 |
| 14 | 3 | Daniel Ricciardo | Renault | 1:28.128 | +1.396s | 17 |
| 15 | 27 | Nico Hulkenberg | Renault | 1:28.217 | +1.485s | 33 |
| 16 | 18 | Lance Stroll | Racing Point BWT Mercedes | 1:28.240 | +1.508s | 36 |
| 17 | 99 | Antonio Giovinazzi | Alfa Romeo Racing Ferrari | 1:28.294 | +1.562s | 27 |
| 18 | 8 | Romain Grosjean | Haas Ferrari | 1:28.794 | +2.062s | 25 |
| 19 | 88 | Robert Kubica | Williams Mercedes | 1:29.935 | +3.203s | 36 |
| 20 | 63 | George Russell | Williams Mercedes | 1:30.514 | +3.782s | 11 |