Gasly shocks – fastest in opening British GP practice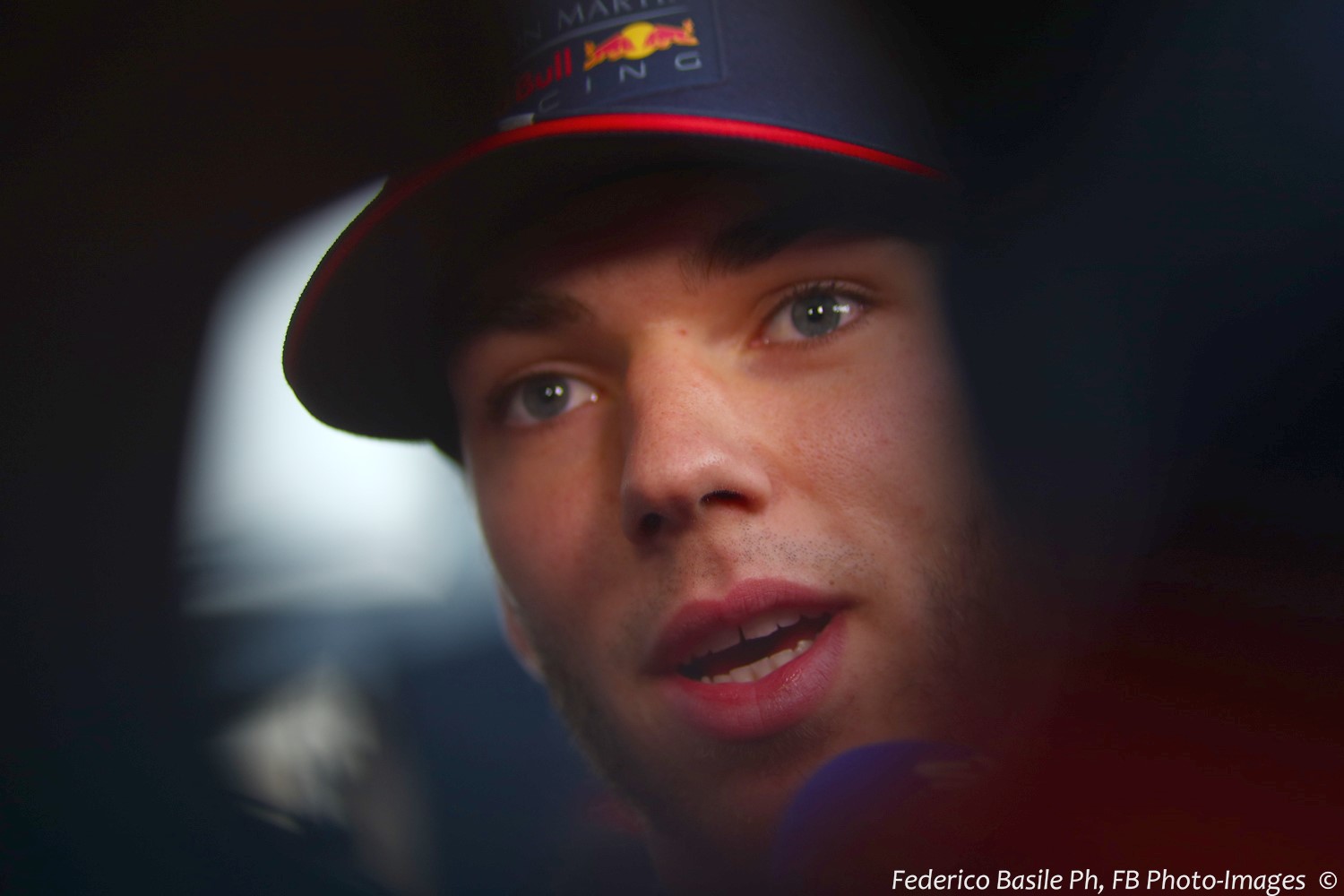 Pierre Gasly
In a shock to the entire Silverstone paddock, and statements like someone must be cheating, Pierre Gasly has topped opening practice for the British GP by a massive 0.456s.
In reality it was a low fuel qualifying simulation run that is usually done in P3 to give the Red Bull rookie some positive PR after being shamed by his teammate all year.
Valtteri Bottas was 2nd for Mercedes ahead of Max Verstappen in the 2nd Red Bull.
Lewis Hamilton (Mercedes) and Charles Leclerc (Ferrari) rounded out the top-5.
A number of drivers had offs and spins including Leclerc and Verstappen, but none more embarrassing than Romain Grosjean who exited his garage and promptly spun on pit lane breaking the nose of his car. He then later spun on the track and the Frenchman looks more and more likely to lose his ride in 2020.
What's Kimi pointing at?! ðŸ¤"

Marshals push Raikkonen off track after the Finn breaks down in FP1 #BritishGP 🇬🇧 #F1 pic.twitter.com/zNH6Oo7Ecc

— Formula 1 (@F1) July 12, 2019
Practice 1 Results
| | | | | | | |
| --- | --- | --- | --- | --- | --- | --- |
| POS | NO | DRIVER | CAR | TIME | GAP | LAPS |
| 1 | 10 | Pierre Gasly | Red Bull Racing Honda | 1:27.173 | +0.000s | 24 |
| 2 | 77 | Valtteri Bottas | Mercedes | 1:27.629 | +0.456s | 28 |
| 3 | 33 | Max Verstappen | Red Bull Racing Honda | 1:28.009 | +0.836s | 20 |
| 4 | 44 | Lewis Hamilton | Mercedes | 1:28.122 | +0.949s | 25 |
| 5 | 16 | Charles Leclerc | Ferrari | 1:28.253 | +1.080s | 20 |
| 6 | 5 | Sebastian Vettel | Ferrari | 1:28.304 | +1.131s | 20 |
| 7 | 27 | Nico Hulkenberg | Renault | 1:28.803 | +1.630s | 20 |
| 8 | 3 | Daniel Ricciardo | Renault | 1:29.031 | +1.858s | 23 |
| 9 | 23 | Alexander Albon | Scuderia Toro Rosso Honda | 1:29.093 | +1.920s | 25 |
| 10 | 55 | Carlos Sainz | McLaren Renault | 1:29.162 | +1.989s | 30 |
| 11 | 4 | Lando Norris | McLaren Renault | 1:29.170 | +1.997s | 22 |
| 12 | 11 | Sergio Perez | Racing Point Bwt Mercedes | 1:29.453 | +2.280s | 26 |
| 13 | 26 | Daniil Kvyat | Scuderia Toro Rosso Honda | 1:29.500 | +2.327s | 26 |
| 14 | 18 | Lance Stroll | Racing Point Bwt Mercedes | 1:29.657 | +2.484s | 24 |
| 15 | 99 | Antonio Giovinazzi | Alfa Romeo Racing Ferrari | 1:30.099 | +2.926s | 24 |
| 16 | 20 | Kevin Magnussen | Haas Ferrari | 1:30.605 | +3.432s | 24 |
| 17 | 63 | George Russell | Williams Mercedes | 1:30.741 | +3.568s | 24 |
| 18 | 7 | Kimi Raikkonen | Alfa Romeo Racing Ferrari | 1:30.747 | +3.574s | 12 |
| 19 | 8 | Romain Grosjean | Haas Ferrari | 1:30.811 | +3.638s | 21 |
| 20 | 88 | Robert Kubica | Williams Mercedes | 1:32.121 | +4.948s | 26 |