McLaughlin prevails over Whincup in Townsville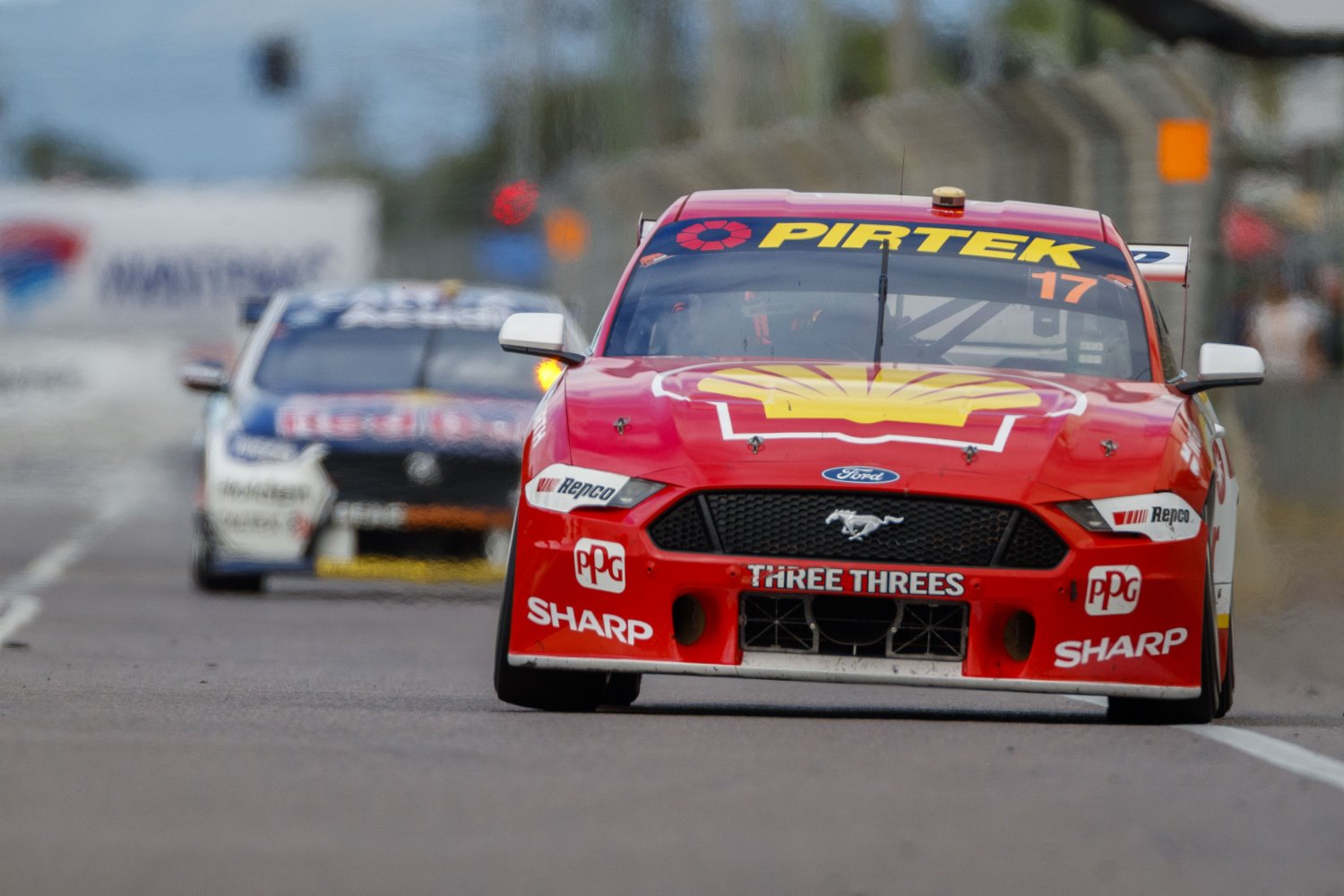 Scott McLaughlin leads
The King of Townsville Jamie Whincup has been dethroned by yet another Scott McLaughlin masterclass, who grabbed his sixth win in a row on the city streets of Reid Park.
A pre-determined strategy play designed to get Red Bull Holden Racing Team's Whincup in front worked before Shell V-Power Racing's McLaughlin's superior speed prevailed, scoring his 13th win of the season in first of the two Watpac Townsville 400 races.
The pair were followed by Supercheap Auto Racing's Chaz Mostert in third after Penrite Racing's David Reynolds fell out of the three-way fight for the lead with a pit lane error that funneled him back down the pack.
With no safety cars the strategy play was the best car for ten-time Townsville winner Whincup who started the race sixth.
It paid off for 50 of the 70 laps before McLaughlin's sheer pace on better tires gave him the lead.
"There were some good battles," McLaughlin said.
"Thankfully I had really good car pace. Over the run it just kept coming and coming. It was a good one.
Reynolds had put a halt to McLaughlin's ARMOR ALL Pole Position streak by snatching the front row spot with Mostert, only the fourth time the Kiwi Championship leader hasn't started from position one this year.
The front pair got strong starts, as did McLaughlin, and held station for 17 laps before the Shell V-Power pilot began to press, sparking a two-lap dice with Mostert.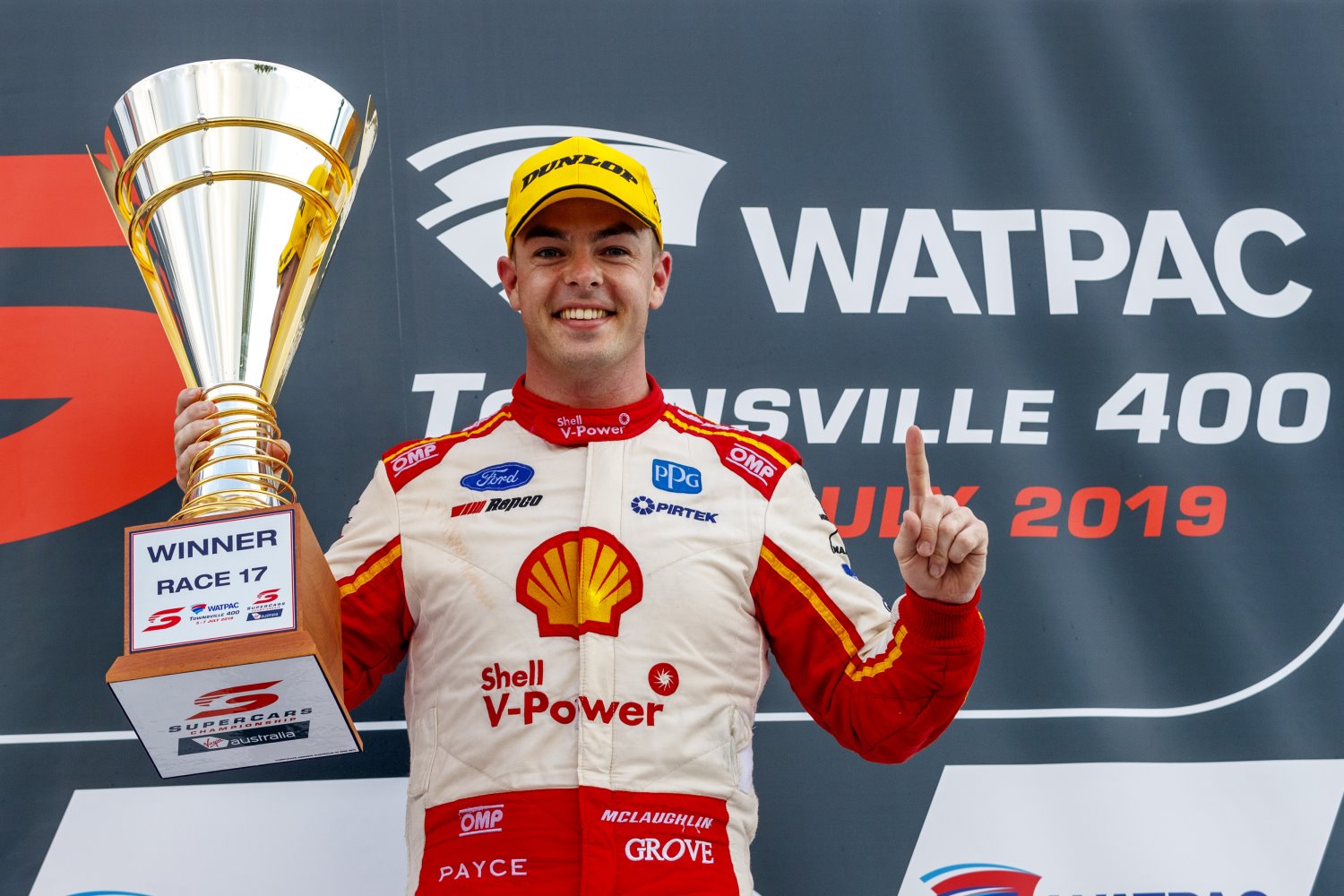 Another win for Penske and McLaughlin
He didn't succeed at first but got his man a lap later, taking second behind Reynolds.
Strategy came into play when Whincup was the first to pit in an attempt to undercut the leaders, which he did with new tires but less fuel than the rest. He assumed the lead on the track.
Whincup's second stop put him back in a pile of traffic to threaten his small advantage over McLaughlin and Reynolds who were still to make their last dive for fuel.
"I am really proud of the crew today," Whincup said.
"We were really aggressive on strategy, but you have got to be careful doing that, you can hurt yourself trying to race 17 (McLaughlin) to the rest of the field.
We put the pressure on those guys, the strategy was excellent.
"We have been really aggressive with setup to try and catch those guys. We have made a step sideways which I am really happy with so hopefully we can find a bit more gold in the pond we are fishing."
Reynolds' run was ended by a threaded wheel nut at his last stop, costing him six seconds in pit lane. That left Whincup and McLaughlin in a fight to the end.
Whincup kept the lead at McLaughlin's final stop but with tires that were six laps older, which eventually caught up with the seven-time Supercars Champion.
The quiet achiever of the day was McLaughlin's Shell V-Power team-mate Fabian Coulthard who toiled away in workmanlike fashion, moving up nine places to finish fourth.
Shane Van Gisbergen battled a bent wheel during the first stint, and then ran longer during the middle phase before making his second stop.
From seventh with 18 laps remaining, van Gisbergen passed Will Davison, Reynolds and then Coulthard on the final lap to finish fifth.
Nick Percat, Mark Winterbottom and Lee Holdsworth rounded out the top 10.
Tomorrow, Fabian Coulthard will become just the tenth driver in history to rack up 400 race starts.
MCLAUGHLIN QUOTE: "We had some good battles in that race, especially with Chaz. That was great, lots of fun. I got an amazing start, but got boxed in and had nowhere to go. The car really switched on after around 15 laps, and I knew that we could do it. The pace just kept coming across the race, and being able to get past Whincup and then drive away was awesome. I'm so proud of this team, it's just fantastic that they keep on delivering. Hopefully we can do it again tomorrow."
Results: Race 17, Watpac Townsville 400
| | | | | | |
| --- | --- | --- | --- | --- | --- |
| Pos | Num | Team/Sponsor | Driver | Car | Laps |
| 1 | 17 | Shell V-Power Racing Team | Scott McLaughlin | Ford Mustang GT | 70 |
| 2 | 88 | Red Bull Holden Racing Team | Jamie Whincup | Holden Commodore ZB | 70 |
| 3 | 55 | Supercheap Auto Racing | Chaz Mostert | Ford Mustang GT | 70 |
| 4 | 97 | Red Bull Holden Racing Team | Shane van Gisbergen | Holden Commodore ZB | 70 |
| 5 | 333 | Shell V-Power Racing Team | Fabian Coulthard | Ford Mustang GT | 70 |
| 6 | 9 | Penrite Racing | David Reynolds | Holden Commodore ZB | 70 |
| 7 | 23 | Milwaukee Racing | Will Davison | Ford Mustang GT | 70 |
| 8 | 8 | Elite Roads Racing | Nick Percat | Holden Commodore ZB | 70 |
| 9 | 18 | Irwin Racing | Mark Winterbottom | Holden Commodore ZB | 70 |
| 10 | 5 | The Bottle-O Racing Team | Lee Holdsworth | Ford Mustang GT | 70 |
| 11 | 99 | Penrite Racing | Anton De Pasquale | Holden Commodore ZB | 70 |
| 12 | 7 | Plus Fitness Racing | Andre Heimgartner | Nissan Altima | 70 |
| 13 | 22 | Mobil 1 MEGA Racing | James Courtney | Holden Commodore ZB | 70 |
| 14 | 35 | Unit Racing | Todd Hazelwood | Holden Commodore ZB | 70 |
| 15 | 34 | Boost Mobile Racing | James Golding | Holden Commodore ZB | 70 |
| 16 | 14 | Freightliner Racing | Tim Slade | Holden Commodore ZB | 70 |
| 17 | 100 | Castrol Racing | Rick Kelly | Nissan Altima | 70 |
| 18 | 21 | Team CoolDrive | Macauley Jones | Holden Commodore ZB | 70 |
| 19 | 78 | Team Harvey Norman | Simona De Silvestro | Nissan Altima | 69 |
| 20 | 2 | Mobil 1 MEGA Racing | Scott Pye | Holden Commodore ZB | 69 |
| 21 | 6 | Monster Energy Racing Team | Cameron Waters | Ford Mustang GT | 69 |
| 22 | 33 | Boost Mobile Racing | Michael Caruso | Holden Commodore ZB | 69 |
| 23 | 19 | Truck Assist TEKNO Racing | Jack Le Brocq | Holden Commodore ZB | 69 |
| 24 | 3 | RABBLE.club Racing | Garry Jacobson | Nissan Altima | 69 |
Championship points
| | | |
| --- | --- | --- |
| Pos | Driver | Pts |
| 1 | Scott McLaughlin | 2096 |
| 2 | Fabian Coulthard | 1738 |
| 3 | David Reynolds | 1589 |
| 4 | Chaz Mostert | 1529 |
| 5 | Jamie Whincup | 1528 |
| 6 | Shane van Gisbergen | 1519 |
| 7 | Nick Percat | 1273 |
| 8 | Cameron Waters | 1267 |
| 9 | Will Davison | 1232 |
| 10 | Lee Holdsworth | 1134 |
| 11 | Mark Winterbottom | 1093 |
| 12 | Tim Slade | 1080 |
| 13 | Anton De Pasquale | 1080 |
| 14 | James Courtney | 1057 |
| 15 | Andre Heimgartner | 1016 |
| 16 | Scott Pye | 916 |
| 17 | Todd Hazelwood | 883 |
| 18 | Rick Kelly | 825 |
| 19 | James Golding | 779 |
| 20 | Simona De Silvestro | 760 |
| 21 | Macauley Jones | 624 |
| 22 | Garry Jacobson | 623 |
| 23 | Jack Le Brocq | 604 |
| 24 | Richie Stanaway | 482 |
| 25 | Jack Smith | 219 |
| 26 | Chris Pither | 159 |
| 27 | Tim Blanchard | 93 |
| 28 | Michael Caruso | 39 |