Brett Moffitt earns second Truck Series win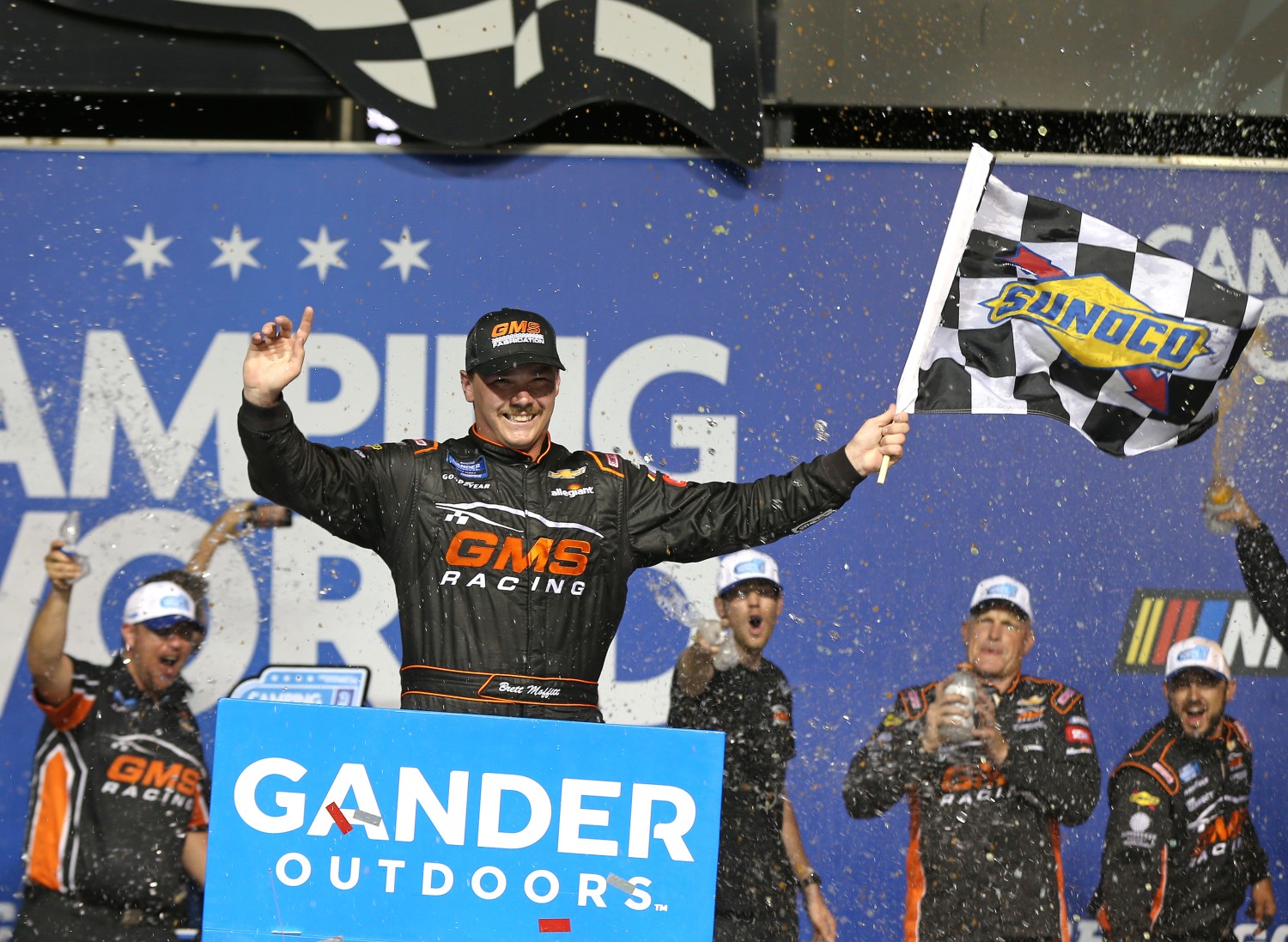 Brett Moffitt
Brett Moffitt won for the second time in three races, capturing Friday night's Camping World 225 NASCAR Gander Outdoors Truck Series race at Chicagoland Speedway.
Moffitt did it with domination, not drama, as was the case in his previous win two races ago at Iowa Speedway. In that race, Moffitt finished second to Ross Chastain. But about an hour after the checkered flag, Chastain's truck was found to be too low in post-race inspection, prompting NASCAR to take the win away from him and give it to Moffitt instead.
But in Friday night's race, Moffitt – last year's Truck Series champion – led a race-high 72 laps, nearly half of the 150-lap event. In taking the checkered flag, he held off runner-up Brandon Jones, who won Stage 1 Friday night, followed by Stewart Friesen, Harrison Burton and Austin Hill.
"It's been a rough start to the year, but we're getting it rolling now," Moffitt told FS1. "We didn't have the results early, but it's getting a lot better now."
Results
| | | | | | | |
| --- | --- | --- | --- | --- | --- | --- |
| Fin | Str | No. | Driver | Team | Laps | Status |
| 1 | 3 | 24 | Brett Moffitt | GMS Chevrolet | 150 | Running |
| 2 | 19 | 51 | Brandon Jones(i) | Chigo/Menards Toyota | 150 | Running |
| 3 | 10 | 52 | Stewart Friesen | Halmar International Chevrolet | 150 | Running |
| 4 | 8 | 18 | Harrison Burton # | Safelite AutoGlass Toyota | 150 | Running |
| 5 | 1 | 16 | Austin Hill | SiriusXM Toyota | 150 | Running |
| 6 | 13 | 4 | Todd Gilliland | Mobil 1 Toyota | 150 | Running |
| 7 | 16 | 45 | Ross Chastain | Niece Motorsports Chevrolet | 150 | Running |
| 8 | 11 | 88 | Matt Crafton | Fisher Nuts/Menards Ford | 150 | Running |
| 9 | 6 | 15 | Anthony Alfredo # | STEELSMITH Toyota | 150 | Running |
| 10 | 9 | 5 | Dylan Lupton | DGR Crosley Toyota | 150 | Running |
| 11 | 7 | 2 | Sheldon Creed # | Chevrolet Accessories Chevrolet | 149 | Running |
| 12 | 14 | 02 | Tyler Dippel # | Jersey Filmmaker Chevrolet | 149 | Running |
| 13 | 4 | 17 | Tyler Ankrum | Railblaza Toyota | 149 | Running |
| 14 | 15 | 54 | Natalie Decker # | N29 Technologies LLC Toyota | 149 | Running |
| 15 | 12 | 12 | Gus Dean # | OverkillRV.com Chevrolet | 149 | Running |
| 16 | 5 | 98 | Grant Enfinger | Champion Power Equipment Ford | 148 | Running |
| 17 | 20 | 20 | Spencer Boyd | Chevrolet | 148 | Running |
| 18 | 2 | 13 | Johnny Sauter | Tenda Heal Ford | 147 | Running |
| 19 | 27 | 33 | Josh Bilicki(i) | InsuranceKing.com Chevrolet | 147 | Running |
| 20 | 21 | 3 | Jordan Anderson | Bommarito Automotive Group Chevrolet | 146 | Running |
| 21 | 30 | 10 | Jennifer Jo Cobb | Driven2Honor.org Chevrolet | 141 | Running |
| 22 | 28 | 34 | Jesse Iwuji | Lodestar Guidance Chevrolet | 138 | Running |
| 23 | 23 | 8 | Camden Murphy | Nemco Chevrolet | 93 | Brakes |
| 24 | 24 | 56 | Timmy Hill(i) | Southern Freight Services Chevrolet | 89 | Overheating |
| 25 | 18 | 22 | Austin Wayne Self | GO TEXAN Chevrolet | 88 | DVP |
| 26 | 26 | 32 | Mason Massey | Reaume Brothers Racing Inc Chevrolet | 82 | Fuel Pump |
| 27 | 22 | 44 | Spencer Davis | Niece Motorsports Chevrolet | 78 | Accident |
| 28 | 25 | 87 | Joe Nemechek | Romco Chevrolet | 45 | Suspension |
| 29 | 31 | 6 | Norm Benning | H & H Transport Chevrolet | 35 | Parked |
| 30 | 29 | 1 | BJ McLeod(i) | Beaver Bail Bonds Toyota | 17 | Electrical |
| 31 | 32 | 0 | Joey Gase(i) | Driven2Honor.org Chevrolet | 15 | Vibration |
| 32 | 17 | 99 | Ben Rhodes | Carolina Nut Ford | 1 | Engine |