Video: Flying high in Spielberg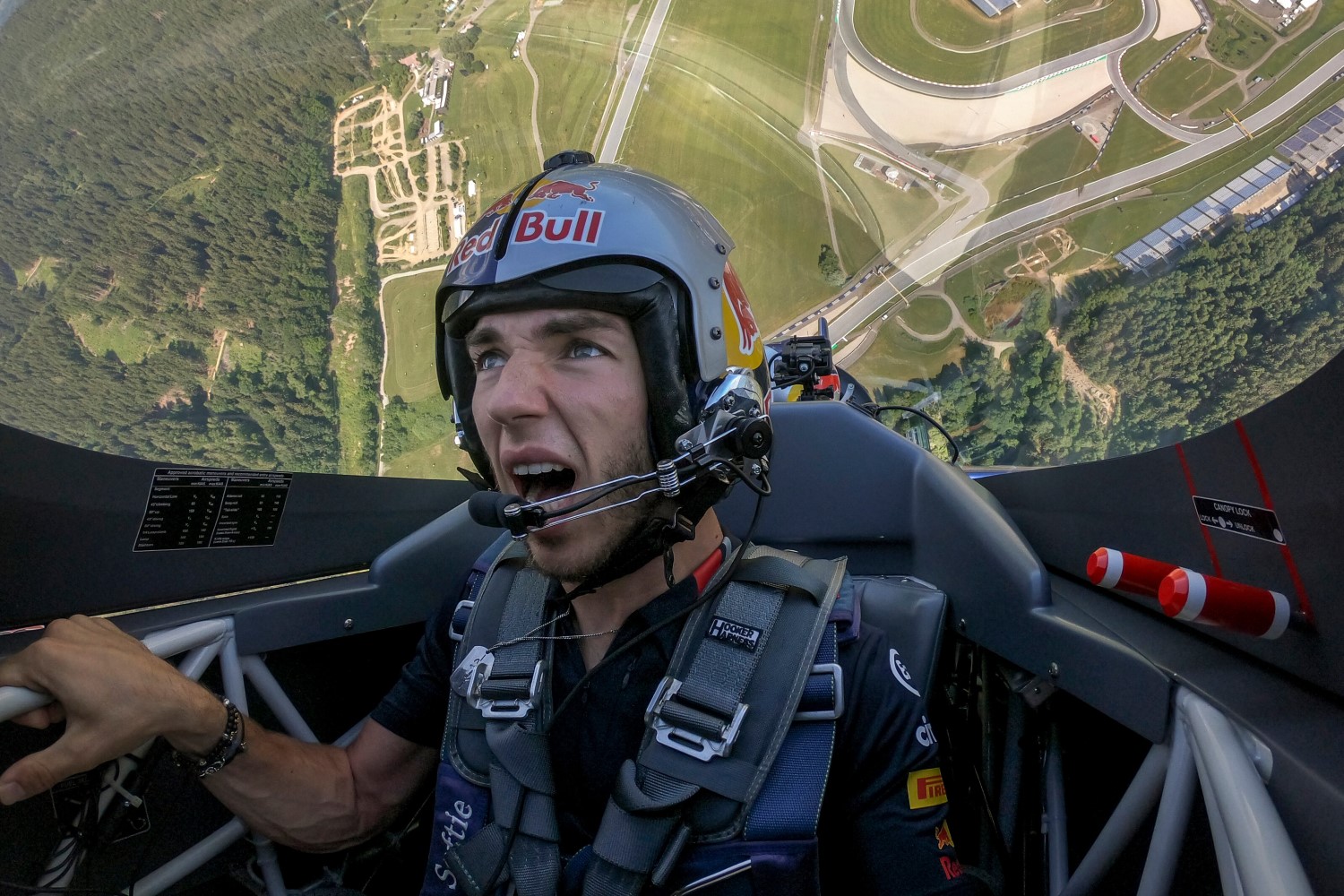 Gasly screams for his life
Question:
what can do a lap of the Red Bull Ring faster than a Formula One car? Answer: A Red Bull aerobatic plane with reigning World Champion Martin Sonka at the controls.
Not that Pierre minded, as he sat up front in the passenger seat, enjoying a bird's eye view of the beautiful Spielberg countryside – albeit a bird that was flying very fast and very low.
With a top speed of 400km/h and propelled by a six cylinder 8.9l air cooled engine, they flew up, down, around and around, before Martin took Pierre for what we call "donuts" – of the vertical kind. Judging by Pierre's face when he climbed unsteadily out again, after his sequence of rolls, loops, spins and stalls, plus a lap of the circuit, he wasn't sure whether to jump up and down and clap his hands, or lie quietly on the floor and wait for the sky to stop rotating.
"I was in this lovely plane with Martin, my first experience of this kind of aircraft and it was just unbelievable!" he said, having swiftly recovered his composure. "We've flown over the track, done some aerobatics, and I had no idea what was happening most of the time but I think it was a great experience! I was a bit anxious because I don't like the loss of control but Martin is a World Champion and there's no better guy to fly with – but some of the things he did today in this plane were just crazy.
"I had some lunch before we flew and that was probably the worst idea! I felt pretty sick but at the same time it was great. The amount of Gs we pulled going around the corners of the track was unbelievable – in Turn One we hit 6G and it's like a massive slap in the face. Because it's three-dimensional, it's very different to the cornering and braking G we pull in the F1 car and my brain was asking 'What the hell is happening right now?'
"The maximum G I've experienced in an F1 car is 5.4 under heavy braking and today we went to something like 6.7 or 6.8. How fast and sharp you are able to turn was awesome. Honestly, I don't know what to say because I'm still shocked. It was really something insane!"
Martin, a former Czech Air Force jet pilot, and national unlimited aerobatic champion, was very impressed with Pierre's resilience. "Hopefully I was able to show Pierre how beautiful flying is," said Martin afterwards. "He's accustomed to some G-forces but you really have to take it to the next level. I think it was tough for him – because the Gs were coming from a different direction to what he's used to and trains for – but he was an amazing passenger. It's not an easy thing to enjoy this the first time you try it – but I think Pierre did."