LeMans 24 hour 14: Same old story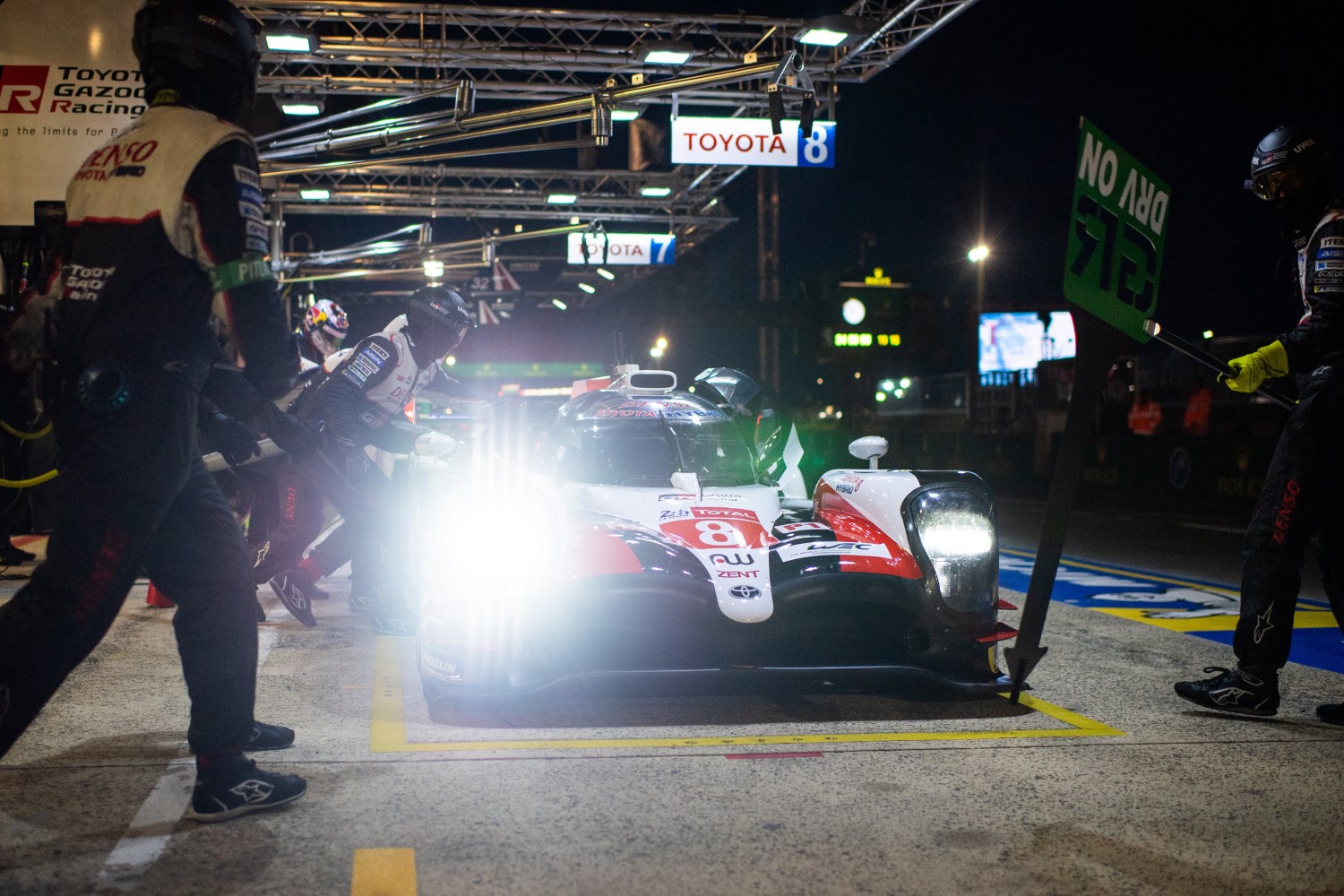 2nd place #8 Toyota in the pits
Efficient pit work from the No. 7 Toyota Gazoo Racing crew put Kamui Kobayashi out front in time at the 14-hour point of the 24 Hours of Le Mans.
The two Toyota TS050 Hybrids have been exchanging positions throughout the FIA World Endurance Championship season finale, but it was the No. 7 leading after 14 hours.
A sixth safety car of the weekend, triggered by the ARC Bratislava Ligier LMP2 car going off at Indianapolis, bunched Buemi onto Kobayashi's tail but the Japanese driver eked out a gap just after the restart and into the second half of the race.
In third was the No. 3 Rebellion R13 Gibson ahead of the lone remaining SMP BR1 of Mikhail Aleshin, 3 & 4 laps off the pace.
The GTE-Pro class was led at halfway by the the No. 51 AF Corse Ferrari 488 GTE Evo.
Three of the four Porsche 911 RSRs worked their way into the top five during the opening stages of night running, while the Chip Ganassi Racing Ford GTs placed fifth through seventh.
The No. 63 Chevrolet Corvette C7.R has also been a mainstay in the top ten.
Hour 14 Standings
| | | | | | | | | |
| --- | --- | --- | --- | --- | --- | --- | --- | --- |
| Pos | Cl P | No. | Team | Current Driver | Behind | Laps | Pit | Status |
| 1 | 1 | #7 | Toyota Gazoo Racing | Kamui Kobayashi | 0.000s | 222 | 19 | RUN |
| 2 | 2 | #8 | Toyota Gazoo Racing | Fernando Alonso | 1:22.526 | 222 | 20 | OUT |
| 3 | 3 | #3 | Rebellion Racing | Thomas Laurent | 3 LAPS | 219 | 24 | RUN |
| 4 | 4 | #11 | Smp Racing | Mikhail Aleshin | 4 LAPS | 218 | 23 | RUN |
| 5 | 5 | #1 | Rebellion Racing | Neel Jani | 7 LAPS | 215 | 23 | OUT |
| 6 | 1 | #26 | G-Drive Racing | Jean-Eric Vergne | 9 LAPS | 213 | 21 | RUN |
| 7 | 2 | #36 | Signatech Alpine Matmut | Nicolas Lapierre | 10 LAPS | 212 | 21 | RUN |
| 8 | 3 | #38 | Jackie Chan Dc Racing | Stéphane Richelmi | 1:44.697 | 212 | 20 | RUN |
| 9 | 4 | #31 | Dragonspeed | Anthony Davidson | 11 LAPS | 211 | 21 | OUT |
| 10 | 5 | #28 | Tds Racing | Loïc Duval | 2:11.589 | 211 | 21 | OUT |
| 11 | 6 | #22 | United Autosports | Filipe Albuquerque | 12 LAPS | 210 | 22 | RUN |
| 12 | 7 | #48 | Idec Sport | Paul Loup Chatin | 13 LAPS | 209 | 21 | RUN |
| 13 | 8 | #30 | Duqueine Engineering | Romain Dumas | 40.587 | 209 | 21 | RUN |
| 14 | 9 | #23 | Panis Barthez Competition | William Stevens | 14 LAPS | 208 | 21 | OUT |
| 15 | 10 | #39 | Graff | Jonathan Hirschi | 15 LAPS | 207 | 21 | RUN |
| 16 | 11 | #43 | Rlr M Sport/Tower Events | Arjun Maini | 16 LAPS | 206 | 21 | RUN |
| 17 | 12 | #47 | Cetilar Villorba Corse | Giorgio Sernagiotto | 17 LAPS | 205 | 23 | RUN |
| 18 | 13 | #25 | Algarve Pro Racing | Andrea Pizzitola | 18 LAPS | 204 | 21 | RUN |
| 19 | 14 | #50 | Larbre Competition | Romano Ricci | 16.664 | 204 | 21 | RUN |
| 20 | 15 | #29 | Racing Team Nederland | Nyck De Vries | 49.216 | 204 | 22 | OUT |
| 21 | 16 | #20 | High Class Racing | Dennis Andersen | 1:39.407 | 204 | 23 | RUN |
| 22 | 17 | #32 | United Autosports | Alex Brundle | 22 LAPS | 200 | 20 | RUN |
| 23 | 18 | #37 | Jackie Chan Dc Racing | Ricky Taylor | 23 LAPS | 199 | 21 | IN |
| 24 | 19 | #34 | Inter Europol Competition | Nigel Moore | 42:40.950 | 199 | 20 | RUN |
| 25 | 1 | #51 | Af Corse | Alessandro Pier Guidi | 25 LAPS | 197 | 14 | RUN |
| 26 | 2 | #93 | Porsche Gt Team | Nick Tandy | 44.095 | 197 | 13 | RUN |
| 27 | 3 | #91 | Porsche Gt Team | Gianmaria Bruni | 45.752 | 197 | 13 | RUN |
| 28 | 4 | #63 | Corvette Racing | Antonio Garcia | 58.144 | 197 | 14 | RUN |
| 29 | 5 | #68 | Ford Chip Ganassi Team Usa | Dirk Müller | 1:21.379 | 197 | 13 | RUN |
| 30 | 6 | #69 | Ford Chip Ganassi Team Usa | Ryan Briscoe | 1:27.070 | 197 | 13 | RUN |
| 31 | 7 | #67 | Ford Chip Ganassi Team Uk | Andy Priaulx | 2:13.266 | 197 | 14 | RUN |
| 32 | 8 | #94 | Porsche Gt Team | Mathieu Jaminet | 26 LAPS | 196 | 14 | RUN |
| 33 | 9 | #66 | Ford Chip Ganassi Team Uk | Billy Johnson | 12.666 | 196 | 14 | RUN |
| 34 | 10 | #89 | Risi Competizione | Oliver Jarvis | 1:40.739 | 196 | 15 | RUN |
| 35 | 11 | #82 | Bmw Team Mtek | Antonio Felix Da Costa | 27 LAPS | 195 | 15 | RUN |
| 36 | 1 | #85 | Keating Motorsports | Jeroen Bleekemolen | 29 LAPS | 193 | 13 | RUN |
| 37 | 12 | #92 | Porsche Gt Team | Kevin Estre | 30 LAPS | 192 | 14 | RUN |
| 38 | 2 | #84 | Jmw Motorsport | Jeffrey Segal | 1:00.523 | 192 | 13 | RUN |
| 39 | 3 | #56 | Team Project 1 | Egidio Perfetti | 1:29.613 | 192 | 13 | RUN |
| 40 | 13 | #81 | Bmw Team Mtek | Martin Tomczyk | 3:34.288 | 192 | 15 | RUN |
| 41 | 4 | #62 | Weathertech Racing | Robert Smith | 3:40.856 | 192 | 15 | RUN |
| 42 | 5 | #61 | Clearwater Racing | Matteo Cressoni | 3:59.297 | 192 | 13 | RUN |
| 43 | 6 | #90 | Tf Sport | Euan Alers-Hankey | 4:02.347 | 192 | 14 | IN |
| 44 | 7 | #57 | Car Guy Racing | Côme Ledogar | 31 LAPS | 191 | 14 | OUT |
| 45 | 8 | #77 | Dempsey – Proton Racing | Matt Campbell | 1:40.098 | 191 | 14 | RUN |
| 46 | 9 | #86 | Gulf Racing | Thomas Preining | 1:44.700 | 191 | 15 | RUN |
| 47 | 10 | #78 | Proton Competition | Louis Prette | 32 LAPS | 190 | 14 | RUN |
| 48 | 11 | #54 | Spirit Of Race | Giancarlo Fisichella | 1:16.191 | 190 | 14 | RUN |
| 49 | 12 | #83 | Kessel Racing | Rahel Frey | 33 LAPS | 189 | 14 | RUN |
| 50 | 13 | #70 | Mr Racing | Olivier Beretta | 1:03.365 | 189 | 16 | RUN |
| 51 | 14 | #97 | Aston Martin Racing | Alexander Lynn | 34 LAPS | 188 | 15 | RUN |
| 52 | 14 | #60 | Kessel Racing | Sergio Pianezzola | 36 LAPS | 186 | 15 | OUT |
| 53 | 6 | #4 | Bykolles Racing Team | Tom Dillmann | 59 LAPS | 163 | 22 | STOP |
| 54 | 7 | #17 | Smp Racing | Egor Orudzhev | 9300370 LAPS | 163 | 16 | STOP |
| 55 | 20 | #49 | Arc Bratislava – Kaneko Racing | Miro Konopka | 62 LAPS | 160 | 19 | IN |
| 56 | 15 | #71 | Af Corse | Miguel Molina | 82 LAPS | 140 | 11 | IN |
| 57 | 16 | #95 | Aston Martin Racing | Marco Sørensen | 90 LAPS | 132 | 9 | STOP |
| 58 | 15 | #98 | Aston Martin Racing | Pedro Lamy | 135 LAPS | 87 | 7 | STOP |
| 59 | 17 | #64 | Corvette Racing | Marcel Fässler | 140 LAPS | 82 | 5 | STOP |
| 60 | 16 | #88 | Dempsey – Proton Racing | Matteo Cairoli | 143 LAPS | 79 | 9 | IN |
| 61 | 8 | #10 | Dragonspeed | Renger Van Der Zande | 146 LAPS | 76 | 14 | STOP |