LeMans 24 hour 4: Toyotas still 1-2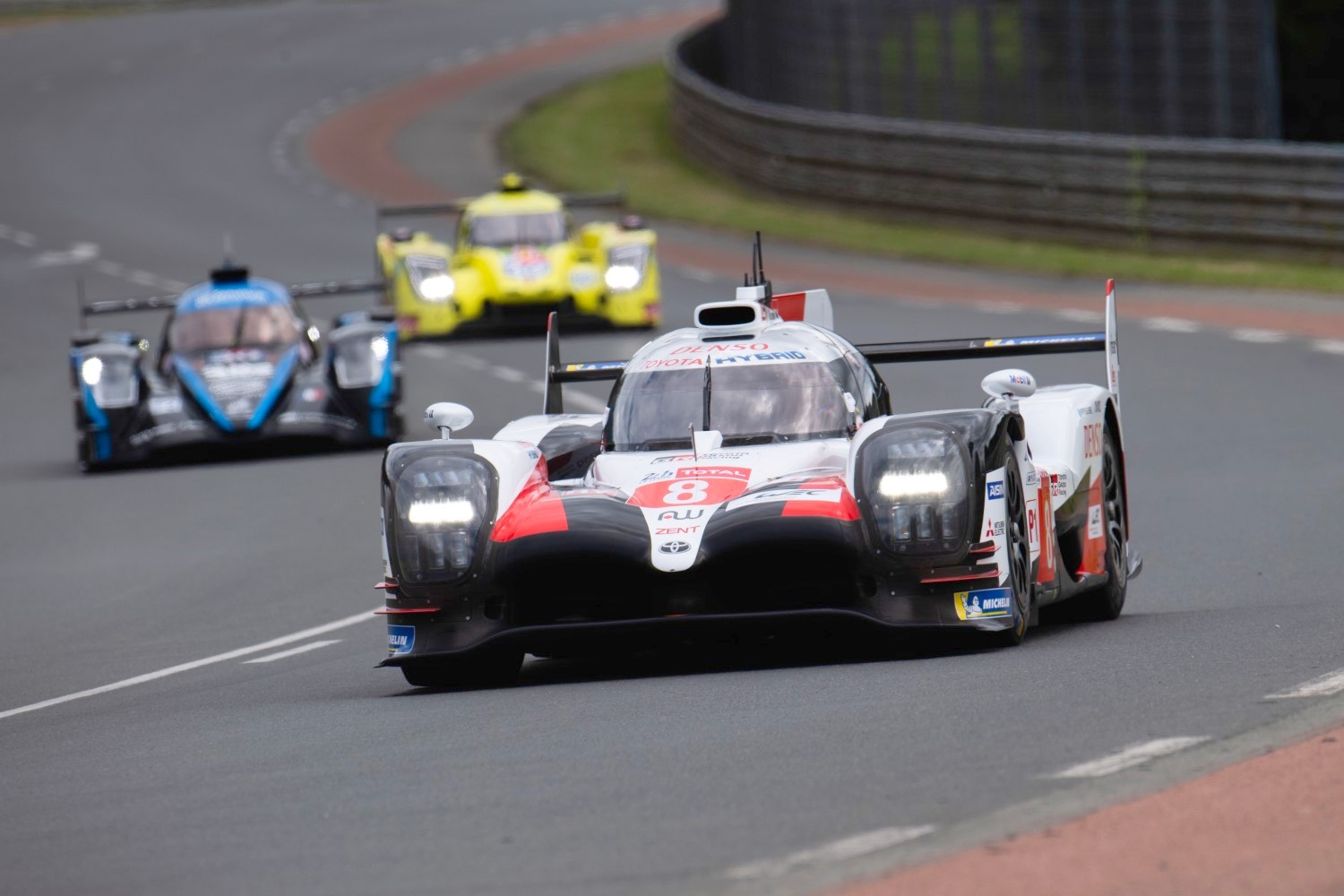 Alonso hunts down Kobayashi
Four hours in and Kamui Kobayashi in the #7 Toyota is seeing his lead shrink with each lap as Fernando Alonso in the sister #8 Toyota hunts him down in the 24 Hours of LeMans classic.
The lead Toyota is still over one lap ahead of the 3rd place car – the #3 Rebellion with Nathanael Berthon at the wheel.
GTE Pro
The Corvette #63 still leads with Mike Rockenfeller behind the wheel,just 1-2sec ahead of the #93 Porsche of Earl Bamber.
Hour 4 Standings
| | | | | | | | | | |
| --- | --- | --- | --- | --- | --- | --- | --- | --- | --- |
| Pos | Class | Cl P | No. | Team | Current Driver | Dif. | Laps | Pit | Status |
| 1 | LMP1 | 1 | #7 | Toyota Gazoo Racing | Kamui Kobayashi | 0.000s | 67 | 6 | Running |
| 2 | LMP1 | 2 | #8 | Toyota Gazoo Racing | Fernando Alonso | 56.744 | 67 | 6 | Running |
| 3 | LMP1 | 3 | #3 | Rebellion Racing | Nathanael Berthon | 1 LAP | 66 | 7 | Running |
| 4 | LMP1 | 4 | #11 | Smp Racing | Stoffel Vandoorne | 10.372 | 66 | 6 | Running |
| 5 | LMP1 | 5 | #17 | Smp Racing | Egor Orudzhev | 33.428 | 66 | 6 | Running |
| 6 | LMP1 | 6 | #1 | Rebellion Racing | André Lotterer | 3 LAPS | 64 | 7 | Running |
| 7 | LMP2 | 1 | #26 | G-Drive Racing | Job Van Uitert | 46.592 | 64 | 6 | Running |
| 8 | LMP2 | 2 | #36 | Signatech Alpine Matmut | Pierre Thiriet | 47.987 | 64 | 6 | Running |
| 9 | LMP1 | 7 | #4 | Bykolles Racing Team | Oliver Webb | 4 LAPS | 63 | 9 | Running |
| 10 | LMP2 | 3 | #38 | Jackie Chan Dc Racing | Gabriel Aubry | 1.179 | 63 | 6 | Running |
| 11 | LMP2 | 4 | #31 | Dragonspeed | Pastor Maldonado | 23.304 | 63 | 6 | Running |
| 12 | LMP2 | 5 | #37 | Jackie Chan Dc Racing | David Heinemeier-Hansson | 25.224 | 63 | 6 | Running |
| 13 | LMP2 | 6 | #22 | United Autosports | Philip Hanson | 1:02.144 | 63 | 6 | Running |
| 14 | LMP2 | 7 | #28 | Tds Racing | Loïc Duval | 1:45.574 | 63 | 6 | Running |
| 15 | LMP2 | 8 | #48 | Idec Sport | Memo Rojas | 1:54.225 | 63 | 6 | Running |
| 16 | LMP2 | 9 | #39 | Graff | Vincent Capillaire | 2:12.219 | 63 | 7 | Running |
| 17 | LMP2 | 10 | #23 | Panis Barthez Competition | Julien Canal | 2:35.336 | 63 | 6 | Running |
| 18 | LMP2 | 11 | #32 | United Autosports | Will Owen | 2:44.880 | 63 | 6 | Running |
| 19 | LMP2 | 12 | #20 | High Class Racing | Dennis Andersen | 2:46.165 | 63 | 7 | Running |
| 20 | LMP2 | 13 | #43 | Rlr M Sport/Tower Events | John Farano | 5 LAPS | 62 | 6 | Running |
| 21 | LMP2 | 14 | #25 | Algarve Pro Racing | John Falb | 59.677 | 62 | 6 | Running |
| 22 | LMP2 | 15 | #47 | Cetilar Villorba Corse | Giorgio Sernagiotto | 1:33.442 | 62 | 6 | Running |
| 23 | LMP2 | 16 | #29 | Racing Team Nederland | Frits Van Eerd | 1:38.333 | 62 | 7 | Running |
| 24 | LMP2 | 17 | #34 | Inter Europol Competition | Nigel Moore | 3:21.720 | 62 | 6 | Running |
| 25 | LMP2 | 18 | #30 | Duqueine Engineering | Pierre Ragues | 6 LAPS | 61 | 7 | Running |
| 26 | LMP2 | 19 | #50 | Larbre Competition | Erwin Creed | 45.920 | 61 | 6 | Running |
| 27 | LMP2 | 20 | #49 | Arc Bratislava – Kaneko Racing | Henning Enqvist | 7 LAPS | 60 | 6 | Running |
| 28 | GTE-Pro | 1 | #63 | Corvette Racing | Mike Rockenfeller | 8 LAPS | 59 | 5 | Running |
| 29 | GTE-Pro | 2 | #93 | Porsche GT Team | Earl Bamber | 1.027 | 59 | 4 | Running |
| 30 | GTE-Pro | 3 | #51 | Af Corse | Daniel Serra | 2.619 | 59 | 5 | Running |
| 31 | GTE-Pro | 4 | #92 | Porsche GT Team | Laurens Vanthoor | 3.142 | 59 | 5 | Running |
| 32 | GTE-Pro | 5 | #68 | Ford Chip Ganassi Team Usa | Joey Hand | 5.196 | 59 | 4 | Running |
| 33 | GTE-Pro | 6 | #71 | Af Corse | Miguel Molina | 11.026 | 59 | 4 | Running |
| 34 | LMP1 | 8 | #10 | Dragonspeed | Henrik Hedman | 12.456 | 59 | 7 | Running |
| 35 | GTE-Pro | 7 | #69 | Ford Chip Ganassi Team Usa | Scott Dixon | 9 LAPS | 58 | 4 | Running |
| 36 | GTE-Pro | 8 | #64 | Corvette Racing | Marcel Fässler | 9.574 | 58 | 4 | Running |
| 37 | GTE-Pro | 9 | #66 | Ford Chip Ganassi Team Uk | Stefan Mücke | 22.419 | 58 | 4 | Running |
| 38 | GTE-Pro | 10 | #91 | Porsche GT Team | Frédéric Makowiecki | 22.844 | 58 | 4 | Running |
| 39 | GTE-Pro | 11 | #67 | Ford Chip Ganassi Team Uk | Andy Priaulx | 27.449 | 58 | 5 | Running |
| 40 | GTE-Pro | 12 | #82 | Bmw Team Mtek | Jesse Krohn | 54.906 | 58 | 4 | Running |
| 41 | GTE-Pro | 13 | #94 | Porsche GT Team | Dennis Olsen | 1:02.147 | 58 | 4 | Running |
| 42 | GTE-Pro | 14 | #95 | Aston Martin Racing | Darren Turner | 1:10.327 | 58 | 4 | Running |
| 43 | GTE-Pro | 15 | #89 | Risi Competizione | Jules Gounon | 1:11.566 | 58 | 4 | Running |
| 44 | GTE-Pro | 16 | #97 | Aston Martin Racing | Jonathan Adam | 1:20.300 | 58 | 4 | Running |
| 45 | GTE-Pro | 17 | #81 | Bmw Team Mtek | Nicky Catsburg | 1:53.738 | 58 | 4 | Running |
| 46 | GT-AM | 1 | #77 | Dempsey – Proton Racing | Julien Andlauer | 3:16.320 | 58 | 4 | Running |
| 47 | GT-AM | 2 | #85 | Keating Motorsports | Felipe Fraga | 10 LAPS | 57 | 4 | Running |
| 48 | GT-AM | 3 | #84 | Jmw Motorsport | Wei Lu | 46.543 | 57 | 4 | Running |
| 49 | GT-AM | 4 | #62 | Weathertech Racing | Cooper Macneil | 55.988 | 57 | 6 | Running |
| 50 | GT-AM | 5 | #90 | Tf Sport | Charlie Eastwood | 1:41.828 | 57 | 4 | Running |
| 51 | GT-AM | 6 | #56 | Team Project 1 | Patrick Lindsey | 2:08.482 | 57 | 4 | Running |
| 52 | GT-AM | 7 | #61 | Clearwater Racing | Matteo Cressoni | 2:43.049 | 57 | 4 | Running |
| 53 | GT-AM | 8 | #54 | Spirit Of Race | Francesco Castellacci | 3:06.931 | 57 | 4 | Running |
| 54 | GT-AM | 9 | #78 | Proton Competition | Philippe Prette | 11 LAPS | 56 | 4 | Running |
| 55 | GT-AM | 10 | #86 | Gulf Racing | Thomas Preining | 13.327 | 56 | 4 | Running |
| 56 | GT-AM | 11 | #57 | Car Guy Racing | Kei Cozzolino | 44.886 | 56 | 4 | Running |
| 57 | GT-AM | 12 | #60 | Kessel Racing | Andrea Piccini | 3:31.180 | 56 | 4 | Running |
| 58 | GT-AM | 13 | #83 | Kessel Racing | Michelle Gatting | 3:48.848 | 56 | 5 | Running |
| 59 | GT-AM | 14 | #70 | Mr Racing | Motoaki Ishikawa | 12 LAPS | 55 | 4 | Running |
| 60 | GT-AM | 15 | #88 | Dempsey – Proton Racing | Giorgio Roda | 13 LAPS | 54 | 5 | Running |
| 61 | GT-AM | 16 | #98 | Aston Martin Racing | Mathias Lauda | 15 LAPS | 52 | 4 | Running |