LeMans 24 hour 2: #7 Toyota stretches lead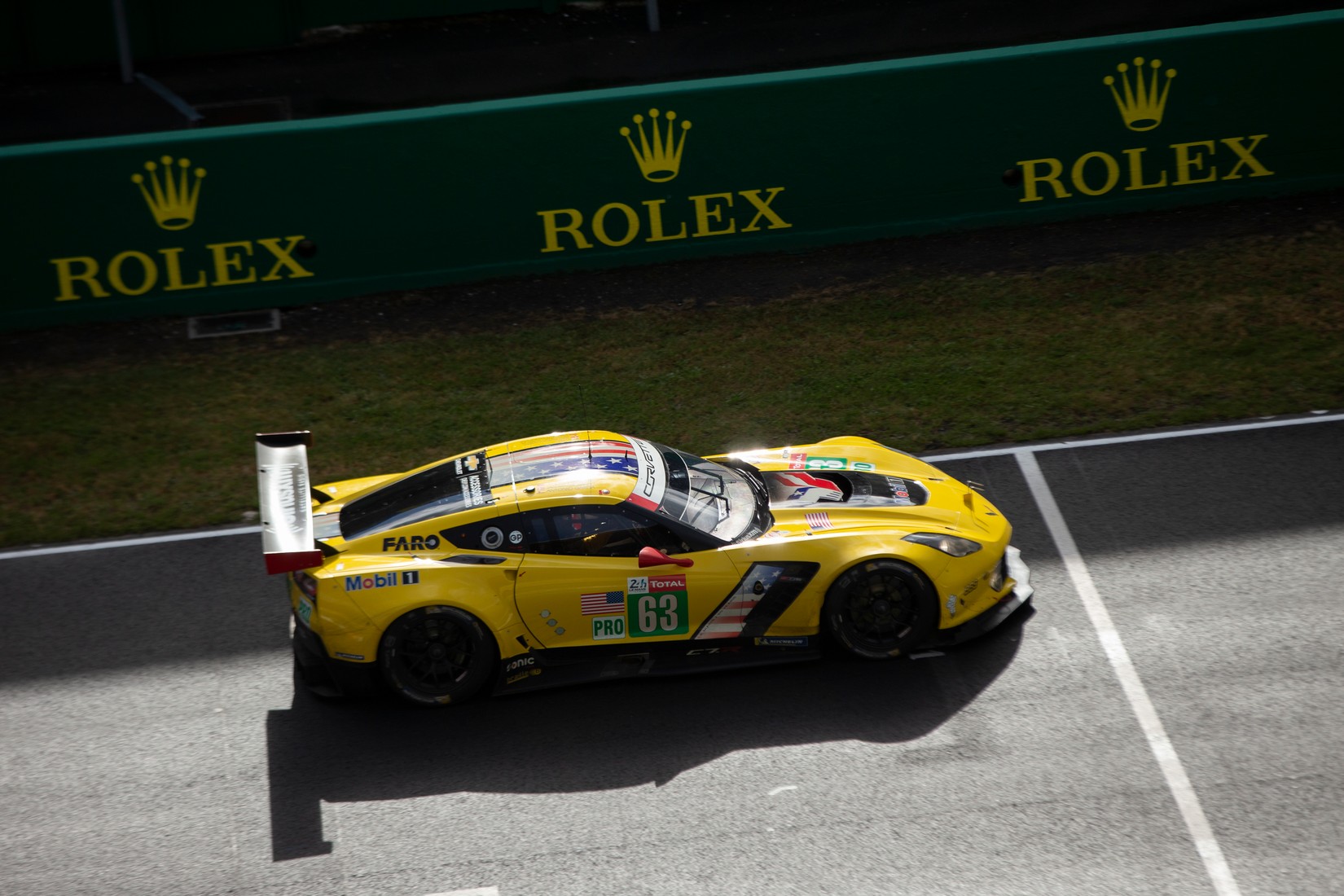 #63 Corvette leads in GTE-Pro
Two hours in and Mike Conway in the #7 Toyota is pulling away from Sebastien Buemi in the sister #8 Toyota at the end of Hour 2 in the 24 Hours of LeMans classic.
The lead Toyota is over one lap ahead of the 3rd place car – the #3 Rebellion.
The #63 factory Corvette is battling the #93 Porsche for top honors in GTE-Pro.
Hour 2 Standings
| | | | | | | | | | |
| --- | --- | --- | --- | --- | --- | --- | --- | --- | --- |
| Pos | Class | Cl P | No. | Team | Current Driver | Laps | Behind | Pit | Status |
| 1 | LMP1 | 1 | #7 | Toyota Gazoo Racing | Mike Conway | 34 | 0.000s | 3 | RUNNING |
| 2 | LMP1 | 2 | #8 | Toyota Gazoo Racing | Sebastien Buemi | 34 | 36.941s | 3 | RUNNING |
| 3 | LMP1 | 3 | #3 | Rebellion Racing | Gustavo Menezes | 33 | 1 LAP | 4 | RUNNING |
| 4 | LMP1 | 4 | #11 | Smp Racing | Vitaly Petrov | 33 | 38.712 | 3 | RUNNING |
| 5 | LMP1 | 5 | #17 | Smp Racing | Stephane Sarrazin | 33 | 53.485 | 3 | RUNNING |
| 6 | LMP1 | 6 | #1 | Rebellion Racing | BRunningo Senna | 32 | 2 LAPS | 3 | RUNNING |
| 7 | LMP2 | 1 | #36 | Signatech Alpine Matmut | Nicolas Lapierre | 32 | 32.807 | 3 | RUNNING |
| 8 | LMP2 | 2 | #26 | G-Drive Racing | Jean-Eric Vergne | 32 | 36.205 | 3 | RUNNING |
| 9 | LMP1 | 7 | #4 | Bykolles Racing Team | Tom Dillmann | 32 | 1:18.684 | 4 | RUNNING |
| 10 | LMP2 | 3 | #29 | Racing Team Nederland | Nyck De Vries | 32 | 1:27.243 | 3 | RUNNING |
| 11 | LMP2 | 4 | #31 | Dragonspeed | Roberto Gonzalez | 32 | 1:35.004 | 3 | RUNNING |
| 12 | LMP2 | 5 | #38 | Jackie Chan Dc Racing | Stephane Richelmi | 32 | 1:36.988 | 3 | RUNNING |
| 13 | LMP2 | 6 | #37 | Jackie Chan Dc Racing | Jordan King | 32 | 1:53.485 | 3 | RUNNING |
| 14 | LMP2 | 7 | #22 | United Autosports | Paul Di Resta | 32 | 1:53.783 | 3 | RUNNING |
| 15 | LMP2 | 8 | #20 | High Class Racing | Mathias Beche | 32 | 1:55.189 | 3 | RUNNING |
| 16 | LMP2 | 9 | #25 | Algarve Pro Racing | Andrea Pizzitola | 32 | 1:55.756 | 3 | RUNNING |
| 17 | LMP2 | 10 | #48 | Idec Sport | Paul Lafargue | 32 | 2:13.566 | 3 | RUNNING |
| 18 | LMP2 | 11 | #32 | United Autosports | Ryan Cullen | 32 | 2:22.471 | 3 | RUNNING |
| 19 | LMP2 | 12 | #23 | Panis Barthez Competition | William Stevens | 32 | 2:40.340 | 3 | RUNNING |
| 20 | LMP2 | 13 | #28 | Tds Racing | François Perrodo | 32 | 2:42.642 | 3 | RUNNING |
| 21 | LMP2 | 14 | #43 | Rlr M Sport/Tower Events | Arjun Maini | 32 | 2:43.200 | 3 | RUNNING |
| 22 | LMP2 | 15 | #47 | Cetilar Villorba Corse | Andrea Belicchi | 32 | 2:49.631 | 3 | RUNNING |
| 23 | LMP2 | 16 | #39 | Graff | Jonathan Hirschi | 31 | 3 LAPS | 4 | OUT |
| 24 | LMP2 | 17 | #34 | Inter Europol Competition | James Winslow | 31 | 2:05.790 | 3 | RUNNING |
| 25 | LMP2 | 18 | #50 | Larbre Competition | Romano Ricci | 31 | 3:16.956 | 3 | RUNNING |
| 26 | LMP2 | 19 | #30 | Duqueine Engineering | Nicolas Jamin | 30 | 4 LAPS | 3 | RUNNING |
| 27 | LMP2 | 20 | #49 | Arc Bratislava – Kaneko Racing | Konstantintereschenko | 30 | 39.800 | 3 | RUNNING |
| 28 | GTE Pro | 1 | #63 | Corvette Racing | Jan Magnussen | 30 | 2:44.399 | 2 | RUNNING |
| 29 | GTE Pro | 2 | #93 | Porsche GT Team | Patrick Pilet | 30 | 2:45.285 | 2 | RUNNING |
| 30 | GTE Pro | 3 | #92 | Porsche GT Team | Michael Christensen | 29 | 5 LAPS | 2 | RUNNING |
| 31 | GTE Pro | 4 | #67 | Ford Chip Ganassi Team Uk | Jonathan Bomarito | 29 | 1.935 | 2 | RUNNING |
| 32 | GTE Pro | 5 | #68 | Ford Chip Ganassi Team Usa | Dirk Müller | 29 | 4.767 | 2 | RUNNING |
| 33 | GTE Pro | 6 | #91 | Porsche GT Team | Richard Lietz | 29 | 5.675 | 2 | RUNNING |
| 34 | GTE Pro | 7 | #51 | Af Corse | James Calado | 29 | 6.902 | 2 | RUNNING |
| 35 | GTE Pro | 8 | #71 | Af Corse | Sam Bird | 29 | 9.670 | 2 | RUNNING |
| 36 | GTE Pro | 9 | #69 | Ford Chip Ganassi Team Usa | Richard Westbrook | 29 | 14.947 | 2 | RUNNING |
| 37 | GTE Pro | 10 | #64 | Corvette Racing | Tommy Milner | 29 | 18.873 | 2 | RUNNING |
| 38 | GTE Pro | 11 | #66 | Ford Chip Ganassi Team Uk | Stefan Mücke | 29 | 20.570 | 2 | RUNNING |
| 39 | GTE Pro | 12 | #81 | Bmw Team Mtek | Philipp Eng | 29 | 22.671 | 2 | RUNNING |
| 40 | GTE Pro | 13 | #95 | Aston Martin Racing | Marco Sørensen | 29 | 34.432 | 2 | RUNNING |
| 41 | GTE Pro | 14 | #82 | Bmw Team Mtek | Augusto Farfus | 29 | 39.445 | 2 | RUNNING |
| 42 | GTE Pro | 15 | #89 | Risi Competizione | Pipo Derani | 29 | 42.191 | 2 | RUNNING |
| 43 | GTE Pro | 16 | #94 | Porsche GT Team | Sven Müller | 29 | 52.031 | 2 | RUNNING |
| 44 | GTE Pro | 17 | #97 | Aston Martin Racing | Alexander Lynn | 29 | 1:07.340 | 2 | RUNNING |
| 45 | GTE-AM | 1 | #77 | Dempsey – Proton Racing | Julien Andlauer | 29 | 2:15.746 | 2 | RUNNING |
| 46 | GTE-AM | 2 | #54 | Spirit Of Race | Thomas Flohr | 29 | 2:35.133 | 2 | RUNNING |
| 47 | GTE-AM | 3 | #85 | Keating Motorsports | Jeroen Bleekemolen | 29 | 2:36.321 | 2 | RUNNING |
| 48 | GTE-AM | 4 | #90 | Tf Sport | Euan Alers-Hankey | 29 | 2:40.946 | 2 | RUNNING |
| 49 | GTE-AM | 5 | #84 | Jmw Motorsport | Rodrigo Baptista | 29 | 2:46.839 | 2 | RUNNING |
| 50 | GTE-AM | 6 | #62 | Weathertech Racing | Toni Vilander | 29 | 2:48.923 | 3 | RUNNING |
| 51 | GTE-AM | 7 | #56 | Team Project 1 | Egidio Perfetti | 29 | 2:51.052 | 2 | RUNNING |
| 52 | GTE-AM | 8 | #86 | Gulf Racing | Michael Wainwright | 29 | 3:08.112 | 2 | RUNNING |
| 53 | GTE-AM | 9 | #78 | Proton Competition | Louis Prette | 29 | 3:21.493 | 2 | RUNNING |
| 54 | GTE-AM | 10 | #83 | Kessel Racing | Manuela Gostner | 28 | 6 LAPS | 2 | RUNNING |
| 55 | GTE-AM | 11 | #61 | Clearwater Racing | Matthew Griffin | 28 | 20.336 | 2 | RUNNING |
| 56 | GTE-AM | 12 | #57 | Car Guy Racing | Takeshi Kimura | 28 | 1:02.611 | 2 | RUNNING |
| 57 | GTE-AM | 13 | #60 | Kessel Racing | Claudio Schiavoni | 28 | 2:50.130 | 2 | RUNNING |
| 58 | LMP1 | 8 | #10 | Dragonspeed | Ben Hanley | 27 | 7 LAPS | 3 | OUT |
| 59 | GTE-AM | 14 | #70 | Mr Racing | Edward Cheever | 27 | 19:36.936 | 2 | RUNNING |
| 60 | GTE-AM | 15 | #88 | Dempsey – Proton Racing | Satoshi Hoshino | 26 | 8 LAPS | 3 | RUNNING |
| 61 | GTE-AM | 16 | #98 | Aston Martin Racing | Pedro Lamy | 24 | 10 LAPS | 2 | IN |