McLaughlin dominates in Darwin as Penske runs roughshod over Supercars series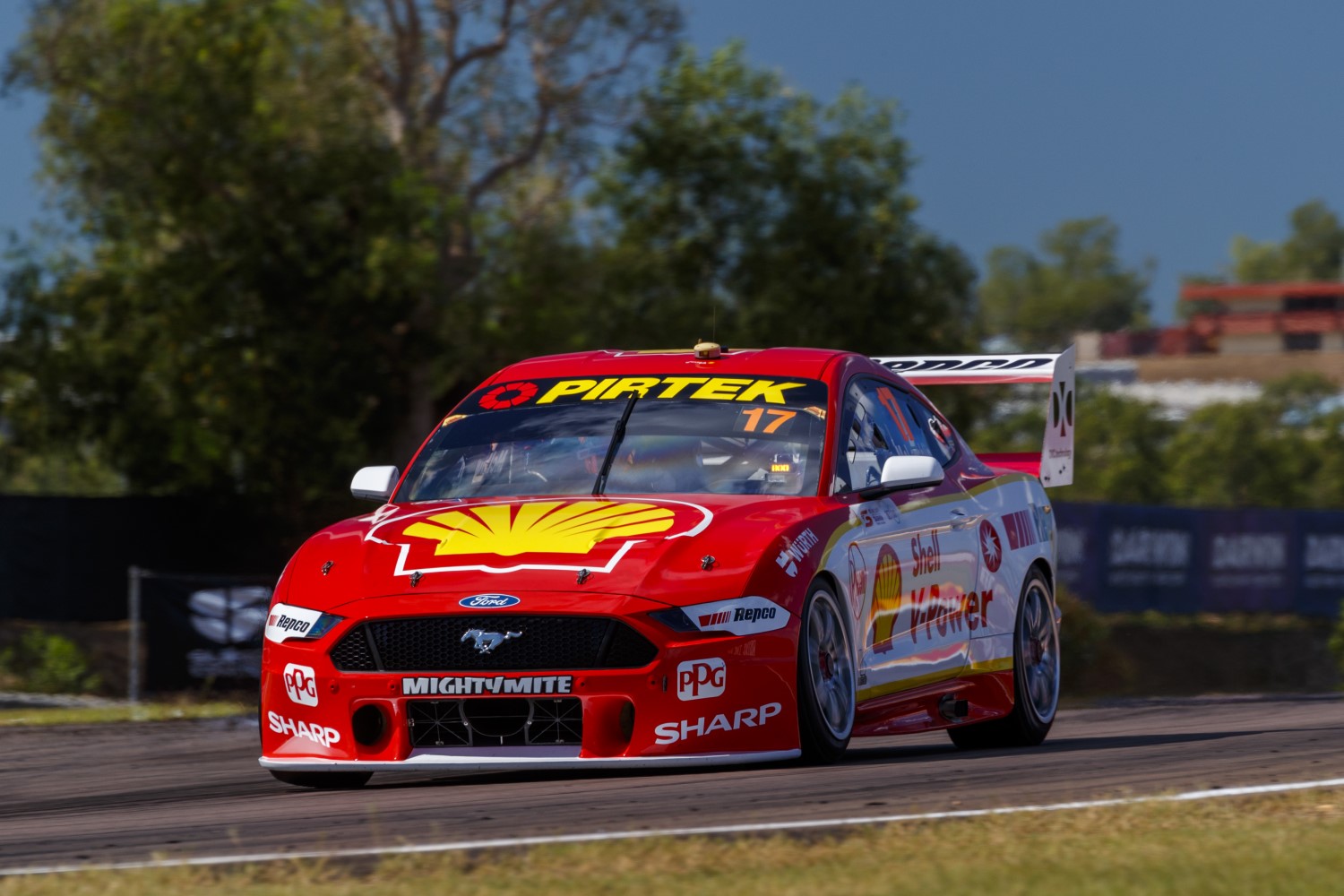 Scott McLaughlin was so far ahead at the finish the others may as well stay home, such is the dominance of the Penske Mustang
Supercars Champion Scott McLaughlin is on cue for an historic BetEasy Darwin Triple Crown with victory in the first race in Darwin.
McLaughlin completed the first leg of the elusive treble which no driver has claimed since its introduction in 2009.
The triple crown is awarded to the winner of both races and tomorrow's ARMOR ALL Top Ten Shootout.
Another perfect qualifying, which scored McLaughlin his tenth pole position of the year, was capped with a faultless drive to win from start to finish from Chaz Mostert and David Reynolds.
His pole position was number 56 of his career, one short of Peter Brock's second place on the all-time list.
He also extended his Championship lead over Shell V-Power team-mate Fabian Coulthard who came home eighth having qualified tenth.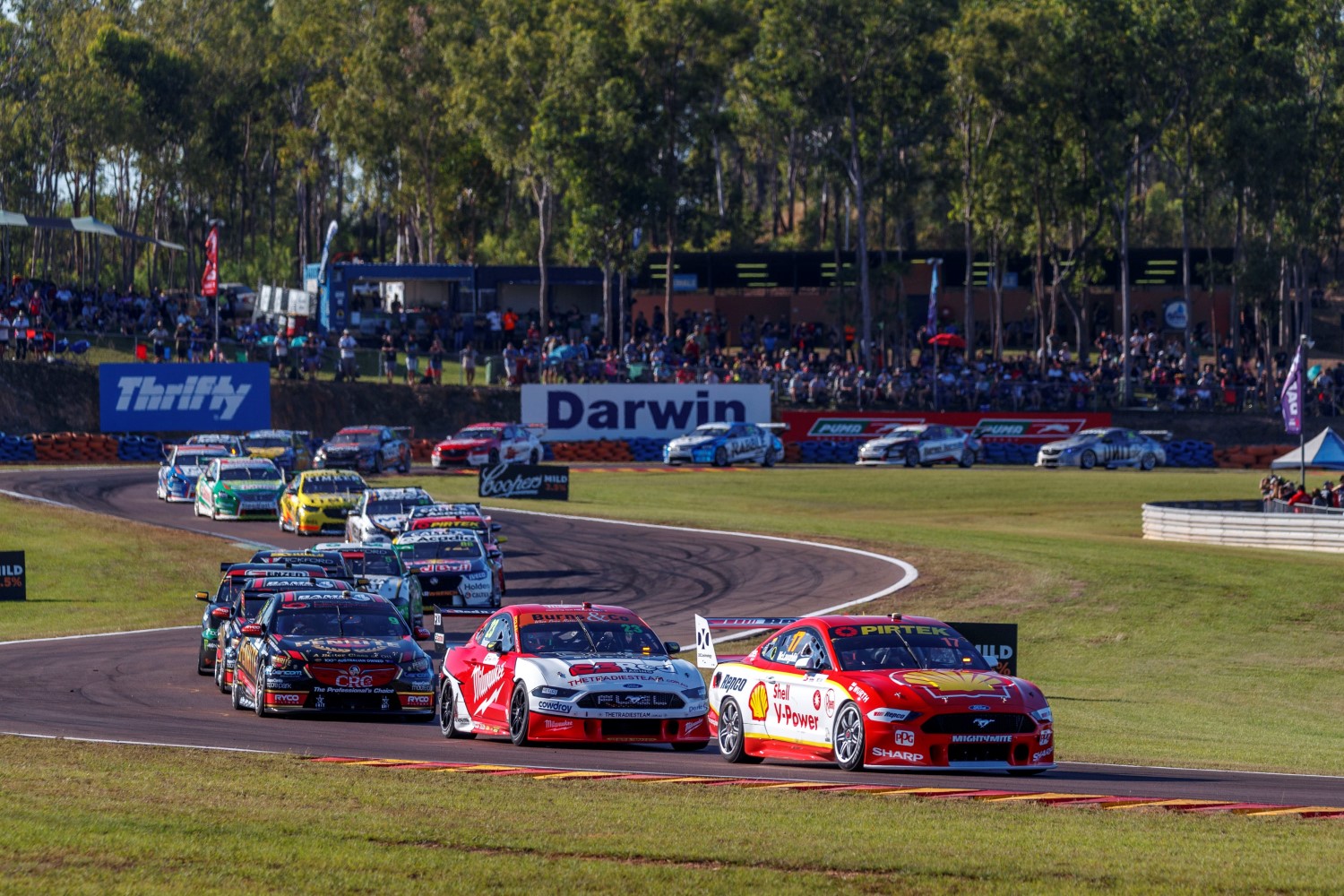 His competitors were close on the pace lap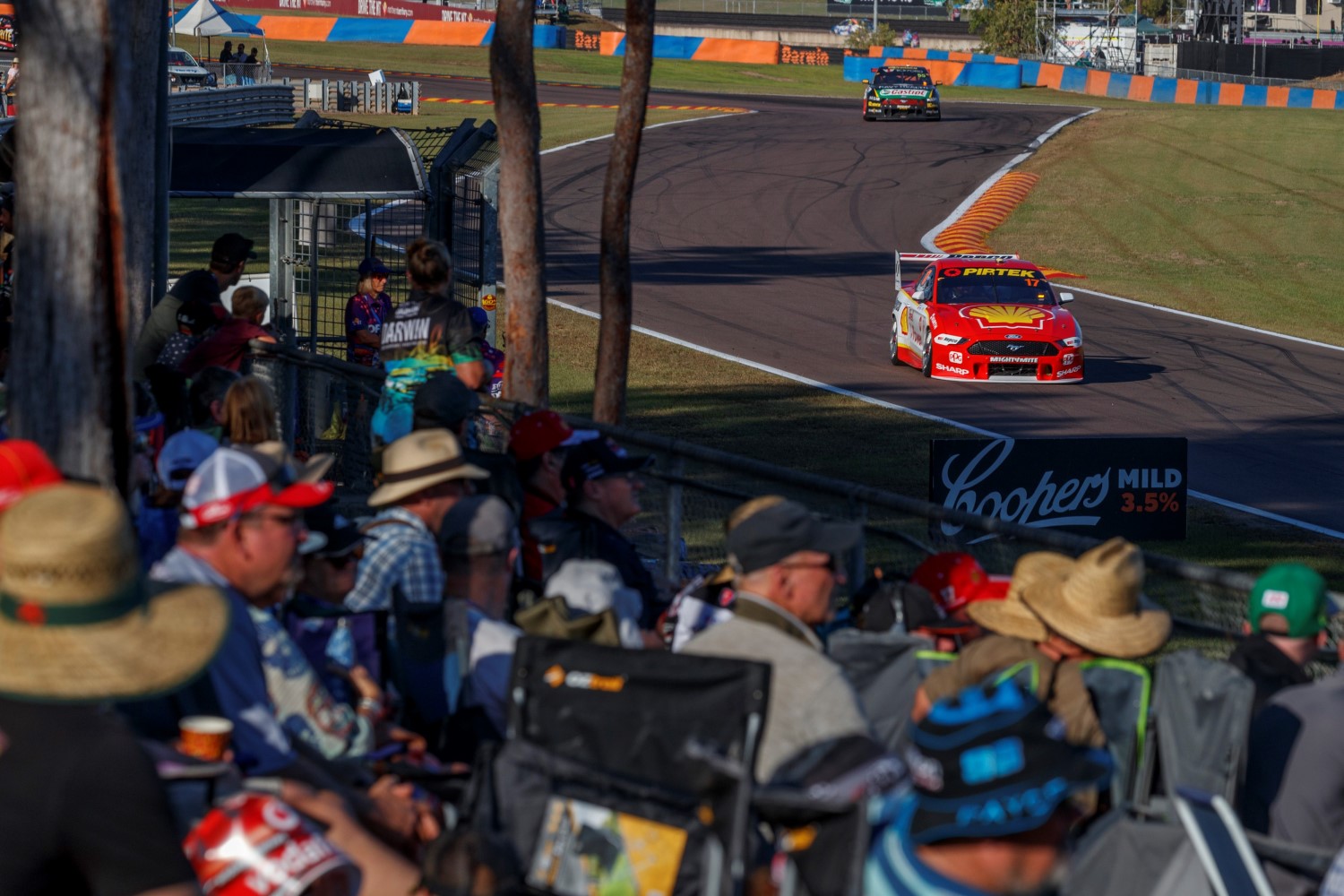 Lap 1 and the gap is already huge
McLaughlin's eyes were not on the triple crown following the overnight passing of the father of his engineer Richard Harris, who he dedicated the win to.
"You would love to try and do it (the triple crown) but today unfortunately my engineer Richards' dad passed away in the early hours of the morning," McLaughlin said.
"This if for him, I am not really worried about the triple crown at the moment, just the welfare of my boys."
Mostert made his gains courtesy an early stop strategy. He qualified sixth and also benefited from a poor stop by Anton de Pasquale's Penrite Racing team.
The Supercheap Auto Racing driver made big gains, jumping Reynolds and Will Davison to claim second place on the road after the cycle of stops.
"I was quite surprised, I got the call early. Scotty is still super quick, so we still have a bunch to find to get to him.
Today was a matter of trying to finesse, not slide the car and hang on."
Reynolds and Milwaukee Racing's Will Davison clashed coming out of the pits, with the latter given a 15 second time penalty, also putting him out of contention despite being second early in the race.
"It was marginal. I got the call and tried to back out of it," Davison said. "It was a disappointing last stint anyway to be honest, so I am not sure if we had a lot to challenge anyway."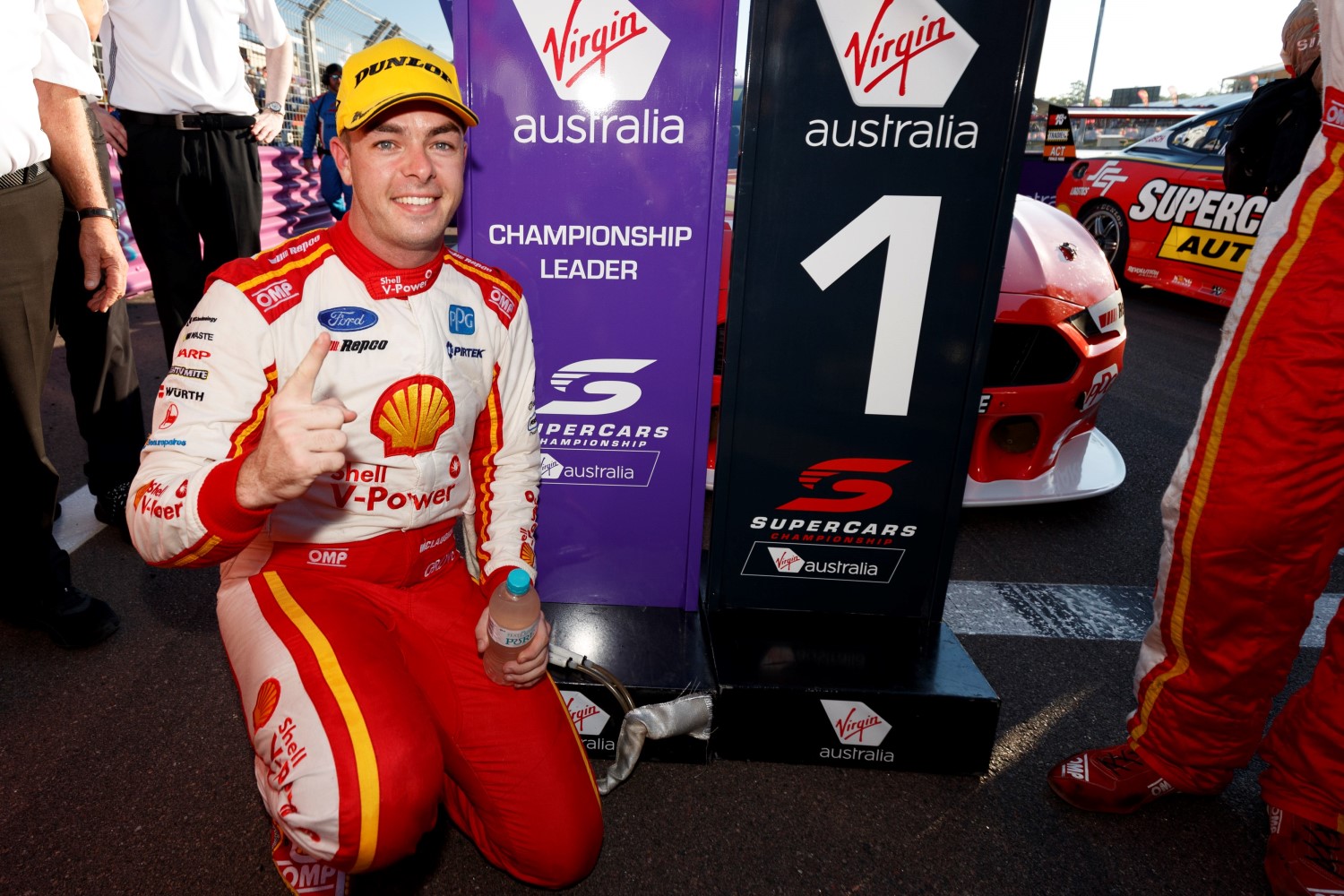 McLaughlin wins for the 11th time this year
Jamie Whincup and Shane van Gisbergen played the long game with late stops to get fresher tires and while they made gains they were ultimately to far back to challenge for a podium.
De Pasquale was the victim of a poor stop which may have cost him a podium finish having been part of the top four battle pack.
A wheel nut got stuck, costing him around ten seconds, before his team was able get him back out. He ultimately finished twelfth.
A wild opening two laps caused carnage and ended in a safety car when Tim Slade's Freightliner Commodore was left stranded following contact with Rick Kelly.
Jack le Broq, James Golding and Macauley Jones had a melee of their own after the first corner of lap one, with all three left to head back to the pits for repairs.
MCLAUGHLIN QUOTE
"I would love to win the Triple Crown for sure, but today I wasn't really even thinking about that. This one was for Richard, my race engineer, whose dad passed away overnight. I'm not too worried about the Triple Crown right now, just the welfare of my boys. They did an incredible job again today. It was a bit weird having Ludo back on the radio, but we all pulled together and got it done. Very cool to take the 600th pole for Penske this morning too, I'm very proud to be a part of this organization so a milestone like that is very special. Hopefully we can continue it tomorrow."
Darwin Race 1 Results
| | | | | |
| --- | --- | --- | --- | --- |
| POS | # | DRIVER | TEAM | TIME |
| 1 | 2 | McLaughlin | Mobil 1 Boost Mobile Racing | 52:11.854 |
| 2 | 3 | Mostert | Nissan Nismo | +50:59.321 |
| 3 | 4 | Reynolds | Drillpro Racing | +51:00.316 |
| 4 | 5 | C. Waters | The Bottle-O Racing Team | +51:00.680 |
| 5 | 6 | Whincup | Tickford Racing | +51:01.392 |
| 6 | 7 | Holdsworth | Nissan Motorsport | +51:04.900 |
| 7 | 8 | Coulthard | Brad Jones Racing | +51:06.447 |
| 8 | 9 | Van Gisbergen | Erebus Motorsport | +51:07.727 |
| 9 | 12 | Courtney | Shell V-Power Racing Team | +51:12.583 |
| 10 | 14 | S. Pye | Brad Jones Racing | +51:18.963 |
| 11 | 15 | A. de Pasquale | Nissan Motorsport | +51:20.624 |
| 12 | 17 | Davison | Shell V-Power Racing Team | +51:24.571 |
| 13 | 18 | Percat | Preston Hire Racing | +51:25.101 |
| 14 | 19 | G. Jacobson | TEKNO Woodstock Racing | +51:27.153 |
| 15 | 21 | C. Pither | CoolDrive Racing | +51:27.763 |
| 16 | 22 | Heimgartner | Mobil 1 Boost Mobile Racing | +51:31.365 |
| 17 | 23 | Winterbottom | Monster Energy Racing | +51:32.142 |
| 18 | 33 | T. Hazelwood | Wilson Security Racing GRM | +51:37.101 |
| 19 | 34 | S. De Silvestro | Wilson Security Racing GRM | +51:43.149 |
| 20 | 35 | J. Smith | Bigmate Racing | +51:57.765 |
| 21 | 55 | R. Kelly | Supercheap Auto Racing | +1 Lap |
| 22 | 78 | M. Jones | Nissan Nismo | +8 Laps |
| NC | 88 | Slade | Red Bull Holden Racing Australia | +41 Laps |
| NC | 97 | J. Golding | Red Bull Holden Racing Australia | – |
| NC | 99 | J. Le Brocq | Erebus Motorsport | – |