Penske Power: McLaughlin quickest in second practice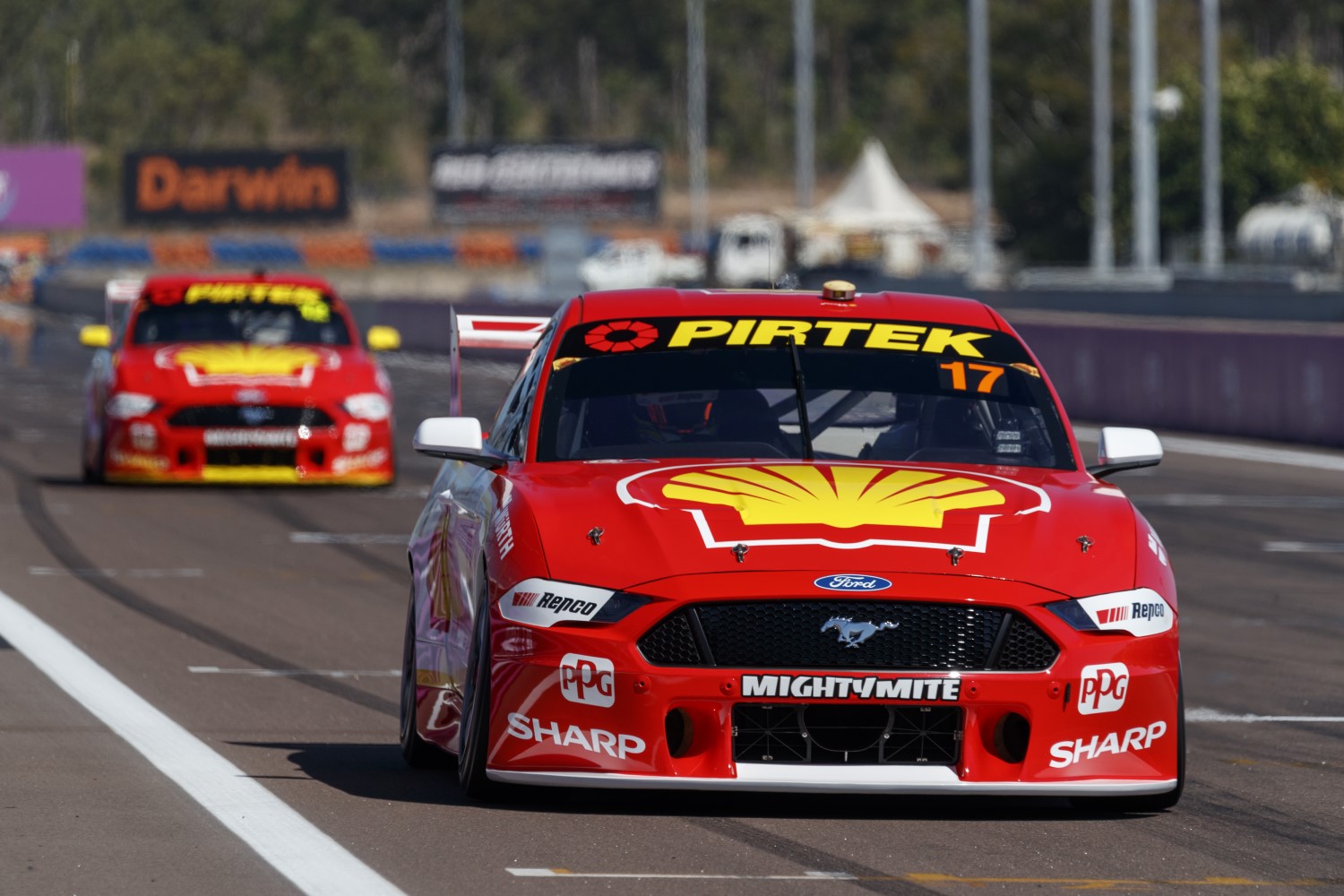 Penske men run 1-2 in their superior Mustang
Defending Virgin Australia Supercars Champion Scott McLaughlin has put himself in the best possible position to create history this weekend, claiming the quickest lap time of the day during practice sessions of the BetEasy Darwin Triple Crown.
The Shell V-Power Ford Mustang ace is aiming to become the first ever driver to win the Triple Crown this weekend and enters the round on the back of 10 wins and nine ARMOR ALL Pole Positions from his last 13 starts.
His lap time in the second practice session this afternoon was four hundredths quicker than his Mustang teammate Fabian Coulthard, while seven-time Supercars Champion Jamie Whincup was third in his Red Bull Holden.
"There's so much more pressure now in practice. It's tough, you've got to really be focused for the laps," McLaughlin said, noting the knockout Qualifying format," McLaughlin said.
"It's always good to get one in, Fabs is up there for the team too, which is great."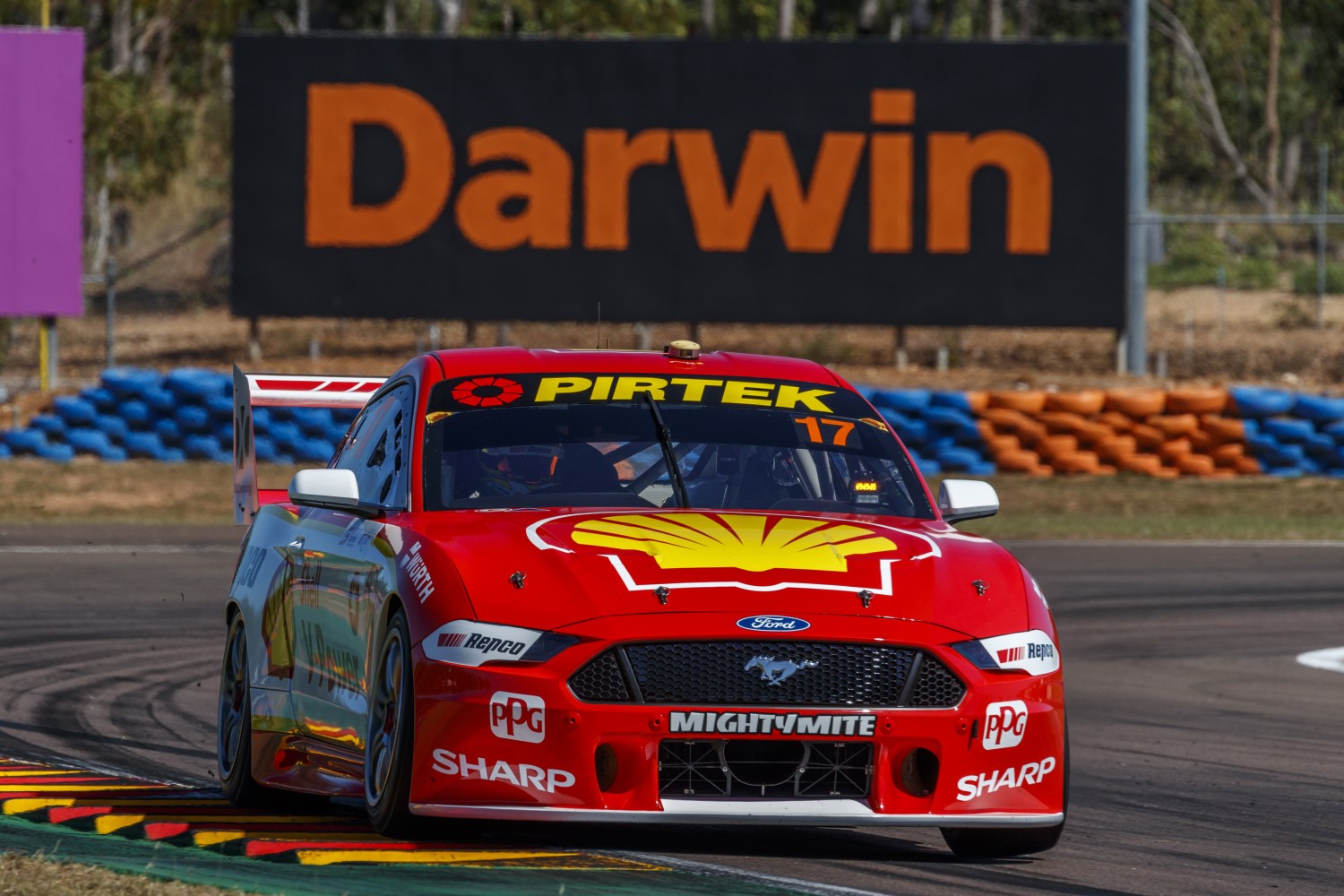 McLaughlin poised to win again
Coulthard and the Red Bull Holden Team's Whincup were both within two tenths of McLaughlin in second and third, while Mostert was 0.2456s adrift.
"We're on track. The car is reasonable, not the quickest, but we're the best of the rest and we're chipping away," Whincup said.
"[Engineer David] Cauchi and the engineers did a great job of the balance, that's all you can do, balance what you've got.
"We're still lacking grip overall. It's hot, the track slowly deteriorates… a little bit more grip would be nice, but how to do that I don't know."
In hot conditions where the mercury tipped 34 degrees at Hidden Valley this afternoon, 2018 Darwin race winner Dave Reynolds was fourth quickest ahead of Lee Holdsworth (Ford) Anton De Pasquale (Holden) James Courtney (Holden) Cam Waters (Ford) and Mark Winterbottom (Holden).
2016 Supercars Champion Shane van Gisbergen missed the top ten and will now have to make his way through a three-part qualifying session to get back to the front of the grid before tomorrow's 120km race.
McLaughlin can join Supercars great Peter Brock tomorrow on equal second on the all-time pole positions list if he can claim the quickest time in qualifying.
There will be one final practice session tomorrow morning ahead of ARMOR ALL Qualifying and the opening race of the weekend, a 120km sprint, which begins at 4:15pm local time.
Practice 2 Results
| | | | | |
| --- | --- | --- | --- | --- |
| POS | # | DRIVER | TEAM | BEST LAP |
| 1 | 2 | McLaughlin | Mobil 1 Boost Mobile Racing | 1:06.080 |
| 2 | 3 | Coulthard | Nissan Nismo | 1:06.221 |
| 3 | 4 | Whincup | Drillpro Racing | 1:06.266 |
| 4 | 5 | Mostert | The Bottle-O Racing Team | 1:06.326 |
| 5 | 6 | Reynolds | Tickford Racing | 1:06.359 |
| 6 | 7 | Holdsworth | Nissan Motorsport | 1:06.438 |
| 7 | 8 | A. de Pasquale | Brad Jones Racing | 1:06.452 |
| 8 | 9 | Courtney | Erebus Motorsport | 1:06.538 |
| 9 | 12 | C. Waters | Shell V-Power Racing Team | 1:06.558 |
| 10 | 14 | Winterbottom | Brad Jones Racing | 1:06.591 |
| 11 | 15 | Van Gisbergen | Nissan Motorsport | 1:06.593 |
| 12 | 17 | S. Pye | Shell V-Power Racing Team | 1:06.699 |
| 13 | 18 | Davison | Preston Hire Racing | 1:06.701 |
| 14 | 19 | Percat | TEKNO Woodstock Racing | 1:06.747 |
| 15 | 21 | M. Jones | CoolDrive Racing | 1:06.749 |
| 16 | 22 | Heimgartner | Mobil 1 Boost Mobile Racing | 1:06.850 |
| 17 | 23 | J. Le Brocq | Monster Energy Racing | 1:06.856 |
| 18 | 33 | Slade | Wilson Security Racing GRM | 1:06.882 |
| 19 | 34 | T. Hazelwood | Wilson Security Racing GRM | 1:06.885 |
| 20 | 35 | R. Kelly | Bigmate Racing | 1:06.964 |
| 21 | 55 | S. De Silvestro | Supercheap Auto Racing | 1:06.971 |
| 22 | 78 | G. Jacobson | Nissan Nismo | 1:07.089 |
| 23 | 88 | C. Pither | Red Bull Holden Racing Australia | 1:07.127 |
| 24 | 97 | J. Smith | Red Bull Holden Racing Australia | 1:07.346 |
| 25 | 99 | J. Golding | Erebus Motorsport | 1:07.407 |