Gianpiero Moretti – Witness to the times, Part 4 of 4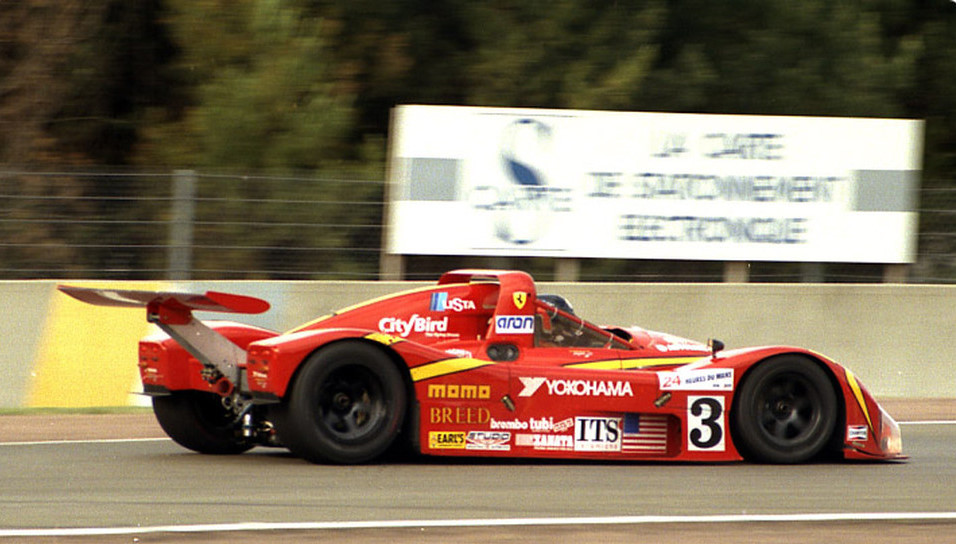 On the eve of MOMO's return to a full time racing program in the American Le Mans Series with MOMO NGT Motorsport, MOMO is pleased to bring you the last installment of the original story of its founder's career. Gianpiero Moretti, the man who helped define the term "gentleman racer," passed away in January at the age of 71, in Milan, Italy.
Moretti was unhappy with this situation and reluctantly returned to his post working with Ferrari at Maranello, who season after season used to repeat the same sentence, "Moretti, next year I'll have a car for you to race with in the US." A 'red' to race with in the US was a dream that never came true while Enzo Ferrari was alive but did become reality in 1993, thanks to Piero Ferrari.
Moretti's eyes still sparkle when he talks to us about it, "In 1993, after a lot of insistence, Piero finally realized that building a two-seater sports car designed for the length of the races in American would have been good business for Ferrari. Everyone, in the USA and in Europe, was waiting for this to happen and there was no lack of potential clients."
Twenty years after the 312 P became world champion in 1972, Maranello went back to building a prototype for competitions, with the same technology deriving directly from the Formula 1 of that period. Italian race-car chassis constructor Dallara took care of the design of the chassis while the task of developing the engine was assigned to Ferrari's engine tuner Michelotto.
At first the idea was to have a V shaped 12 cylinder with 65° angles and 5 valves per cylinder of the Ferrari F92 A, however the IMSA regulations imposed the use of an engine with a maximum of 4.000 cc. Therefore it was decided once again to go with the F50, which was being designed at the time, bringing it to 4.7 liters.
Moretti finally had a car to prepare for the IMSA series classics. However, it wasn't until 1998 that he finally managed to carry out his aspiration, saying, "With the 333 SP we won a lot but we could have done even better had Ferrari put more effort into it. You have to bear in mind that not everyone at Maranello at that time believed in the 333 SP. While we were having our ups and downs on the other side of the Ocean, back in Europe things were not going so well for Formula 1 and a lot of people were not taking it very well. Things changed when the directors of Cavallino realized that apart from the victories gained, the 333 SP project brought home a fortune if you consider that until the year 2000, forty models had been produced. So after the adjustments made by the head office came the long-awaited success.
"During those years we won quite a few races but for one reason or another we missed out on the IMSA classics. There comes a time in your life when you realize that whether you have achieved your goals or not, it is time to close that chapter of your life. After handing over MOMO and entering into a different business venture with the purchasing of a famous brand name in the nautic sector, I decided that at the end of 1998 I would stop racing. However, as it often happens in important stories, the results that you have chased after for many years, eventually materialize in just a matter of a few months and when you least expect it."
In 1998 Gianpiero Moretti at the threshold of his 60th birthday, won the 24 Hours Daytona, the 12 hour Sebring and the 6 hour Watkins Glen races (in that order). They were the three most important races in the American series and by doing so he made history in this category. In that same year Moretti took part in the 24 Hours of Le Mans and in the Monza 1000 km race before finally hanging up his helmet. He was asked if he had any regrets for making that decision.
"Absolutely not, I retired at the right time. I would be really selfish if I said I had any regrets after a life like that. If anything, because in my life I did the thing I love doing most during a unique moment in history. It's really hard for me to imagine a professional and competitive activity like the one I lived, set in today's day and age. Today it is all too calculated, too impersonal and too perfect. No, to be honest I have no regrets."
Well, we can't say he is wrong.