Vettel leads Ferrari 1-2 in final Canadian GP practice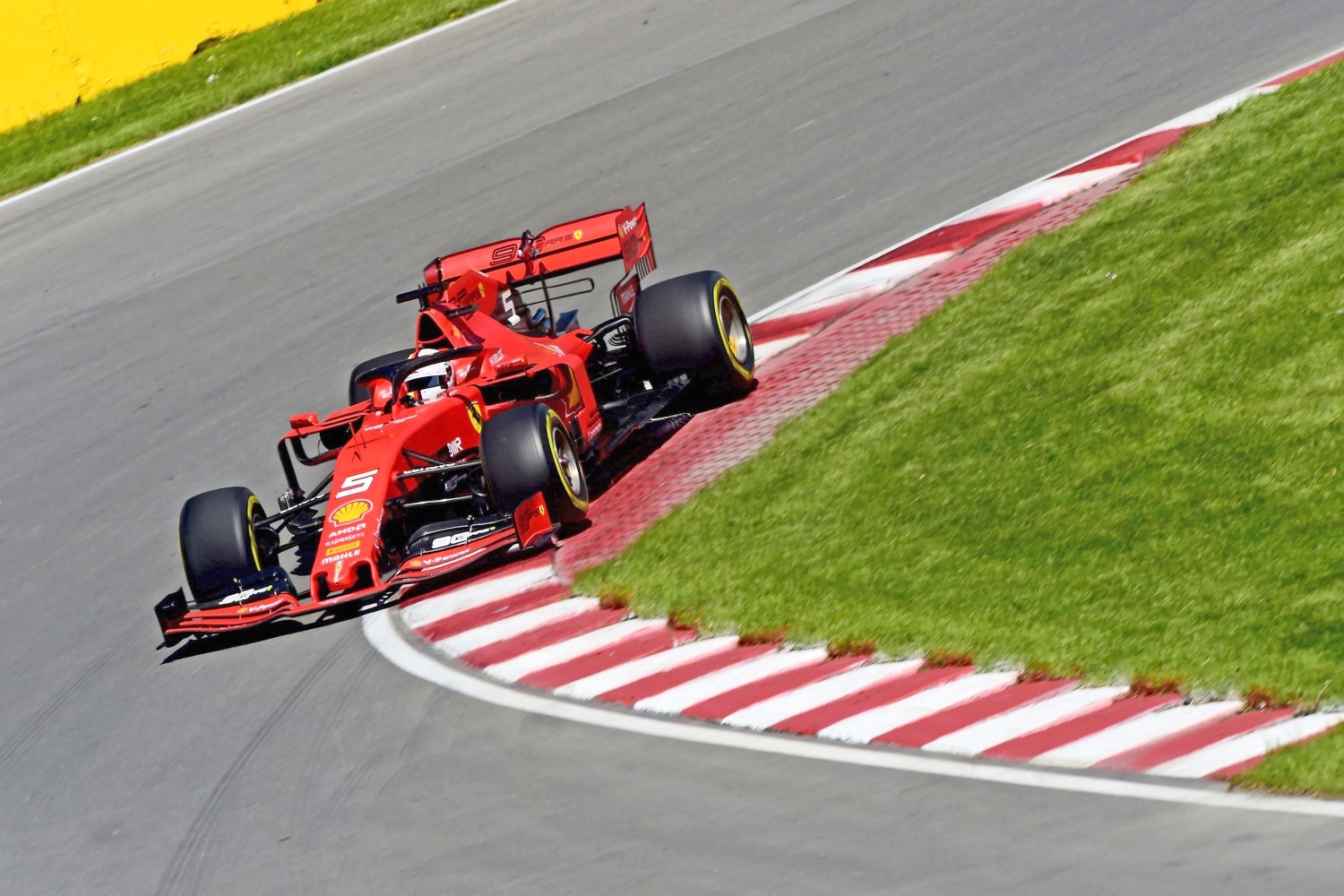 Vettel quick but Mercedes sandbagging
Last year's Canadian GP winner Sebastian Vettel led a Ferrari 1-2 in Practice 3 for the Canadian GP Saturday morning in Montreal. However, Mercedes has yet to show their full hand.
Vettel's lap of 1m10.843s was 0.139s faster than Charles Leclerc as the two Ferraris were the only cars in the 1m10s bracket.
Lewis Hamilton was 3rd quick in the sandbagging Mercedes 4/10ths behind Vettel while Valtteri Bottas was 4th in the 2nd Mercedes.
Red Bull drivers Max Verstappen and Pierre Gasly finished the session in fifth and sixth respectively ahead of Renault's Daniel Ricciardo, while Lando Norris took eighth for McLaren.
Sergio Perez ended FP3 ninth for Racing Point as teammate Lance Stroll suffered a hydraulic failure that brought his session to an early end and prevented him from setting a lap time. Daniil Kvyat completed the top 10 for Toro Rosso.
Practice 3 Results
| | | | | | | |
| --- | --- | --- | --- | --- | --- | --- |
| POS | NO | DRIVER | CAR | TIME | GAP | LAPS |
| 1 | 5 | Sebastian Vettel | Ferrari | 1:10.843 | +0.000s | 19 |
| 2 | 16 | Charles Leclerc | Ferrari | 1:10.982 | +0.139s | 17 |
| 3 | 44 | Lewis Hamilton | Mercedes | 1:11.236 | +0.393s | 20 |
| 4 | 77 | Valtteri Bottas | Mercedes | 1:11.531 | +0.688s | 19 |
| 5 | 33 | Max Verstappen | Red Bull Racing Honda | 1:11.842 | +0.999s | 15 |
| 6 | 10 | Pierre Gasly | Red Bull Racing Honda | 1:11.914 | +1.071s | 19 |
| 7 | 3 | Daniel Ricciardo | Renault | 1:12.045 | +1.202s | 16 |
| 8 | 4 | Lando Norris | Mclaren Renault | 1:12.154 | +1.311s | 17 |
| 9 | 11 | Sergio Perez | Racing Point Bwt Mercedes | 1:12.175 | +1.332s | 17 |
| 10 | 26 | Daniil Kvyat | Scuderia Toro Rosso Honda | 1:12.298 | +1.455s | 23 |
| 11 | 27 | Nico Hulkenberg | Renault | 1:12.305 | +1.462s | 17 |
| 12 | 20 | Kevin Magnussen | Haas Ferrari | 1:12.337 | +1.494s | 17 |
| 13 | 55 | Carlos Sainz | McLaren Renault | 1:12.399 | +1.556s | 21 |
| 14 | 23 | Alexander Albon | Scuderia Toro Rosso Honda | 1:12.423 | +1.580s | 20 |
| 15 | 99 | Antonio Giovinazzi | Alfa Romeo Racing Ferrari | 1:12.627 | +1.784s | 24 |
| 16 | 7 | Kimi Raikkonen | Alfa Romeo Racing Ferrari | 1:12.708 | +1.865s | 19 |
| 17 | 8 | Romain Grosjean | Haas Ferrari | 1:13.197 | +2.354s | 11 |
| 18 | 63 | George Russell | Williams Mercedes | 1:13.966 | +3.123s | 17 |
| 19 | 88 | Robert Kubica | Williams Mercedes | 1:14.426 | +3.583s | 24 |
| 20 | 18 | Lance Stroll | Racing Point BWT Mercedes | No Time | – | 1 |