Buffomante nips Matos for Detroit Trans_Am pole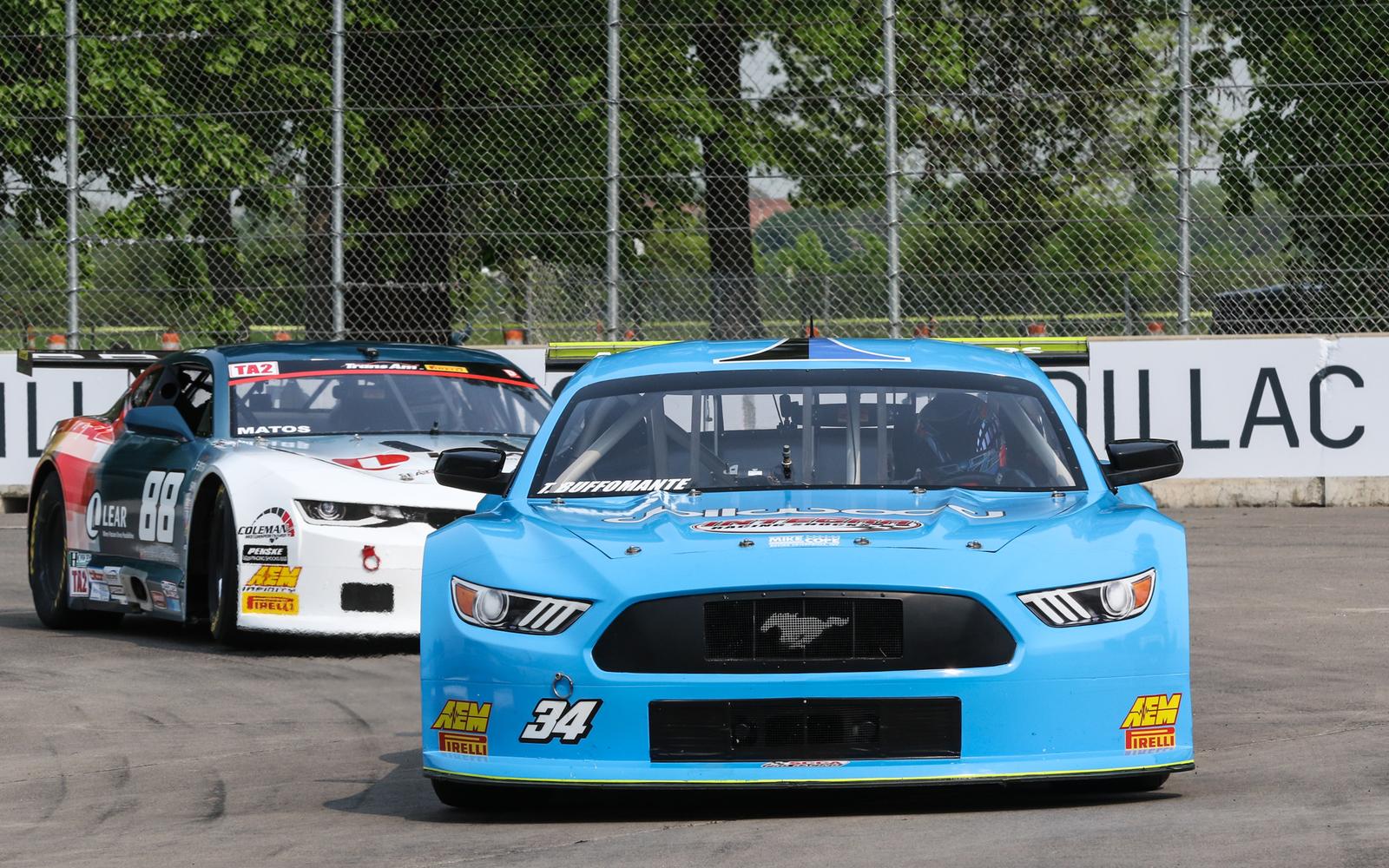 Tony Buffomante
The Trans Am presented by Pirelli drivers delivered another exciting qualifying round during the Chevrolet Detroit Grand Prix presented by Lear Friday afternoon.
In an all-green qualifying session, the top-three drivers were only separated by seven tenths of a second. The session ended dramatically with the No. 34 Mike Cope Racing Ford Mustang driven by Tony Buffomante claiming pole-position on the penultimate lap for Saturday's TA2 powered by AEM Muscle Car Challenge.
Buffomante and Rafa Matos traded fast times lap after lap during the entire 30-minute session, as Matos put his newly wrapped No. 88 Lear 3Dimensional Services Group Chevrolet Camaro into qualifying service looking to claim pole.
After pulling in to allow his Pirelli tires to cool, the Illinois-native dropped to mid-pack in the quickly moving session. With a cleaner track and cooler tires, Buffomante's Mustang turned rocket ship, as he flew back to the top in the final minutes to challenge Matos.
Buffomante set the fastest lap of the day at 1:35.492-seconds, only .288-seconds ahead of the reigning TA2 champion Matos. In 2018, Buffomante drove flag to flag in the Detroit Grand Prix opening TA2 round after winning the pole.
"It's good to be back," said Buffomante. "I haven't raced since Sebring, so I was a little bit rusty, but these Mike Cope Racing guys continued to work on the cars, making them better each round. We went out those last few laps and did what we could do! A driver has to have a good handling car here and be confident in it, because those walls will come out and bite you. It will be an interesting race tomorrow. I'll be uber-aggressive, since we're going for wins so we'll see how things shake out!"
Rookie driver Lawless Alan experienced his best qualifying so far this season. After a troubling couple of practice sessions earlier in the day, Alan finally adapted to the 2.35-mile circuit, sliding into a third-place start for Saturday's 60-minute feature. This is the 18-year-old's first time turning laps on a street course.
"The first two sessions, I didn't have a clue, and I knew I needed to figure out something for qualifying," said Alan. "I talked to my teammate Tony Buffomante about gearing and how he was picking up some of the corners, and I decided to modify what I was doing to fit that more closely. I picked up a lot of time from that, so I appreciate his help, though I think I could have gone even faster. Coming from short tracks, I'm all too familiar with the wall – and occasionally finding it – so once I got used to how the car handled on this bumpy track, the walls weren't that much of an issue. As long as I knew I was going to missed them, I didn't care how close I got!"
Representing Michigan and Prefix in the No. 40 Dodge Challenger, hometown favorite Marc Miller overcame a series of technical difficulties in the opening practice session to claim a third row start. Last season, a devastating wreck in qualifying left Miller's car unrepairable, forcing him to sit out the most anticipated race of his season.
"I thought about last year a bit in qualifying," explained the season championship leader Miller. "I got into a slower car during qualifying while going for pole and we were done "Then we started on our heels after this morning, losing an axle shaft which cost us the first session, and I've been playing catch up ever since. We'll make it a more raceable car tomorrow, because this type of track will abuse you if you're over-driving it. I'm hoping for some luck, to finish in a solid position with no scratches on the car. We have a lot of guests here this weekend – racing friends, partners and family. It's nice to see everyone here and it adds a lot to the weekend, but it makes it that much more hair-raising at moments."
Miller isn't the only driver representing Motor City in this weekend's events. Making his racing debut after a 12-year absence is Jordan Dick of Northville, Michigan, a suburb of Detroit. In his first street course experience, Dick finished just outside of the top-10 in 11th.
"This has been an emotional experience," said Dick. "It's been about 12 years since I've done a race like this, so this is a comeback for me. My favorite number is 19, which is Steve Yzerman's number (the Red Wings legendary player recently returned to the team as general manager) and now he's back as well. I carried that number through my racing career, and when I played hockey, because I like the way he played the game and how he conducted himself. And it's really something special to be able to race here. I've raced all over the country and around the world, and my friends and family always say how nice it would be to see me race so it's great to share the experience. This is my first time driving a Trans Am TA2 car and my first street course race, so I should have been more patient this morning. But it all came together during that qualifying session and we'll build on that for the races. The car feels really good and I'm getting a lot more comfortable."
In the first round of the doubleheader weekend, the 17 TA2 powered by AEM drivers hit the track early on Saturday morning at 9:15 a.m. ET for the Muscle Car Challenge. Adding yet more motivation for the Saturday race will be the fact that the starting grid for Sunday's Motor City Dash 75-minute event will be determined by fast lap from the Muscle Car Challenge results.