Leclerc pips Bottas, as Vettel crashes out early in Monaco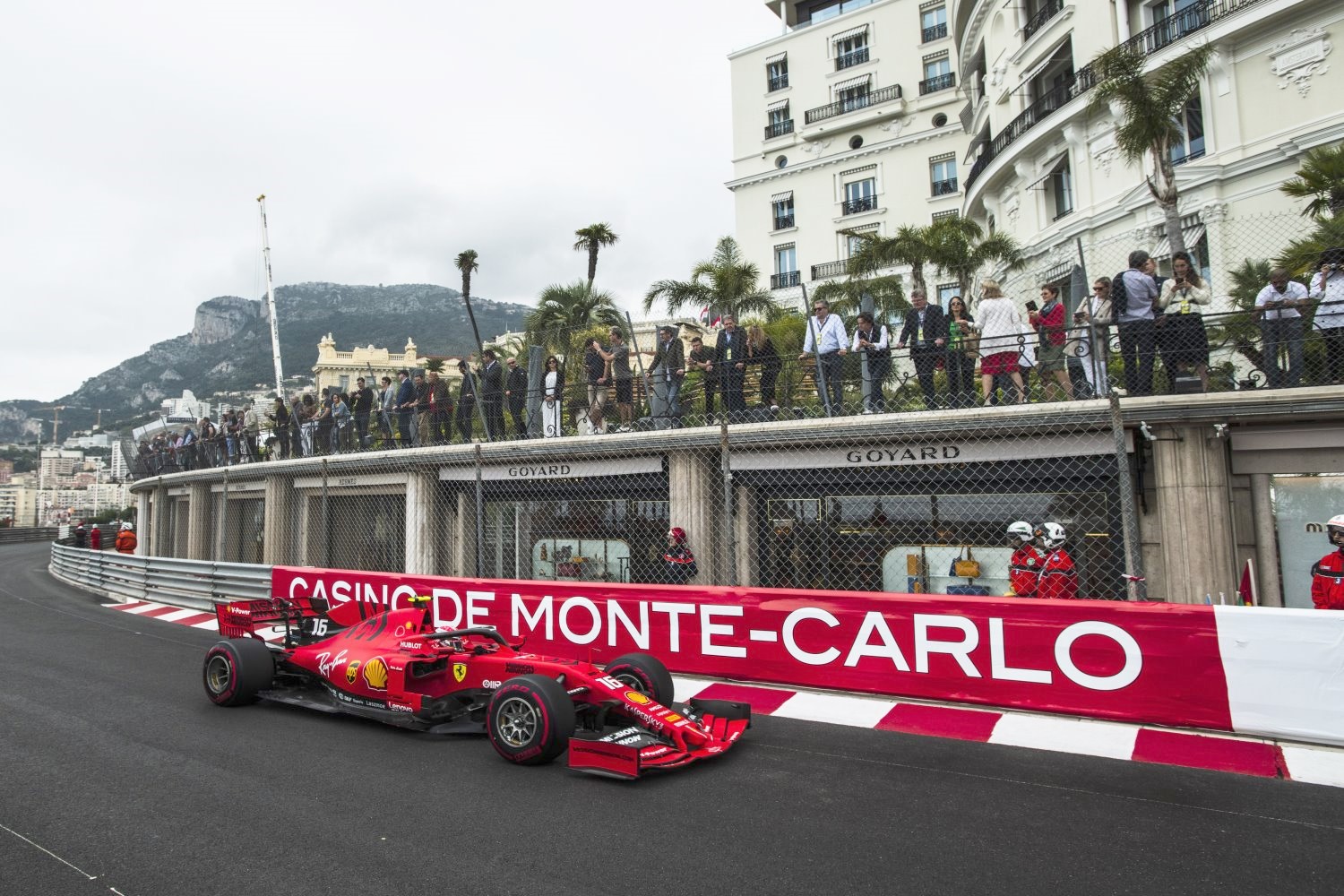 Charles Leclerc
Ferrari's Monaco preparations took a hit – quite literally – in final practice on Saturday morning, as Sebastian Vettel put his car into the Turn 1 wall barely a quarter of an hour into the session.
To make up for it, though, team mate Charles Leclerc beat Mercedes' Valtteri Bottas to P1 – albeit by just 0.053s! However, Leclerc is under investigation for potentially infringing the Virtual Safety Car procedure – ironically triggered by Vettel's accident.
After some last-minute set-up changes at the start of the hour, Lewis Hamilton took his Silver Arrow – with red halo in remembrance of Niki Lauda – to third place, two-tenths down on Leclerc, while Red Bull remained very much in the mix, with Max Verstappen fourth ahead of team mate Pierre Gasly.
Antonio Giovinazzi's strong weekend form continued with a very impressive P6 for Alfa Romeo, the Italian separated from team mate Kimi Raikkonen in the times by Toro Rosso's Danill Kvyat, who survived a brush with the barriers at the tunnel entrance, and the Haas of Kevin Magnussen.
Thursday star Alexander Albon completed the top ten in the second Toro Rosso, ahead of the Renault duo of Nico Hulkenberg and Daniel Ricciardo.
Practice 3 Results
| | | | | | | |
| --- | --- | --- | --- | --- | --- | --- |
| POS | NO | DRIVER | CAR | TIME | GAP | LAPS |
| 1 | 16 | Charles Leclerc | Ferrari | 1:11.265 | +0.000s | 26 |
| 2 | 77 | Valtteri Bottas | Mercedes | 1:11.318 | +0.053s | 27 |
| 3 | 44 | Lewis Hamilton | Mercedes | 1:11.478 | +0.213s | 27 |
| 4 | 33 | Max Verstappen | Red Bull Racing Honda | 1:11.539 | +0.274s | 24 |
| 5 | 10 | Pierre Gasly | Red Bull Racing Honda | 1:11.738 | +0.473s | 27 |
| 6 | 99 | Antonio Giovinazzi | Alfa Romeo Racing Ferrari | 1:12.170 | +0.905s | 23 |
| 7 | 26 | Daniil Kvyat | Scuderia Toro Rosso Honda | 1:12.194 | +0.929s | 27 |
| 8 | 20 | Kevin Magnussen | Haas Ferrari | 1:12.270 | +1.005s | 25 |
| 9 | 7 | Kimi Raikkonen | Alfa Romeo Racing Ferrari | 1:12.308 | +1.043s | 27 |
| 10 | 23 | Alexander Albon | Scuderia Toro Rosso Honda | 1:12.338 | +1.073s | 32 |
| 11 | 27 | Nico Hulkenberg | Renault | 1:12.489 | +1.224s | 26 |
| 12 | 3 | Daniel Ricciardo | Renault | 1:12.519 | +1.254s | 26 |
| 13 | 8 | Romain Grosjean | Haas Ferrari | 1:12.566 | +1.301s | 27 |
| 14 | 5 | Sebastian Vettel | Ferrari | 1:12.583 | +1.318s | 7 |
| 15 | 55 | Carlos Sainz | Mclaren Renault | 1:12.862 | +1.597s | 29 |
| 16 | 4 | Lando Norris | Mclaren Renault | 1:12.914 | +1.649s | 26 |
| 17 | 11 | Sergio Perez | Racing Point BWT Mercedes | 1:13.232 | +1.967s | 23 |
| 18 | 18 | Lance Stroll | Racing Point BWT Mercedes | 1:13.622 | +2.357s | 21 |
| 19 | 88 | Robert Kubica | Williams Mercedes | 1:14.086 | +2.821s | 27 |
| 20 | 63 | George Russell | Williams Mercedes | 1:14.305 | +3.040s | 27 |