Lauda wanted Mercedes to 'keep going' – Wolff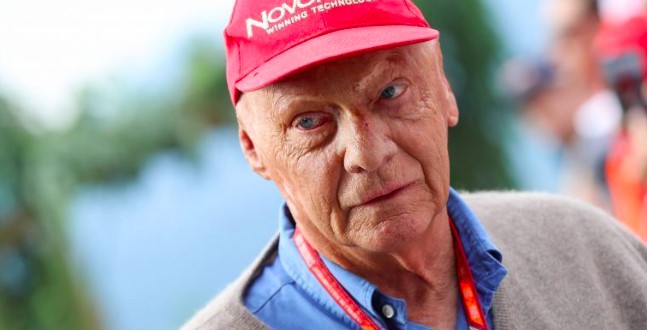 Niki Lauda
(GMM) An emotional Toto Wolff said in Monaco that Niki Lauda was enjoying Mercedes' dominance in 2019.
"The last time I heard from him was after Baku," Wolff, who co-owned and ran Mercedes together with team chairman and F1 legend Lauda, revealed.
"The message was 'It cannot be better, keep it up'."
Wolff said it is a difficult weekend for him under the circumstances, but "Niki would have wanted nothing else than that we keep going."
Lewis Hamilton has not talked to the media about his feelings in Monaco, and Wolff said: "Everyone mourns in their way, but Niki would want us to focus on the race weekend and deliver on Saturday and Sunday."
And deliver is exactly what Mercedes is doing. The gap to Ferrari's Sebastian Vettel is almost 8 tenths after practice.
"No grip. We just slip around," the German said.
"We cannot get the tires in the window and are therefore much too slow."
Red Bull's Max Verstappen rules out taking on Mercedes for pole, but he thinks a podium on Sunday is possible.
"Ferrari has unbelievable tyre wear, I don't know what they are doing," Red Bull boss Dr Helmut Marko told Auto Bild.
"We're closer to Mercedes than we thought," Marko added, "but you never know when they will go into Mazepin mode."
The Mazepin reference relates to the recent Barcelona test, where Marko observed that "second rate" Formula 2 driver Nikita Mazepin was fastest in the silver car.
"Mazepin showed what the Mercedes can do when they want to," Marko said. "That he can do that is not good for the sport.
"In sectors two and three we are reasonably there. The old Red Bull virtues are slowly coming back," he added.
Ferrari's Charles Leclerc also acknowledges that Mercedes will not be beaten this weekend.
"I think for the team a confident second place would be a great result, so we need to strive for this," said the local driver.
"But we are always looking for first places, so we want to fight again with Mercedes in the near future."