Daniel Hemric Paces Opening Cup Series Practice at Charlotte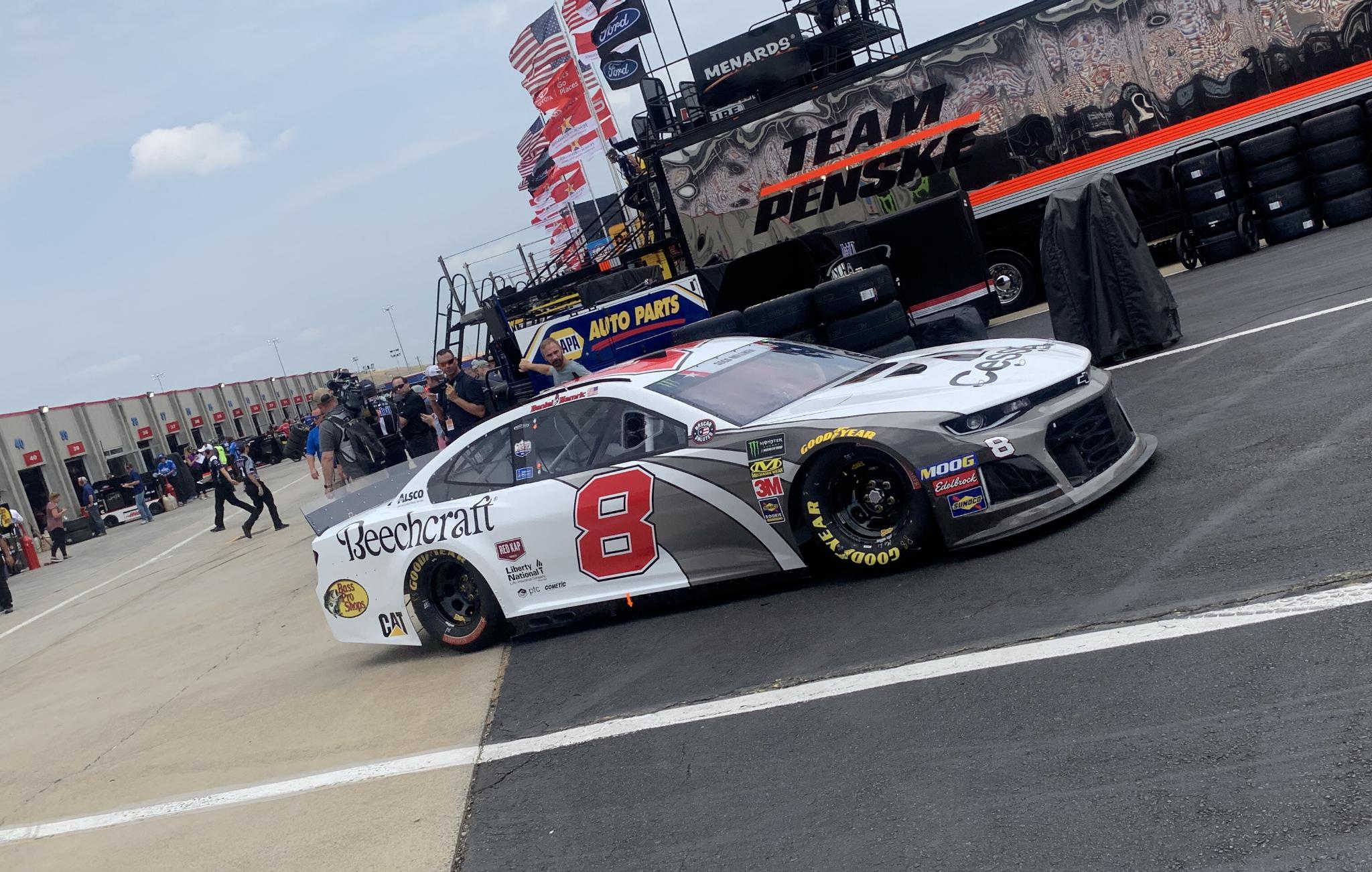 Daniel Hemric
Pete McCole/AR1
Picking up right where he left off last week, Daniel Hemric was again the fastest driver to take to the track at the 1.5-mile oval at Charlotte Motor Speedway, posting a lap of 182.791 mph in Thursday's opening Monster Energy NASCAR Cup Series practice for Sunday's 60th running of the Coca Cola 600.

Hemric, a rookie making his Cup Series first points-paying start at Charlotte, qualified on the pole for last Saturday's Monster Open and led a race-high 25 laps trying to race his way into the field for the Monster Energy All Star Race, but ended his night in the garage after crashing out on lap 46.

Chase Elliott was the second fastest after posting a lap of 182.340 while his Hendrick Motorsports teammate William Byron was third fastest running 182.211. Kyle Busch was fourth at 182.186 followed by Jimmie Johnson at 182.008.
PRACTICE RESULTS

| | | | | | | |
| --- | --- | --- | --- | --- | --- | --- |
| Pos. | # | Driver | Sponsor/Make | Time | Speed | Behind |
| 1 | 8 | Daniel Hemric # | Cessna Chevrolet | 29.542 | 182.791 | —.— |
| 2 | 9 | Chase Elliott | NAPA Auto Parts Chevrolet | 29.615 | 182.34 | -0.073 |
| 3 | 24 | William Byron | Liberty Patriotic Chevrolet | 29.636 | 182.211 | -0.094 |
| 4 | 18 | Kyle Busch | M&M's Red White & Blue Toyota | 29.643 | 182.168 | -0.101 |
| 5 | 48 | Jimmie Johnson | Ally Patriotic Chevrolet | 29.669 | 182.008 | -0.127 |
| 6 | 17 | Ricky Stenhouse Jr | Fastenal Ford | 29.671 | 181.996 | -0.129 |
| 7 | 88 | Alex Bowman | Nationwide Patriotic Chevrolet | 29.683 | 181.922 | -0.141 |
| 8 | 3 | Austin Dillon | Coca-Cola Zero Sugar Chevrolet | 29.688 | 181.892 | -0.146 |
| 9 | 14 | Clint Bowyer | Peak Antifreeze & Coolant Ford | 29.693 | 181.861 | -0.151 |
| 10 | 19 | Martin Truex Jr | Bass Pro Shops/TRACKER/USO Toyota | 29.693 | 181.861 | -0.151 |
| 11 | 20 | Erik Jones | Reser's Main St Bistro Toyota | 29.728 | 181.647 | -0.186 |
| 12 | 11 | Denny Hamlin | FedEx Ground Toyota | 29.729 | 181.641 | -0.187 |
| 13 | 37 | Chris Buescher | Kroger Thrill of the Grill Chevrolet | 29.749 | 181.519 | -0.207 |
| 14 | 41 | Daniel Suarez | Coca-Cola Ford | 29.75 | 181.513 | -0.208 |
| 15 | 10 | Aric Almirola | Smithfield Ford | 29.761 | 181.446 | -0.219 |
| 16 | 1 | Kurt Busch | GEARWRENCH Chevrolet | 29.768 | 181.403 | -0.226 |
| 17 | 12 | Ryan Blaney | DEX Imaging Ford | 29.781 | 181.324 | -0.239 |
| 18 | 47 | Ryan Preece # | Kroger Chevrolet | 29.807 | 181.165 | -0.265 |
| 19 | 6 | Ryan Newman | Oscar Mayer Hot Dogs Ford | 29.858 | 180.856 | -0.316 |
| 20 | 13 | Ty Dillon | GEICO Military Chevrolet | 29.909 | 180.548 | -0.367 |
| 21 | 22 | Joey Logano | Shell Pennzoil Ford | 29.919 | 180.487 | -0.377 |
| 22 | 2 | Brad Keselowski | Miller Lite Ford | 29.93 | 180.421 | -0.388 |
| 23 | 42 | Kyle Larson | Credit One Bank Chevrolet | 29.938 | 180.373 | -0.396 |
| 24 | 95 | Matt DiBenedetto | Procore Safety Qualified Toyota | 29.958 | 180.252 | -0.416 |
| 25 | 21 | Paul Menard | Menards/Knauf Ford | 29.959 | 180.246 | -0.417 |
| 26 | 43 | Bubba Wallace | Coca-Cola Orange Vanilla Chevrolet | 29.962 | 180.228 | -0.42 |
| 27 | 4 | Kevin Harvick | Mobil 1 Ford | 29.968 | 180.192 | -0.426 |
| 28 | 36 | Matt Tifft # | Surface Sunscreen/Tunity Ford | 29.977 | 180.138 | -0.435 |
| 29 | 38 | David Ragan | Select Blinds Ford | 30.049 | 179.706 | -0.507 |
| 30 | 34 | Michael McDowell | Love's Travel Stops Ford | 30.098 | 179.414 | -0.556 |
| 31 | *96 | Parker Kligerman(i) | Gaunt Brothers Racing Toyota | 30.34 | 177.983 | -0.798 |
| 32 | 0 | Landon Cassill(i) | StarCom Fiber Chevrolet | 30.518 | 176.945 | -0.976 |
| 33 | 15 | Ross Chastain(i) | Cross Country Adjusting Chevrolet | 30.601 | 176.465 | -1.059 |
| 34 | *53 | BJ McLeod(i) | Enlisted Nine Fight Company Chevrolet | 30.952 | 174.464 | -1.41 |
| 35 | 32 | Corey LaJoie | Superior Logistics Ford | 30.992 | 174.239 | -1.45 |
| 36 | 52 | Bayley Currey(i) | RWR Ford | 31.07 | 173.801 | -1.528 |
| 37 | 51 | Cody Ware(i) | JACOB COMPANIES P-40 WARHAWK | 31.381 | 172.079 | -1.839 |
| 38 | *27 | Reed Sorenson | VIPRacingExperience.com Chevrolet | 31.463 | 171.63 | -1.921 |
| 39 | 77 | Quin Houff | NASCAR Mobile App Chevrolet | 31.801 | 169.806 | -2.259 |
| 40 | *66 | Joey Gase(i) | MBM Motorsports Toyota | 32.236 | 167.515 | -2.694 |