Hamilton tops Verstappen in opening Monaco GP practice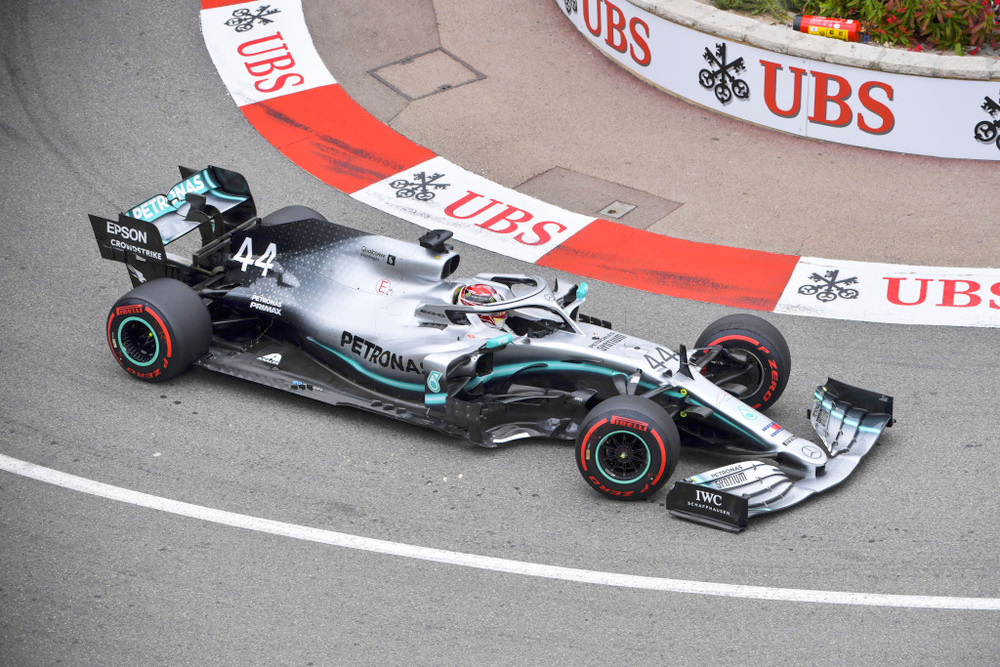 Lewis Hamilton
Mercedes' Lewis Hamilton turned a lap of 1m12.106s to lead the opening practice session for the Monaco GP over Red Bull's Max Verstappen by just 0.059s.
Valtteri Bottas was a close third but then there is a gap back to the two Ferraris of Charles Leclerc and Sebastian Vettel who rounded out the top-5.
Vettel was blistering tires after only 16-laps on the inferior Ferrari.
They were the only drivers within 1-second of Hamilton.
FP1 was littered with small errors as drivers got dialled into the still-green Monaco track, particularly at the first turn at Sainte Devote, the run-off of which was graced by the likes of Sebastian Vettel, Valtteri Bottas, Lando Norris and Lance Stroll during the session.
Elsewhere, Verstappen ran on at Mirabeau, Gasly did well to keep his RB15 out of the barriers at the Swimming Pool as he saved a massive snap there, while Robert Kubica span his Williams FW42 out of Casino Square, and was lucky to escape with just a nerf on the barriers.
Meanwhile, in a bizarre turn of events, both Haas cars found themselves black flagged early in the session, with the team quick to reveal that both Romain Grosjean and Kevin Magnussen had suffered radio and telemetry failure, with Haas then pragmatically asking the FIA to help call them in with the black flags. Although the necessary fixes limited both drivers' track time, Magnussen eventually finished a strong eighth, with Grosjean in P10, with Alfa Romeo's Kimi Raikkonen ending up as the meat in a Haas sandwich.
Practice 1 Results
| | | | | | | |
| --- | --- | --- | --- | --- | --- | --- |
| POS | NO | DRIVER | CAR | TIME | GAP | LAPS |
| 1 | 44 | Lewis Hamilton | Mercedes | 1:12.106 | +0.000s | 46 |
| 2 | 33 | Max Verstappen | Red Bull Racing Honda | 1:12.165 | +0.059s | 34 |
| 3 | 77 | Valtteri Bottas | Mercedes | 1:12.178 | +0.072s | 42 |
| 4 | 16 | Charles Leclerc | Ferrari | 1:12.467 | +0.361s | 25 |
| 5 | 5 | Sebastian Vettel | Ferrari | 1:12.823 | +0.717s | 35 |
| 6 | 10 | Pierre Gasly | Red Bull Racing Honda | 1:13.170 | +1.064s | 40 |
| 7 | 27 | Nico Hulkenberg | Renault | 1:13.227 | +1.121s | 44 |
| 8 | 20 | Kevin Magnussen | Haas Ferrari | 1:13.232 | +1.126s | 23 |
| 9 | 7 | Kimi Raikkonen | Alfa Romeo Racing Ferrari | 1:13.363 | +1.257s | 38 |
| 10 | 8 | Romain Grosjean | Haas Ferrari | 1:13.379 | +1.273s | 22 |
| 11 | 3 | Daniel Ricciardo | Renault | 1:13.413 | +1.307s | 41 |
| 12 | 99 | Antonio Giovinazzi | Alfa Romeo Racing Ferrari | 1:13.437 | +1.331s | 38 |
| 13 | 26 | Daniil Kvyat | Scuderia Toro Rosso Honda | 1:13.731 | +1.625s | 39 |
| 14 | 23 | Alexander Albon | Scuderia Toro Rosso Honda | 1:13.827 | +1.721s | 44 |
| 15 | 4 | Lando Norris | McLaren Renault | 1:14.278 | +2.172s | 38 |
| 16 | 11 | Sergio Perez | Racing Point BWT Mercedes | 1:14.566 | +2.460s | 39 |
| 17 | 63 | George Russell | Williams Mercedes | 1:15.115 | +3.009s | 39 |
| 18 | 88 | Robert Kubica | Williams Mercedes | 1:15.514 | +3.408s | 24 |
| 19 | 18 | Lance Stroll | Racing Point BWT Mercedes | 1:16.135 | +4.029s | 36 |
| 20 | 55 | Carlos Sainz | McLaren Renault | | | 3 |