Goodyear tire info for Charlotte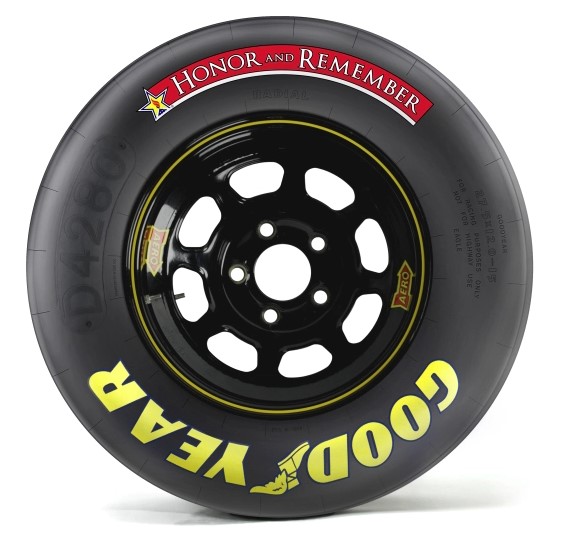 Goodyear will debut a special "Honor and Remember" sidewall at Charlotte
According to this week's Goodyear media release, "Monster Energy NASCAR Cup teams will be running the same tire set-up for the Coca-Cola 600 that they ran during All-Star weekend at Charlotte. Based on the racing last weekend, tires will be a factor. First, All-Star teams that took four tires overcame the track position of those that did not. Second, with 12 race sets of tires for NASCAR's longest race, the pit crews will play a big part in a team's success, and those that master all those four-tire pit stops will help their car gain valuable spots on pit road."
Added Greg Stucker, Goodyear director of racing, "The Coca-Cola 600 is the longest race on the schedule and it is held on one of the more temperature sensitive tracks upon which we compete, as the race starts in daylight and ends at night. We saw that fresh tires mattered last weekend during the All-Star race. Four tire pit stops should be the order of the day and teams have 12 sets of tires for the 400-lap race, so the team aspect of the sport will be on full display as the pit crews will be kept busy all night."
According to the Goodyear media release, "Goodyear will debut a special "Honor and Remember" sidewall at Charlotte: Since 2010, for one weekend per NASCAR season, Goodyear has changed the branding on the sidewall of its racing tires in a show of support for the United States military and fallen heroes. This being the 10th year of that program, the official tire supplier to NASCAR's top three series will work with a new organization and replace the standard "Eagle" with "Honor and Remember" for both the Monster Energy NASCAR Cup and NASCAR Xfinity Series races.
"Honor and Remember is a national organization based out of Virginia that has a mission to "perpetually recognize the sacrifice of America's military fallen service members and their families," according to its website. The organization recognizes fallen military personnel from all wars or conflicts, and with those from all branches of service. They do so primarily by dedicating the specially designed Honor and Remember flag, which is intended to fly continuously as a tangible and visible reminder to all Americans of the lives lost in defense of our national freedoms."
Here's the tire info for this weekend's races:
Tire: Goodyear "Honor and Remember" Speedway Radials for both Cup and Xfinity
Set limits: Cup: 3 sets for practice, 1 set for qualifying and 12 sets for the race; Xfinity: 7 sets for the event
Tire Codes: Left-side — D-4868; Right-side – D-4736
Tire Circumference: Left-side — 2,227 mm (87.68 in.); Right-side — 2,251 mm (88.62 in.)
Minimum Recommended Inflation: Left Front — 19 psi; Left Rear — 19 psi; Right Front — 52 psi; Right Rear — 50 psi