F1 signs 5-year deal to race in Mexico, which is bad news for NJ (6th Update)
UPDATE #6
(GMM) Bernie Ecclestone is poised to put Mexico back on the F1 calendar.
Having said New Jersey is unlikely to make its scheduled 2014 debut, the sport's chief executive has now revealed a decision about Mexico is due "within a couple of weeks".
"I'm going to try to make it happen," Ecclestone told F1 business journalist Christian Sylt, according to Autoweek.
The race would be held at the rejuvenated former grand prix track in Mexico City, involving figures including Austin GP mastermind Tavo Hellmund, and Carlos Slim Domit. Mexico has money because of the richest man in the world – Carlos Slim and all the companies he owns. New Jersey, without a government subsidy, has not ben able to raise enough private money.
08/25/13 Mexico is poised to make a surprise return to the Formula 1 calendar in 2014, after high-level sources revealed at the Belgian GP that it is to be awarded a provisional slot in next year's schedule.
Although teams have not yet been given a draft calendar, Formula 1 commercial boss Bernie Ecclestone is intending to pencil in a race in Mexico City. Sources suggest that the race, which is likely to take place as a back-to-back with Circuit of The Americas, is most likely to be given a provisional slot pending the completion of a commercial contract and work on the Mexico City track.
With recent plans for a race in Cancun having been dropped, Mexican businessman Carlos Slim Domit has been working hard on the Mexico City plan. Sources with good knowledge of the situation are adamant that the Mexico City track, which last hosted a race in 1992 (ABOVE), can be readied in time for a return in 2014.
Speaking earlier this year, Slim said that Mexico was closing in on an F1 return.
"I believe there is potential to do more races in the Americas and I believe that Mexico is in the right spot to do it," said Slim in an interview with AUTO, the journal of the FIA. "It's a stable country by and large, our economy is doing quite well and we have drivers people can identify with.
"All of the pieces are coming together and I believe the potential promoters are doing a good job in trying to secure something."
Mexico's addition to the calendar comes with Austria also returning, and Russia hosting its first race. India will be dropped, while there are also ongoing doubts about Korea and New Jersey. Racer.com
06/26/13
Paul Tracy takes the checkered in the 2003 Mexico City Champ Car race in front of a huge crowd.
Carlos Slim Domit believes F1 will return to Mexico in the next few years.
"I believe there is potential to do more races in the Americas and I believe that Mexico is in the right spot to do it," said Slim in an interview with AUTO, the journal of the FIA. "It's a stable country by and large, our economy is doing quite well and we have drivers people can identify with. All of the pieces are coming together and I believe the potential promoters are doing a good job in trying to secure something."
"Of course, that would help to get the interest [in Mexico]," said Carlos Slim backed McLaren driver Sergio Perez.
"The interest is quite big since I came to F1 and my results last year, with three podiums, mean people are getting excited, especially now I am with McLaren. I really hope that I can help to get a Mexican Grand Prix."
"They are waiting for the right time," said Gutierrez. "I know they are in negotiations and obviously it would be a very special thing for us to have a Mexican Grand Prix. The people who are responsible for that are focusing on it and they really want to make it happen.
"As a driver, the only thing I can focus on is to get good results so that interest is more, to raise more confidence for the event to happen as I think it is connected to that."
02/25/13 F1 CEO Bernie Ecclestone "has confirmed that he is in talks about holding a Grand Prix in Mexico City" in '14, according to Christian Sylt of AutoWeek. The race "would take place at Mexico City's Autodromo Hermanos Rodriguez, which last hosted an F1 race in 1992 and needs a multi-million dollar upgrade in order to do so again."
The Mexican Grand Prix "was expected to return to the F1 calendar" in '06. It did not take place and, since then, there "have been widespread rumors about when and where it would return."
Ecclestone "has stayed quiet about the rumors but has now revealed that Mexico City is in pole position to become the new home of the Mexican Grand Prix." Ecclestone said, "Mexico City is a better place to hold the race than Cancun. In more or less any city around the world you could ask people 'where is Mexico City?' and they would say Mexico. If you said to somebody where is Cancun they would say 'I don't know.'"
The Mexico City project has a true "dream team" behind it. It appears the three key players are Alejandro Soberon, Tavo Hellmund and Carlos Slim Domit. Soberon is the CEO of CIE and Hellmund is well-known in F1 circles for "being the creator and mastermind of the Circuit of the Americas in Austin, Texas, which last year hosted the U.S. Grand Prix after a five year hiatus." Slim Domit is the son of the world's richest man, Carlos Slim, and "bankrolled both" McLaren driver Sergio Perez and Sauber pilot Esteban Gutierrez for many years to get them into F1.
Ecclestone claimed that despite his connection to racing, Carlos Slim, who is worth an estimated $72B, "will not bankroll the Mexican Grand Prix." He said, "Everybody thinks that Carlos Slim is going to pay the bills for the race, but I know he's not." AutoWeek
01/22/13 (GMM) Mexico is planning to be on next year's F1 calendar. Jose Abed, Mexico's representative at F1's governing FIA, has been quoted as saying the venue for the 2014 race will be the Autodromo Hermanos Rodriguez, in Mexico City.
The track last hosted F1 in 1992, but Bernie Ecclestone has said it is not suitable for modern grands prix unless a major upgrade is done.
Abed is quoted by AS newspaper: "We have plans ready to improve the (circuit) and, after they finish the adjustments, we return to formula one in 2014."
He said the upgrade will cost $20 million, and the annual race sanctioning fee about $30 million.
McLaren's Sergio Perez, and Sauber newcomer Esteban Gutierrez, are both Mexican.
11/20/12 A reader writes, Dear AR1.com, I read your note below that NJ may miss out of getting an F1 race because other countries are beating them to the punch. If F1 is going to abandon Jersey, would it make sense for IndyCar to jump in? Of course, all of this presumes, IndyCar has a clue. Mordichai Rosen, Los Angeles, CA
Dear Mordichai, IndyCar may not have a clue, but Michael Andretti and his team in Andretti Sports Marketing are smart enough to at least make some inquiries to see if race promoter Leo Hindery Jr. has any interest given IndyCar would cost him a lot less money. He was not able to raise enough money to afford Bernie's fee, so IndyCar could be a good alternative. At least Hindery will know he has an option.
With that said, A statement issued from the circuit said the delay was due to "ongoing construction issues on the unique riverfront street course," and specifically "the additional time needed for the development of complex Hudson Riverfront facilities and for finishing the second pits and paddock garage on the site."
"We are going to be racing at Port Imperial, unfortunately just not as soon as we hoped and expected," said Hindery. "We promised Gov. Christie (New Jersey Gov. Chris Christie), the towns, the sport and its international fans the best possible experience, and unfortunately we need additional time to ensure that happens.
"We remain 100 percent committed to the Grand Prix of America at Port Imperial, and the race could have no better partner and friend than the CEO of Formula One, Bernie Ecclestone. We benefit greatly from his experience and counsel and from his support."
Ecclestone added: "I remain totally committed to the Port Imperial race and its unique location and attributes, and we will continue to work closely together to realize our dream in 2014. As Leo says, we are still going to be racing at Port Imperial, now however in 2014." Mark C.
11/20/12 There were a number of important meetings during the United States GP weekend in Austin about the possibility of a Grand Prix in Mexico. From what I hear, a five-year deal was agreed between the Formula One group and Carlos Slim Jr – the son of the world's richest man – who will guarantee the deal. Some of Slim's company will help pay for the race but a big chunk of money will also come from the Mexican government, which explains the presence of Mexico's outgoing President Felipe Calderon in Austin. He has another 10 days left on his mandate and wants to sort something out before he leaves office. His successor Enrique Pena Nieto has also agreed to support an event, which is logical given that there are going to be two F1 drivers from Mexico next season.
CART solved the problem with the Peraltada by running the cars through the center of the stadium, which increased seating capacity (see below). There is no reason F1 cannot use this layout. Just resurface the track and rebuild the pits.
Mark Cipolloni/AR1.com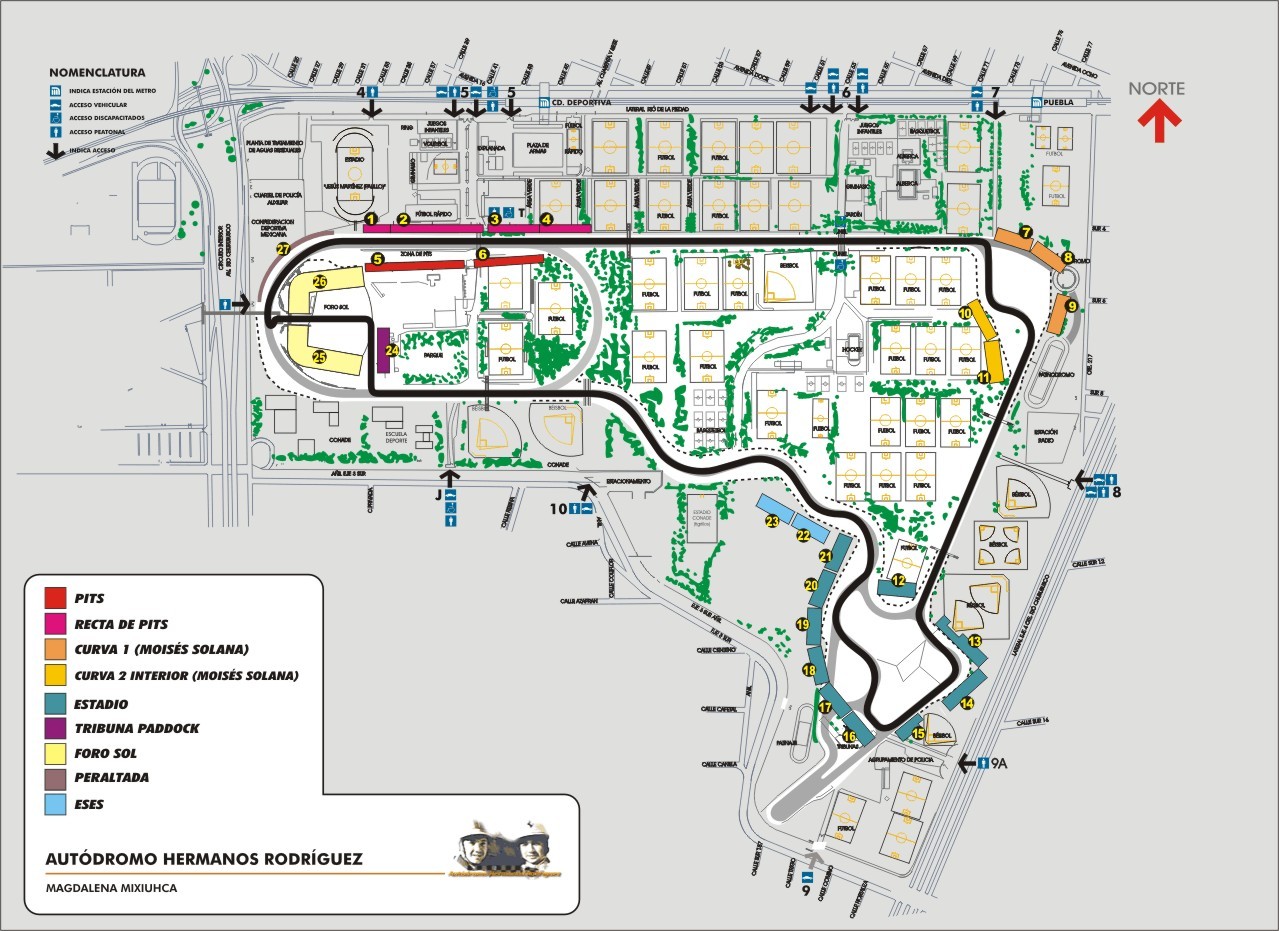 The initial suggestion was that the race could take place at the Autodromo Hermanos Rodríguez in Mexico City in June, to replace the postponed New Jersey race, but the various consortia bidding for the work all apparently agree that it is impossible to do all that is needed in the six months available, even if there is endless money. The problem is that the track not only needs to be resurfaced but also much of the track needs its drainage and foundations redone. The pit and paddock area will also need to be done from scratch. This cannot be achieved in time for 2013.
There is an argument that rather than botching in order to get a race for 2014, it might be wiser to invest and create a purpose-built facility in the Cancun area, but this is unlikely to be done before 2016, which is too late.
The old track will be a compromise solution because things have changed a lot since F1 left in 1992. The great Peraltada corner is unlikely to be revived because after F1 left a big new stadium was built inside the corner. This means that the track cannot be reprofiled to create runoff areas, and there is not an option on the outside of the corner because there is a main road which gets in the way. Joe Saward
[Editor's Note: The 2nd US race in NJ is now in jeopardy of never happening. There simply is not enough room on the calendar to have a NJ race as well as Mexico, the rumored 2nd race in India, Russia, Thailand and other places. The NJ race promoters made a grave error not getting on the calendar when they could.]