Could IndyCars return to Road America when it really wants a Cup race? (4th Update)
UPDATE #4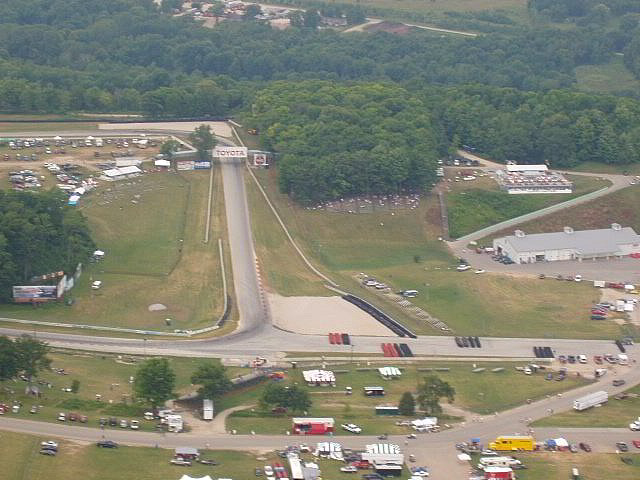 Road America Turn 6 bridge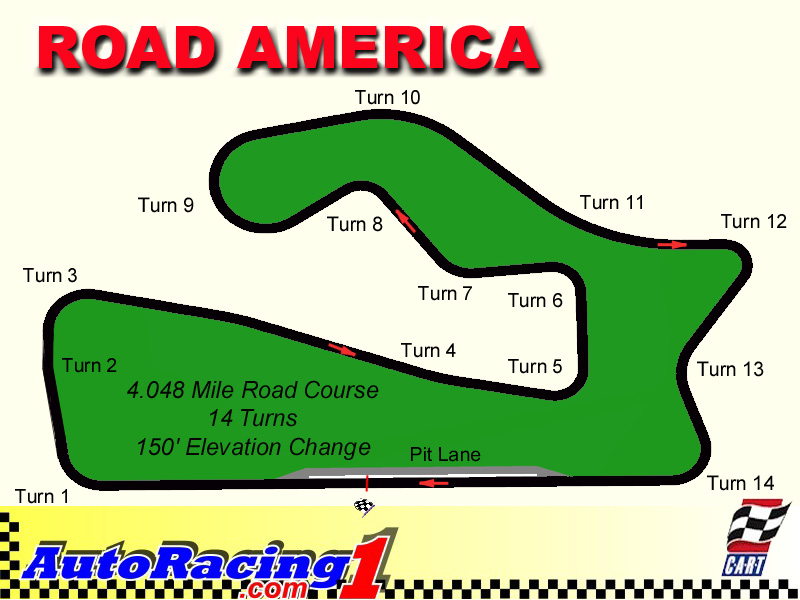 As expected, this rumor is downgraded to 'false' today, or it could be 'fact' depending how you want to interpret our rumor title. In the course of reporting on IndyCar's interest in global expansion in 2014-'15, Autoweek says IndyCar's 2014 schedule is set to be announced this weekend at Sonoma.
If that's the case, Road America won't be on it.
George Bruggenthies, president of the track in Elkhart Lake, said through a spokesman he hadn't heard lately from the sanctioning body. Officials were to have called him with news of a race.
Indy cars last raced at Road America in 2007, a financially unsuccessful run by the then-on-its-last-legs Champ Car in 2007.
Bruggenthies had hinted recently that sponsorship might not be the obstacle it once to an IndyCar race.
He had been interested in a September date. Now it appears IndyCar is intent on crowning a champion before then.
Autoweek says IndyCar is looking at racing overseas in the early months of the year as part of the regular season or in the off-season as a way to generate revenue and, essentially, give the teams something to do for a few otherwise idle months.
Kevin Healy, managing director of Milwaukee IndyFest for the past two years, recently told the Journal Sentinel he is hopeful about the series return to the Milwaukee Mile for 2014 and beyond. JSonline.com
06/24/13 According to AR1.com sources, if you see the bridge going into turn 6 come down, you can bet that they have a NASCAR Sprint Cup date. It is an expensive endeavor and the NASCAR Nationwide drivers always crash there (too hard of a corner for them) so they want the bridge abutments moved back so they can see better. IndyCar drivers braked and navigated that corner at twice the speed and never had a problem. Yes, it is blind going in – which is part of the challenge.
06/23/13 [Forget about IndyCar, Road America really wants a NASCAR Sprint Cup race.] Speaking cautiously as always but sounding more positive than ever, Road America's president said he was "hopeful and confident" of landing a NASCAR Sprint Cup Series race.
"When? I don't know," George Bruggenthies, president and general manager, said Saturday.
"That will be our goal. We just want to produce good racing here, and we're trying to do a good job with this race and at some point we might be rewarded."
The Johnsonville Sausage 200 on Saturday was the track's fourth race of the second-tier Nationwide Series.
The Sprint Cup schedule consists of 36 points-paying races, two qualifying races and two exhibition events at 23 venues.
The most recent significant changes came two seasons ago, when track conglomerate Speedway Motorsports moved a race from Atlanta Motor Speedway to Kentucky Speedway and International Speedway Corp. shifted one from California Speedway to Kansas Speedway.
"It's really year to year and a schedule that is very full and one that has created a fair amount of demand from a lot of different venues across the country," said Jim Cassidy, vice president of racing operations for the sanctioning body.
"So no, we don't speculate on it, but I can tell you that we're committed to continuing to work with George and his group at Road America and continue to make it the best Nationwide Series race it possibly can (be)."
Bruggenthies said he understood how the demand for races outstrips supply and that if anything, contraction of the schedule is more likely than expansion.
Nonetheless he has actively lobbied for Sprint Cup.
"I tell my team if you don't ask, you don't get, so of course I ask. Very nicely," he said. "The people we deal with at NASCAR, they're all great people, they are aware."
NASCAR actually did bring its top division to Road America once, as part of a 51-race season in 1956.
Since last year, the track upgraded its barriers and fencing in Turn 1 and extended the asphalt runoff areas in 1 and 5 to try to limit caution periods for cars stuck in gravel traps. Another area adjacent to the paddock was repaved. Projects under consideration include replacing and expanding the bridge that crosses the 4-mile course at Turn 6.
Still, the facility would need considerable work to host Sprint Cup or even to just to compete with new venues such as the Circuit of the Americas, built in Austin, Texas, to host Formula One last year.
Road America probably would need about 18 months to get ready, Bruggenthies said.
"We proactively improve the facility for spectators and drivers and riders all the time," he said. "That way you gain respect and you're able to land contracts with series, and if you improve spectator amenities you keep selling tickets enough to pay those series."
Other events on the Road America schedule include a popular vintage racing weekend, a sports-car doubleheader of Grand-Am and the American Le Mans Series, motorcycle races and two major club-level events.
Bruggenthies also has been in contact with IndyCar after flirtation last year didn't lead to a race.
NASCAR has two road races on the Sprint Cup schedule, Sonoma (Calif.) Raceway and Watkins Glen (N.Y) International, and three on the Nationwide schedule, Road America, Watkins Glen and the Mid-Ohio Sports Car course in Lexington, Ohio.
There's nothing magical about the number of Cup road races being two, Cassidy said, although that has been a tradition since 1989.
Road racing seems to have become more popular among NASCAR fans in recent years. Also there has been some sentiment that the Chase for the Sprint Cup, the season-ending 10-race pseudo-playoff, should contain a road-course event.
"Where this track would fit in, I don't know the logistics of that," said Nationwide point leader Regan Smith, a veteran of eight Sprint Cup road races. "But I will say I'm enjoying racing here. It's a fun track, a lot of speed, a lot of good passing opportunities."
Regarding IndyCar, Bruggenthies said the same requirements remain for adding a race: It would have to fit into the track's busy schedule and would have to make financial sense.
"We've actually talked some numbers and I have a potential sponsor that's said if you get the right date, come talk to me," he said. "I'm cautious to be too hopeful. I would like to have something."
Bruggenthies has an ally in Derrick Walker, the former team owner who recently became president of competition and operations for IndyCar.
The series race could run in conjunction with the unified sports car series that will launch next year with the merger of Grand-Am and American Le Mans or as a stand-alone event.
The SCCA National Championship Runoffs will move from Road America after this season, so a weekend in September will open up. Bruggenthies said he was not overly concerned with competing for an audience with a Green Bay Packers football game.
"If it's a big enough event, the fans will come for it," he said. JSonline.com
06/19/13 Here is a related article on this topic on speedtv.com. From the sound of it, Mark Miles is not going to add Road America unless Michael Andretti gives up on the Milwaukee Race. He did not even return George Bruggenthies' email last weekend when the series was in Milwaukee. The over 50% empty grandstands made IndyCar look like a loser on TV. Not to pick on just IndyCar, the attendance for NASCAR and NHRA last weekend was down as well.
06/07/13 The Milwaukee Mile will again host Indy cars on Father's Day weekend, making southeast Wisconsin one of only 16 places where the IZOD IndyCar Series runs, but what are the chances of Indy cars returning to Elkhart Lake's Road America?
Recent speculation among racing observers has been that eastern Wisconsin would not be able to host two separate IndyCar events as the two tracks are only about 60 miles apart. The question is whether there are enough open-wheel racing fans in Wisconsin and northern Illinois to support both, but an executive with the IZOD IndyCar Series told me races could happen both in Milwaukee and at Elkhart Lake.
Matt Breeden, vice president of business affairs with the IZOD IndyCar Series, told me his organization has held conversations with Road America representatives, as well as other potential venues. I interviewed him for a story in this week's Business Journal print edition previewing Milwaukee IndyFest at Wisconsin State Fair Park's Milwaukee Mile and in downtown Milwaukee.
"(Road America) absolutely might be in the future," Breeden told me. "It's a great permanent road course."
In contrast to the Milwaukee Mile's oval, Road America is an internationally renowned four-mile, 14-turn racing circuit with slopes.
Breeden told me there are no definite plans for the IndyCar series to add Road America this year and in 2014. But he said his organization does not view the Milwaukee Mile and Elkhart Lake as mutually exclusive.
"They (Road America) have been complementary to Milwaukee in the past," Breeden told me. "I wouldn't rule it out in the future." Milwaukee Business Journal