Austin Dillon, Daniel Hemric Pace Cup Series Practice at Charlotte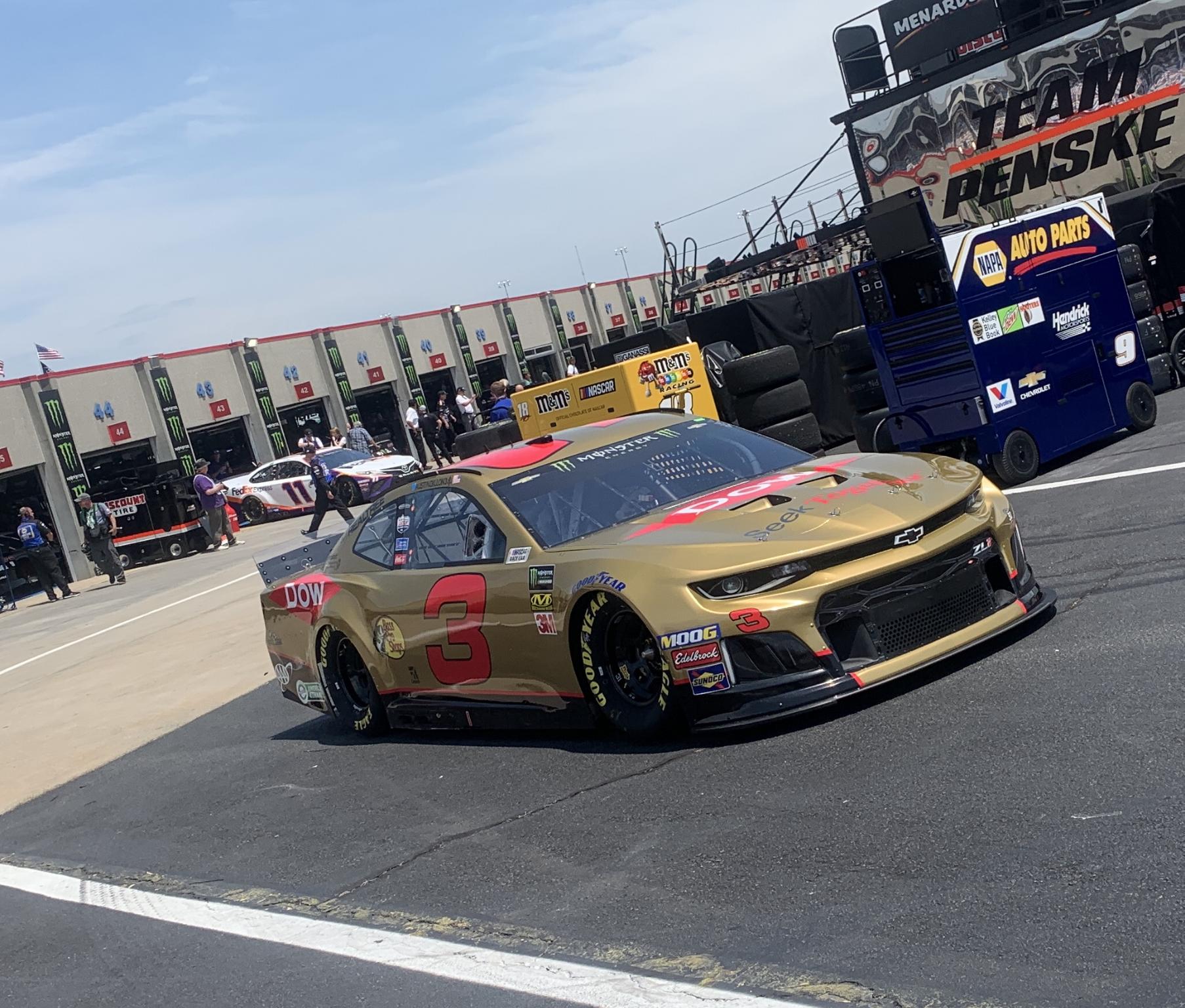 Austin Dillon sporting a gold paint scheme this weekend
Pete McCole/AR1
Richard Childress Racing teammates Austin Dillon and Daniel Hemric paced Friday's final practice session for Saturday's Monster Open and Monster Energy All Star Race at Charlotte Motor Speedway.
Dillon was the fastest among the 15 drivers already qualified for Saturday's main event, posting a top speed of 179.450 mph (30.092 seconds) in the final session of the afternoon.
Dillon – who finished ninth in his all-star debut last year – says he would love to win the All Star race and earn a lifetime entry into the annual event like Ryan Newman has.
"I think the biggest thing is cherishing the moment of being in the All Star Race, because the following year you could be out of it if you don't get a win," said Dillon. "I'd like to go out there and win the million and lock myself in for life. I think (Ryan) Newman is in a really good spot – he didn't win a race last year but he won the All Star Race so he's locked in and doesn't have to run those (Monster) Open races."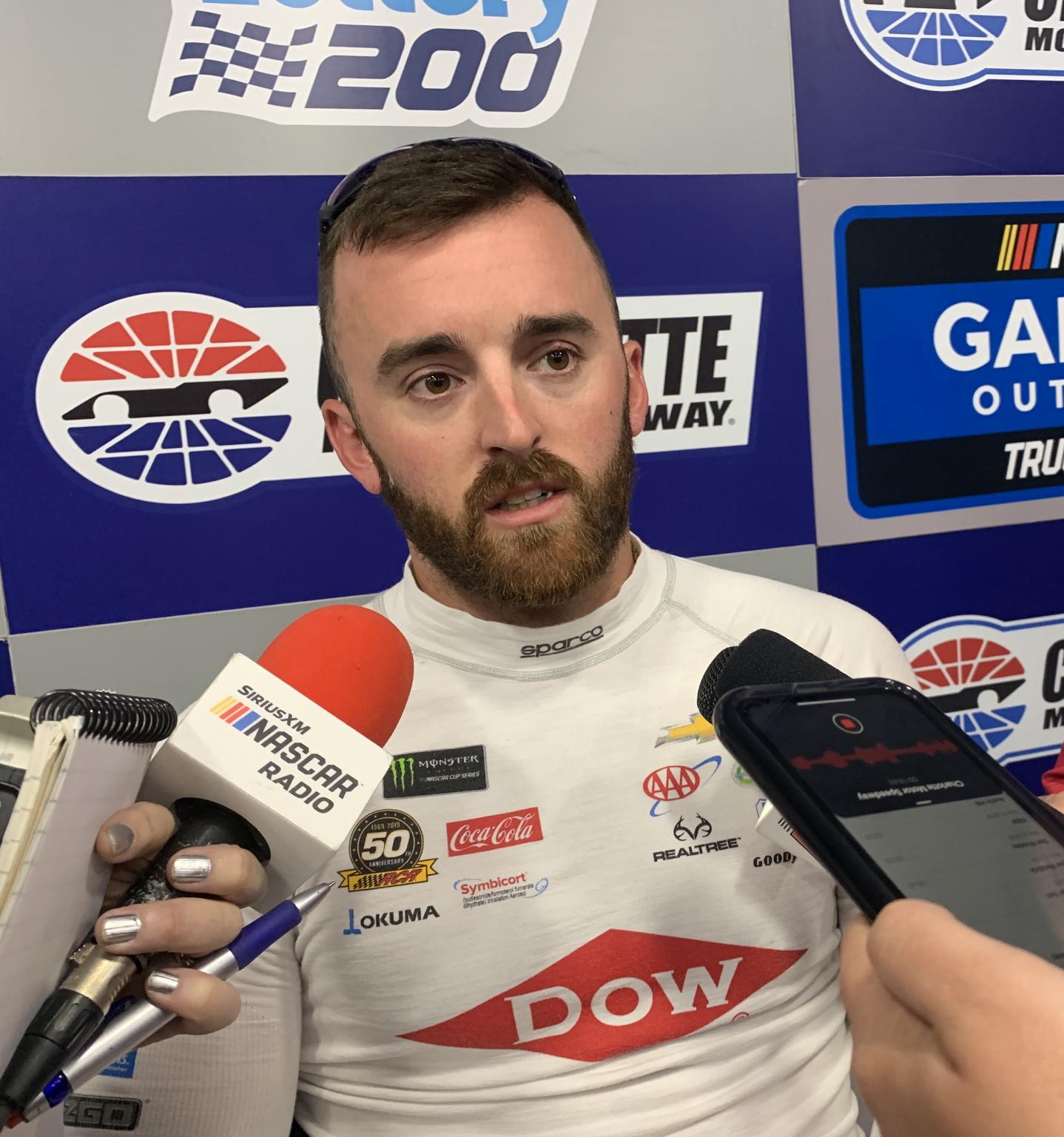 Austin Dillon
Pete McCole/AR1
Ryan Blaney was second fastest in the practice session, running 178.560 mph. Clint Bowyer (178.336), Joey Logano (177.954) and Denny Hamlin (177.713) rounded out the top five.
In practice for the Monster Open, Hemric led the 20 drivers who will all be vying for one of three transfer spots into the All Star race. Hemric turned in a lap of 180.234 mph to top Michael McDowell, Matt Tifft, Kyle Larson and Ty Dillon.
The Monster Open, run prior to the All Star Race, will consist of 50 laps broken into three stages of 20-laps, 20 laps and a final 10-lap shootout. The winner of each stage will advance to the all-star field.
The final 19th spot in the all-star field will be filled by a driver voted in by fan vote.
MONSTER ALL STAR PRACTICE
| | | | | | | |
| --- | --- | --- | --- | --- | --- | --- |
| Pos. | # | Driver | Sponsor/Make | Time | Speed | Behind |
| 1 | 3 | Austin Dillon | Dow Chevrolet | 30.092 | 179.45 | —.— |
| 2 | 12 | Ryan Blaney | BodyArmor Ford | 30.242 | 178.56 | -0.15 |
| 3 | 14 | Clint Bowyer | Toco Warranty Ford | 30.28 | 178.336 | -0.188 |
| 4 | 22 | Joey Logano | Shell Pennzoil Ford | 30.345 | 177.954 | -0.253 |
| 5 | 11 | Denny Hamlin | FedEx Express Toyota | 30.386 | 177.713 | -0.294 |
| 6 | 4 | Kevin Harvick | Busch Beer Millenial Car Ford | 30.428 | 177.468 | -0.336 |
| 7 | 20 | Erik Jones | Craftsman Toyota | 30.443 | 177.381 | -0.351 |
| 8 | 10 | Aric Almirola | Smithfield Ford | 30.457 | 177.299 | -0.365 |
| 9 | 6 | Ryan Newman | Acorns Ford | 30.467 | 177.241 | -0.375 |
| 10 | 18 | Kyle Busch | M&M's Hazelnut Toyota | 30.579 | 176.592 | -0.487 |
| 11 | 48 | Jimmie Johnson | Ally Chevrolet | 30.585 | 176.557 | -0.493 |
| 12 | 19 | Martin Truex Jr. | BassProShops/TRACKER/USO Toyota | 30.585 | 176.557 | -0.493 |
| 13 | 2 | Brad Keselowski | Discount Tire Ford | 30.599 | 176.476 | -0.507 |
| 14 | 1 | Kurt Busch | GEARWRENCH/Monster Chevrolet | 30.694 | 175.93 | -0.602 |
| 15 | 9 | Chase Elliott | NAPA Brakes Chevrolet | 30.723 | 175.764 | -0.6 |
31
MONSTER OPEN PRACTICE

| | | | | | | |
| --- | --- | --- | --- | --- | --- | --- |
| Pos. | # | Driver | Sponsor/Make | Time | Speed | Behind |
| 1 | 8 | Daniel Hemric # | Caterpillar/Bass Pro Shops Chevrolet | 29.961 | 180.234 | —.— |
| 2 | 34 | Michael McDowell | Dockside Logistics Ford | 30.077 | 179.539 | -0.116 |
| 3 | 36 | Matt Tifft # | Surface Sunscreen/Tunity Ford | 30.168 | 178.998 | -0.207 |
| 4 | 42 | Kyle Larson | Advent Health Chevrolet | 30.31 | 178.159 | -0.349 |
| 5 | 13 | Ty Dillon | GEICO Military Chevrolet | 30.39 | 177.69 | -0.429 |
| 6 | 38 | David Ragan | MDS Transport Ford | 30.396 | 177.655 | -0.435 |
| 7 | 24 | William Byron | Hendrick Autoguard Chevrolet | 30.435 | 177.427 | -0.474 |
| 8 | 41 | Daniel Suarez | ARRIS Ford | 30.446 | 177.363 | -0.485 |
| 9 | 37 | Chris Buescher | Kroger Your Personal Pit Stop Chevrolet | 30.499 | 177.055 | -0.538 |
| 10 | 32 | Corey LaJoie | Freedom Hard Ford | 30.508 | 177.003 | -0.547 |
| 11 | 21 | Paul Menard | Menards/Knauf Ford | 30.51 | 176.991 | -0.549 |
| 12 | 95 | Matt DiBenedetto | Anest Iwata Toyota | 30.527 | 176.893 | -0.566 |
| 13 | 88 | Alex Bowman | Axalta Chevrolet | 30.567 | 176.661 | -0.606 |
| 14 | 47 | Ryan Preece # | Kroger Chevrolet | 30.66 | 176.125 | -0.699 |
| 15 | 43 | Bubba Wallace | World Wide Technology Chevrolet | 30.678 | 176.022 | -0.717 |
| 16 | 17 | Ricky Stenhouse Jr. | Fastenal Ford | 30.709 | 175.844 | -0.748 |
| 17 | 0 | Landon Cassill(i) | Elongator Tailgates Chevrolet | 30.829 | 175.16 | -0.868 |
| 18 | 52 | Bayley Currey(i) | RWR Ford | 31.744 | 170.111 | -1.783 |
| 19 | 51 | Cody Ware(i) | JACOB Companies Chevrolet | 32.643 | 165.426 | -2.682 |
| 20 | 46 | Joey Gase(i) | MBM Motorsports Toyota | 32.741 | 164.931 | -2.78 |