Rain delay at Indy, Andretti on top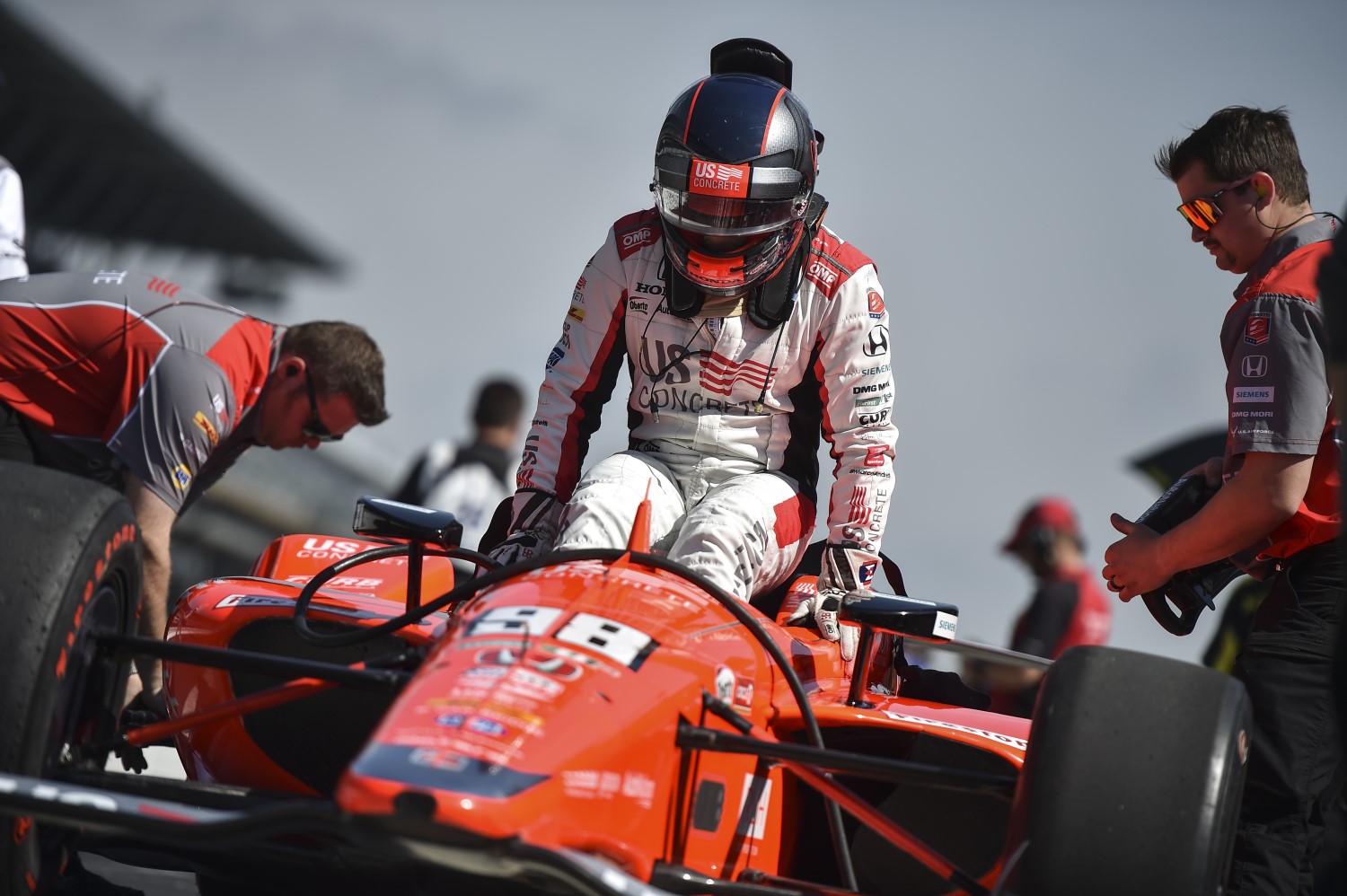 Andretti fastest with a tow
Fast Friday remains under caution as the crews dry the track after rain showers passed through a little over an hour ago.
Fastest so-far are Andretti Honda teammates Marco Andretti and Conor Daly – both over 230 mph with a tow.
Fastest without a tow are Ed Carpenter 229.879 mph and Alexander Rossi 229.520 mph.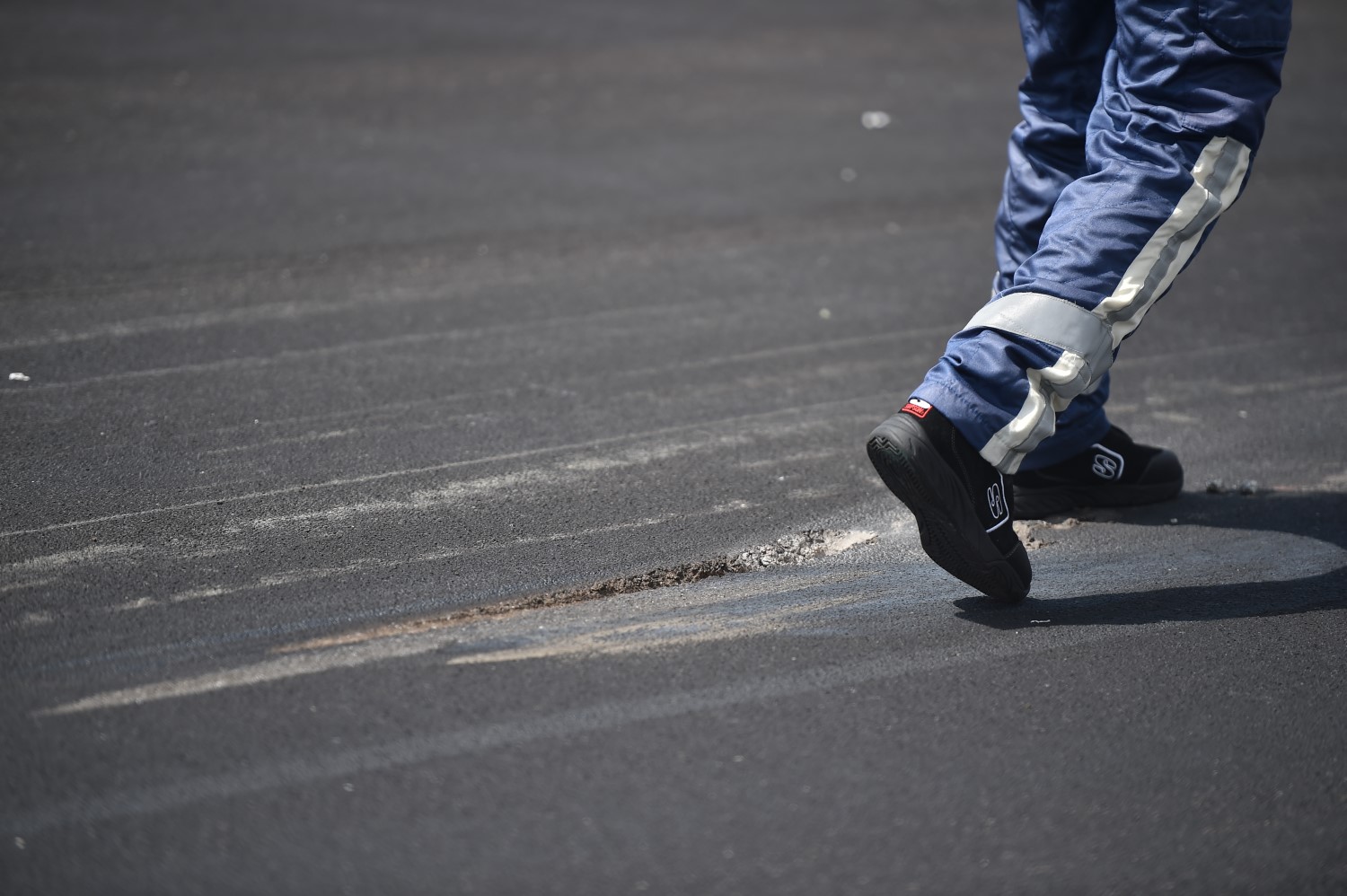 Gash in track surface
Fernando Alonso continues to struggle with his McLaren Chevy and has put up only the 30th best non-tow time. He's finding the cars a lot harder to drive with the current low-downforce setup compared to what he had back in 2017.
When Kyle Kaiser crashed earlier he put quite a gash in the asphalt between turns 3 and 4
We expect the track to go back green before too long.
Rembrandt Charms Backs DragonSpeed at Indy 500
Rembrandt Charms has extended its sponsorship of DragonSpeed and rookie driver Ben Hanley to include the 103rd Indianapolis 500 presented by Gainbridge. Having joined the global endurance racing team's NTT IndyCar Series entry as a lunch sponsor at the St Petersburg and Barber rounds, Rembrandt Charms is looking forward to being part of the world's biggest one-day sporting event.
"Rembrandt Charms, like IndyCar itself, is enjoying strong growth by responding to changing consumer interests," said Vice President Eric Lux. "Rembrandt Charms is consistently voted a top-selling, hot brand by retail jewelers. Our traditional charms and charm bracelets have been featured in 2019 fashion runways and leadingfashion magazines such as Elle, Harper's Bazaar, and Women's Wear Daily."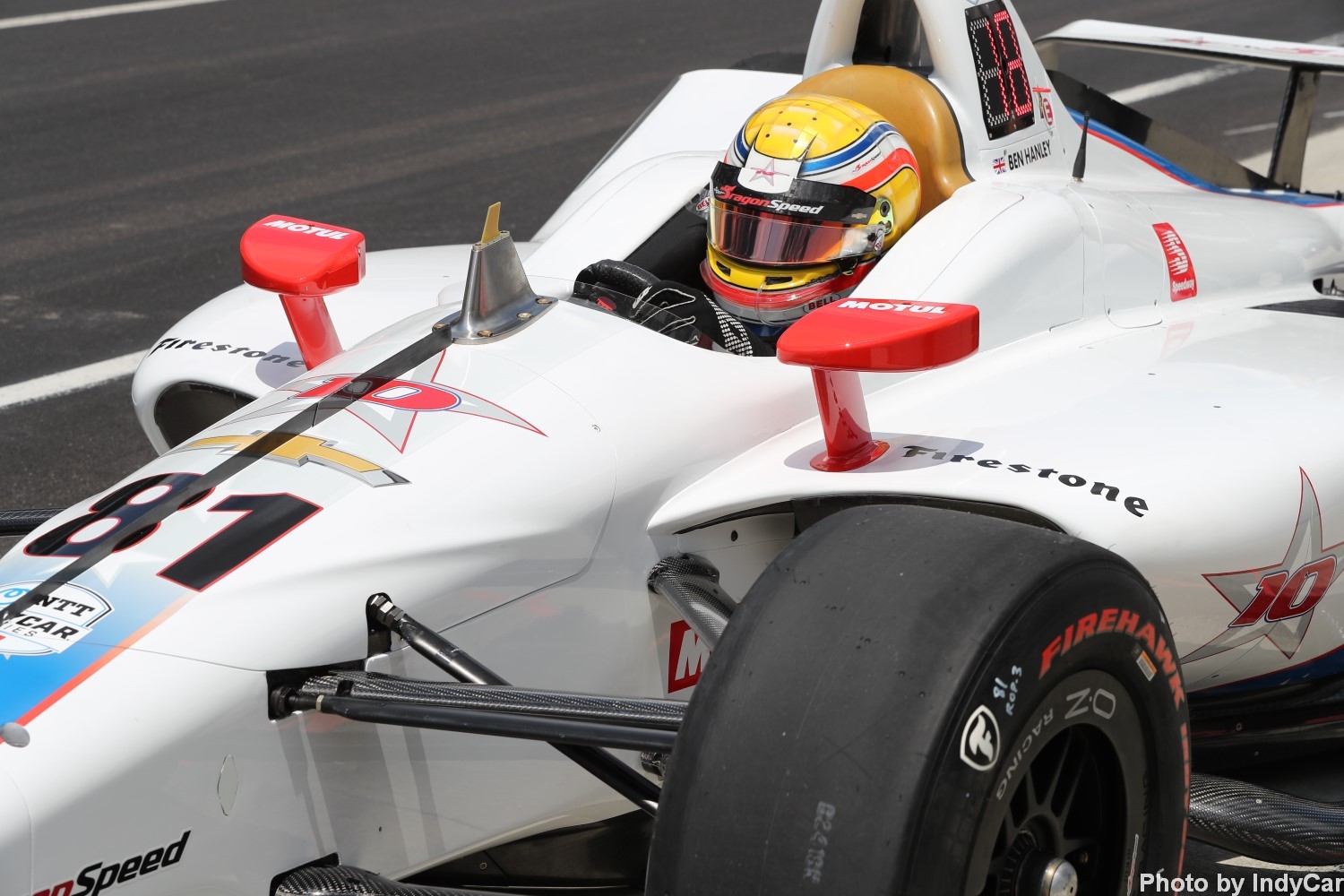 Ben Hanley
"We are already using our IndyCar involvement to boost to our consumer advertising and promotional campaign on behalf of the thousands of retail jewelers that carry our collections, including a racing-themed bracelet for fans of the sport," continued Lux.
Eric himself raced with DragonSpeed team principal Elton Julian to win the 2011 American Le Mans Series LMPC title and drove for DragonSpeed in 2015, helping Mercedes-Benz secure its first American GT title. "I admire Elton's boundless determination and effort which have led his team to great achievements, including victories in the IMSA WeatherTech Championship, FIA World Endurance Championship, and European Le Mans Series so far this season." Eric says. "Rembrandt Charms is proud to support Elton, Ben, and the entire DragonSpeed team in their quest to qualify for the Indy 500 this weekend. And we're just as proud to bring an all-American brand to the all-American race."
"It's a genuine pleasure to continue our association with Eric and Rembrandt Charms as we attempt to qualify for our first Indy 500," said Elton Julian. "Eric understands what racing can do for his business and is as ambitious about exploiting the opportunities as we are to establish ourselves in IndyCar."
Rembrandt Charms has been designing and manufacturing charms and charm bracelets for over 50 years, and today offers "The World's Largest Charm Collection in Silver and Gold." All Rembrandt Charms products are manufactured in the United States or Canada and covered by a lifetime warranty. They are sold exclusively through authorized retail jewelers; store locations can be found at RembrandtCharms.com.
Mark C. reporting
Fast Friday Times so-far
| | | | | | | | | |
| --- | --- | --- | --- | --- | --- | --- | --- | --- |
| Pos | No | Name | Time | Diff | Gap | Tow-Speed | Engine | Team |
| 1 | 98 | Marco Andretti | 38.986 | –.—- | –.—- | 230.851 | Honda | Andretti Herta Autosport w/Curb-Agaj |
| 2 | 25 | Conor Daly | 39.031 | 0.0447 | 0.0447 | 230.587 | Honda | Andretti Autosport |
| 3 | 21 | Spencer Pigot | 39.060 | 0.0738 | 0.0291 | 230.415 | Chevy | Ed Carpenter Racing |
| 4 | 22 | Simon Pagenaud | 39.075 | 0.0888 | 0.0150 | 230.326 | Chevy | Team Penske |
| 5 | 20 | Ed Carpenter | 39.151 | 0.1648 | 0.0760 | 229.879 | Chevy | Ed Carpenter Racing |
| 6 | 9 | Scott Dixon | 39.172 | 0.1858 | 0.0210 | 229.756 | Honda | Chip Ganassi Racing Teams |
| 7 | 18 | Sebastien Bourdais | 39.199 | 0.2123 | 0.0265 | 229.601 | Honda | Dale Coyne Racing with Vasser-Sullivan |
| 8 | 63 | Ed Jones | 39.203 | 0.2169 | 0.0046 | 229.574 | Chevy | Ed Carpenter Racing |
| 9 | 27 | Alexander Rossi | 39.211 | 0.2245 | 0.0076 | 229.529 | Honda | Andretti Autosport |
| 10 | 7 | Marcus Ericsson | 39.214 | 0.2275 | 0.0030 | 229.512 | Honda | Arrow Schmidt Peterson Motorsports |
| 11 | 26 | Zach Veach | 39.216 | 0.2301 | 0.0026 | 229.496 | Honda | Andretti Autosport |
| 12 | 60 | Jack Harvey | 39.221 | 0.2353 | 0.0052 | 229.466 | Honda | Meyer Shank Racing with Arrow SPM |
| 13 | 15 | Graham Rahal | 39.224 | 0.2382 | 0.0029 | 229.449 | Honda | Rahal Letterman Lanigan Racing |
| 14 | 2 | Josef Newgarden | 39.235 | 0.2485 | 0.0103 | 229.389 | Chevy | Team Penske |
| 15 | 88 | Colton Herta | 39.285 | 0.2990 | 0.0505 | 229.094 | Honda | Harding Steinbrenner Racing |
| 16 | 48 | JR Hildebrand | 39.346 | 0.3596 | 0.0606 | 228.741 | Chevy | Dreyer and Reinbold Racing |
| 17 | 23 | Charlie Kimball | 39.355 | 0.3693 | 0.0097 | 228.685 | Chevy | Carlin |
| 18 | 12 | Will Power | 39.382 | 0.3955 | 0.0262 | 228.533 | Chevy | Team Penske |
| 19 | 3 | Helio Castroneves | 39.393 | 0.4071 | 0.0116 | 228.465 | Chevy | Team Penske |
| 20 | 14 | Tony Kanaan | 39.399 | 0.4131 | 0.0060 | 228.430 | Chevy | AJ Foyt Enterprises |
| 21 | 30 | Takuma Sato | 39.402 | 0.4161 | 0.0030 | 228.413 | Honda | Rahal Letterman Lanigan Racing |
| 22 | 19 | Santino Ferrucci | 39.439 | 0.4525 | 0.0364 | 228.202 | Honda | Dale Coyne Racing |
| 23 | 33 | James Davison | 39.473 | 0.4865 | 0.0340 | 228.006 | Honda | Dale Coyne with Byrd and Belardi |
| 24 | 39 | Pippa Mann | 39.474 | 0.4881 | 0.0016 | 227.996 | Chevy | Clauson-Marshall Racing |
| 25 | 28 | Ryan Hunter-Reay | 39.480 | 0.4934 | 0.0053 | 227.966 | Honda | Andretti Autosport |
| 26 | 77 | Oriol Servia | 39.517 | 0.5309 | 0.0375 | 227.750 | Honda | Arrow Schmidt Peterson Motorsports |
| 27 | 5 | James Hinchcliffe | 39.518 | 0.5322 | 0.0013 | 227.742 | Honda | Arrow Schmidt Peterson Motorsports |
| 28 | 66 | Fernando Alonso | 39.567 | 0.5807 | 0.0485 | 227.463 | Chevy | McLaren Racing |
| 29 | 42 | Jordan King | 39.586 | 0.5995 | 0.0188 | 227.355 | Honda | Rahal Letterman Lanigan Racing |
| 30 | 4 | Matheus Leist | 39.607 | 0.6208 | 0.0213 | 227.233 | Chevy | AJ Foyt Enterprises |
| 31 | 10 | Felix Rosenqvist | 39.645 | 0.6591 | 0.0383 | 227.013 | Honda | Chip Ganassi Racing Teams |
| 32 | 59 | Max Chilton | 39.673 | 0.6869 | 0.0278 | 226.854 | Chevy | Carlin |
| 33 | 81 | Ben Hanley | 39.706 | 0.7197 | 0.0328 | 226.667 | Chevy | DragonSpeed |
| 34 | 24 | Sage Karam | 39.906 | 0.9193 | 0.1996 | 225.533 | Chevy | Dreyer and Reinbold Racing |
| 35 | 31 | Patricio O'Ward | 40.123 | 1.1369 | 0.2176 | 224.310 | Chevy | Carlin |
| 36 | 32 | Kyle Kaiser | 1:09.321 | 30.3350 | 29.1981 | 129.830 | Chevy | Juncos Racing |
| 37 | 77 | Oriol Serva | No Time | — | — | — | Honda | Arrow Schmidt Peterson Motorsports |