Ed Jones tops rain shortened Day 3 at Indy, Alonso a no-show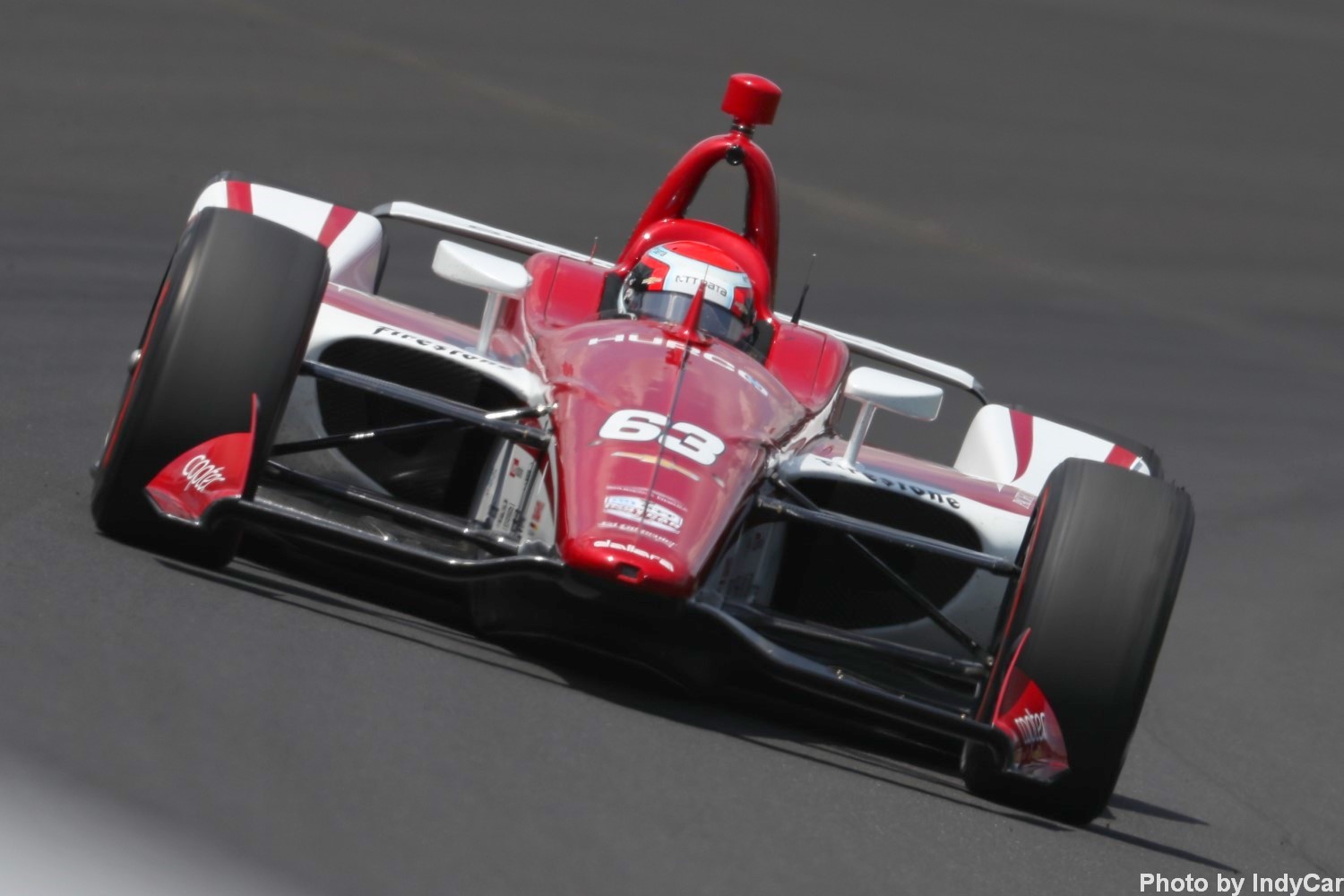 Ed Jones
Rain cut short the final hour and a half of practice at the Indianapolis Motor Speedway on Day 3 that saw Ed Carpenter Racing Scuderia Corsa's Ed Jones turn the fastest lap and Fernando Alonso never turn a lap while his car gets fixed.
Of the 36 drivers who are on the entry list for this race, 35 completed at least one lap in today's practice session, as McLaren Racing's Fernando Alonso, who crashed in yesterday's practice session, was unable to get out on to the track in his #66 Chevrolet at all today.
Jones recorded a top lap time of 39.5008 seconds (227.543 miles per hour) around the four-turn, 2.5-mile (4.023-kilometer) Indianapolis Motor Speedway oval in Speedway, Indiana in his #63 Chevrolet in this practice session. He also turned the fastest no-tow speed of the week so far at 224.957mph
Honda drivers, meanwhile, rounded out the rest of the top five on the speed chart in this practice session led by Takuma Sato, Zach Veach, Sebastien Bourdais and Colton Herta.
"It was a great day!" Jones said. "To be quickest in overall and no-tow is a goal. More importantly, I think we made more gains with the handling of the car. As the conditions have changed, we've been able to keep up. We just have to keep adapting to the track changes for tomorrow and for qualifying."
Meanwhile, Alonso – returning to the Indianapolis 500 this year in search of a victory to complete the final leg of racing's Triple Crown – never made it on the track Thursday as his McLaren Racing team spent the day preparing a backup car after the two-time Formula 1 champion crashed his primary No. 66 Chevrolet in practice the day before.
Gil de Ferran, the 2003 Indianapolis 500 winner who now serves as sporting director at McLaren, said the team is not rushing to get the backup car ready, preparations that included an engine change when the powerplant in the primary car was found to be damaged in Wednesday's incident.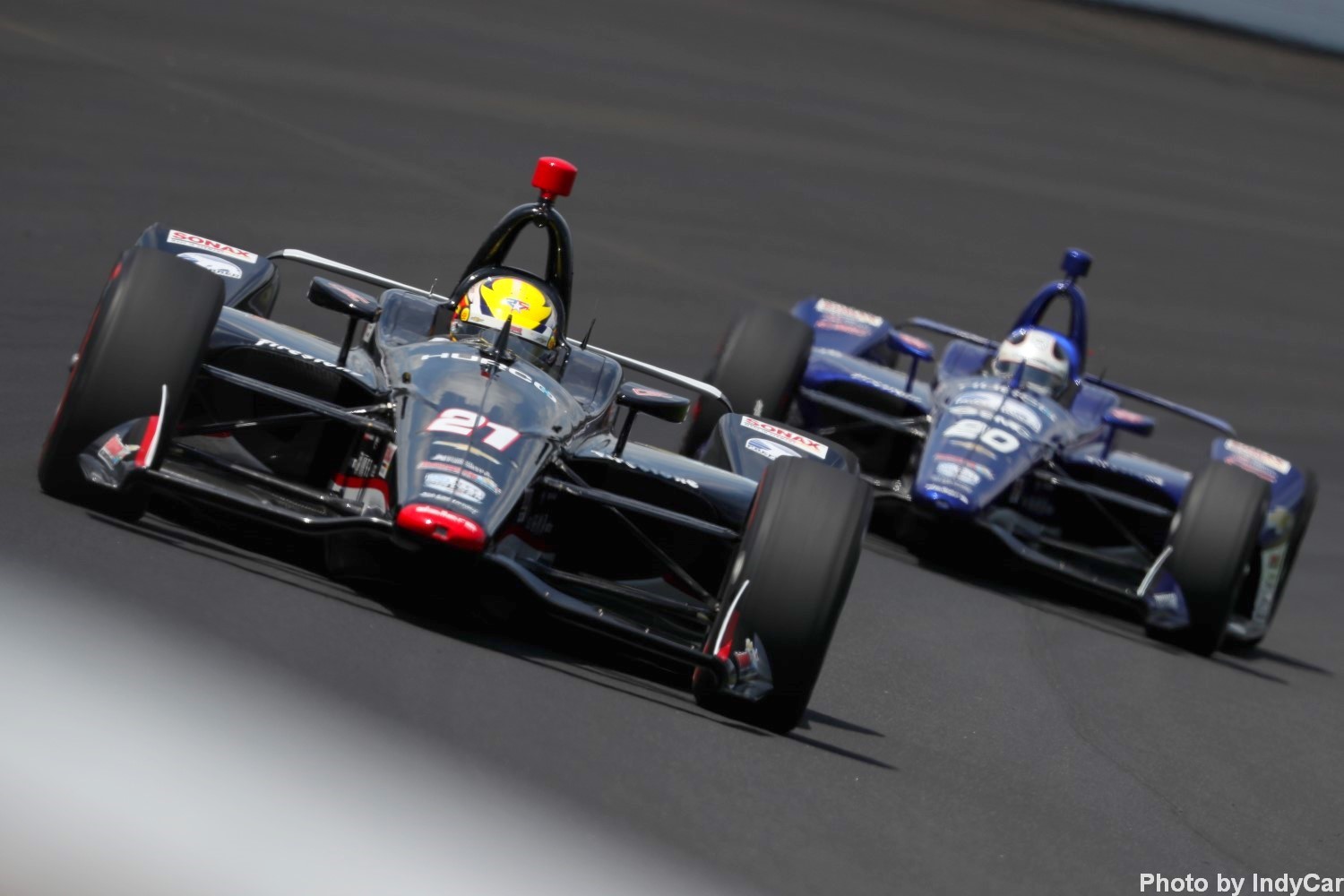 The Ed Carpenter Chevys are fast. Here Pigot and boss Carpenter run together
"While we have a number of experienced individuals in the team, we are still relatively new as a crew," de Ferran said. "Because of this and the fact that we have deep respect for Indianapolis, we are being careful and measured in our approach and want to ensure we're sending the best possible car out on track.
"Not running today was a serious setback to our Indy 500 program, but all is not lost. We should have a full day of practice and preparations for qualifying tomorrow and our goal will be to have a nice, clean day."
Jones, who finished third in the Indianapolis 500 two years ago as a rookie, is paired with team owner/driver Ed Carpenter and full-season driver Spencer Pigot in a three-car Indy 500 attack for the team. Carpenter was 8th (223.820 mph) on the no-tow list – designated as such because it comes without the aerodynamic tow from a car ahead on track by 10 seconds or less – while Pigot was 2nd (224.857 mph).
The no-tow list provides a good representation of how cars may perform in Crown Royal Armed Forces Qualifying this weekend, when they'll be on track alone for four-lap qualifications runs to determine the 33-car field.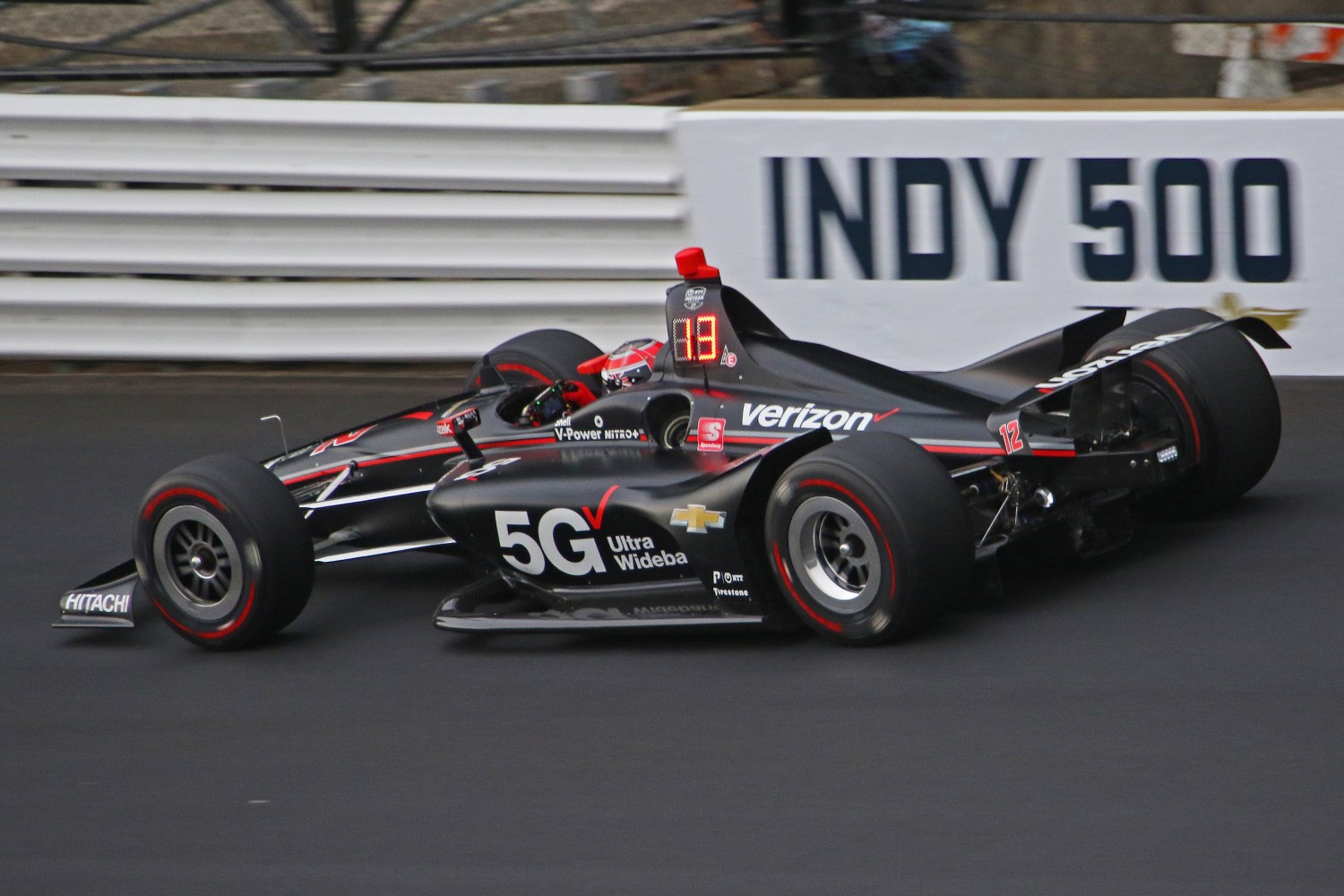 Will Power – the Chevys again have a HP advantage for the 500
"All things considered, I think all three drivers on the team feel pretty encouraged, and we are looking forward to the power turning up tomorrow in the Chevy engine and seeing what we can get out of the cars," said team owner Carpenter, a three-time Indy 500 pole sitter who finished second in last year's race.
Takuma Sato was second on the overall lap speed chart at 226.699 mph in the No. 30 Mi-Jack/Panasonic Honda. The Rahal Letterman Lanigan Racing driver was eighth on the no-tow chart at 224.428 mph.
"I'd say it was a very productive day despite a little issue in the car and the weather," said Sato, winner of the 2017 Indy 500. "We've done a qualifying simulation and worked on the race setup. We found several positives and I'm pretty happy with that. We are quite satisfied with how today went."
There was one single-car incident on Thursday. Rookie Patricio O'Ward lost control of the No. 31 Carlin Chevrolet and spun into the Turn 2 SAFER Barrier. The 2018 Indy Lights Presented by Cooper Tires champion was uninjured, but the car sustained heavy damage and he did not return on track.
Day 3 Results
| | | | | | | | | | |
| --- | --- | --- | --- | --- | --- | --- | --- | --- | --- |
| Pos | No | Name | FTime | Diff | Gap | Laps | FSpeed | Engine | Team |
| 1 | 63 | Ed Jones | 39.501 | –.—- | –.—- | 37 | 227.843 | Chevy | Ed Carpenter Racing |
| 2 | 30 | Takuma Sato | 39.700 | 0.1994 | 0.1994 | 47 | 226.699 | Honda | Rahal Letterman Lanigan Racing |
| 3 | 26 | Zach Veach | 39.811 | 0.3099 | 0.1105 | 58 | 226.070 | Honda | Andretti Autosport |
| 4 | 18 | Sebastien Bourdais | 39.824 | 0.3230 | 0.0131 | 53 | 225.996 | Honda | Dale Coyne Racing w/Vasser-Sullivan |
| 5 | 88 | Colton Herta | 39.919 | 0.4180 | 0.0950 | 73 | 225.458 | Honda | Harding Steinbrenner Racing |
| 6 | 24 | Sage Karam | 39.929 | 0.4281 | 0.0101 | 86 | 225.401 | Chevy | Dreyer and Reinbold Racing |
| 7 | 32 | Kyle Kaiser | 39.930 | 0.4290 | 0.0009 | 39 | 225.396 | Chevy | Juncos Racing |
| 8 | 21 | Spencer Pigot | 39.941 | 0.4398 | 0.0108 | 66 | 225.335 | Chevy | Ed Carpenter Racing |
| 9 | 9 | Scott Dixon | 39.947 | 0.4459 | 0.0061 | 53 | 225.300 | Honda | Chip Ganassi Racing Teams |
| 10 | 22 | Simon Pagenaud | 39.955 | 0.4537 | 0.0078 | 40 | 225.256 | Chevy | Team Penske |
| 11 | 3 | Helio Castroneves | 39.975 | 0.4739 | 0.0202 | 65 | 225.142 | Chevy | Team Penske |
| 12 | 33 | James Davison | 39.989 | 0.4878 | 0.0139 | 60 | 225.064 | Honda | Dale Coyne with Byrd and Belardi |
| 13 | 20 | Ed Carpenter | 39.993 | 0.4925 | 0.0047 | 50 | 225.038 | Chevy | Ed Carpenter Racing |
| 14 | 12 | Will Power | 40.025 | 0.5244 | 0.0319 | 49 | 224.858 | Chevy | Team Penske |
| 15 | 59 | Max Chilton | 40.035 | 0.5345 | 0.0101 | 42 | 224.802 | Chevy | Carlin |
| 16 | 23 | Charlie Kimball | 40.036 | 0.5353 | 0.0008 | 67 | 224.797 | Chevy | Carlin |
| 17 | 98 | Marco Andretti | 40.041 | 0.5400 | 0.0047 | 41 | 224.771 | Honda | Andretti Herta Autosport w/Curb-Agaj |
| 18 | 48 | JR Hildebrand | 40.092 | 0.5916 | 0.0516 | 47 | 224.481 | Chevy | Dreyer and Reinbold Racing |
| 19 | 25 | Conor Daly | 40.093 | 0.5919 | 0.0003 | 76 | 224.480 | Honda | Andretti Autosport |
| 20 | 7 | Marcus Ericsson | 40.106 | 0.6052 | 0.0133 | 34 | 224.405 | Honda | Arrow Schmidt Peterson Motorsports |
| 21 | 2 | Josef Newgarden | 40.117 | 0.6163 | 0.0111 | 39 | 224.343 | Chevy | Team Penske |
| 22 | 27 | Alexander Rossi | 40.139 | 0.6383 | 0.0220 | 50 | 224.220 | Honda | Andretti Autosport |
| 23 | 31 | Patricio O'Ward | 40.148 | 0.6473 | 0.0090 | 24 | 224.170 | Chevy | Carlin |
| 24 | 15 | Graham Rahal | 40.155 | 0.6539 | 0.0066 | 57 | 224.133 | Honda | Rahal Letterman Lanigan Racing |
| 25 | 5 | James Hinchcliffe | 40.181 | 0.6806 | 0.0267 | 31 | 223.984 | Honda | Arrow Schmidt Peterson Motorsports |
| 26 | 60 | Jack Harvey | 40.182 | 0.6809 | 0.0003 | 26 | 223.983 | Honda | Meyer Shank Racing with Arrow SPM |
| 27 | 39 | Pippa Mann | 40.211 | 0.7103 | 0.0294 | 41 | 223.819 | Chevy | Clauson-Marshall Racing |
| 28 | 77 | Oriol Servia | 40.307 | 0.8067 | 0.0964 | 49 | 223.284 | Honda | Arrow Schmidt Peterson Motorsports |
| 29 | 42 | Jordan King | 40.327 | 0.8266 | 0.0199 | 43 | 223.173 | Honda | Rahal Letterman Lanigan Racing |
| 30 | 28 | Ryan Hunter-Reay | 40.345 | 0.8446 | 0.0180 | 38 | 223.074 | Honda | Andretti Autosport |
| 31 | 4 | Matheus Leist | 40.364 | 0.8636 | 0.0190 | 34 | 222.969 | Chevy | AJ Foyt Enterprises |
| 32 | 14 | Tony Kanaan | 40.389 | 0.8885 | 0.0249 | 34 | 222.831 | Chevy | AJ Foyt Enterprises |
| 33 | 81 | Ben Hanley | 40.474 | 0.9734 | 0.0849 | 67 | 222.364 | Chevy | DragonSpeed |
| 34 | 10 | Felix Rosenqvist | 40.596 | 1.0952 | 0.1218 | 41 | 221.697 | Honda | Chip Ganassi Racing Teams |
| 35 | 19 | Santino Ferrucci | 40.824 | 1.3234 | 0.2282 | 60 | 220.457 | Honda | Dale Coyne Racing |
Day 3 Non-Tow Speeds
| | | | | | | | |
| --- | --- | --- | --- | --- | --- | --- | --- |
| Rank | Car | Driver Name | Engine | Non-Tow Time | Non-Tow Speed | Diff | Gap |
| 1 | 63 | Jones, Ed | Chevy | 00:40.0077 | 224.957 | –.—- | –.—- |
| 2 | 21 | Pigot, Spencer | Chevy | 00:40.0201 | 224.887 | 0.0124 | 0.0124 |
| 3 | 22 | Pagenaud, Simon | Chevy | 00:40.0235 | 224.868 | 0.0158 | 0.0034 |
| 4 | 12 | Power, Will | Chevy | 00:40.0252 | 224.858 | 0.0175 | 0.0017 |
| 5 | 23 | Kimball, Charlie | Chevy | 00:40.0361 | 224.797 | 0.0284 | 0.0109 |
| 6 | 98 | Andretti, Marco | Honda | 00:40.1013 | 224.432 | 0.0936 | 0.0652 |
| 7 | 30 | Sato, Takuma | Honda | 00:40.1020 | 224.428 | 0.0943 | 0.0007 |
| 8 | 20 | Carpenter, Ed | Chevy | 00:40.2109 | 223.820 | 0.2032 | 0.1089 |
| 9 | 2 | Newgarden, Josef | Chevy | 00:40.2442 | 223.635 | 0.2365 | 0.0333 |
| 10 | 7 | Ericsson, Marcus (R) | Honda | 00:40.2561 | 223.569 | 0.2484 | 0.0119 |
| 11 | 27 | Rossi, Alexander | Honda | 00:40.2749 | 223.464 | 0.2672 | 0.0188 |
| 12 | 15 | Rahal, Graham | Honda | 00:40.3332 | 223.141 | 0.3255 | 0.0583 |
| 13 | 5 | Hinchcliffe, James | Honda | 00:40.3349 | 223.132 | 0.3272 | 0.0017 |
| 14 | 28 | Hunter-Reay, Ryan | Honda | 00:40.3454 | 223.074 | 0.3377 | 0.0105 |
| 15 | 25 | Daly, Conor | Honda | 00:40.3519 | 223.038 | 0.3442 | 0.0065 |
| 16 | 26 | Veach, Zach | Honda | 00:40.3591 | 222.998 | 0.3514 | 0.0072 |
| 17 | 81 | Hanley, Ben (R) | Chevy | 00:40.4742 | 222.364 | 0.4665 | 0.1151 |
| 18 | 60 | Harvey, Jack | Honda | 00:40.4900 | 222.277 | 0.4823 | 0.0158 |
| 19 | 42 | King, Jordan (R) | Honda | 00:40.4902 | 222.276 | 0.4825 | 0.0002 |
| 20 | 32 | Kaiser, Kyle | Chevy | 00:40.5058 | 222.190 | 0.4981 | 0.0156 |
| 21 | 48 | Hildebrand, JR | Chevy | 00:40.5128 | 222.152 | 0.5051 | 0.0070 |
| 22 | 59 | Chilton, Max | Chevy | 00:40.5446 | 221.978 | 0.5369 | 0.0318 |
| 23 | 9 | Dixon, Scott | Honda | 00:40.5715 | 221.831 | 0.5638 | 0.0269 |
| 24 | 4 | Leist, Matheus | Chevy | 00:40.6615 | 221.340 | 0.6538 | 0.0900 |
| 25 | 39 | Mann, Pippa | Chevy | 00:40.6710 | 221.288 | 0.6633 | 0.0095 |
| 26 | 14 | Kanaan, Tony | Chevy | 00:40.6745 | 221.269 | 0.6668 | 0.0035 |
| 27 | 88 | Herta, Colton (R) | Honda | 00:40.6755 | 221.263 | 0.6678 | 0.0010 |
| 28 | 24 | Karam, Sage | Chevy | 00:40.6774 | 221.253 | 0.6697 | 0.0019 |
| 29 | 3 | Castroneves, Helio | Chevy | 00:40.6881 | 221.195 | 0.6804 | 0.0107 |
| 30 | 77 | Servia, Oriol | Honda | 00:40.8057 | 220.557 | 0.7980 | 0.1176 |
| 31 | 19 | Ferrucci, Santino (R) | Honda | 00:40.8242 | 220.457 | 0.8165 | 0.0185 |
| 32 | 18 | Bourdais, Sebastien | Honda | 00:40.8544 | 220.295 | 0.8467 | 0.0302 |
| 33 | 31 | O'Ward, Patricio (R) | Chevy | 00:41.0005 | 219.510 | 0.9928 | 0.1461 |
| 34 | 10 | Rosenqvist, Felix (R) | Honda | 00:41.4026 | 217.378 | 1.3949 | 0.4021 |
| 35 | 33 | Davison, James | Honda | 00:41.8166 | 215.226 | 1.8089 | 0.4140 |