Newgarden leads Day 2 at Indy, but really Rossi did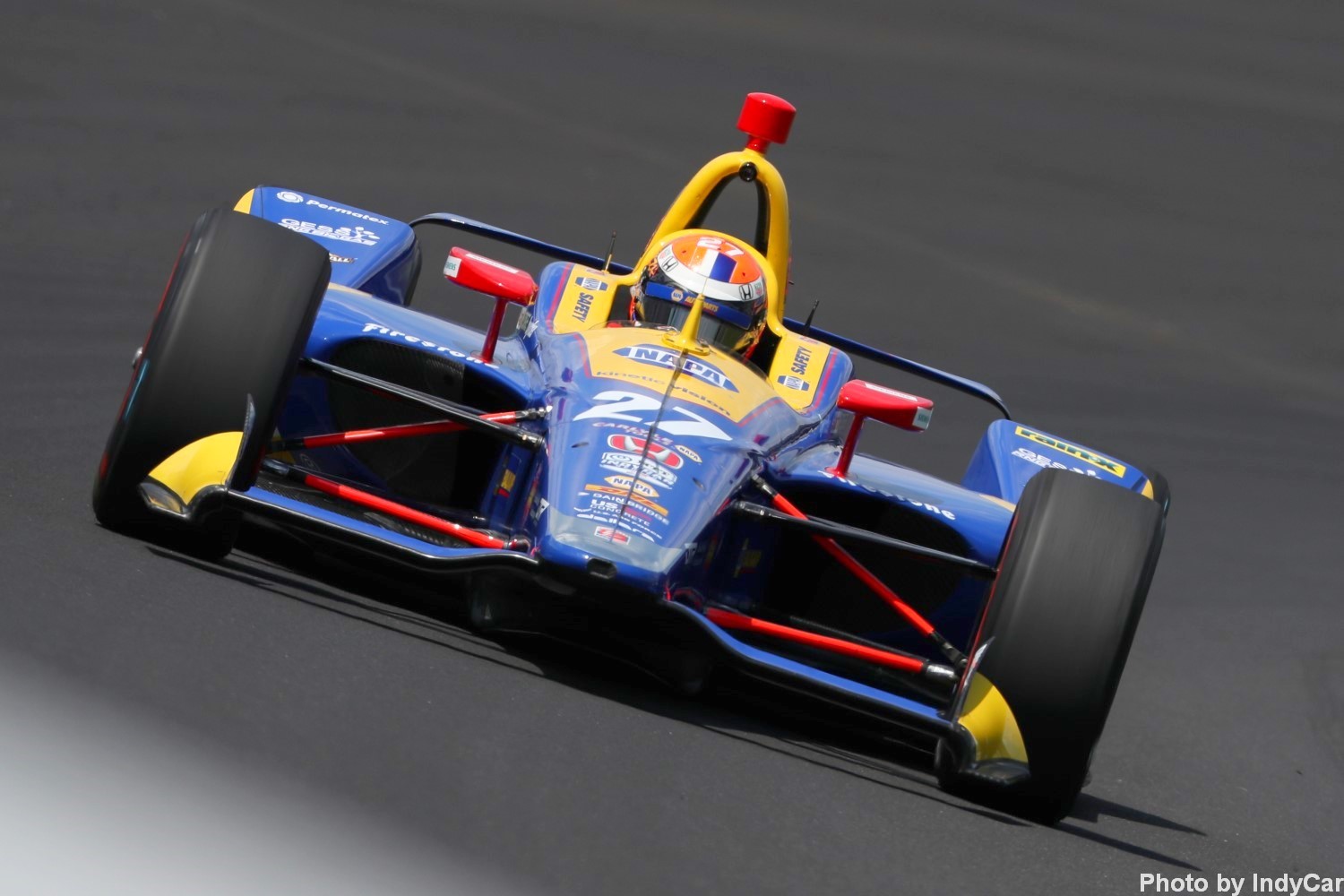 Rossi fastest without a tow
Josef Newgarden turned the fastest lap in his #2 Penske Chevy on Wednesday at 228.865mph, but that speed was set with a big tow and is not indicative of real speed. #9 Scott Dixon was 2nd quick and close behind at 228.835mph. It's nice to get all the glory, but you won't be qualifying this weekend with a tow.
However, the real fastest man on Wednesday was Alexander Rossi. He turned zero laps with a tow, so in the first table he was a lowly 34th quick, but in the 2nd table below, the no-tow speed table, he was fastest on the day at 224.648mph in his #98 Andretti Honda.
How confident is Rossi? He ran very few laps all day, turned the fastest lap and then parked it and told the team don't touch anything.
Fernando Alonso, Felix Rosenqvist and their respective crews have work to do after separate incidents Tuesday at Indianapolis Motor Speedway.
"I think we need to be a bit better in traffic," said Newgarden, the 2017 series champion. "Still trying to figure out exactly what we need on the race car, that was kind of our focus today. We didn't really do much qualifying sims or anything like that.
"I think the Shell car feels OK. It's not a bad start. I'm trying to stay careful with it. I always try and respect this place at the beginning. I never try and push until it's time."
Scott Dixon, last year's series champion who trails Newgarden by six points heading into the Indy 500 on May 26, was second on the speed chart at 228.835 mph in the No. 9 PNC Bank Chip Ganassi Racing Honda.
Rossi logged the best lap without the tow of a leading car, at 224.648 mph in the No. 27 NAPA AUTO PARTS Honda for Andretti Autosport. The 2016 Indianapolis 500 winner said the speed was "irrelevant" this early in the week, but he was pleased his team worked through its practice checklist efficiently enough that he was able to sit out the closing hours of the afternoon.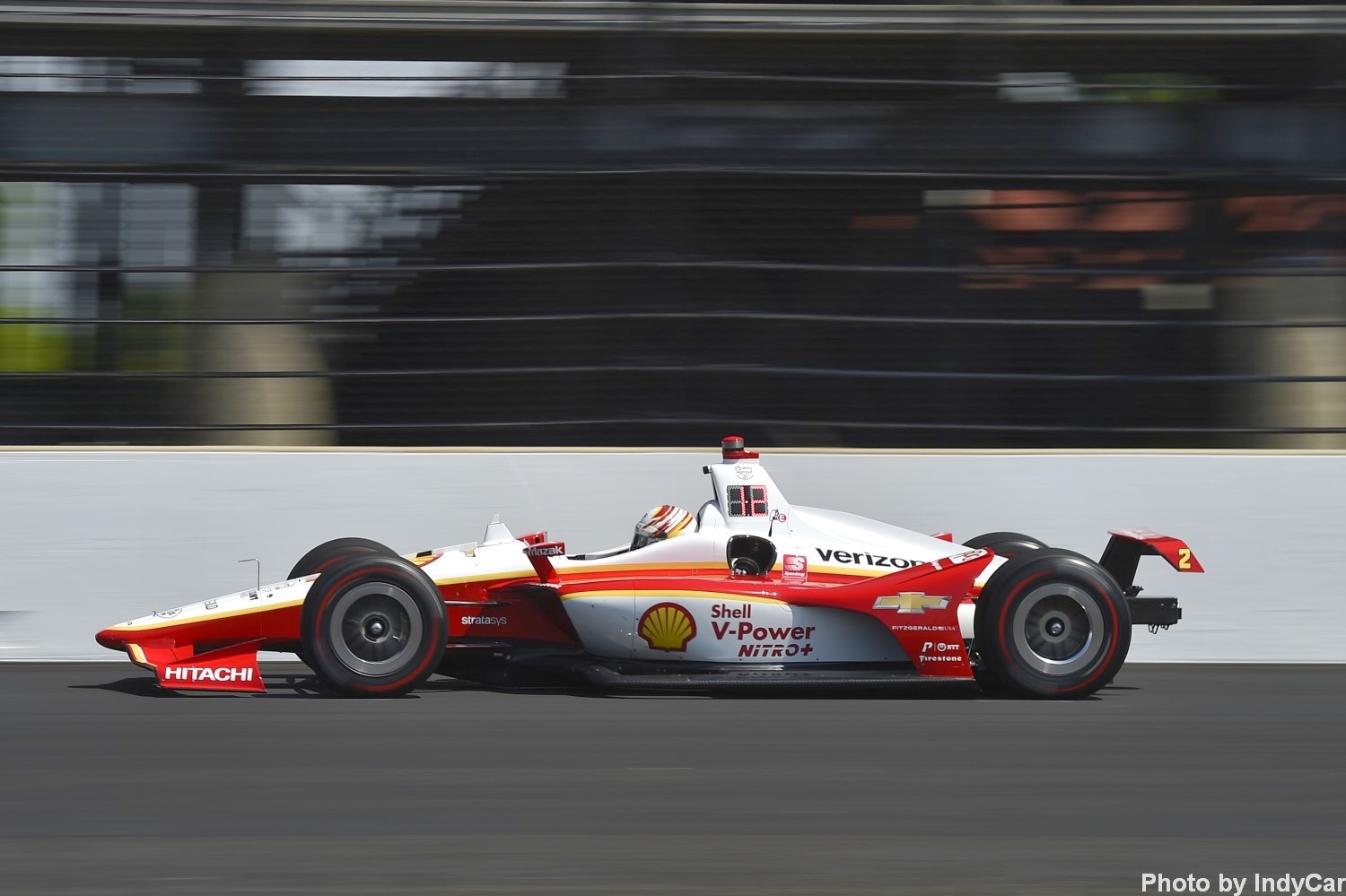 Newgarden fastest with a tow
"It was a good day," Rossi said. "Any day out here is a good day, for sure. Just running through a checklist of things to try and understand everything that we learned over the offseason and applying it to kind of all five (Andretti Autosport) cars in different ways and compiling as much information as we can.
"That's the advantage about being on a big team for this event. When you have this much practice, you can really kind of divide and conquer, and I think we're doing that well so far."
At the other end of the spectrum, Alonso and Rosenqvist were uninjured but had their days end abruptly in single-car crashes. Alonso's No. 66 McLaren Racing Chevrolet made contact with the Turn 3 SAFER Barrier some 95 minutes into the seven-hour practice. His car slid into the inside barrier on the short chute and then up the track to the outside barrier in Turn 4 before coming to rest.
Alonso exited the car without assistance but disappointed. The McLaren crew spent the afternoon preparing Alonso's backup car for practice on Thursday.
"It was understeer on the car, and even if I lifted the throttle on the entry of the corner, it was not enough, and I lost completely the front aero," said Alonso, the two-time Formula 1 champion and 2017 Indy 500 rookie of the year. "The wall came too close and too quickly. Unfortunately, it happened today.
"I'm sorry for the team, but we will learn and hopefully we will come back stronger tomorrow. I'm disappointed and sad for the team and for the guys. We worked quite a lot on the car and definitely now it's quite damaged, so I feel sorry for the team and for my mistake."
With just less than an hour remaining in practice, Rosenqvist made hard contact with the SAFER Barrier exiting Turn 2 in the No. 10 NTT DATA Chip Ganassi Racing Honda. Rosenqvist was also uninjured and team officials said he will move to a backup car as well.
"I was behind Colton (Herta) and just trying to run the car in traffic, and I just felt a very sudden change of having a bit of push, and it went very loose, very fast," Rosenqvist said. "I couldn't react to it.
"A shame, but that's how it is."
Day 2 Results (Tow Speeds)
| | | | | | | | | | |
| --- | --- | --- | --- | --- | --- | --- | --- | --- | --- |
| Pos | No | Name | FTime | Diff | Gap | Laps | Tow-Speed | Engine | Team |
| 1 | 2 | Josef Newgarden | 39.326 | –.—- | –.—- | 82 | 228.856 | Chevy | Team Penske |
| 2 | 9 | Scott Dixon | 39.330 | 0.0036 | 0.0036 | 109 | 228.835 | Honda | Chip Ganassi Racing Teams |
| 3 | 21 | Spencer Pigot | 39.360 | 0.0341 | 0.0305 | 108 | 228.658 | Chevy | Ed Carpenter Racing |
| 4 | 19 | Santino Ferrucci | 39.377 | 0.0508 | 0.0167 | 90 | 228.561 | Honda | Dale Coyne Racing |
| 5 | 3 | Helio Castroneves | 39.398 | 0.0715 | 0.0207 | 68 | 228.441 | Chevy | Team Penske |
| 6 | 18 | Sebastien Bourdais | 39.427 | 0.1008 | 0.0293 | 104 | 228.271 | Honda | Dale Coyne Racing w/Vasser-Sullivan |
| 7 | 26 | Zach Veach | 39.464 | 0.1378 | 0.0370 | 107 | 228.057 | Honda | Andretti Autosport |
| 8 | 23 | Charlie Kimball | 39.565 | 0.2393 | 0.1015 | 94 | 227.472 | Chevy | Carlin |
| 9 | 63 | Ed Jones | 39.594 | 0.2685 | 0.0292 | 91 | 227.304 | Chevy | Ed Carpenter Racing |
| 10 | 20 | Ed Carpenter | 39.614 | 0.2880 | 0.0195 | 90 | 227.192 | Chevy | Ed Carpenter Racing |
| 11 | 32 | Kyle Kaiser | 39.634 | 0.3078 | 0.0198 | 79 | 227.079 | Chevy | Juncos Racing |
| 12 | 4 | Matheus Leist | 39.641 | 0.3150 | 0.0072 | 85 | 227.038 | Chevy | AJ Foyt Enterprises |
| 13 | 98 | Marco Andretti | 39.641 | 0.3152 | 0.0002 | 80 | 227.037 | Honda | Andretti Herta Autosport w/Curb-Agaj |
| 14 | 15 | Graham Rahal | 39.646 | 0.3201 | 0.0049 | 100 | 227.008 | Honda | Rahal Letterman Lanigan Racing |
| 15 | 22 | Simon Pagenaud | 39.677 | 0.3512 | 0.0311 | 85 | 226.831 | Chevy | Team Penske |
| 16 | 10 | Felix Rosenqvist | 39.685 | 0.3588 | 0.0076 | 95 | 226.787 | Honda | Chip Ganassi Racing Teams |
| 17 | 30 | Takuma Sato | 39.689 | 0.3627 | 0.0039 | 120 | 226.765 | Honda | Rahal Letterman Lanigan Racing |
| 18 | 25 | Conor Daly | 39.703 | 0.3770 | 0.0143 | 112 | 226.683 | Honda | Andretti Autosport |
| 19 | 77 | Oriol Servia | 39.703 | 0.3771 | 0.0001 | 88 | 226.683 | Honda | Arrow Schmidt Peterson Motorsports |
| 20 | 48 | JR Hildebrand | 39.709 | 0.3835 | 0.0064 | 86 | 226.646 | Chevy | Dreyer and Reinbold Racing |
| 21 | 12 | Will Power | 39.716 | 0.3899 | 0.0064 | 97 | 226.609 | Chevy | Team Penske |
| 22 | 31 | Patricio O'Ward | 39.745 | 0.4195 | 0.0296 | 70 | 226.441 | Chevy | Carlin |
| 23 | 60 | Jack Harvey | 39.754 | 0.4275 | 0.0080 | 58 | 226.395 | Honda | Meyer Shank Racing w/Arrow SPM |
| 24 | 14 | Tony Kanaan | 39.759 | 0.4330 | 0.0055 | 63 | 226.364 | Chevy | AJ Foyt Enterprises |
| 25 | 33 | James Davison | 39.812 | 0.4859 | 0.0529 | 106 | 226.063 | Honda | Dale Coyne with Byrd and Belardi |
| 26 | 24 | Sage Karam | 39.849 | 0.5232 | 0.0373 | 37 | 225.851 | Chevy | Dreyer and Reinbold Racing |
| 27 | 28 | Ryan Hunter-Reay | 39.877 | 0.5507 | 0.0275 | 99 | 225.696 | Honda | Andretti Autosport |
| 28 | 7 | Marcus Ericsson | 39.879 | 0.5526 | 0.0019 | 111 | 225.685 | Honda | Arrow Schmidt Peterson Motorsports |
| 29 | 66 | Fernando Alonso | 39.923 | 0.5971 | 0.0445 | 46 | 225.433 | Chevy | McLaren Racing |
| 30 | 59 | Max Chilton | 39.924 | 0.5977 | 0.0006 | 114 | 225.430 | Chevy | Carlin |
| 31 | 42 | Jordan King | 39.948 | 0.6224 | 0.0247 | 132 | 225.291 | Honda | Rahal Letterman Lanigan Racing |
| 32 | 5 | James Hinchcliffe | 39.954 | 0.6280 | 0.0056 | 112 | 225.259 | Honda | Arrow Schmidt Peterson Motorsports |
| 33 | 88 | Colton Herta | 40.053 | 0.7267 | 0.0987 | 111 | 224.704 | Honda | Harding Steinbrenner Racing |
| 34 | 27 | Alexander Rossi | 40.063 | 0.7367 | 0.0100 | 46 | 224.648 | Honda | Andretti Autosport |
| 35 | 39 | Pippa Mann | 40.098 | 0.7723 | 0.0356 | 54 | 224.448 | Chevy | Clauson-Marshall Racing |
| 36 | 81 | Ben Hanley | 40.114 | 0.7879 | 0.0156 | 90 | 224.361 | Chevy | DragonSpeed |
Day 2 Results (Non-Tow Speeds)
Pos
No
Name
Laps
No-Tow
Speed
Engine
Team

1

98

Alexander Rossi

46

224.648

Honda

Andretti Autosport

2

27

Tony Kanaan

63

224.630

Chevy

AJ Foyt Enterprises

3

14

Ed Jones

91

224.228

Chevy

Ed Carpenter Racing

4

63

Charlie Kimball

94

224.106

Chevy

Carlin

5

23

Kyle Kaiser

79

223.744

Chevy

Juncos Racing

6

32

Jack Harvey

58

223.523

Honda

Meyer Shank Racing w/Arrow SPM

7

60

Marcus Ericsson

111

223.195

Honda

Arrow Schmidt Peterson Motorsports

8

7

Colton Herta

111

223.184

Honda

Harding Steinbrenner Racing

9

88

Scott Dixon

109

223.174

Honda

Chip Ganassi Racing Teams

10

9

Conor Daly

112

223.112

Honda

Andretti Autosport

11

25

Matheus Leist

85

223.060

Chevy

AJ Foyt Enterprises

12

4

Pippa Mann

54

223.024

Chevy

Clauson-Marshall Racing

13

39

Patricio O'Ward

70

222.938

Chevy

Carlin

14

31

Ryan Hunter-Reay

99

222.879

Honda

Andretti Autosport

15

28

Ed Carpenter

90

222.861

Chevy

Ed Carpenter Racing

16

20

JR Hildebrand

86

222.736

Chevy

Dreyer and Reinbold Racing

17

48

Fernando Alonso

46

222.617

Chevy

McLaren Racing

18

66

Max Chilton

114

222.617

Chevy

Carlin

19

59

Sebastien Bourdais

104

222.332

Honda

Dale Coyne Racing w/Vasser-Sullivan

20

18

Graham Rahal

100

222.295

Honda

Rahal Letterman Lanigan Racing

21

15

Simon Pagenaud

85

222.295

Chevy

Team Penske

22

22

Takuma Sato

120

222.242

Honda

Rahal Letterman Lanigan Racing

23

30

Will Power

97

221.745

Chevy

Team Penske

24

12

Jordan King

132

221.606

Honda

Rahal Letterman Lanigan Racing

25

42

Josef Newgarden

82

221.403

Chevy

Team Penske

26

2

Oriol Servia

88

221.298

Honda

Arrow Schmidt Peterson Motorsports

27

77

James Hinchcliffe

112

221.293

Honda

Arrow Schmidt Peterson Motorsports

28

5

Sage Karam

37

221.271

Chevy

Dreyer and Reinbold Racing

29

24

Zach Veach

107

221.249

Honda

Andretti Autosport

30

26

Spencer Pigot

108

221.071

Chevy

Ed Carpenter Racing

31

21

Helio Castroneves

68

221.064

Chevy

Team Penske

32

3

Ben Hanley

90

220.532

Chevy

DragonSpeed

33

81

Santino Ferrucci

90

219.927

Honda

Dale Coyne Racing

34

19

James Davison

106

219.432

Honda

Dale Coyne with Byrd and Belardi

35

33

Felix Rosenqvist

95

216.803

Honda

Chip Ganassi Racing Teams

36

10

Marco Andretti

80

None

Honda

Andretti Herta Autosport w/Curb-Agaj