Video: Alonso explains why he crashed today at Indy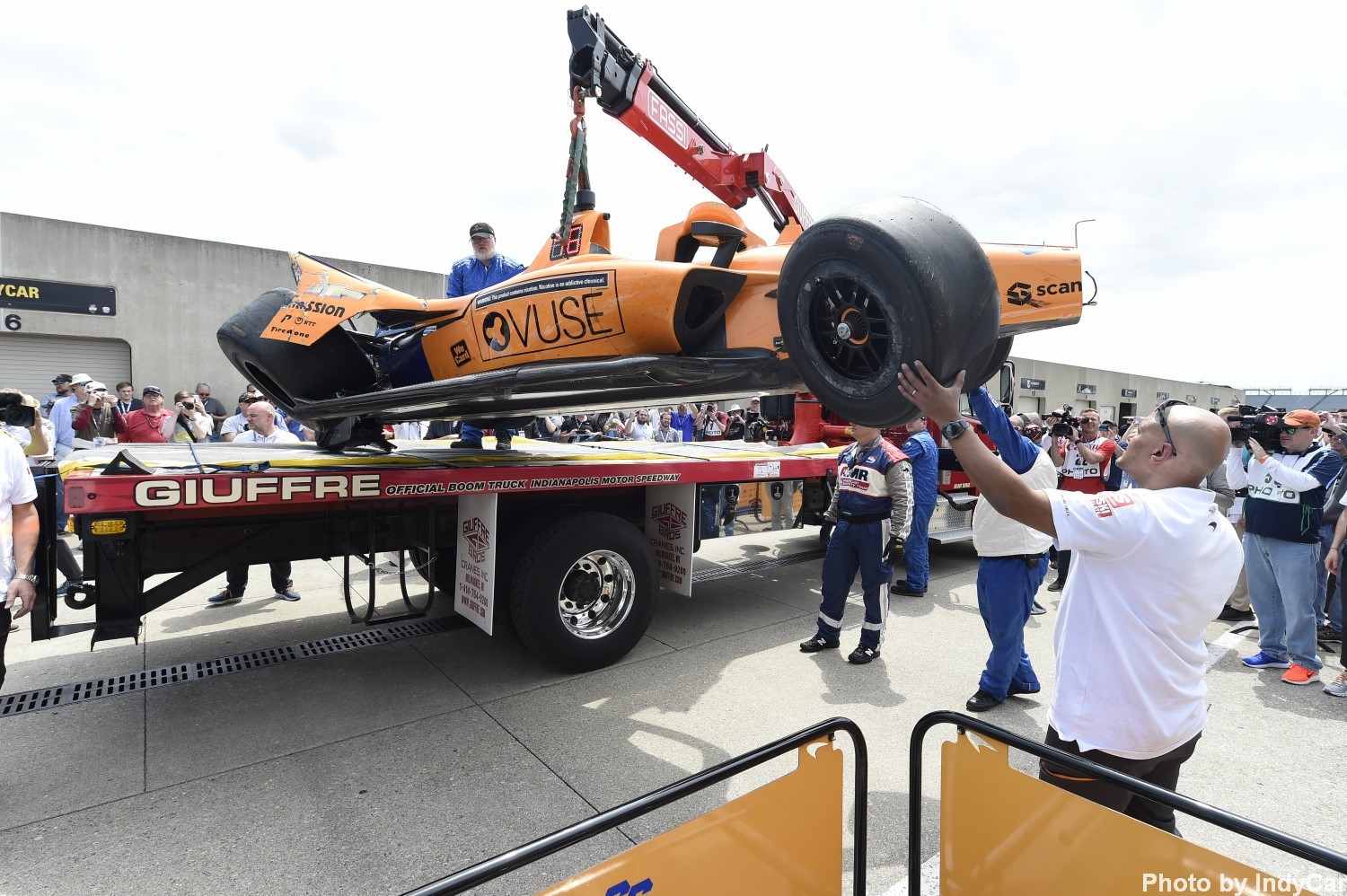 Alonso's mangled McLaren Chevy
An incident in turn 3 has ended Fernando Alonso's Indy 500 practice session Wednesday. Fernando is okay and the team are currently evaluating damage to the car.
He explains what happened in this interview but it is pretty clear his car is not handling well behind another car.
FERNANDO ALONSO – (On what happened prior to contact) "It was understeer on the car, and even if I lifted the throttle on the entry of the corner, it was not enough, and I lost completely the front aero. The wall came too close and too quickly. Unfortunately it happened today. We will lose a little bit of running time again. I'm sorry for the team, but we will learn and hopefully we will come back stronger tomorrow. I'm disappointed and sad for the team and for the guys.
"We worked quite a lot on the car and definitely now it's quite damaged, so I feel sorry for the team and for my mistake. We will learn from this and hopefully tomorrow we're back on track and back stronger."
(Did something feel loose on the car?): "No, I think it was just pure understeer that I didn't expect. I was running a bit close to another car and suddenly mid-corner I lost completely the front grip. I tried to lift off and avoid the wall."
(Will the backup car be ready tomorrow?): "I don't know."
(About progress today before accident): "It felt much better than yesterday. Definitely we were moving in the right direction. Small steps that we learned today that hopefully we can bring for next time. I'm sorry for the guys."
(How do you stay calm in the next 24 hours knowing what kind of work needs to be done to fix the car?): "Nothing you can do. These things happen in motorsport. Better today than on the 26th. Let's see what we can do tomorrow." :
"Even if I lifted the throttle on the entry to the corner, nothing happened." @alo_oficial discussed his crash during #Indy500 practice with @IndyCaronNBC.#INDYCAR // #ThisIsMay pic.twitter.com/CUjoX941Wh

— NTT IndyCar Series (@IndyCar) May 15, 2019