Barcelona Test: Nikita Mazepin keeps Mercedes on top on Day 2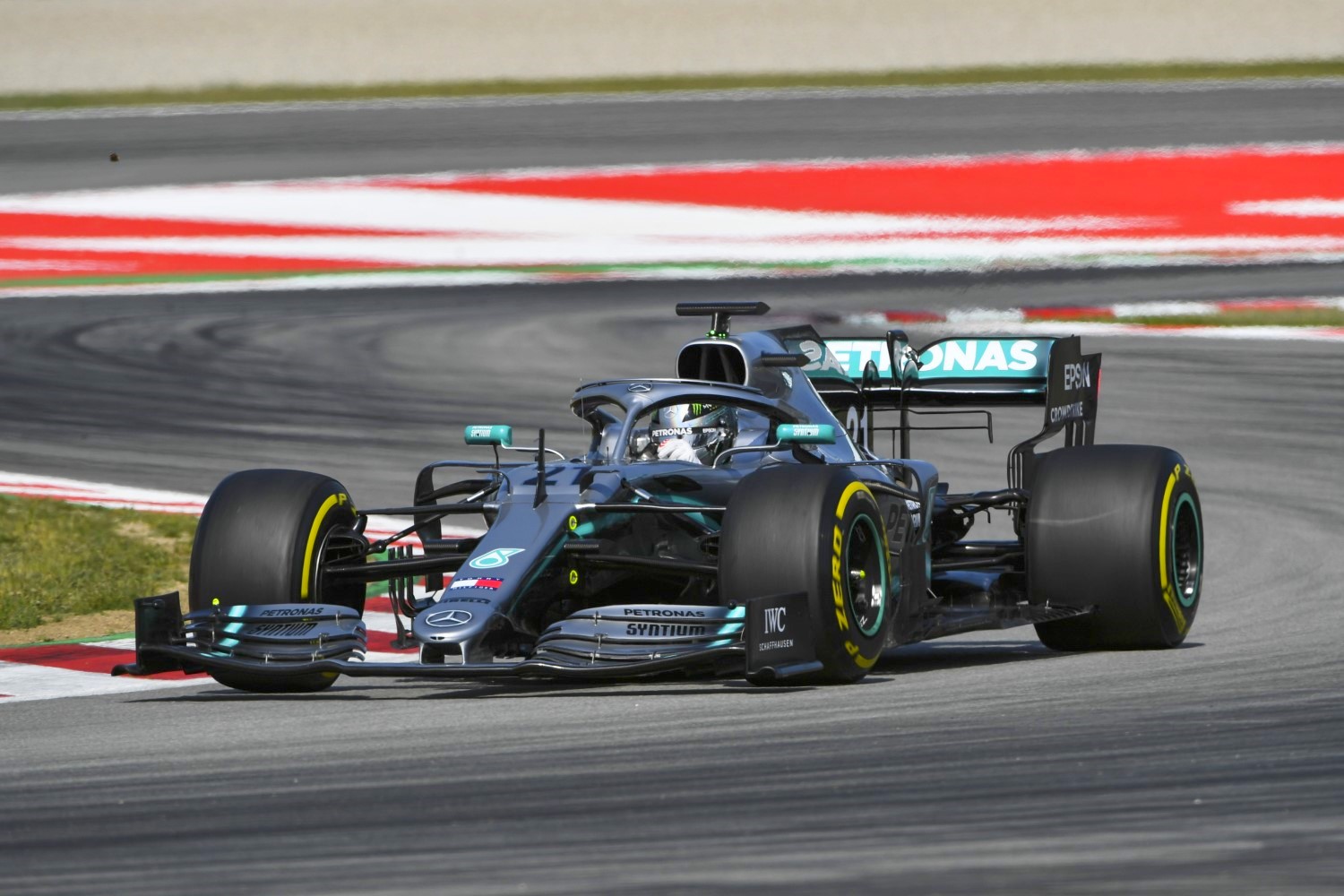 Nikita Mazepin buries field first time ever in the Mercedes
Proving that F1 is at least 99% car and 1% driver, and perhaps 99.5% to 0.5%, F2 driver Nikita Mazepin stepped into a Mercedes F1 car for the very first time and buried everyone else with a 1m15.775s lap, 1.25s faster than Alex Albon in 2nd at 1m17.079s.
The Mercedes is so good pretty much any decent driver can step into it and win.
Ferrari handed a first outing since 2016 to simulator driver Antonio Fuoco and he was third, in front of regular racer Charles Leclerc, completing test duties on behalf of tire supplier Pirelli.
Alfa Romeo's Kimi Raikkonen was fifth, ahead of Renault test driver Jack Aitken, Haas' Kevin Magnussen and Racing Point simulator driver Nick Yelloly.
Racing Point again had a second RP19 in action for the purpose of 2020 tire testing and Lance Stroll took over from Sergio Perez, placing 12th of the 13 runners.
Nicholas Latifi remained in the Williams and the Formula 2 title leader classified ninth, with Red Bull protege Dan Ticktum rounding out the top 10.
McLaren split running between Oliver Turvey and Sergio Sette Camara but the Brazilian had only a short spell in the MCL34 after the car stopped on track.
Nikita Mazepin
Today was incredible. Being a part of this team, even just for this day was very special for me. It's every young driver's dream to drive a car like this and today mine came true, so I'm really happy. Importantly it was a successful day on track too, we gathered most of the data we set out to collect, we didn't encounter any problems and from my side I felt I could deliver consistently throughout the day – which is important for the team. In the afternoon we were competitive on the performance runs and the car felt great. Everyone in the team is working so hard and you can feel that when you sit in this car.
Ron Meadows, Sporting Director
It's been another successful day here in Barcelona and we managed to complete all of the program we had planned. We spent the first three quarters of the day focused on aerodynamic and Power Unit development testing, before switching to one-lap performance runs, working through the different specifications of the tire with Nikita. He did a really superb job today, just as we expected he would.
Wednesday Test Results
| | | | | |
| --- | --- | --- | --- | --- |
| Pos. | Driver (Car No.) | Team | Time | Laps |
| 1 | Nikita Mazepin (21) | Mercedes-AMG | 1:15.775 | 128 |
| 2 | Alex Albon (23) | Toro Rosso | 1:17.079 | 110 |
| 3 | Antonio Fuoco (32) | Ferrari | 1:17.284 | 120 |
| 4 | Charles Leclerc (16) | Ferrari (Pirelli) | 1:17.349 | 127 |
| 5 | Kimi Raikkonen (7) | Alfa Romeo | 1:17.393 | 110 |
| 6 | Jack Aitken (45) | Renault | 1:17.621 | 75 |
| 7 | Kevin Magnussen (20) | Haas | 1:18.101 | 106 |
| 8 | Nick Yelloly (34) | Racing Point | 1:18.212 | 83 |
| 9 | Nicholas Latifi (40) | Williams | 1:18.573 | 88 |
| 10 | Dan Ticktum (24) | Red Bull | 1:19.458 | 79 |
| 11 | Oliver Turvey (48) | McLaren | 1:20.712 | 52 |
| 12 | Lance Stroll (18) | Racing Point (Pirelli) | 1:20.745 | 119 |
| 13 | Sergio Sette Camara (47) | McLaren | 1:21.565 | 19 |