Quotes from Indy Practice Day 1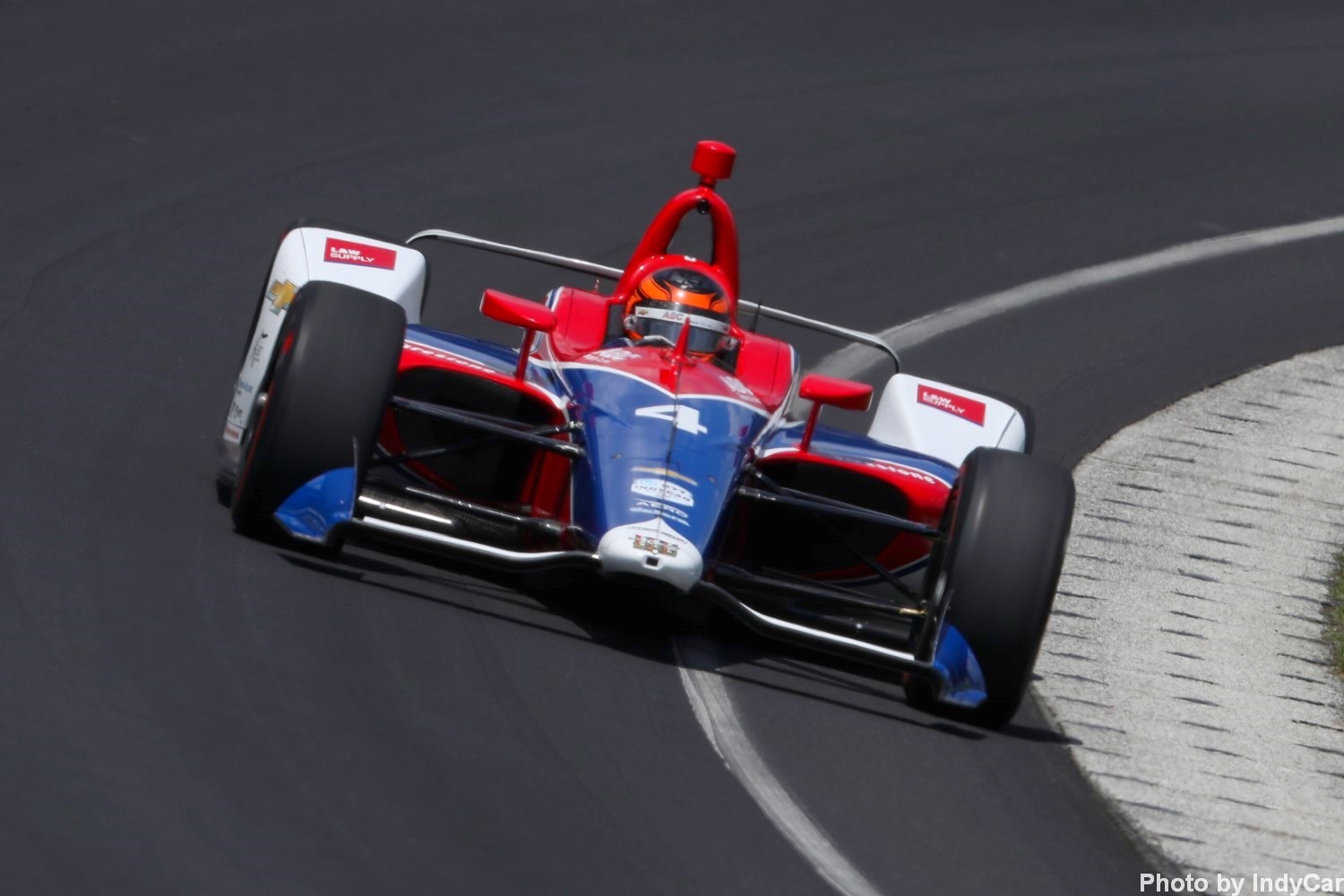 Matheus Leist
MATHEUS LEIST (No. 4 ABC Supply AJ Foyt Racing Chevrolet):
"Great first day in the ABC Supply Chevrolet practicing for the Indy 500. It's good to be back driving at this track. It was a solid first day. I think we were playing a little bit on the safe side just to get through the day and finish our test program. Those are the important days that mean a lot when we get to qualifying and race day. Today we were focused a little bit more on qualifying than race pace, but at the end of the day, we did a few laps in traffic. On Day 2, we'll probably do more laps in traffic to focus a little bit more on the race setup."
JAMES HINCHCLIFFE (No. 5 Arrow Schmidt Peterson Motorsports Honda): "Solid first day in the books. We accomplished everything that we had set out to do today. The big thing was the car swap (Hinchcliffe did laps in each of the team's four cars). The Arrow guys did a great job building four cars as close as they did, it's not an easy thing to do. Lots of data gathered today, lots of things to look at overnight, so we can get into it tomorrow."
MARCUS ERICSSON (No. 7 Arrow Schmidt Peterson Motorsports Honda): "It was a good first day. Obviously, a lot of new things for me still to learn on the oval and today was our first proper day of running on the speedway here because the last time was focused on completing the ROP (Rookie Orientation Program) and also the weather, so we didn't really get a lot of laps in that day. But today, we really went through the whole program without any hiccups in the Arrow car. For me, it was important that by the end of the day, we did a long run with other cars running in a group, which is, obviously, a lot different to running on your own. It was my first time ever running in a group on an oval and that was a big experience and very important to get that done on the first day. Tonight, we have a lot to go through and I have a lot that I can learn from today and bring over for tomorrow."
SCOTT DIXON (No. 9 PNC Bank Chip Ganassi Racing Honda): "Today, we tried to focus strictly on race running in the PNC Bank car to get the balance where we wanted. I think we made some pretty good improvements, actually, especially in the last few runs out there today. We also ran in traffic, but honestly, it's just hard to know for sure. We just went through the very first part of what we have on our test plan. We just want to get some of our big-ticket items tested before we run out of time."
FELIX ROSENQVIST (No. 10 NTT DATA Chip Ganassi Racing Honda): "Today was as you would think – a normal starting day for the Indy 500 week. We started pretty slowly to get used to things and get up to speed to continue where we left off with the ROP (Rookie Orientation Program) test that we had a couple of weeks ago. We ran in some traffic. We did some laps alone as well to simulate what qualifying would be like – a bit more trimmed out. Overall, it was a good day where we covered a lot of things for being my first official day at Indy. The NTT DATA car feels good so far."
WILL POWER (No. 12 Verizon 5G Team Penske Chevrolet): "Obviously, the speed was a big tow, but definitely a different car with that tire that Firestone brought. We've had to make quite a few adjustments to what we ran last year. I mean, I started with what I raced last year and it definitely was not in the window. So, (we) made a lot of adjustments at the end. Obviously, (we'll) keep working on that tomorrow and see how we progress. I would say that we weren't very good in traffic the first day, but by the end, felt way more comfortable."

TONY KANAAN (No. 14 ABC Supply AJ Foyt Racing Chevrolet): "It was a good first day. We worked a lot on what we had developed over the winter to see if it's working. I did a lot of running on my own and we ended up P3 no tow (without a tow from another car), so it's a pretty decent day so far."
GRAHAM RAHAL (No. 15 United Rentals Honda): "It was a good day. I think we checked off everything that was on our list of things to try today. We wanted to stay pretty strict and only use three sets of tires. We could have used more, done more running, but we wanted to make sure we save up for the rest of the week. I was surprised that a lot of guys ran more than I expected today, but we stuck to the plan and I'm pleased with where we are speed- and setup-wise."
SEBASTIEN BOURDAIS (No. 18 SealMaster Honda): "We had a good first go at it. I was really happy with the SealMaster Honda No. 18 car in the first session. Then, we made some changes and the track was different. The wind picked up a little bit and the track temperature went up and I wasn't so happy with the car anymore. But, we shook the rust off and just tried to get in a groove. We tried a bunch of things, just sorting through things today. Overall, it was a fairly good first day."

SANTINO FERRUCCI (No. 19 Cly-Del Manufacturing Honda): "It was a fun first day on the oval here at the Indianapolis Motor Speedway. I got to run in traffic and get a feel for our Cly-Del Manufacturing Honda. We didn't trim the car today, it's still early in the week, so we have a couple more days before we need to worry about that. Being out there with the other cars is a lot of fun. There's still lots of practice ahead of us, but I think we can have something good for the weekend."
ED CARPENTER (No. 20 Preferred Freezer Services Chevrolet): "There is always more you can get done, but today was a really good start. The baseline setup was good and we were able to work through everything that we wanted to try today not only on my car, but the other two as well. There will be a lot of data to go through tonight. Certainly there are areas for improvement. All things considered, where we are starting Day 1, speed-wise and race setup-wise, we are in a decent place. We tried a couple of different things today that were interesting and still need to be explored, but I am excited for the rest of the week."
SPENCER PIGOT (No. 21 Ed Carpenter Racing Chevrolet): "Today was a good day. We got through a lot of the changes that were on our list for Day 1, which is encouraging. We still have areas where we can improve. We will look it over tonight and be ready with a plan for tomorrow. Everything made for a great start to the week."
CHARLIE KIMBALL (No. 23 Fiasp Carlin Chevrolet): "Today was a really great first day for the No. 23 Fiasp Carlin Chevrolet at the Indianapolis Motor Speedway. We rolled off the truck with a really good foundation and we continued to make forward progress throughout the morning and afternoon practice sessions. It's given us a really good direction for the rest of the week as we work on both race and qualifying preparation. Looking at current speeds, I think it's going to be a very fast year here at the Indianapolis Motor Speedway."
SAGE KARAM (No. 24 DRR WIX Filters Chevrolet): "For the first day back at the Indianapolis Motor Speedway was a positive day with the DRR WIX Filters car and crew. I haven't been in an Indy car in over 11 months, so you are anxious to get out there and get comfortable. We had to go through the usual refresher laps and the car felt good early. We made some changes and the car wasn't as good, so we ran later with the previous setup and it was better again. We got the first day items off the checklist and we didn't have any issues, which can come up in the initial run on the track. It feels so good to be back at the greatest racetrack in the world. We worked on getting a respectable balance with the car. We accomplished that and we move onto the second-day program."
CONOR DALY (No. 25 United States Air Force Honda): "It was nice to run a lot of laps today. We were able to get a lot in and that's important. It was good to get everyone working together and it went really well, so that was nice. The day started a lot better than it finished. We were trying some things and the car doesn't really suit my driving style at the moment, so I think I just need to get used to a lot of the things that were doing. We're not exactly where I want to be yet, but just nice to get through Day 1."

ZACH VEACH (No. 26 Gainbridge Honda): "Overall, today, we are pretty happy with the results. To come home seventh overall and seventh on the no-tow (list) is a great way to start the week. We still have a lot of work to do, especially with catching some of the Bowtie (in reference to competing engine manufacturer) guys. I think we are off to a good start, and luckily, we have three more days of practice before we have to go qualify. We have a lot to learn from today, a lot to study tonight and a lot to put to work tomorrow."

ALEXANDER ROSSI (No. 27 NAPA AUTO PARTS Honda): "It was a solid first day. It's always fun to be back here and participating in the best two weeks of racing. Most of our work this morning was focused on being by ourselves, trying to understand what balance we have from a qualifying perspective, and this afternoon was focused on group running. I think it was a solid start on both sides of the ball for Day 1, so I am excited to see what tomorrow brings. The big thing is the track conditions were really good today and that's going to be ever changing as the week goes on, so we're going to have to stay on top of that."
RYAN HUNTER-REAY (No. 28 DHL Honda): "It was a productive first day to get out and shake down the car to see where we stand and where we have work to do throughout the week. It's always special on opening day to get going for the Indianapolis 500 and I'm excited to see where we go from here."
TAKUMA SATO (No. 30 Mi-Jack / Panasonic Honda): "It is good to be back on the oval at Indianapolis Motor Speedway. The car felt really good today and we made it through quite a few parts of our program in the testing and to get the group runs in was very valuable. There is still a lot of work to be done but it was very productive for the first day."

PATRICIO O'WARD (No. 31 Carlin Chevrolet): "We were hoping for a better start to our month of May, but unfortunately, we had a gearbox issue early in the rookie practice that took us back to the garage for the rest of the ROP (Rookie Orientation Program). The team was able to fix the issue, but we just didn't have enough time for me to make it back out and get through everything we needed to for me to join the rest of the field in the final practice this afternoon. We'll finish our ROP first thing tomorrow morning, so we can join everyone else for practice tomorrow afternoon."
KYLE KAISER (No. 32 Juncos Racing Chevrolet): "We have wrapped up the first day on track and overall I am very very happy with how things went today. When we rolled off in the No. 32 Chevrolet, we ticked off a few boxes that we wanted to go through in regards to trying different things. There have been some changes since last year with the tire compound, so we were able to test that out and make sure everything felt familiar and similar to how it did last year. We went right through the refresher (program) without a problem and ended fastest that session. Overall, I think the car has really great pace, it feels as good as it did last year if not better. Obviously, we are still searching for sponsors and to get some names on the side of our car. I am really optimistic with how things are going, so anybody that comes on board will have a great shot at having an exciting car to root for. A huge thank you to all the guys on the team for all of their hard work and giving me a great car here at Indianapolis Motor Speedway."

JAMES DAVISON (No. 33 Dale Coyne with Byrd and Belardi Honda): "It was great to be back at Indy. We didn't get to do as many laps as we would have liked as we were working through a few teething issues that aren't uncommon for a one-off entry. We were able to complete the refresher and then ran about 35 minutes at the end of the day. We were able to get into some pack running, and that revealed that we have some work to do to get balance and speed. We have got some challenges ahead of us, and we will methodically work through it and do the best we can as a team."
PIPPA MANN (No. 39 Driven2SaveLives Chevrolet): "It felt great to get the Clauson-Marshall Racing Driven2SaveLives Chevrolet on track today for the first time. After a year out of an Indy car, and as a brand new team, we obviously wanted to take our time today getting back up to speed, and starting to work on our program. Overall, today felt like a good start to our 2019 Indianapolis 500 campaign, and while we didn't spend a lot of time in traffic yet, the no-tow reports from today already look promising. I'm very thankful to everyone who has believed in me, including Tim Clauson, Richard Marshall, all of our sponsors and Stanley Ross of Ross Motorsports. I'm hopeful that we'll be able to continue down this path, keep improving and make all of our supporters proud this May."

JORDAN KING (No. 42 Rahal Letterman Lanigan Racing Honda): "At rookie orientation, it was a bit strange, really. It's one of those things that, as a racing driver, you want to be flat out and be 100 percent all the time. You have to bring it back and build up to it. It was a bit of a strange feeling to have to sit at a certain pace and pass the test, but then after a few laps you have built up to it. In the end, I'm happy with how the day has gone, especially with a bit of jet lag. I'm looking forward to tomorrow. Hopefully, we can start running in the pack and move the car forward"
JR HILDEBRAND (No. 48 DRR Salesforce Chevrolet): "We did a lot of running today (113 laps) and the car felt pretty good. There are some new items on the car this year and we wanted to make sure we had a pretty read on the new stuff. We were able to get through the full range of aero pieces. We didn't try to run in some big packs until later in the day. We tested a number of things by ourselves. And we ran with a full fuel load too, which was good. The track surface is a little different with the new sealer on the pavement. We have to get used to that a bit. It always feels good to just go run laps. I know we can go work on our next program for Wednesday. Overall, it was a very solid day for our Salesforce car and crew."
MAX CHILTON (No. 59 Gallagher Carlin Chevrolet): "It was a productive first day of practice in the No. 59 Gallagher Carlin Chevrolet. We had a good couple of hours this morning and then we waited for an hour to get going this afternoon, but every run we did we learned something. I also jumped in Pato's (Patricio O'Ward) car toward the end of the day to help them iron out an issue they were having, which we did successfully, so hopefully, he'll be to get through his ROP (Rookie Orientation Program) quickly tomorrow morning. Overall, the car felt really stable and it was nice to be back on track here at Indianapolis Motor Speedway with the sun finally coming out."
JACK HARVEY (No. 60 AutoNation/Sirius XM Honda): "It was a decent first day. Obviously, there's a lot of changes especially coming from the (INDYCAR) GP to this weekend. We haven't driven on an oval since last year's 500, so it's just about getting back in the groove. It's difficult right now to factor in no-tow times, tow times and the usual speedway factors. We have a decent baseline to work off of and have three more days to figure it out before qualifying. It's a good start, but we will continue to look for more."
ED JONES (No. 63 Ed Carpenter Racing Scuderia Corsa Chevrolet): "Good first day on the oval. We made changes and did quite a number of laps. It was helpful to learn in these warm conditions, as it will be even warmer later in the month. It was difficult in traffic today, but I think everyone was struggling out there. Hopefully, we can make a few improvements and we will see how we do tomorrow."
ORIOL SERVIA (No. 77 MotoGator Team Stange w/Arrow SPM Honda): "It's not at all how we want to be (time-wise/speed-wise) five days from now, but it was a very good first day. The four (team) cars, we all tried different things. Some things a little different, some were the same, and we got the same reads on things, so I think this is a very clear direction on which path to take. I'm actually quite happier with how I finished the day than how I started, so it's all good. Earlier in the day, we had a bit of a mechanical issue that kept us in the garage a little longer than we wanted to, but these things happen and better today than on race day. Big thank you to MotoGator, Team Stange Racing and Arrow SPM for this opportunity. Looking forward to another great day tomorrow."
COLTON HERTA (No. 88 GESS Capstone Honda): "The No. 88 GESS Capstone Honda was quick as we were fifth fastest today and the guys worked so hard as they always do. Driving around the Indianapolis Motor Speedway in an Indy car is very different from anything I've ever done. I've done the Freedom 100 here, but this is still quite a bit different from driving an Indy Lights car. I've driven road courses all my life and it's very easy to depict a change and if it's better or not, but I'm having to learn this on the oval now. But I'm really excited to get more time on track this month"

MARCO ANDRETTI (No. 98 U.S. Concrete/Curb Honda): "It wasn't a bad first day on the oval. We took care of a bit of housekeeping and found some things we need to fix. We were able to get answers on some big-ticket items and we're going to have to find a little more speed. The opposition looks pretty quick right now, so we need to stay on top of it and climb the time charts."