Indy 500 will mark Newman/Haas milestone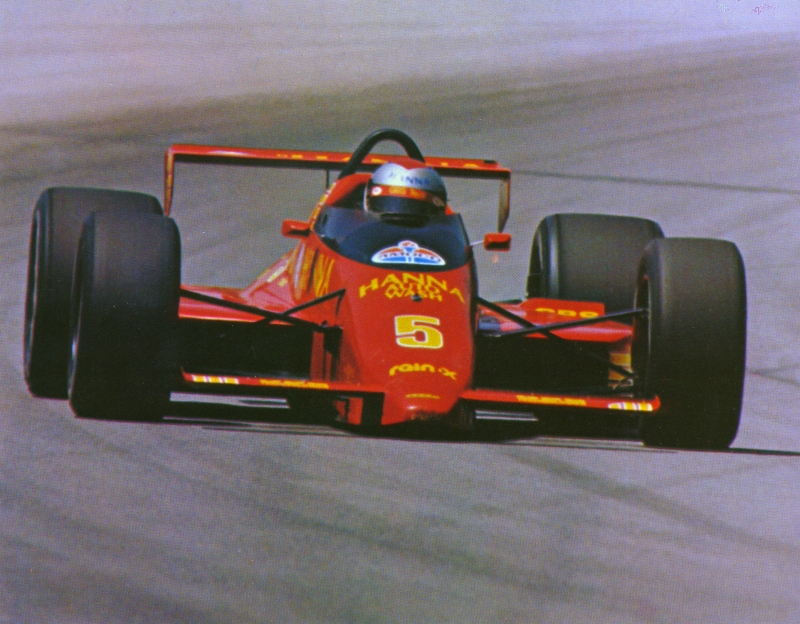 After starting from pole in 1987, Mario Andretti last led the Indy 500 that year, an Indy race dominated like no other before, only to see his engine break 13 laps from the end handing a lucky Al Unser his 4th 500 win.
The 94th running of the Indianapolis 500 will mark the 450th Indy car event for Newman/Haas Racing since their first season of competition in 1983. After 107 wins, 109 poles and 248 top-three finishes the team will reach a milestone at Indianapolis Motor Speedway. The team has started from pole once (1987) in Indianapolis and has finished as high as second here (1985, 1991) although they have been a contender for victory and even dominated multiple races here.
The team has led a total of 791 laps in their previous 17 races at Indianapolis which is most likely the highest number for any team that has yet to win the event. Following are comments from various long-term employees about the previous 449 events.
Part 1 of a two-part release on the team's 450th race includes quotes from team co-founder Carl Haas, general manager Brian Lisles and team manager John Tzouanakis. Lisles is in his 22nd season with the team, is from London, England and has been the general manager for the past nine seasons. John "TZ" Tzouanakis has been with the team since its formation (28 years), is from Greencastle, Ind., and has been the team manager for the past 11 years.
Carl Haas, co-founder with Paul Newman of Newman/Haas Racing: "Four-hundred and fifty races seems like a lifetime; a lifetime of memories. I think that beyond the thrill and excitement of victories and championships — and don't get me wrong, winning for the 108th time is just as exciting as the first time — but it is the people that have been associated with Newman/Haas Racing over these 28 years that create the fondest memories. The fabulous race car drivers whose talent we were able to harness, the engineers that started with us and blossomed into the best in the business, the race mechanics and support people that worked tirelessly to maximize our success; I'm proud to say that they are my friends and my memories. I look forward to enjoying the continuing legacy of Newman/Haas Racing. My only regret is that Paul is not here to share it with me."
WHAT DOES THIS MILESTONE SAY ABOUT THE TEAM?
Lisles: "It's a tribute for any team to last this long. If you look at the history of motor racing there aren't very many teams that are celebrating their 450th race. I haven't been here for all 450 races but I have probably been here for 350 of them. When I look back, sometimes it seems like a lot more than that but most of the time it seems like a lot less but I guess that's a good thing when time passes by pretty quickly. We still have some employees who were here when Mario first started and we're very proud of that and I know they are very proud of being with Carl all of that time. Until recently we even had an employee (Davey Evans) that went back with Carl well before Newman/Haas Racing was started."
Tzouanakis: "To reach a milestone like 450 races says a lot about the team and the organization in general over all these years. To attract all of the great drivers that have driven for Newman/Haas Racing over the years including the Andretti's, Mansell, Fittipaldi, da Matta, Bourdais and others says a lot about caliber of the organization. The commitment of Carl, Paul and Berni over the years has made this team one of the most successful in history and the longevity of the team further shows that. Their commitment to running the Lola when Carl was a distributor and making them the best cars to go and beat the Penske's and March's and other manufacturers that were there for a long time also shows the kind of commitment to the team early on and it continues today. I'm proud to be a part of this organization."
WHAT NHR ACCOMPLISHMENT ARE YOU MOST PROUD OF:
Lisles: "It's difficult to pick out a favorite moment; there are so many memories of good things and of course some of the bad ones you try to forget about. I think getting through my first oval race as Mario's engineer was quite a challenge but a privilege too. I had seen Mario in Formula One because that's where I came from. He was in a different garage over at Lotus, so I knew him in passing but it was a great privilege to work with him in his home environment in America. We had some good times together. Michael was already here at the team and for a few years I was his race engineer. We had a great run through the early 90's and including winning the championship with Michael (1991), which was a huge amount of fun. He was probably at his peak as a driver and the team was performing well and life was pretty easy really. I have a lot of fond memories of Michael charging through from the back if he hadn't qualified very well or disappearing into the distance if we had. We saw lots of checkered flags. Michael went to Formula One and we were with Mario the last few years before he decided to hang up his helmet. We had some good times and some bad times. We had a great run here in Indy in qualifying in 1993. It was extremely hot on Pole Day and Mario, being the creative guy he was and because we had trouble with the tires going off, came up with the plan of taking the green flag on the first time by and we very nearly put it on pole doing that. We were on pole for a long time and decided we weren't going to run again and very late in the day we got pushed back to second quick but that was a lot of fun. Later on that year we went on and did the fastest ever qualifying lap at Michigan of 234 mph. That was a lot of fun. Paul Tracy was here for a season and we had a lot of interesting moments with him. Michael returned to the team after his F1 run and he and Paul got on surprisingly well. Then we had the Swift (chassis) saga which was exciting and we won the first race with the car but overall the program wasn't as successful as we had hoped and we returned back to Lola. Christian Fittipaldi was with the team many years and we won some races with him. Michael left and we started a whole new era with Cristiano da Matta, Bruno Junqueira and Sebastien Bourdais. There are a lot of good memories there, lots of races and championships won. They are all good memories; it's difficult to pick out one. Having Justin, Graham and now Hideki drive for us seems too recent to consider a memory.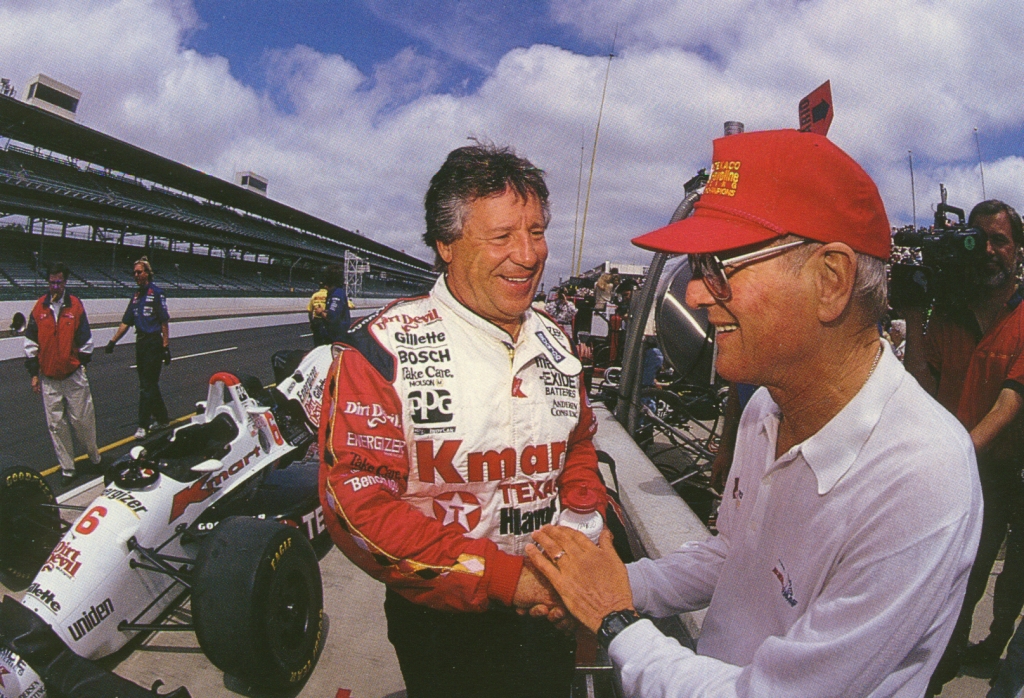 Mario's last year was 1994. Here he gets a congratulations from Paul Newman at Indy
"I suppose my most poignant memory was in 1994 at Mario's last race. I think we were up to third at Laguna Seca, the last race of the year, and the engine quit. He was just coming down the hill towards the pits and the engine quit. He rolled into the pits and the engine was dead and it was the end of his professional racing career. A few seconds earlier we thought he was going to finish on the podium which would have been a tremendous way to end his career but it didn't work out. Of course motor racing is very cruel in that way but Mario just got out, shrugged his shoulders and took off his helmet and threw it across to his crew chief (John Simmonds) and said 'Here's a nice memory for you' which I thought was one of the nicest gestures I've ever seen any driver give towards the guys that do all the work on the cars. I have no idea what that helmet must be worth but I know it is the crew chief on the car's greatest possession now. He'll never let it out of his sight. That is a fond memory because it shows he was not only a great driver but also a great person. He was very generous to those who worked very hard on his behalf.
"Of course, once we were back in the Lola's, Cristiano da Matta came on board after Michael left and we had a lot of fun re-learning the ropes with Lola and also with Toyota because we had a new engine supplier. We had a lot of fun getting the car up to speed. It turned out to be a very good car and Cristiano got the most out of it. We had a lot of fun winning a lot of race with Cristiano and tied up the championship very early in the season which is unusual. Almost every memory with Cristiano is a good memory. Cristiano left us and Bruno Junqueira came on board and he is such a classy guy. We took on Sebastien Bourdais as a rookie and he turned out to be a very accomplished rookie and, as everyone knows, went on to win four championships and that provide more good memories. It was a lot of hard work too; a few people gave us a hard time trying to stop us from doing four in a row which is difficult to do and a tremendous accomplishment for everyone in the team. To win championships you not only have to be fast, you also have to finish all the events and the team was performing very well. We had reliable cars, a tremendous finishing record, good pit stops and that's very satisfying when you can just continually keep that up year in, year out. That's why we all do it; that's what we all strive to do. That's a very good accomplishment to look back on."
Tzouanakis: "My favorite accomplishment goes back to the old days. When the team started in 1983, the car wasn't a very good car but we worked very hard with Lola and despite being only a one car team we were capable of winning a couple of races that season and came back in 1984 and won the championship. Our first win in Elkhart Lake with Mario was memorable. We were able to improve the car a lot with Lola's help and the car started coming around in the middle of the season and we were fortunate enough to win. It was a big accomplishment for everyone and for it to happen at Road America, which we call our home race because it's so close to the shop, was big. The track is also a special place for Carl so that win was memorable. Other accomplishments I am proud of are all of the championships we won with Michael, Nigel, Cristiano and all of the success we had with Sebastien.
WHAT IS YOUR FAVORITE INDY 500 MEMORY AND BIGGEST DISAPPOINTMENT?:
Lisles: "My best Indy 500 memory and biggest disappointment are probably one in the same race. It was 1991 and it was basically a shoot out between Michael, who I was engineering at the time, and Rick Mears and I really thought we had the better car all through the race and I thought we were going to win it but we didn't; we came in second. That race was a great memory up until the point where Rick got in front and took the checkered flag. It's one of my best memories at Indy but also one of my greatest disappointments."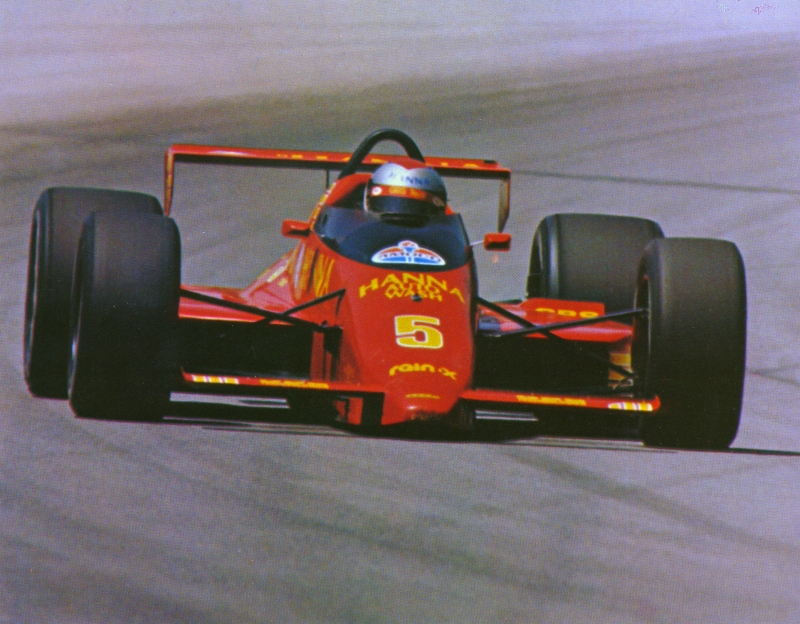 After starting from pole in 1987, Mario Andretti last led the Indy 500 that year, an Indy race dominated like no other before, only to see his engine break 13 laps from the end handing a lucky Al Unser his 4th 500 win.
Tzouanakis: "I don't have a favorite Indy 500 memory. There are many disappointments that this team has had at Indy. We've never won this race but have been close many, many times. Probably the biggest disappointment was in 1987 when Mario drove. We had won the Pit Stop Contest, we were on the pole, led the most laps and we were the fastest car all month. With Mario being so far out in the lead in the race (2 laps), we decided to take it easy a little bit on the engine but it did greater damage to the engine when he was letting off, trying to take it easy to save the car until the end of the race. That was a big disappointment. There are so many times when we were in contention to win the race with Mario, Michael and also Nigel. We have won at numerous tracks across the country, and the world for that matter, but we haven't won at Indy. It's still a goal for everyone on this team to win this race."