PREMA reign in Spain as Daruvala dominates Race 2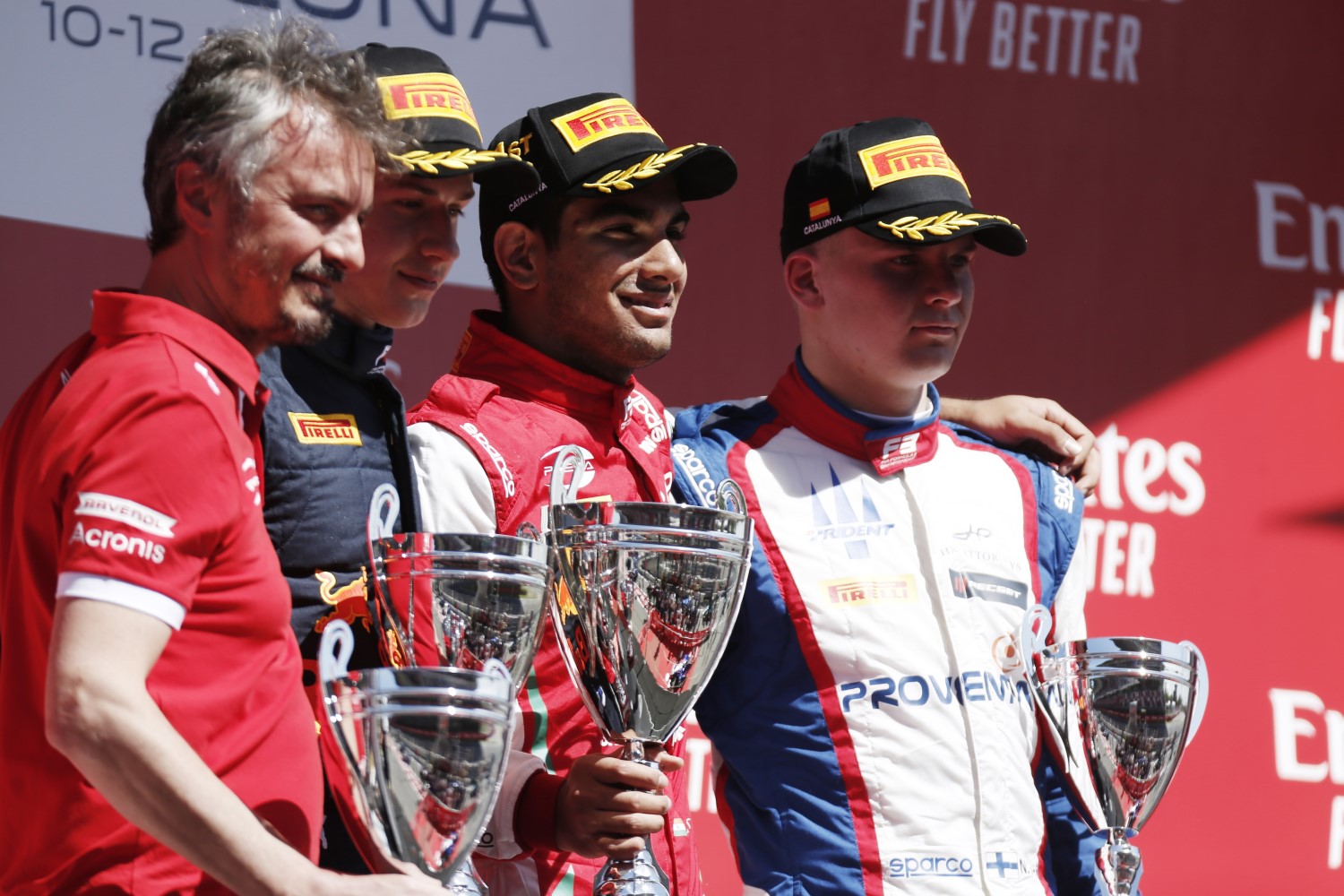 Juri Vips (Hitech Grand Prix), Jehan Daruvala (PREMA Racing), Niko Kari (Trident)
Jehan Daruvala made it back-to-back wins for PREMA Racing in Spain, after an eventful FIA Formula 3 Race 2 at the Circuit de Barcelona-Catalunya, finishing on top after a dominant drive ahead of Hitech Grand Prix's Jüri Vips and Niko Kari of Trident.
The temperature was a mild 17 degrees, but things quickly heated up following a dramatic Lap 1 that saw Daruvala start well from the front row to take P1 from Kari off the grid as Vips dropped from third to fifth behind Marcus Armstrong and Max Fewtrell. Therefore drama further back at Turn 1 with Ye Yifei and Artem Petrov making contact. Raoul Hyman and Jake Hughes had nowhere to go and the ensuing collision sent all four drivers into the gravel and out of the race.
The safety car was deployed while the cars were recovered. Five laps later Kari looked to pressure Daruvala for P1 from the restart, but the PREMA ace calmly held position before building up a healthy lead.
Lap 9 saw more drama as the MP Motorsport machine of Simo Laaksonen was sent spinning into the wall by Campos Racing's Alex Peroni. The Australian had been forced off the track and tried to defend position as he rejoined, only to cut back across the Finn. Laaksonen was forced to retire, Peroni handed a 10 second stop go penalty, and the safety car saw its second outing of the afternoon.
That meant that Daruvala's lead over Kari, by this point 7.4 seconds, was reduced to nothing as the racing pack was bunched together. It didn't seem to bother the Indian though, and following the restart he picked up just where he'd left off and began rebuilding a gap.
Further behind there was plenty of jockeying for position as yesterday's winner Robert Shwartzman lunged past Christian Lundgaard for P6, and the Danish man immediately had to defend from ART Grand Prix teammate David Beckmann.
With 7 laps to go Vips began a charge from P5 that saw him reel Armstrong and then Fewtrell to burst into the top 3, with Shwartzman closely following the Estonian to take P4. Fewtrell was more than 2 seconds off the pace and fell further back into P7 after teammate Lundgaard passed him.
Vips continued to push, closing on Kari and taking P2 on Lap 21, but Daruvala looked supreme out in front with an unassailable lead to take the checkered flag ahead of the Hitech man in second, Kari in P3, with Shwartzman, Armstrong, Lundgaard, Beckmann and Fewtrell completing the point scoring positions.
The result sees Shwartzman become the early leader in the Drivers' Championship after Round 1 with 37 points. Lundgaard is second with 24, and Daruvala third by just one point with 23. Armstrong and Vips follow with 21 and 20 points respectively. PREMA Racing leap to an early lead in the Team's Championship, taking 81 points from the first event of the season, 32 points ahead of ART Grand Prix in second with 49, with Hitech Grand Prix occupying third place with 20 points.
France will host Round 2 of the FIA Formula 3 in June 21-23.
Result – 22 laps
| POS | DRIVER | TEAM | GAP |
| --- | --- | --- | --- |
| 1 | Jehan Daruvala | Prema Racing | 0.000s |
| 2 | Juri Vips | Hitech GP | 2.121s |
| 3 | Niko Kari | Trident | 3.742s |
| 4 | Robert Shwartzman | Prema Racing | 4.266s |
| 5 | Marcus Armstrong | Prema Racing | 5.257s |
| 6 | Christian Lundgaard | ART Grand Prix | 5.721s |
| 7 | David Beckmann | ART Grand Prix | 9.453s |
| 8 | Max Fewtrell | ART Grand Prix | 13.914s |
| 9 | Yuki Tsunoda | Jenzer Motorsport | 15.897s |
| 10 | Felipe Drugovich | Carlin | 16.591s |
| 11 | Lirim Zendeli | Charouz | 17.135s |
| 12 | Sebastian Fernandez | Campos Racing | 17.740s |
| 13 | Bent Viscaal | HWA | 18.155s |
| 14 | Logan Sargeant | Carlin | 18.953s |
| 15 | Teppei Natori | Carlin | 20.601s |
| 16 | Pedro Piquet | Trident | 21.197s |
| 17 | Liam Lawson | MP Motorsport | 22.570s |
| 18 | Keyvan Andres | HWA | 24.456s |
| 19 | Richard Verschoor | MP Motorsport | 24.832s |
| 20 | Devlin Defrancesco | Trident | 25.368s |
| 21 | Leonardo Pulcini | Hitech GP | 31.452s |
| 22 | Andreas Estner | Jenzer Motorsport | 33.860s |
| 23 | Alessio Deledda | Campos Racing | 38.702s |
| 24 | Alex Peroni | Campos Racing | 47.540s |
| – | Simo Laaksonen | MP Motorsport | Retirement |
| – | Fabio Scherer | Charouz | Retirement |
| – | Yifei Ye | Hitech GP | Retirement |
| – | Raoul Hyman | Charouz | Retirement |
| – | Jake Hughes | HWA | Retirement |
| – | Artem Petrov | Jenzer Motorsport | Retirement |