VeeKay goes flag-to-flag to win Indy Lights Race 2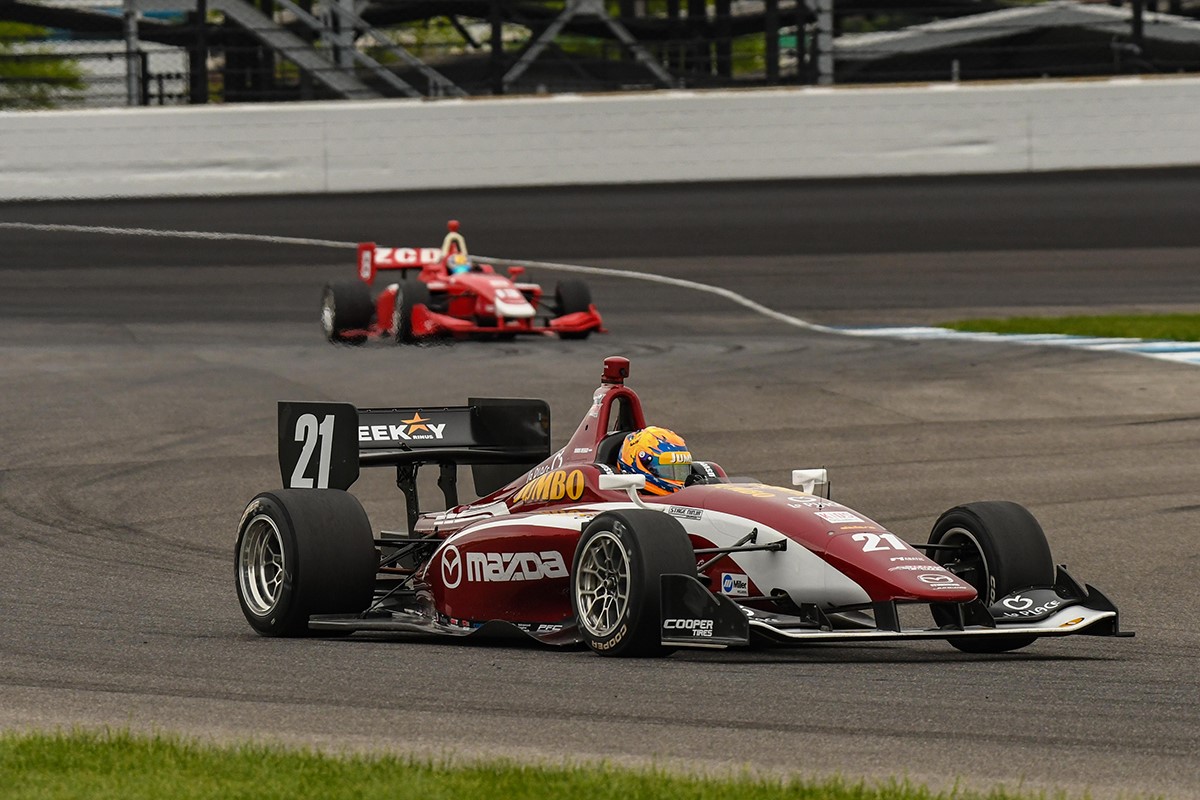 Rinus VeeKay
What a difference a day makes. On Friday at the Indianapolis Motor Speedway, talented Dutchman Rinus VeeKay couldn't hold a candle to the Andretti Autosport pair of Robert Megennis and Oliver Askew. But this afternoon, in cool and breezy conditions, VeeKay seemed almost in a class of his own. The teenager from Hoofddorp, Netherlands, qualified his Juncos Racing car on the pole and never looked back. His final victory margin after 35 laps was an emphatic 6.8849 seconds.
Zachary Claman, from Montreal, Que., Canada, finished a relatively lonely second for Belardi Auto Racing, earning the Tilton Hard Charger Award after starting sixth, while yesterday's top two, Askew and Megennis, finished in that order following an entertaining scrap for the final podium position.
Some judicious tweaks to the setup for VeeKay's Dallara-AER IL-15 proved decisive in the curtain-raising qualifying session this morning, and VeeKay responded by securing the pole position.
Megennis, from New York, N.Y., continued his impressive weekend by challenging for the lead on the long run to Turn One, then running side by side with VeeKay through the first couple of corners. VeeKay was just about able to keep him at bay, then quite rightly defended the inside line vigorously along Hulman Boulevard. Moments later he most likely heaved a sigh of relief when he glimpsed Megennis running wide onto the grass and falling all the way to sixth.
In fact, Megennis might have lost several more positions had not Ryan Norman (Andretti Autosport) and David Malukas (BN Racing) clashed wheels while attempting to go three-wide with a fast-starting Claman while disputing third place at Turn One. Consequently, Claman found himself all the way up in second at the completion of the first lap, chased by Askew, Englishman Toby Sowery, who also made a strong start for BN Racing-Team Pelfrey, and Canadian Dalton Kellett (Juncos Racing).
Claman and Sowery, in fourth, exchanged fastest laps through the opening few stages but VeeKay remained out front and before too long was able to put some distance between himself and the combative Claman. VeeKay then proceeded to turn a series of fast, consistent laps to gradually extend his advantage.
Behind, Askew had his mirrors filled by the distinctive bright yellow BN/Pelfrey car of Sowery for the first 10 laps before Askew, the points leader, was able to inch away.
Megennis, meanwhile, made short work of Kellett, then used his AER turbo motor's push-to-pass feature to effect a clean pass of Sowery for fourth place at Turn One on lap 18. Next in his sights was Askew. The two teammates were together with seven laps remaining, and it didn't take long for Megennis to make his move on the front straight. Askew attempted to defend the inside line entering the braking area for Turn One, but video reviews clearly showed the move was an instinctive reaction to Megennis' feint to the inside, and soon afterward Race Control made the call for Askew to relinquish the position.
Askew did so along Hulman Boulevard on lap 33, but fought back almost immediately, taking advantage of his own P2P activation to draw up behind Megennis and then squeeze down the inside under braking for Turn One. It was a fine riposte.
Sowery had to be content with fifth, well clear of Malukas, who profited when Kellett spun in Turn 13 on lap eight.
Instead of easing home to the victory, VeeKay stamped his mark on the proceedings by setting the fastest race lap on the very last lap. His second win of the season moves him back into the championship lead by one point over Askew as the teams now prepare for their biggest race of the season, the Freedom 100 Presented by Cooper Tires, on the series' biggest stage, the 2.5-mile Indianapolis Motor Speedway oval on Carb Day, May 24.
Provisional championship points after six of 18 races:
1. Rinus VeeKay, 146
2. Oliver Askew, 145
3. Robert Megennis, 125
4. Zachary Claman, 124
5. Toby Sowery, 110
6. David Malukas, 101
7. Ryan Norman, 89
8. Lucas Kohl, 77
9. Dalton Kellett, 75
10. Julien Falchero, 66
Rinus VeeKay (#21 Mazda/Jumbo Supermarkets/La Place Restaurants/KNAF Talent First-Juncos Racing Dallara-AER IL-15): "It means a lot to finally win here, in my third year racing at IMS. If you join the Road to Indy, the race you want to win is Indy. It took a little bit longer than I had hoped but finally I have a win here in front of the big IndyCar crowds. We had a tough weekend at CoTA (Circuit of The Americas) and came into this weekend with fresh minds. Testing went great but qualifying was tough, and then the start didn't go well yesterday. We started over again today, learned what we did wrong yesterday and took the pole and the win. We all learned from our setbacks so I'm so happy to come away with the point lead."
Zachary Claman (#13 Zoological Wildlife Foundation/Abe & Mary's/Paysafe/UPS-Belardi Auto Racing Dallara-AER IL-15): "I got on the power early at the start and got a good run and was sure I could out-brake the two cars next to me. Then all of a sudden, I saw smoke and thought I would back off and try to get across, and I just made it to slide into third. When Megennis went off, that was another position handed to me so I focused on hitting my marks, staying consistent and keeping out of trouble. Oliver kept me on my toes throughout the race; it kind of reminded me of our karting days! My engineer Tim Neff let me know where he was so I could keep him out of the push-to-pass range. It was such an up-and-down weekend; we had such a quick car in practice but not in qualifying or in Race One. I figured I would just go for it today."
Oliver Askew (#28 Index Invest Dallara-Andretti Autosport Dallara-AER IL-15): "Starting fifth, I got boxed in up against the wall and Zach got a run on me going into Turn One. I saw smoke and I figured that wasn't a good sign and saw a few cars go wide. We didn't have the overall pace compared to some of the guys, including Robert. Add to that the gusty wind, which made the corners change lap to lap, it was important not to make any mistakes. I didn't want to give Robert the opportunity to get by but I did make a bit of an aggressive move to keep him back. That wasn't intentional at all: I was trying to keep the position; I didn't mean to make it look that bad. We race each other with respect and we know our boundaries. I let him by on the penalty but thankfully was able to get back by on the straightaway. We took as many points from this weekend as we could so we'll try to improve the best we can going forward."
Results
| | | | | | | | | | |
| --- | --- | --- | --- | --- | --- | --- | --- | --- | --- |
| Pos | No | Name | Laps | Diff | Gap | Led | ST | Status | Team |
| 1 | 21 | Rinus VeeKay | 35 | 0.0000 | 0.0000 | 35 | 1 | Active | Juncos Racing |
| 2 | 13 | Zachary Claman | 35 | 6.8849 | 6.8849 | 0 | 6 | Active | Belardi Auto Racing |
| 3 | 28 | Oliver Askew | 35 | 10.2778 | 3.3929 | 0 | 5 | Active | Andretti Autosport |
| 4 | 27 | Robert Megennis | 35 | 11.1657 | 0.8879 | 0 | 2 | Active | Andretti Autosport |
| 5 | 2 | Toby Sowery | 35 | 12.5255 | 1.3598 | 0 | 7 | Active | BN Racing/Team Pelfrey |
| 6 | 79 | David Malukas | 35 | 19.4287 | 6.9032 | 0 | 4 | Active | BN Racing |
| 7 | 67 | Dalton Kellett | 35 | 35.2233 | 15.7946 | 0 | 8 | Active | Juncos Racing |
| 8 | 48 | Ryan Norman | 35 | 51.1560 | 15.9327 | 0 | 3 | Active | Andretti Autosport |
| 9 | 5 | Lucas Kohl | 35 | 56.9862 | 5.8302 | 0 | 9 | Active | Belardi Auto Racing |