Shwartzman secures first Barcelona win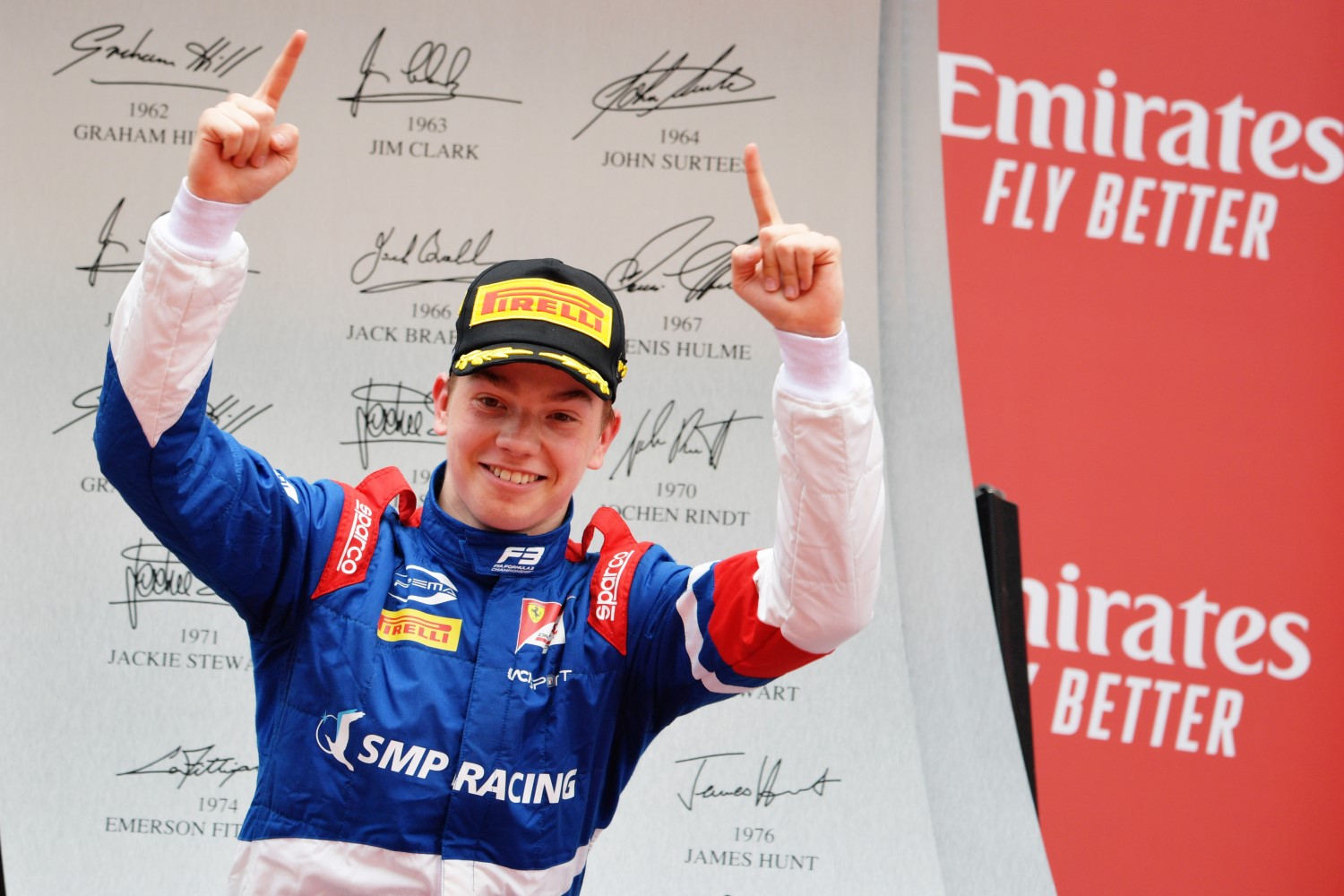 Robert Shwartzman lucks out
Robert Shwartzman secured an unconventional first ever FIA Formula 3 race win, after on-track winner Christian Lundgaard was demoted to second place at the checkered flag with a five second time penalty. The PREMA Racing man had been led by his ART Grand Prix competitor for the bulk of the race, but an incident during a virtual safety car period served a crushing blow to the Renault junior as he climbed out of his car in the Parc ferme. The duo finished ahead of fellow PREMA driver Marcus Armstrong.
The scene was set for the maiden FIA F3 race on a cool and dry morning in Spain, at the Circuit de Barcelona-Catalunya. Things weren't as cool on the circuit, as the top ten was served a shakeup at the race start.
Shwartzman held his nerve when the lights went out to remain in P1, while Armstrong made a move on the front two down the long first straight that he was unable to make stick. With Shwartzman's attention switched to his PREMA teammate, Lundgaard took advantage of his diverted concentration to sear around the Ferrari junior on the second corner for the race lead.
PREMA lost further places at the start as Jehan Daruvala was plunged down to seventh thanks to a blistering start by ART duo David Beckmann and Max Fewtrell. Further up-field, their teammate set about extending his lead and succeeded with the fastest lap so far.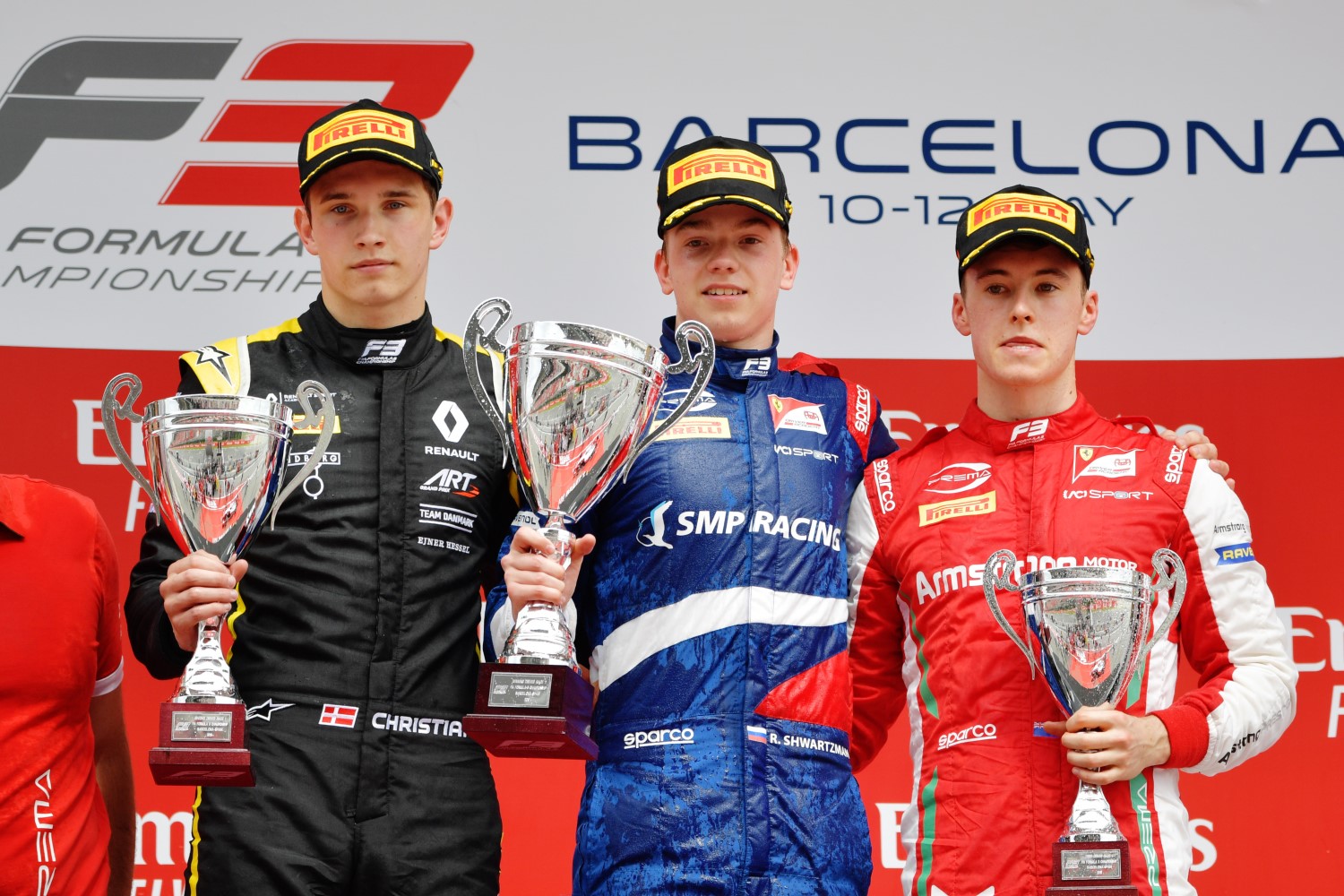 Christian Lundgaard (ART Grand Prix), Robert Shwartzman, Marcus Armstrong (PREMA Racing)
Simo Laaksonen and Logan Sargeant also succumbed to the top 10 shake-up and the duo were left squabbling between themselves for eighth place. Behind them, Niko Kari and Yuki Tsunoda were jockeying for 10th.
Lundgaard managed to squeeze further pace from his ART machine and stretch his lead to 2.786s, when Alessio Deledda spun his car and meandered into the gravel, coming to a halt. This brought out a virtual safety car.
The Renault junior couldn't be conquered when racing restarted with two laps to go and he cruised to first place in Barcelona – or so he thought. Lundgaard suffered heartbreak as his celebrations were cut short in the Parc ferme when the officials swapped his first place hoarding, with the sign for second place. He was quickly informed of a five-second penalty for VSC infringement, handing the Russian racer in second the win.
Behind them, Armstrong retained third, while Beckmann and Fewtrell rose to fourth and fifth to secure an all PREMA/ART front five. They were followed by Jüri Vips, Daruvala, Kari, Laaksonen and Tsunoda.
Trident's Niko Kari will start on reverse grid pole when the drivers return to the Circuit de Barcelona-Catalunya tomorrow at 10.15am local time.
Race 1 Results
| | | | | |
| --- | --- | --- | --- | --- |
| POS | DRIVER | TEAM | GAP | LAPS |
| 1 | Robert Shwartzman | Prema Racing | 0.000s | 22 |
| 2 | Christian Lundgaard | ART Grand Prix | 2.529s | 22 |
| 3 | Marcus Armstrong | Prema Racing | 3.426s | 22 |
| 4 | David Beckmann | ART Grand Prix | 4.432s | 22 |
| 5 | Max Fewtrell | ART Grand Prix | 10.300s | 22 |
| 6 | Juri Vips | Hitech GP | 14.536s | 22 |
| 7 | Jehan Daruvala | Prema Racing | 14.928s | 22 |
| 8 | Niko Kari | Trident | 16.132s | 22 |
| 9 | Simo Laaksonen | MP Motorsport | 17.807s | 22 |
| 10 | Yuki Tsunoda | Jenzer Motorsport | 22.913s | 22 |
| 11 | Felipe Drugovich | Carlin | 25.576s | 22 |
| 12 | Alex Peroni | Campos Racing | 25.932s | 22 |
| 13 | Bent Viscaal | HWA | 29.348s | 22 |
| 14 | Lirim Zendeli | Charouz | 30.237s | 22 |
| 15 | Logan Sargeant | Carlin | 31.386s | 22 |
| 16 | Sebastian Fernandez | Campos Racing | 31.926s | 22 |
| 17 | Jake Hughes | HWA | 32.207s | 22 |
| 18 | Artem Petrov | Jenzer Motorsport | 32.743s | 22 |
| 19 | Richard Verschoor | MP Motorsport | 33.624s | 22 |
| 20 | Leonardo Pulcini | Hitech GP | 33.756s | 22 |
| 21 | Raoul Hyman | Charouz | 38.164s | 22 |
| 22 | Yifei Ye | Hitech GP | 40.024s | 22 |
| 23 | Devlin Defrancesco | Trident | 40.474s | 22 |
| 24 | Teppei Natori | Carlin | 42.717s | 22 |
| 25 | Andreas Estner | Jenzer Motorsport | 43.385s | 22 |
| 26 | Pedro Piquet | Trident | 45.055s | 22 |
| 27 | Fabio Scherer | Charouz | 50.378s | 22 |
| 28 | Keyvan Andres | HWA | 1m07.412s | 22 |
| – | Liam Lawson | MP Motorsport | Retirement | 14 |
| – | Alessio Deledda | Campos Racing | Retirement | 13 |