Sweden's Lindh Grabs Long Overdue First Road to Indy Win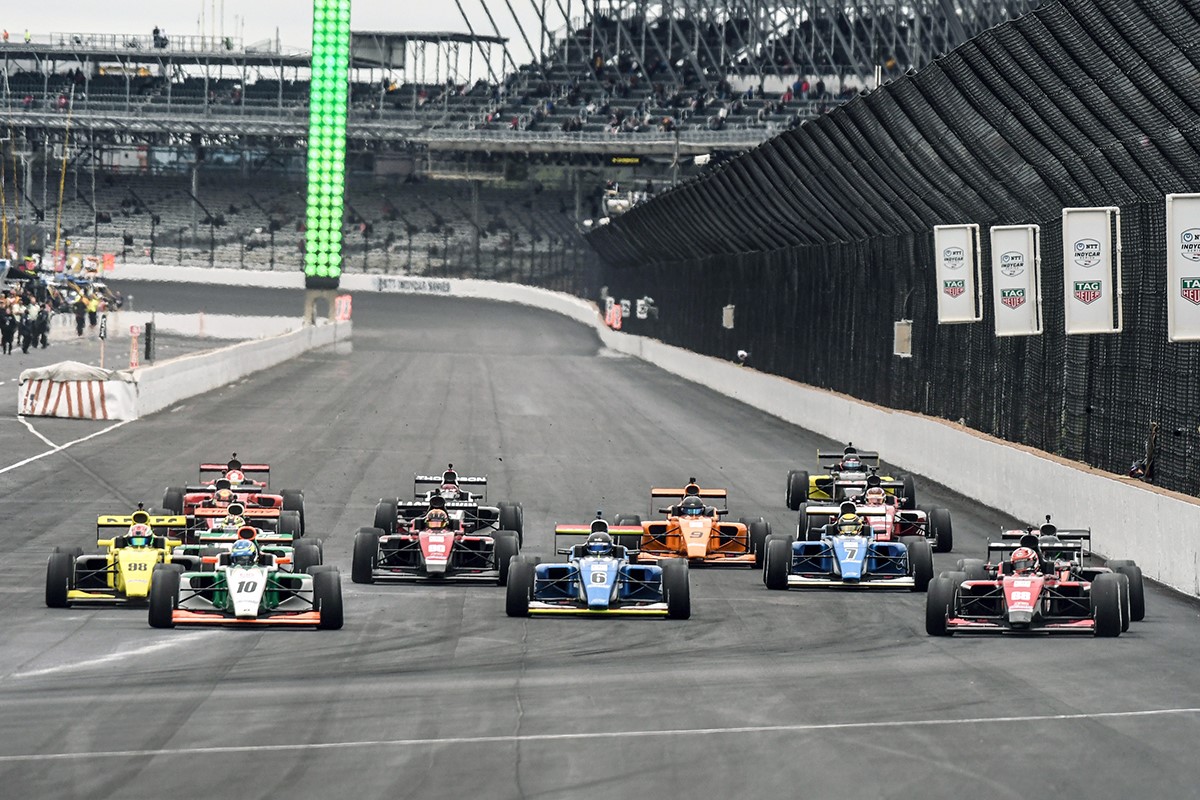 Race start
Teen-aged Swedish rising star Rasmus Lindh displayed his ability during a fine run to second place as a rookie in last year's Cooper Tires USF2000 Championship but was never quite able to make the breakthrough into Victory Lane. After stepping up one step on the Road to Indy Presented by Cooper Tires open-wheel development ladder to the Indy Pro 2000 Championship Presented by Cooper Tires, Lindh set that record straight this afternoon at a very chilly Indianapolis Motor Speedway Grand Prix circuit, holding off a late challenge from his nemesis from 2018, Kyle Kirkwood, to claim a well-earned victory.
Kirkwood, from Jupiter, Fla., overcame a penalty at the start to rise all the way from last to second, posting a new lap record along the way for RP Motorsports USA, while Singapore's Danial Frost maintained his strong start to the season for Exclusive Autosport by finishing third.
Lindh laid down a marker this morning by breaking Oliver Askew's year-old lap record in qualifying to claim the pole position. He was then granted a gift when Kirkwood, who started second, was penalized by Race Director Johnny Unser for jumping the first attempt at a start and sent to the back of the field.
Frost, who had himself been penalized two positions on the starting grid for failing to slow sufficiently for waving flags in qualifying, made full use of the open position ahead of him to chase Lindh into Turn One at the next attempt at a start. Sting Ray Robb (Juncos Racing), from Payette, Idaho, slotted into third as a fine qualifying effort for FatBoy Racing!'s Phillippe Denes, from Carmel, Calif., was sadly annulled when he was hit from behind by Mexico's Moises de la Vara (DEForce Racing). Several other cars also were delayed, which allowed Nikita Lastochkin (Exclusive Autosport) to vault all the way from ninth on the grid to fourth ahead of championship leader Parker Thompson, from Red Deer, Alb., Canada, who had qualified his Abel Motorsports Tatuus PM-18 a dismal 12th.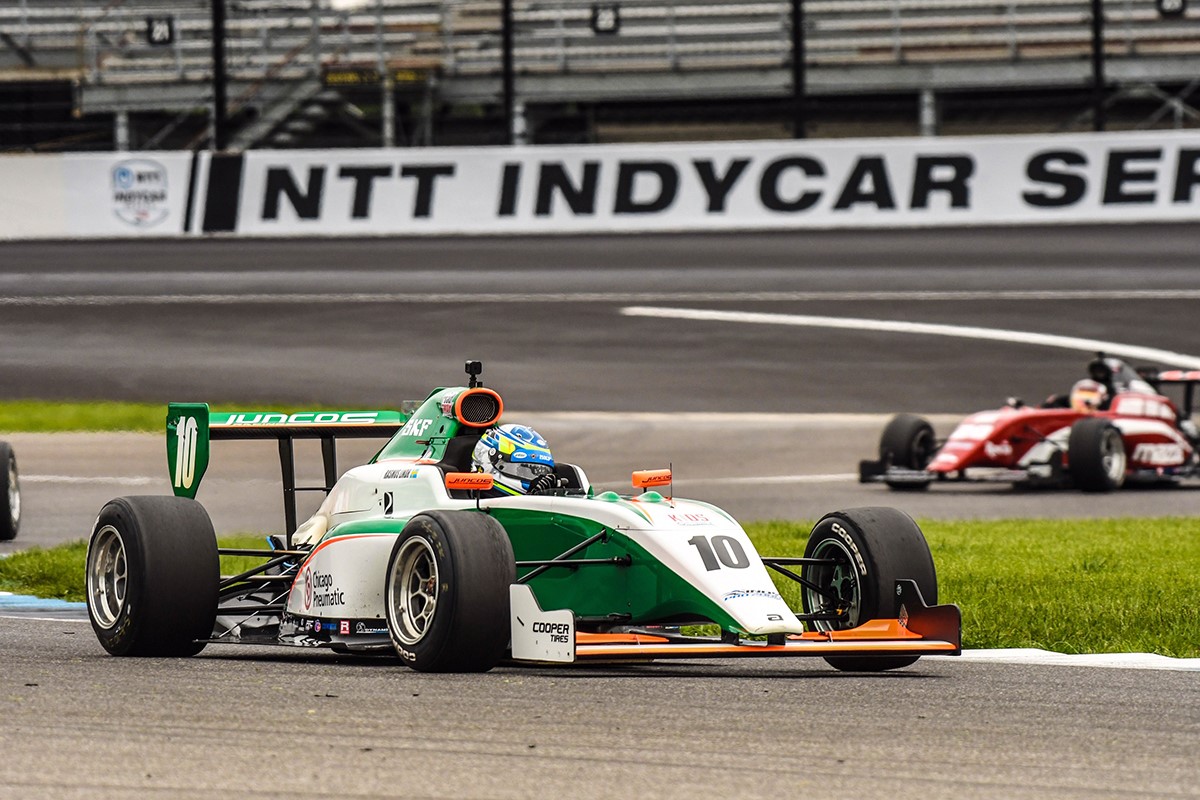 Lindh leads
Kirkwood was the other major beneficiary of the first-corner fracas as last year's dominant USF2000 champion picked his way through the carnage to emerge in sixth. A lap later, incredibly, Kirkwood was up to third after slipping past both Lastochkin and Thompson, and benefitting also when Robb locked up his brakes at Turn Seven, costing himself three positions.
The two leaders by then were already three seconds up the road, but it wasn't long before Kirkwood began to whittle away at the deficit. Frost had been keeping the leader, Lindh, firmly in his sights, and was able to loom a little closer on lap 13 when Lindh locked up his brakes on the approach to Turn One. Three laps later, the leaders were virtually together after Kirkwood set a new Indy Pro 2000 lap record by circulating the 2.439-mile road course in 1:19.3332, an average speed of 110.677 mph.
Frost tried his hardest to keep Kirkwood behind, and succeeded in doing so until lap 20, when Kirkwood drafted alongside him on the high-speed approach to Turn One, then braved it out around the outside to emerge in second at Turn Two. It was an impressive maneuver but it also cost him some valuable time to Lindh, who maintained an admirably consistent pace to ensure himself of a hard-earned victory.
A disappointed Robb finished fourth, over 13 seconds further in arrears of Frost, while Thompson, after his travails in qualifying, was happy to finish fifth, well clear of teammate Jacob Abel, from Louisville, Ky., and secure himself the Tilton Hard Charger Award.
Ricardo Juncos, whose eponymous team is based within earshot of the Speedway, took home the PFC Award as the winning team owner, and tomorrow will see Lindh once again start from the pole, after establishing yet another new lap record during a separate qualifying session this morning. Teammate Robb will start alongside on the front row of the grid.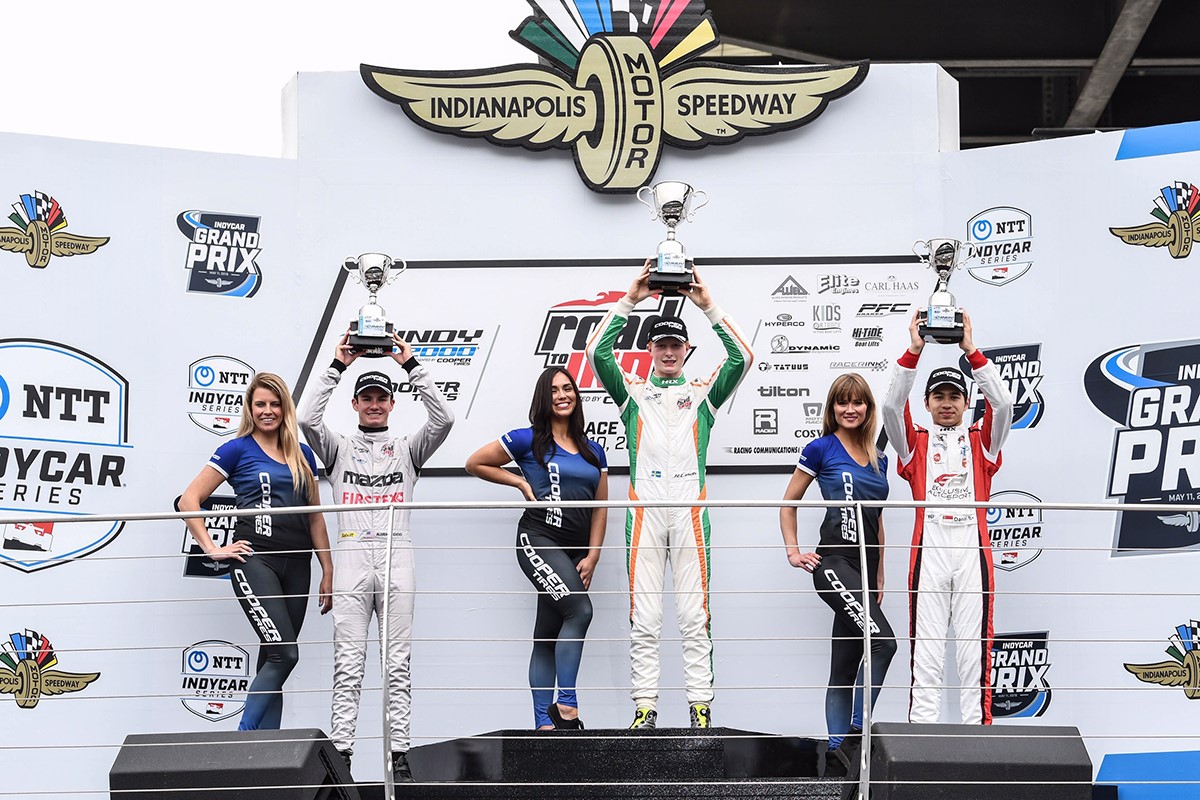 From left, Kirkwood, Lindh and Frost
Provisional championship points after three of 16 rounds:
1. Parker Thompson, 81
2. Rasmus Lindh, 77
3. Danial Frost, 63
4. Kyle Kirkwood, 59
5. Sting Ray Robb, 58
6. Nikita Lastochkin, 45
7. Moises de la Vara, 38
8. Jacob Abel, 37
9. Phillippe Denes, 35
10. Antonio Serravalle, 34
Rasmus Lindh (#10 Chicago Pneumatic/PWR Junior Team/SKF-Juncos Racing Tatuus PM-18): "This is my first victory on the Road to Indy and I'm very happy to take the win especially somewhere like Indianapolis, where so many big names have won.
"I wanted to go as late as possible (at the start) to minimize the draft going into Turn One so I'm not sure what happened with Kyle. I thought something had happened and when I asked the team, they told me they moved Kyle back. I tried to get as much of a gap as I could at the green and keep it the best I could, but I saw Kyle was coming pretty fast and tried to push a bit harder."
Kyle Kirkwood (#28 Mazda/Firstex Industries/Bell Helmets/Sabelt Tatuus PM-18): "Rasmus and I were side by side at the start and he was warming his tires so I was ready for him to get on the power, so I went. I thought he went and obviously he didn't, so I want to review what happened. I went into Turn One fairly conservatively on the restart and was lucky that I picked the inside line and everyone else went outside. I went through my braking points and I was perfectly positioned for Turn Two as everyone else crashed to the outside. It was a very fortunate situation after an unfortunate situation. We came up to speed quickly and were able to make moves, so overall it was a good day."
Danial Frost (#68 Den-Jet Exclusive Autosport Tatuus PM18): "We challenged for first in Turn One but weren't able to get him [Lindh]. Kyle and I fought hard for the second position though I came out the loser of that, but it was a good experience for me and I understand the car a little bit more. Hopefully in the next race we can advance and do better. But I am happy with a podium here. To be able to drive here, it's an amazing feeling. To come here with a team that won here last year gives me a great deal of confidence."
Race 1 Results
| | | | | | | |
| --- | --- | --- | --- | --- | --- | --- |
| Pos | SP | Car | Driver | Lap | Behind | Status |
| 1 | 1 | 8 | Eves, Braden (R) | 15 | –.—- | Running |
| 2 | 3 | 22 | McElrea, Hunter (R) | 15 | 0.2998 | Running |
| 3 | 8 | 12 | Sulaiman, Manuel (R) | 15 | 0.8658 | Running |
| 4 | 7 | 23 | Kaminsky, Colin | 15 | 4.1820 | Running |
| 5 | 13 | 73 | Shields, Cameron (R) | 15 | 8.3125 | Running |
| 6 | 2 | 2 | Keane, Darren | 15 | 12.2880 | Running |
| 7 | 6 | 27 | Holden, Zach | 15 | 14.8809 | Running |
| 8 | 11 | 28 | Famularo, Anthony (R) | 15 | 15.2542 | Running |
| 9 | 10 | 14 | Baron, Alex | 15 | 17.1490 | Running |
| 10 | 17 | 24 | Tomaselli, Bruna | 15 | 18.3878 | Running |
| 11 | 4 | 90 | Cabrera, Manuel | 15 | 22.5018 | Running |
| 12 | 14 | 21 | Sundaramoorthy, Yuven (R) | 15 | 25.3298 | Running |
| 13 | 18 | 5 | Round-Garrido, Matt (R) | 15 | 26.2337 | Running |
| 14 | 19 | 3 | Gold, Reece (R) | 15 | 26.3400 | Running |
| 15 | 12 | 36 | Siegel, Nolan (R) | 15 | 29.3924 | Running |
| 16 | 21 | 7 | Bogle, Christian (R) | 15 | 50.0319 | Running |
| 17 | 9 | 40 | Miller, Jack William (R) | 14 | – | Off Course |
| 18 | 5 | 52 | Crawford, Jak (R) | 14 | – | Off Course |
| 19 | 15 | 41 | Barrichello, Eduardo (R) | 14 | – | Running |
| 20 | 20 | 6 | Rasmussen, Christian (R) | 14 | – | Running |
| 21 | 16 | 77 | Dickerson, Dakota | 5 | – | Mechanical |