Robert Megennis Captures First Indy Lights Win At Indianapolis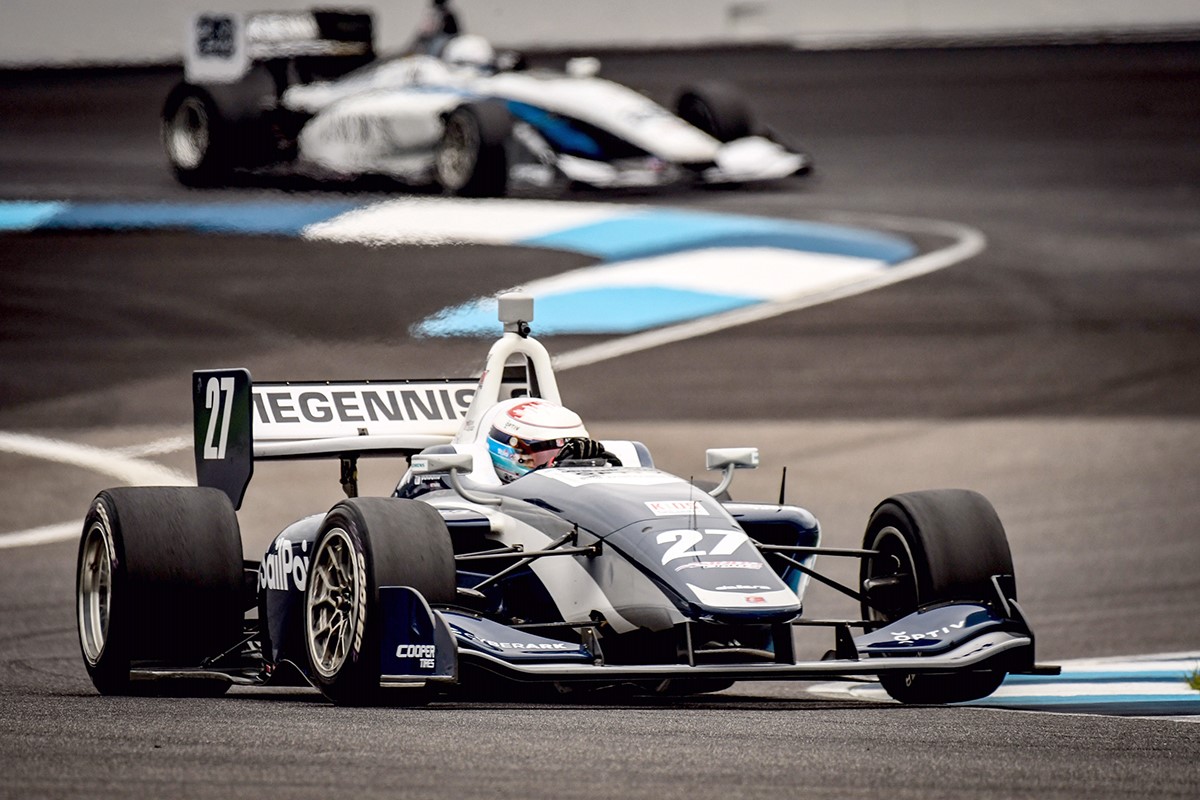 Robert Megennis
Robert Megennis picked perhaps the perfect place to claim an emphatic first Indy Lights Presented by Cooper Tires victory: the Indianapolis Motor Speedway. He did so in style too. Megennis, from New York, N.Y., began his day by securing the pole position for the Indy Lights Grand Prix of Indianapolis this morning, and even though he was briefly headed in the 30-lap race by Andretti Autosport teammate – and championship leader – Oliver Askew, Megennis fought back with a decisive maneuver in Turn One, then edged clear of Askew to secure a hard-earned and thoroughly well-deserved victory.
Askew found some extra pace in the closing stages to set the fastest race lap at 1:15.6953, an average speed of 115.997 mph, narrowly beating the old track record set by current NTT IndyCar Series driver Felix Rosenqvist in 2016. Askew, from Jupiter, Fla., thereby cemented second place ahead of his closest championship rival, Rinus VeeKay (Juncos Racing), from Hoofddorp, Netherlands.
Cool, crisp conditions ensured the 2.439-mile, 14-turn road course was in good shape for this afternoon's fifth race of the season, and Megennis made good use of his pole position to make a jump on the field. By contrast, outside front row qualifier VeeKay encountered heavy wheelspin and instantly slipped back into the pack.
Askew put the pressure on Megennis through the first couple of laps before using the extra horsepower offered by the push-to-pass feature on his AER turbo engine to accentuate the draft heading down the long front straight and then slip through into the lead at Turn One. But Megennis wasn't about to throw in the towel. Not by any means. Two laps later, he pulled off a very similar maneuver at Turn Four to regain the lead.
Megennis then inched away from his rival, setting a string of fastest race laps to extend his margin to as much as 2.7 seconds. Askew discovered a little more speed in the closing stages but it was too little, too late as Megennis crossed the finishing stripe just over two seconds to the good. Askew instead had to settle for second, a new lap record, a slightly increased championship lead and the Tilton Hard Charger Award.
VeeKay, after slipping from second to fourth at the first corner, fought his way back past Ryan Norman (Andretti Autosport), from Aurora, Ohio, to reclaim third on lap 6. David Malukas (BN Racing), from Chicago, Ill., also snuck past Norman but began to struggle for speed in the late stages and fell behind Zachary Claman (Belardi Auto Racing), from Montreal, Que., Canada, to finish sixth.
A second qualifying session will take place tomorrow at 8:30 a.m. EDT, with the green flag for Round Six slated for 1:25 p.m., immediately before the INDYCAR Grand Prix headline event.
Provisional championship points after 5 of 18 races:
1. Oliver Askew, 123
2. Rinus VeeKay, 114
3. Robert Megennis, 106
4. Zachary Claman, 99
5. Toby Sowery, 91
6. David Malukas, 86
7. Ryan Norman, 78
8. Julien Falchero, 66
9. Lucas Kohl, 65
10. Dalton Kellett, 61
Robert Megennis (#27 Cybersecurity Dallara-Andretti Autosport Dallara-AER IL-15): "I was pushing as hard as I could in the beginning to get out of that push-to-pass range. After that, Oliver and I had a pretty consistent pace. It's great racing against him. He's always super clean, and we respect each other and work well together. I didn't end up on the right side of that at CoTA (Circuit of The Americas) so it's nice to change that here.
"But it hasn't sunk in yet. If there's anywhere you want to win, it's Indy, with all the drivers who have stood on the podium before me. I can't thank Andretti Autosport and my sponsors enough for the chance to be here."
Oliver Askew (#28 Index Invest Dallara-Andretti Autosport Dallara-AER IL-15): "Robert and I are getting used to racing each other every race weekend. It's good for the team, we work well together and have a lot of respect for each other. It was a good race. The inside row had a better start and I gave it a look in Turn One but thought better of it. I used the push-to-pass to get around him in Turn Four. Push-to-pass really helps on tracks like this, with the long straightaways, but it provides for good racing and the chance to get around other cars. But today was Robert's day; he had just a little more pace than me so congratulations to him."
Rinus VeeKay (#21 Mazda/Jumbo Supermarkets/La Place Restaurants/KNAF Talent First-Juncos Racing Dallara-AER IL-15): "Given how cold it was today, I knew there was a chance for wheelspin, and sure enough I had wheelspin getting on the power and going through the first few gears at the start. I went all the way back to third, without having the pace to get to Oliver or Robert. Disappointing, but we'll move forward from this. We'll analyze what happened today and have the car even better for tomorrow."
Results
| | | | | | | | | | |
| --- | --- | --- | --- | --- | --- | --- | --- | --- | --- |
| Pos | No | Name | Laps | Diff | Gap | Led | ST | Status | Team |
| 1 | 27 | Robert Megennis | 30 | 0.0000s | 0.0000s | 28 | 1 | Active | Andretti Autosport |
| 2 | 28 | Oliver Askew | 30 | 1.9523 | 1.9523 | 2 | 3 | Active | Andretti Autosport |
| 3 | 21 | Rinus VeeKay | 30 | 6.0346 | 4.0823 | 0 | 2 | Active | Juncos Racing |
| 4 | 48 | Ryan Norman | 30 | 8.3711 | 2.3365 | 0 | 4 | Active | Andretti Autosport |
| 5 | 13 | Zachary Claman | 30 | 15.9951 | 7.6240 | 0 | 6 | Active | Belardi Auto Racing |
| 6 | 79 | David Malukas | 30 | 19.1665 | 3.1714 | 0 | 5 | Active | BN Racing |
| 7 | 2 | Toby Sowery | 30 | 20.3632 | 1.1967 | 0 | 8 | Active | BN Racing/Team Pelfrey |
| 8 | 67 | Dalton Kellett | 30 | 28.8664 | 8.5032 | 0 | 7 | Active | Juncos Racing |
| 9 | 5 | Lucas Kohl | 30 | 49.3928 | 20.5264 | 0 | 9 | Active | Belardi Auto Racing |