IndyCar GP: Power continues his domination in 1st Practice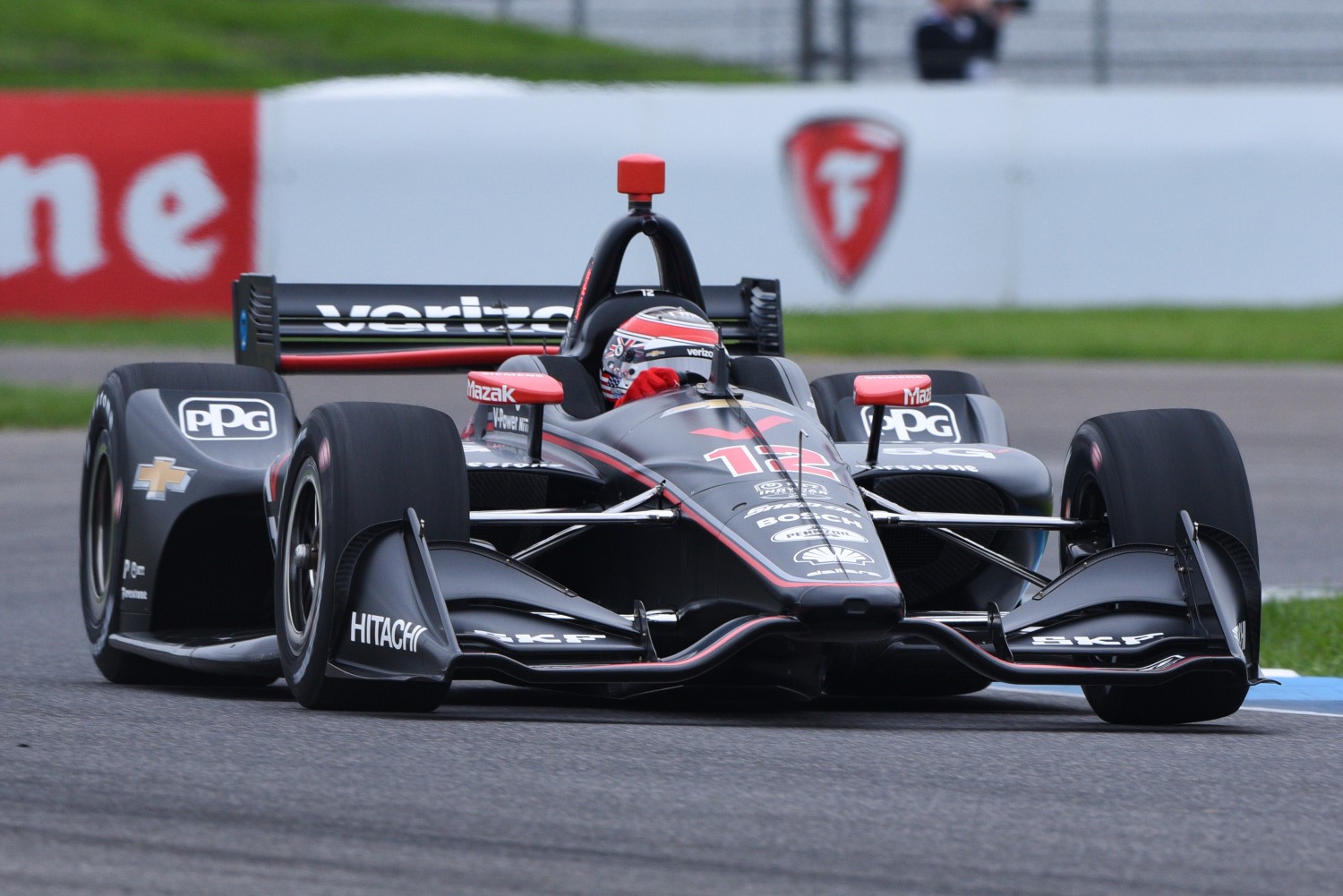 Will Power
Will Power continued his dominance of the Indy Speedway road course on Friday morning.
Power, the three-time winner of the NTT IndyCar Series race on the Indianapolis Motor Speedway road course including the past two years, led Friday morning's opening practice for the sixth edition of the INDYCAR Grand Prix with what has become a typically Will Power last-lap effort.
Driving the No. 12 Verizon 5G Team Penske Chevrolet, Power was clocked at 1 minute, 9.2890 seconds (126.721 mph) on the 14-turn, 2.439-mile permanent road course. The session-winning lap came after all cars were granted one timed lap following a late red-flag stoppage when Helio Castroneves, Power's teammate was stopped on course.
"Not bad, a bit of work to do," Power said. "Obviously, one lap's hard to judge on true pace because some people might put it together and some don't. Just got to keep working at it. It's going to be very tight – very, very tight – in qualifying."
Prior to Power's late-session heroics, Spencer Pigot sat atop the timesheet. Pigot settled for the second-fastest lap, 1:09.4256 (126.472 mph) in the No. 21 Ed Carpenter Racing Chevrolet and was pleased with the initial effort.
"It feels really good, it's great to have a good start," Pigot said. "It's only Practice 1 so there's a lot of sessions left to go, but it's nice to roll off the trailer with a really good car. ECR and Autogeek and everyone have done a great job over the break trying to improve. So far, it looks like we've made some good decisions."
Chip Ganassi Racing teammates Scott Dixon and Felix Rosenqvist finished third and fourth, respectively, in the 45-minute practice. Dixon turned a lap of 1:09.4536 (126.421 mph) in the No. 9 PNC Bank Honda. Rosenqvist ran a lap of 1:09.5272 (126.287 mph) in the No. 10 NTT DATA Honda.
Practice 1 Results
| | | | | | | | | |
| --- | --- | --- | --- | --- | --- | --- | --- | --- |
| Pos | No | Name | FTime | Diff | Gap | Laps | Engine | Team |
| 1 | 12 | Will Power | 1:09.289 | –.—- | –.—- | 19 | Chevy | Team Penske |
| 2 | 21 | Spencer Pigot | 1:09.426 | 0.1366 | 0.1366 | 18 | Chevy | Ed Carpenter Racing |
| 3 | 9 | Scott Dixon | 1:09.454 | 0.1646 | 0.0280 | 17 | Honda | Chip Ganassi Racing Teams |
| 4 | 10 | Felix Rosenqvist | 1:09.527 | 0.2382 | 0.0736 | 23 | Honda | Chip Ganassi Racing Teams |
| 5 | 2 | Josef Newgarden | 1:09.528 | 0.2392 | 0.0010 | 15 | Chevy | Team Penske |
| 6 | 28 | Ryan Hunter-Reay | 1:09.534 | 0.2449 | 0.0057 | 16 | Honda | Andretti Autosport |
| 7 | 26 | Zach Veach | 1:09.536 | 0.2466 | 0.0017 | 18 | Honda | Andretti Autosport |
| 8 | 22 | Simon Pagenaud | 1:09.548 | 0.2592 | 0.0126 | 18 | Chevy | Team Penske |
| 9 | 30 | Takuma Sato | 1:09.616 | 0.3271 | 0.0679 | 16 | Honda | Rahal Letterman Lanigan Racing |
| 10 | 27 | Alexander Rossi | 1:09.621 | 0.3323 | 0.0052 | 15 | Honda | Andretti Autosport |
| 11 | 5 | James Hinchcliffe | 1:09.622 | 0.3330 | 0.0007 | 15 | Honda | Arrow Schmidt Peterson Motorsports |
| 12 | 60 | Jack Harvey | 1:09.671 | 0.3821 | 0.0491 | 19 | Honda | Meyer Shank Racing w/Arrow SPM |
| 13 | 15 | Graham Rahal | 1:09.712 | 0.4231 | 0.0410 | 15 | Honda | Rahal Letterman Lanigan Racing |
| 14 | 20 | Ed Jones | 1:09.722 | 0.4335 | 0.0104 | 17 | Chevy | Ed Carpenter Racing |
| 15 | 88 | Colton Herta | 1:09.741 | 0.4521 | 0.0186 | 16 | Honda | Harding Steinbrenner Racing |
| 16 | 31 | Patricio O'Ward | 1:09.766 | 0.4766 | 0.0245 | 15 | Chevy | Carlin |
| 17 | 7 | Marcus Ericsson | 1:09.824 | 0.5351 | 0.0585 | 16 | Honda | Arrow Schmidt Peterson Motorsport |
| 18 | 59 | Max Chilton | 1:09.878 | 0.5893 | 0.0542 | 17 | Chevy | Carlin |
| 19 | 18 | Sebastien Bourdais | 1:10.038 | 0.7491 | 0.1598 | 16 | Honda | Dale Coyne Racing with Vasser-Sullivan |
| 20 | 4 | Matheus Leist | 1:10.062 | 0.7726 | 0.0235 | 17 | Chevy | AJ Foyt Enterprises |
| 21 | 19 | Santino Ferrucci | 1:10.074 | 0.7852 | 0.0126 | 18 | Honda | Dale Coyne Racing |
| 22 | 98 | Marco Andretti | 1:10.091 | 0.8025 | 0.0173 | 17 | Honda | Andretti Herta Autosport w/Curb-Aga |
| 23 | 3 | Helio Castroneves | 1:10.299 | 1.0102 | 0.2077 | 16 | Chevy | Team Penske |
| 24 | 14 | Tony Kanaan | 1:10.757 | 1.4675 | 0.4573 | 15 | Chevy | AJ Foyt Enterprises |